11 Best Bathroom Exhaust Fans (2020) – Reviews And Buying Guide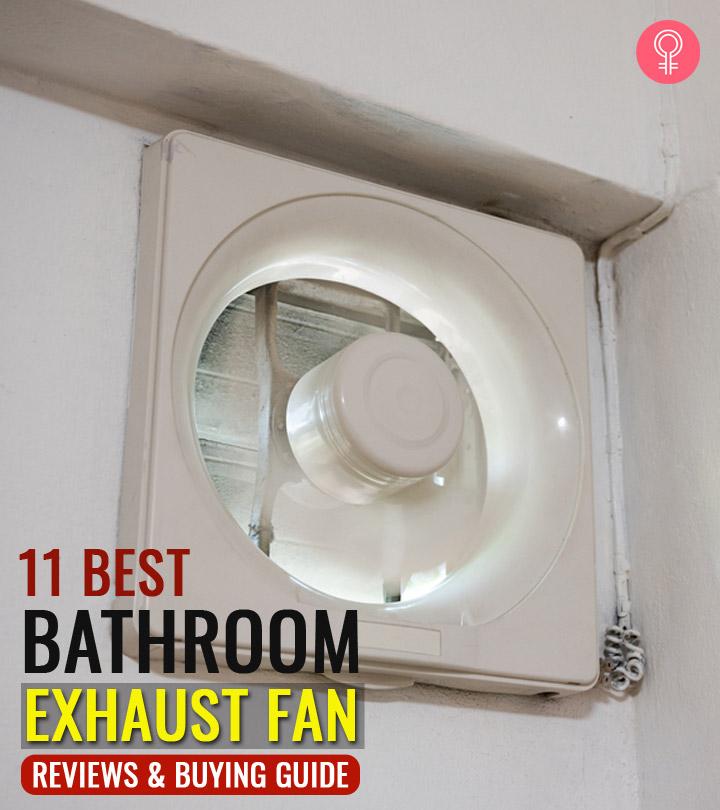 Are you renovating your bathroom? If so, there is one thing that you should definitely install to ensure that your bathroom does not smell damp or feel humid. The moisture combined with the heat of the hot water can make your bathroom smell. Moreover, did you know that high moisture levels boost the spread and build-up of germs and bacteria? In fact, this bacterial build-up can increase the frequency of allergies and asthma. A good bathroom exhaust fan circulates the stale air, humidity, odor, and moisture out of the bathroom and replaces it with fresh air. It keeps your bathroom fresh and odor-free. If you don't already own one, pick one of the 11 best bathroom exhaust fans listed below. Installing them is inexpensive and does not take up much time either.
11 Best Bathroom Exhaust Fans Available Right Now
BV Ultra-Quiet Bathroom Ventilation & Exhaust Fan is made with the Silent-Clever Technology and an excellent motor that operates and replaces a large amount of air with minimal noise. This bathroom exhaust fan has a stainless steel housing body and a heavy-duty motor. It fits in both small and big bathrooms.
Features
Heavy-duty motor.
Silent-Clever technology with 0.8 sones.
4-inch stainless steel duct.
Ventilates up to 90 square feet of bathroom space.
HVI 2100-certified and UL Approved.
1-year limited product warranty.
Dimensions: 9 x 7.5 x 9.25 inches
Material: Metal
CFM: 90
Duct Connection Size:4 inches
Weight: 10.73 pounds
Air Flow Capacity: 90 cubic feet per minute
Noise Level: 0.8 sone
Pros
Energy-efficient
Suitable for continuous operation
Noise-free operation
Sturdy and durable
Affordable
Suitable for small and big bathrooms
Cons
Difficult to install
No built-in lamps or speakers
Broan Sensonic Bathroom Exhaust Fan comes with a built-in sensonic Bluetooth speakers with dual high-fidelity that are powerful enough for a room or bathroom up to 105 square feet. The brilliant audio device concealed behind the exhaust fan grille allows you to operate it with any Bluetooth-enabled device. Besides the hassle-free installation and reliable motor, this bathroom exhaust fan is also UL Listed for use over a bathtub or shower when installed with a GFCI-protected branch circuit and thermal insulation for safety.
Features
Sensonic speakers with Bluetooth.
UL Listed for use over bathtub or shower.
Energy Star and HVI-certified.
Fits 2-inch by 8-inch ceiling construction.
White polymeric grille finish.
Dimension: 11.38 x 7.63 x 10.5 inches
Material: Metal
CFM: 110
Duct Connection Size: 4 inches
Weight: 11 pounds
Air Flow Capacity:110 cubic feet per minute
Noise Level: 1.0 sone
Pros
Clears humidity and odors quickly
Engineered for continuous operation
Suitable for large bathrooms
Built-in Bluetooth speakers
Good audio quality
Easy to install
Super quiet
Cons
Motor issues
Bluetooth connectivity issues
AC Infinity CLOUDLINE T4 Exhaust Fan with temperature and humidity control is perfect for cooling the bathroom instantly. It is designed to quietly ventilate hydroponic grow rooms, transfer heat and coolness, and exhaust any type of odor. Its mixed flow design is combined with a PWM-controlled DC or EC-motor to ensure a quiet and energy-saving performance.
Features
Temperature and humidity programming.
Includes fan speed control, timer, and alarm system.
PWM-controlled DC or EC-motor for truly quiet and energy-efficient performance.
The kit also includes a corded sensor probe along with other mounting hardware.
12-foot long cord.
Dimension – 13.62 x 10.71 x 9.84 inches
Material: Metal
CFM:205
Duct Connection Size:4 inches
Weight: 6.03 pounds
Air Flow Capacity: 205 Cubic feet per minute
Noise Level: 0.7 sone
Pros
Brilliant programming controller
Intelligent technology boosts airflow
Quiet operation
Energy-efficient
Easy to install
Suitable for bathrooms, rooms, and closets
Cons
Fan setting issues
Not powerful enough for large bathrooms
Panasonic WhisperFitEZ Fan has a high-power motor with a whisper-quiet technology. This energy-efficient exhaust fan uses little energy to move large volumes of air and works effectively for both large and small bathrooms. The lesser the energy used, the lesser the chances of overheating or motor failure. This exhaust fan is sure to increase the air quality in your bathroom and eliminate humidity, mildew, and odor from it.
Features
Customizable flow speed – 80 to 110 CFM.
Flex-Z Fast brackets for flexible, fast, and hassle-free installation.
3" and 4" ducts for flexibility.
UL listed for tub/shower enclosure when GFCI-protected.
3-year warranty.
Dimensions: 10.25 x 10.25 x 5.62 inches.
Material: Metal
CFM: 110
Duct Connection Size: 4 and 3 inches
Weight: 11.38 Pounds
Air Flow Capacity: 80 to 110 Cubic feet per minute
Noise Level: 0.3 sone
Pros
Whisper-quiet operation
Energy-efficient
Durable
Easy to install
Suitable for small and large bathrooms
Cons
Broan-NuTone is a high-quality bathroom exhaust fan with powerful ventilation. It reduces humidity rapidly from bathroom spaces up to 105 square feet. Its fan is efficient enough to even suck out the fog on the mirror and other moisture particles to make your bathroom fresh, clear, and odor-free. It has InVent fans that efficiently reduce air leakage by up to 50% when compared to other bathroom exhaust fans.
Features
Easy retrofit installation.
High-quality single-speed fan.
Powerful blower to replace humid air.
TrueSeal damper technology to reduce air leakage.
1-year warranty.
Dimension: 10 x 5.75 x 9.25 inches
Material:Galvanized steel
CFM: 110
Duct Connection Size: 4 inches
Weight: 8 pounds
Air Flow Capacity: 110 cubic feet per minute
Noise Level: 1.0 sone
Pros
Designed for continuous use
Eliminates humidity quickly
Durable
Easy to install
Cons
Makes noise
Might develop some motor issues after extensive use
AC Infinity AIRLIFt Shutter Bathroom Exhaust Fan has a powerful and durable motor that is designed to eliminate heat, humidity, dust, and odor. It comes with a programmable controller and a corded probe to adjust the temperature and humidity settings. It works on energy-saving mode with minimum noise in every type of weather.
Features
Completely automated with temperature and humidity controls.
Includes alarm, timer, backup memory, and eco-mode.
Efficient PWM EC-Motor.
Weather-proof construction.
Dimension – 15 x 15 x 8.8 inches.
Material: Steel and aluminum
CFM: 1014
Duct Connection Size: 10 inches
Weight: 10.53 pounds
Air Flow Capacity: 1014 cubic feet per minute
Noise Level: 9.0 sone
Pros
Dust- and water-resistant
Quiet operation
Moves large air volume
Easy to install
Value for money
High-performance
Energy-efficient
Cons
No option to change the fan speed
Large bundle of extra cable
HG Power Ultra Silent Exhaust Fan Extractor is a versatile product that can be conveniently used anywhere, from storerooms to garages. It is equipped with 7 blades and a permanently lubricated motor for hassle-free and efficient ventilation. It is even ideal for circulating cooking fumes from kitchens and humidity from laundry rooms with fresh air.
Features
7 fan blades make it a highly efficient exhaust fan.
Made of high-quality, durable ABS plastic.
UV-resistant.
Built-in backdraft damper prevents wind backflow.
Powerful, low vibration, and thermally protected copper motor.
Dimensions:8 x 8.6 x 6.3 inches
Material: ABS
CFM: 170
Duct Connection Size: 6 inches
Weight: 2.29 pounds
Air Flow Capacity: 170 cubic feet per minute
Noise Level: 2.0 sone
Pros
Durable
Waterproof
Easy to clean
Suitable for garages, living rooms, bedrooms, kitchens, and storerooms
Perfect for larger rooms and spaces
Eco-friendly
Cons
Tech Drive's bathroom exhaust fan has a durable and sturdy motor that ensures super-quiet fan performance. It is corrosion-resistant and powerful enough to replace humidity, moisture, dust, or any other mold in the room with fresh air. It is Energy Star-qualified and UL- and HVI-certified, which ensures good and guaranteed performance.
Features
Suitable for bathrooms up to 75 square feet.
Sturdy and durable motor.
UL- and HVI-certified for guaranteed performance.
2-year limited product warranty.
Dimensions:5 x 7.25 x 6 inches.
Material:Alloy Steel
CFM: 70
Duct Connection Size: 3 inches
Weight: 5.1 pounds
Air Flow Capacity:70 cubic feet per minute
Noise Level:2.0 sone
Pros
Corrosion-resistant
Efficient and quiet performance
Durable motor
Suitable for medium-sized bathrooms
Strong air movement
Cons
Complicated to install
Not powerful enough
Delta Breez Green Builder Exhaust Bath Fan is a perfect blend of quality, power, performance, and efficiency – all at a great price value. It has a DC brushless fan motor that is highly reliable and efficient and consumes low power. This easy-to-install bathroom exhaust fan is Energy Star- and HIV-certified for a resourceful performance.
Features
Energy-saving up to 86%.
Indicator light to display when the fan is running.
DC brushless motor for longevity and dependability.
Energy Stara and HIV-certified.
Dimensions:25 x 8 x 6.75 inches
Material: Galvanized steel
CFM: 80 to 100
Duct Connection Size: 4 inches
Weight: 1 pound
Air Flow Capacity: 100 cubic feet per minute
Noise Level: 1.4 sone
Pros
Corrosion-resistant
Quiet operation
Low energy consumption
Easy to install
Durable
Cons
Leaks water sometimes
Not every powerful
Homewerks Worldwide Bathroom Exhaust Fan is powerful and works brilliantly in ventilating confined spaces up to 50 square feet. It does its work quietly to eliminate humidity and moisture from the bathroom. When detergents, cleaning chemicals, or acidic cleaners leave an obnoxiously strong smell, this bathroom exhaust fan eliminates this odor with its powerful ventilation.
Features
Made of galvanized steel.
AC Motor engineered for continuous operation.
High-performing motor.
3-year limited warranty.
Dimensions: 12.6 x 10.43 x 7.48 inches
Material: Steel
CFM: 50
Duct Connection Size: 4 inches
Weight: 5.83 pounds
Air Flow Capacity: 50 cubic feet per minute
Noise Level: 1.0 sone
Pros:
Corrosion-resistant
Moisture-resistant
Easy to install
Sleek design
Whisper-quiet functioning
Eliminates harsh chemical odors
Affordable
Cons
Not strong enough to suck out all the hot steam
Not suitable for large bathrooms
This stylish and uber-chic bathroom exhaust fan by Akicon is equipped with a light, making it a must-have! It is versatile enough to make your bathroom, kitchen, or study look fancy and stylish while removing the odor and moisture from the room.
Features
Low profile grille assembly.
Efficiently ventilates space up to 99 square feet.
UL-listed for use over tub and shower with GFCI.
3×13 W GU24 Base CFL bulbs included.
3-year warranty.
Dimensions:32 x 16.73 x 16.54 inches
Material: Polypropylene and Metal
CFM: 110
Duct Connection Size: 4 inches
Weight: 15.84 pounds
Air Flow Capacity: 110 Cubic feet per minute
Noise Level: 1.5 sone
Pros
Equipped with a light
Stylish design
Ultra-quiet operation
Eliminates moisture, humidity, fog, and odor.
Cons
Difficult to install
Expensive return policy
Listed below are some of the essential features you must check out for before getting a bathroom exhaust fan. Check them out!
Features To Consider When Buying A Bathroom Exhaust Fan
Easy Installation: Remember that setting up the exhaust fan should be easy enough for you to do it on your own. Ensure that the package comes with a user manual on how to set up the device to get it going.
Size And Duct: Measure the size of the duct as not every exhaust fan fits the assembly space as the previous one. There are various sizes available in exhaust fans to pick from, so opt for a fan that is of a similar size and duct space. Checking the size is really important, otherwise you may have to return the product.
Noise Level: Usually, fans have a heavy motor that ends up making a lot of noise, which could also be annoying. So, make sure that the exhaust fan you invest in is ultra-quiet. Check the noise level of the fan that you are planning to purchase. The ideal noise level of a bathroom exhaust fan should lie in the range of 0.5 to 3.0 sones.
Recommended CFM: The capacity of the fan is established by its air movement, which is measured in cubic feet per minute (CFM). It is best to buy a fan with a CFM that is equal to your bathroom's square footage. The recommended range is usually 50 to 100 CFM.
Energy Consumption: Energy consumption is yet another factor to take into consideration while buying a bathroom exhaust fan. Remember that if the motor is very powerful and with a higher CFM, it will consume more electricity. So check for energy-saving fans with a powerful motor.
Air Flow Capacity: Having an appropriate CFM ensures that the bathroom is fully ventilated. Also, proper ductwork allows for faster and more efficient airflow to keep your bathroom fresh and moisture-free.
Warranty: Warranty is yet another important thing to check before buying any electronic product. Make sure that you get a product that has at least a 1-year warranty, so the company fixes any issues you face over that period without you having to pay anything. In short, we would recommend you to avoid products without any warranty.
Mounting Options: When it comes to bathroom exhaust fans, there are 2 types of mounting options. Wall-mounted exhaust fans are fixed along a wall and circulate air directly outside. Ceiling-mounted exhaust fans are more commonly used and are fixed on the ceiling of the bathroom. They are linked to the main ventilation system to remove moisture from the bathroom.
Other Accessories: Apart from the above-mentioned features, it would be good if the ventilation fan you opt for has other features to enhance its usage, like built-in lights, built-in Bluetooth speakers, heating options, LCD and remote control, and temperature and speed adjustments.
If you love having a squeaky clean and fresh-smelling bathroom, then investing in a good bathroom exhaust fan is a wise option. The ones mentioned above are some of the best bathroom exhaust fans in the market with great reviews from customers. Shortlist the one you like according to the size, the features that you are looking for, and the one that suits your budget! It will definitely transform your bathroom-going and shower experience.
Expert's Answers For Readers' Questions
Why should you install an exhaust fan in the bathroom?
The basic reason to install a bathroom exhaust fan is to eliminate moisture, humidity, and odor from the bathroom and keep it fresh. It also curbs the chances of any bacteria, mold, or germ formation due to the trapped humidity. Furthermore, a bathroom exhaust fan sucks out any toxic residue from the chemical cleaners used in the bathroom to avoid any potential health issues.
How many CFM do I need for my bathroom fan?
To calculate the exhaust fan's CFM needed as per your bathroom size, all you have to follow is the simple trick of calculation: 1 CFM per square foot of the bathroom area. So if the square footage of the bathroom is 50, then the CFM should be 50.
Is it bad to buy an over sized bathroom exhaust fan?
No, in fact, it is good if you buy an oversize bathroom exhaust fan as it will allow more amount of air to move for ventilation. It is only bad if you have a small bathroom with a small window.
How many CFM do I need for a 12' x 12' room?
The square foot of a 12' x 12' is 144 square feet. Thus, 144 CFM would be a convenient choice.
Do bathroom exhaust fans need to be vented outside?
Yes, it is best to have your bathroom exhaust fan vented outside to avoid any kind of moisture lock age in the attic or other vent space.
How can I make my exhaust fan quieter?
Decreasing the speed or cleaning the vents regularly may help you in making the exhaust fan function quietly.
Does a bathroom fan help reduce smell?
Yes, it does. It replaces odor and foul smells with ventilated fresh air.
How many sones is a quiet bathroom fan?
The average sones range for a quiet bathroom exhaust fan is 1.0 sones or lesser.
How do you clean a bathroom exhaust fan?
Follow these easy steps to clean your bathroom exhaust fan with light:
Turn off the fan and remove the vent fan cover.
Unplug the adapter/plug.
Clean and dust the vents with a toothbrush or vacuum brush attachment.
Clean the fan blades with a clean cloth.
Leave the fan open for a while.
Replace the plug and vent cover. Turn on the fan.
Is there a battery-operated bathroom exhaust fan?
Yes, there is a wide range of battery-operated bathroom exhaust fan options available in the market.
Recommended Articles
The following two tabs change content below.

Latest posts by Harini Natarajan (see all)

Harini Natarajan
As Chief Editor, Harini sets the tone and editorial direction for StyleCraze to deliver engaging, interesting, and authentic content revolving around women's health, wellness, and beauty. She has over 14 years of experience in content writing and editing for online media. She specializes in the areas of Beauty, Lifestyle, and Health & Wellness and is proficient in Medical Sciences (Biology, Human Anatomy and Physiology, and Biochemistry). Her background in Biomedical Engineering helps her decode and interpret the finer nuances of scientific research for her team. Harini is a certified bibliophile and a closet poet. She also loves dancing and traveling to offbeat destinations.