13 Best BB Creams With SPF For Flawless Skin – Our Top Picks Of 2023
Wave at the sun confidently without worrying about ruining your flawless makeup!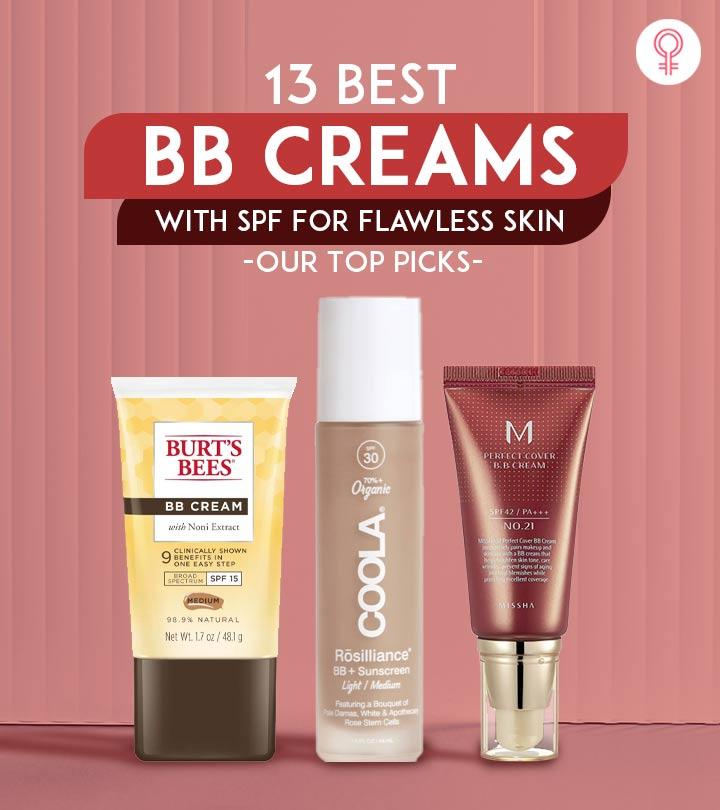 Makeup lovers around the world are going for simpler skincare routines. This is where the best BB creams with sunscreen come into the picture. This all-in-one product offers the benefits of a primer, foundation, and moisturizer while protecting your skin from sun damage. In addition, it offers light to sheer coverage while offering skincare benefits. It blurs the look of wrinkles, pores, and any other stuff you may want to hide while revealing a radiant complexion.
To help you find the right BB cream to simplify your beauty regimen, we have curated a list of the 13 best BB creams with SPF. Scroll down to pick yours.
Before we begin our list, let us first know what a BB cream does and what its properties are. Then, keep reading to know more.
What Is A BB Cream?
Blemish or beauty balms, typically known as BB creams, are used for blurring the appearance of wrinkles, pores, and any other skin issues you may want to disguise while letting your skin peek through. It combines a sheerer coverage of a foundation with the skincare benefits of a hydrating moisturizer. Our roundup in the next section is a list of BB creams that are spiked with the benefits of sunscreen as well. BB cream is an excellent one-and-done product for all your makeup and skincare needs.
13 Best BB Creams With SPF For A Protected Summer Glow In 2023
Pros
Oil-free
Blends well
Lightweight
Suitable for daily use
Cons
Does not give long-lasting coverage
Price at the time of publication: $7.35
Pros
Water-resistant
Lightweight
Oil-free
Matte finish
Vegan
Gluten-free
Cruelty-free
Hypoallergenic
Dermatologist-tested
Cons
None
Price at the time of publication: $11.5
Pros
Enriched with botanical extracts
Charmingly fragrant
Smooth coverage
Easy to apply
Cons
Not available in a wide range of shades
Price at the time of publication: $11.28
Pros
Lightweight
Non-comedogenic
Blends well
Cruelty-free
Cons
Price at the time of publication: $6.97
The lightweight formula of Burt's Bees BB Cream is enriched with noni extract to moisturize, smoothen, and firm your skin. This mineral-rich BB cream is made with 98.9 % natural ingredients to reduce the appearance of fine lines and wrinkles. In addition, it perfects your skin with 3 ultra-flattering shades by concealing signs of aging and highlighting your natural skin tone.
Pros
98% natural ingredients
Lightweight
Clinically-tested
Cons
Pros
Hypoallergenic
Paraben-free
Anti-aging
Vegan
Cruelty-free
Cons
Price at the time of publication: $36.0
Pros
Lightweight
Creamy texture
Buildable coverage
Glides smoothly
Cons
Price at the time of publication: $10.44
If you want glowing skin now and for a long time to come, pick the Coola Rosilliance Mineral BB + Cream Tinted Organic Sunscreen. It is enriched with organic mineral SPF 30, moisturizers, powerful antioxidants, and rose stem cells. It offers an even skin tone and good coverage that hides imperfections. It is available in 3 shades, features a natural sweet rose fragrance, and leaves radiant, nourished skin.
Pros
Paraben-free
Gluten-free
Non-GMO
Vegan
Reef-friendly
Cruelty-free
Cons
Price at the time of publication: $52
The Hydroxatone Anti-aging BB Cream offers the benefits of sunscreen, moisturizer, and foundation all rolled into one. This triple-threat product simplifies your beauty routine by easily blending to give a smooth coverage, skincare benefits, and a dewy finish. It can be used by all skin types, including acne-prone skin, and is the perfect choice to blur imperfections.
Pros
Can be used on the whole body
Blends well
For all skin types
Cons
Does not give enough coverage
Price at the time of publication: $41.99
Pros
Matte finish
Fragrance-free
Dermatologist-developed
Cruelty-free
Vegan
Cons
Price at the time of publication: $39
Pros
Sulfate-free
Vegan
Travel-friendly
Non-greasy
Cons
Price at the time of publication: $45
Pros
Lightweight
Ultra-blendable
Moisturizing
Versatile
SPF protection
Hypoallergenic
Fragrance-free
Paraben-free.
Gluten-free
Dermatologist approved
Non-comedogenic
Cons
Price at the time of publication: $13.99
Pros
Lightweight
Offers full coverage
SPF 45
Suitable for all skin tones
Non-sticky
Matte finish
Cons
Might contain skin sensitive chemicals.
Price at the time of publication: $24.0
If you are considering investing in one of our BB creams with sunscreen, it will be wise to acquaint yourself with the wonderful products. Keep reading about the various pros of using a beauty balm with SPF.
Benefits Of BB Cream With SPF
Sun Protection: While the SPF in BB cream alone is not adequate to last you through the day, it is a smart addition to your existing skincare regimen. After all, you can never have enough protection from the harmful effects of the Sun.
Time-saving: Makeup enthusiasts are vying for simpler beauty routines. A BB cream offers the pros of moisturizers with a foundation in just one step. You can let your skin peek through while hiding pores, wrinkles, and other issues.
Skin Care: Most BB creams mentioned in our list offer skin-friendly features like anti-agers, hydrating ingredients, etc. You can flaunt blemish-free, plump, and youthful skin with your trusted Beauty Balm.
Coverage: Layer your BB cream with a foundation of your choice for coverage, or use it alone to flaunt a light to medium coverage. Remember to clean your skin pre-application.
Now that you know all about the advantages of using a BB cream, it is time you learned about the things to keep in mind while buying this jack-of-all-trades product that combines the best of skincare and makeup to help you look flawless.
How To Choose The Right BB Cream With SPF As Per Your Skin Type
Ingredients: Look at the ingredient list to avoid any allergies. You can go for a formula with hyaluronic acid to achieve a plumping effect. Some ingredients like silicone or dimethicone can clog your pores. Be careful to avoid those ingredients.
Shade: Go for a BB cream that offers the right coverage for your skin tone. We have picked brands that formulate shades for different skin tones: fair, light, golden light, and medium.
Skin Type: Remember to choose a cream formulated for your specific skin type. Hypoallergenic products are great for sensitive skin, while anti-aging options are best for mature skin.
Budget: BB creams with SPF need not make a hole in your pocket. You can choose from various drugstore options that give you more bang for your buck.
The Bottom Line
Why Trust StyleCraze?
The author, Baishali Bhattacharya, is a certified Style and Image Consultant with a keen interest in makeup artistry. Over time, she has used several BB creams with SPF to test their effectiveness and gone through hundreds of reviews online to curate this list for the readers. Her in-depth knowledge of makeup products and skincare makes her writing invaluable to those looking for verified information.
Frequently Asked Questions
Do BB creams with SPF work?
BB creams with SPF do work to fight the effects of UV rays, but the protection may not be sufficient. If you are exposing yourself to sunlight for long hours, frequent reapplication of sunscreen is advised.
Is sunscreen and BB cream the same?
No. A BB cream works as a primer, foundation, and moisturizer formulated to blur blemishes, while sunscreen is solely created to save you from harmful UV rays. BB creams can sometimes offer sun protection, but it may not be enough to last you all day long.
Do I need sunscreen if my BB cream has SPF?
Yes, BB cream with SPF is usually SPF 15 or 30. If you are in a sunny place, you will need sunscreen over your BB cream.
How often should you apply BB cream with SPF?
BB creams contain skin-friendly ingredients and those with SPF will only add to the benefit for your skin. So, you can use them daily for a no-makeup, smooth look.
Can I wear sunscreen under BB cream?
Yes, you can apply a thin layer of sunscreen under your BB cream.
Is SPF BB cream good for oily skin?
Yes, SPF BB cream that is lightweight and oil-free is good for you if you have oily skin. The Maybelline New York Dream BB Fresh is a good SPF BB cream for oily skin.
Does BB cream with SPF cover dark circles?
Yes, your BB cream with SPF does multiple jobs as a primer, foundation, sunscreen, etc. So, it will help you cover dark circles. If you need more coverage, choose a buildable formula.
How long does BB cream last?
A long-lasting BB cream can last for 10 hours after application.