Top 10 BB Creams Available In India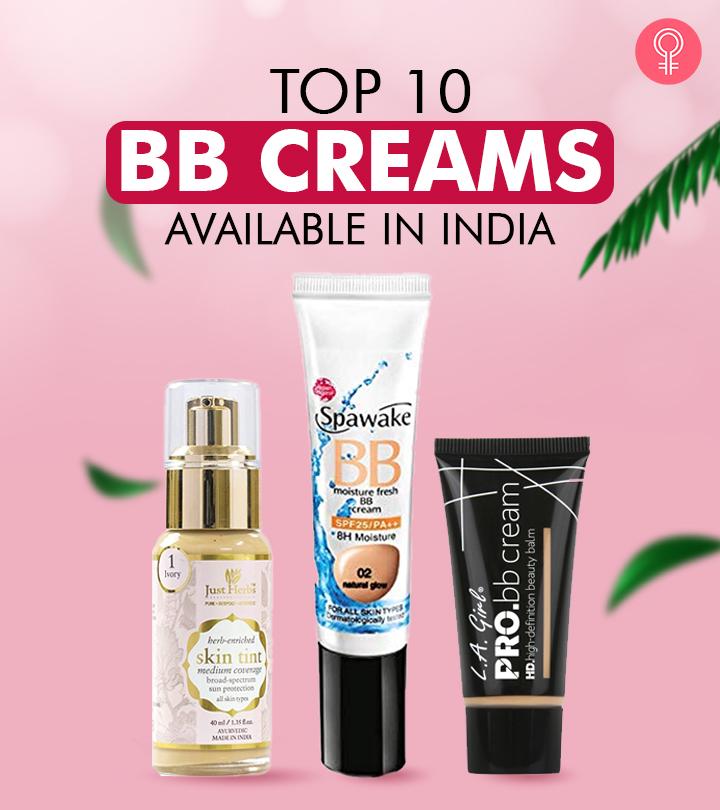 Our stressful lives call for makeup products that go the extra mile and serve multiple benefits. A multi-benefit product can help you save time and face the world head on!
BB cream is a perfect balance of foundation and skin care and does more than your tinted creams. It captures your best glow and boosts radiance while nourishing your skin from deep within. It is usually packed with antioxidants that slow down aging and protect your skin from sun damage. This all-rounder is the perfect partner for that natural makeup look that you can achieve in under two minutes. Scroll down and check out some of the best BB creams available in the market.
But first, find out what exactly BB cream is.
What Is A BB Cream?
BB is short for 'beauty balm.' It offers a natural no-makeup effect. It lends the wearer a skin-first makeup look that looks natural and healthy. It moisturizes and illuminates the skin and imparts a subtle glow and revived appearance to tired skin. It is a multi-performer cream that corrects the skin tone for an even-looking complexion while moisturizing, protecting, and masking any imperfections.
Check out the 10 BB creams available in India below!
Top 10 BB Creams Available In India
It's time to give your skin all-round care with the Olay Total Effects 7 In 1 BB cream with SPF 15. This multitasker counteracts the signs of stress and dullness on your skin while giving your face that little tint of foundation. It smoothes the skin for an even tone while boosting radiance, targeting age spots, and refining pores for healthier and brighter skin. It lifts and firms the skin while locking in moisture for supple and smooth wrinkle-free skin. The potent concentration of Niacinamide at 99% is the star ingredient for holding moisture and increasing cell turnover. Vitamins C and E clear the skin and fight against environmental aggressors, while green tea extract protect the skin against damage.
Pros
Combats aging
Corrects uneven skin tone
Moisturizes the skin
Smoothens the skin
Brightens the skin
SPF 15
Cons
None
The Garnier BB Cream has an all-in-one formula enriched with vitamin C, almond extract, and brightening minerals. It glides on smoothly and blurs blemishes to give you an even skin tone. The SPF 24 and UVA/UVB filters protect the skin against sun damage while leaving your skin moisturized and healthy.
Pros
Moisturizes the skin
Brightens the skin
SPF 24
Blurs blemishes
Nourishes the skin
Lightweight
Cons
The Ponds BB cream is a simple two-in-one formula that makes your look skin bright and glowy while lending it good coverage for blemishes. It offers a soft and smooth finish while hiding dark circles and spots for a more even-toned appearance. The formula is enriched with vitamin B3, vitamin E, and allantoin. It is suitable for all skin types and available in two shades for lighter and darker skin tones. It also has SPF 30 PA++, which makes this BB cream great for outdoor use.
Pros
Instant dark spot coverage
Imparts a visible glow
SPF 30 PA++
Non-clogging
Budget-friendly
Cons
None
Trust the Fair And Lovely BB Cream for that effortless everyday look. It offers all the benefits of an advanced multivitamin glow cream in a foundation finish. It offers the perfect natural look and even complexion with blemish-free coverage. It leaves your skin looking smooth, non-oily, and healthy instantly. It also has SPF 15 PA++ for added sun protection. It can be used anytime, for an interview or for grabbing lunch with friends.
Pros
Matte finish
Good coverage
Non-oily
Imparts a visible glow
Cons
For that 2x boosted glow and natural finish, get your hands on the Spinz BB Fairness Cream. This lightweight, creamy formula covers all spots and provides an oil-free glow for a smooth and natural appearance. The product lends a radiant glow and good coverage to the skin. It has a soft and velvety texture that blends easily, spreads evenly, and imparts a fresh look to your face.
Pros
Instant glow
Lightweight
Good coverage
Even application
Oil-free finish
Paraben-free
Silicone-free
Paraffin-free
Alcohol-free
Cons
For the ultimate sheer look, try the Colorbar Perfect Match Beauty Balm. This super lightweight moisturizer gives you sheer coverage and hydrates your skin for a refreshed, well-rested appearance. It corrects uneven skin tone and smoothens creases and lines while making your skin look naturally perfect. The formula has potent botanicals and antioxidants that prevent dullness. It also offers broad-spectrum SPF 20 protection for a safe time outdoors.
Pros
Sheer coverage
Lightweight
Hydrates the skin
SPF 20
Allergen-free
Paraben-free
Fragrance-free
Mineral oil-free
Cons
Limited shades available
Expensive
Price at the time of publication: ₹487.5
Spawake Moisture Fresh BB Cream gives you a dewy finish and hydrates your skin for upto eight hours. This formula combines skin care and make up to give a natural-looking sheer finish with an even skin tone. It spreads easily and refreshes, perfects, and protects the skin. This BB cream combines potent UV damage-repairing ingredients that renew the lost luster of the skin. The Alaria esculenta extract not only prevents UV damage but also stimulates hyaluronic acid synthesis for a reinforced skin barrier. The Laminaria japonica extract hydrates the skin for a natural glow, while the anti-inflammatory sea salt unclogs pores. This cream has a refreshing fragrance and is suitable for all skin types.
Pros
Long-lasting hydration
SPF 25 PA++
Deeply nourishing
Repairs the skin
Pleasant fragrance
Alcohol-free
Cons
This BB cream by L.A. Girl is your go-to product for that bright and natural-looking skin. It primes and moisturizes the skin for an enhanced and even tone and youthful glow. The formula is enriched with vitamins B3, C, and E. The silky texture of the cream penetrates deep into the skin to nourish it while boosting its luminosity and concealing any blemishes. The product caters to a wide spectrum of skin tones with its eight different shades.
Pros
Moisturizes the skin
Instant glow
Smoothens the skin
Enhances the skin tone
Good coverage
Conceals discoloration
Available in 8 shades
Cons
None
Price at the time of publication: ₹638
For the perfect "no-makeup" makeup look, try the lightweight and highly blendable Sugar Goddess Of Flawless SPF 30 BB Cream. It provides a flawless matte finish with its aerated mousse formula. This multi-performer product primes, moisturizes, renews, and protects the skin. It is enriched with Dolicos Photoprotect that wards off the damage of photoaging and stimulates the skin renewal process. Grab this BB cream for a well-rounded light makeup look everyday.
Pros
All-in-one formula
Protects against photoaging
Prevents sun damage
Combats oiliness
Lightweight
Easy to blend
Cons
The Ayurvedic formula of Just Herbs Enriched Tint blends easily and blurs out any uneven spots while masking the appearance of open pores. It nurtures the skin with a blend of natural ingredients and also offers broad spectrum sun protection. It contains Indian Kudzu, which reduces wrinkles and inflammation and improves microcirculation. Javitri fights pigmentation, acne scars, and hydration. Usheer retains moisture, reduces inflammation, and triggers deep cell regeneration.
Pros
Instant glow
Natural ingredients
Easy to blend
Available in 5 shades
Cons
Insufficient coverage
Expensive
Price at the time of publication: ₹827.07
BB creams have found their way into our everyday makeup routine. Find out if you have been using your BB cream the right way to get the best results. Scroll down!
How To Use BB Cream
Here are the steps for getting the best out of your BB cream:
Cleanse your face with a facial cleanser.
Take an adequate amount of BB cream on your finger.
Dot your face with the BB cream.
Blend out the cream with your fingers, moving them in circular motion. You can also use a makeup sponge in a patting motion (stippling) for a more seamless finish. Build coverage as needed.
Blend the cream down to your neck and on your ears to prevent any harsh lines.
If you are considering getting a BB cream for your daily skin care routine, check out the following section before you invest in one.
How To Choose The Best BB Cream
Pick a BB cream as per your skin type. If you have dry skin, check for ingredients like hyaluronic acid, ceramides, and natural oils. For oily skin, pick one that offers a matte finish and has an oil-free and shine-free formula.
Select a neutral, warm, or cool shade based on where your skin undertone stands on the color wheel. A compatible product offers a smooth finish without altering the natural color of your face.
Choose a shade closest to your complexion for a more natural appearance. Getting the wrong shade of BB cream will make you look cakey or ashy.
Check the ingredients list. Preferably, go for a formula that has botanical extracts as they nourish the skin. Avoid any product with alcohol, parabens, phthalates, and other harmful chemicals.
Most BB creams come with broad-spectrum SPF to protect your skin from UV damage. It should have SPF 20 or more for broad-spectrum protection.
Investing in a good BB cream is a wonderful way to simplify the many steps of your makeup routine into a single product. The versatility of a BB cream makes it a must-have in every woman's makeup bag. It delivers a natural glow and smoothens out your complexion to ensure that you look your best self without using too much makeup. BB creams are ideal for that everyday, lightweight, medium-coverage look. Check out our list of high-performing BB creams and choose your favorite now!
Frequently Asked Questions
Can I use BB cream daily?
Yes. They are ideal for everyday wear and provide a lightweight coverage for daily use.
Is it bad to sleep with BB cream on?
Yes. It is advisable to always cleanse your face to allow your skin to decongest after a long day.
How to find the perfect BB cream shade?
Choose from the shade card mentioned with the product to get a shade that is closest to your natural complexion. A good rule is to not pick a shade that is lighter than your skin as it will create a white cast on your face. Check for a shade that matches your undertone (warm, cool , or neutral) as well.
Can I use BB cream before makeup?
BB cream can be used independently or as a base for some coverage before you apply foundation. It works well alone and with makeup.
Should I apply any other product after applying BB cream?
It is not required as BB cream provides sufficient coverage.
Recommended Articles