13 Best Beach Sandals For Women That Are Stylish & Comfy – 2022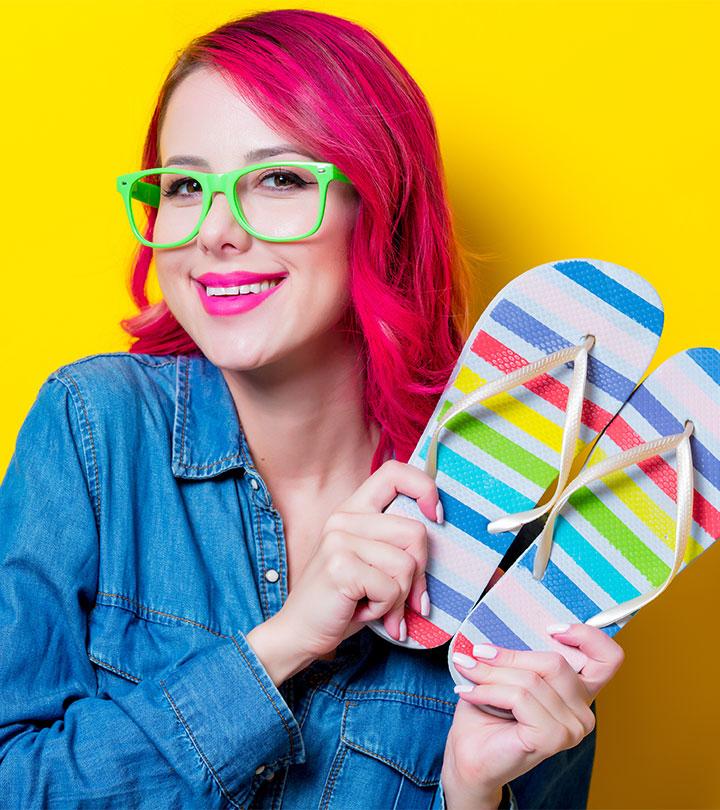 Nothing beats a good beach vacation! The perfectly sunny weather, lovely sea breeze, and fun drinks. What more can one want – except for the best beach sandals to avoid bruising your feet! Beaches are very popular vacation spots, and a large number of people spend their time holidaying on beaches all around the world. While most of us prepare for a beach vacation and pack our SPFs, bikinis, and wide-brimmed hats, we forget the right footwear. While the sand does feel extremely relaxing to walk on, the shells on the beach, along with the small pieces of broken rocks, can be very dangerous.
Most beaches have pebbled paths with little rocks and shells leading up to the waters. Walking barefoot on these terrains can be extremely risky. The wrong shoes may cause you to slip and fall or cut yourself. It is important that you invest in some appropriate beach sandals for your next trip to the beach. The best beach sandals offer good support and a snug fit. They should also have non-slip soles and be waterproof. In this article, we have listed the best beach sandals available on the market right now. Go ahead and choose your pick to get beach-ready for your next vacation.
 13 Best Beach Sandals To Get You Ready For Summer Vacation
 Roxy's super-comfortable beach sandals feature a soft and water-friendly EVA upper material that comes with a polyweb-lined synthetic nubuck toe. The insole of these beach flip flops is made of molded EVA and provides ample bedding to keep foot issues at bay. With the textured rubber outsole, you can walk on the sand while keeping your ground as it gives you good traction. Available in a wide range of fun color combos, you can add these comfy beach sandals to your luggage for weekend trips to the coastline.
Pros
Soft between the toes
Water-friendly upper
Molded insole for support
Anti-skid outsole
Durable and stylish
Available in 19 colors
Cons
Might be slightly short for some
 Reef is a cult favorite when it comes to beachy essentials and offers the most comfortable sandals that are PVC-free, making them the best sandals for beach walking. Designed with soft woven polyester straps, their EVA- cushioned footbed lends your feet ample support to tread on uncertain terrains, while the straps are non-abrasive and won't cause any irritation to the skin. You can also enjoy proper arch support to ensure a pain-free and seamlessly fun time out in the sun on beach vacations. With no break-in period, you can immediately get down to business and show off your new comfy sandals on the beach.
Pros
Soft, non-abrasive straps
Available in 3 classic colors
EVA footbed with arch support
No break-in period
Rubber outsole for traction
Water-friendly upper
Cons
The insole might lose some color over time.
New Balance's extra-cute and secure beach slip-on sandals have outsoles that are sturdy yet comfortable, so you can skip from rock to rock carefree! A plush foam is used on the top footbed for supreme cushioning and the underfoot quality is ideal for a casual trip down to the water. Easy to slip into and out of, these trendy beach sandals feature a fixed strap for all-day support that keeps your mind focused on the beauty that surrounds you instead of fixating on blisters or chafes.
Pros
Available in 10 colors
Soft cushioning
Solid upper strap for support
Easy to wear and remove
Versatile and on-trend
Cons
The sole might be slightly less flexible.
If you're looking for something cool and comfy, you will start swearing by these cute beach sandals from Dream Pairs. Uniquely crafted with a real yoga mat footbed so you can rest your feet on the softest of cushions, the pair of sandals is supplemented with an EVA midsole and sponge outsole, all of which combine to create airy footwear. The adjustable braided strap design is not only easy to customize, but it also adds a chic look, making them cute sandals for a beach wedding. Thanks to the comfy toe ring, your feet won't be able to slip out of these fancy beach sandals.
Pros
Available in 8 colors
Sponge outsole
Adjustable straps
Toe ring for support
Soft cushioning
Flexible and lightweight
Cons
Some may find the toe area slightly narrow.
Flip flops get a bad rap for being too thin and stiff, but these girls' beach sandals are here to upturn the game. Featuring a hand-woven nylon cord that's masterfully braided to lend you some exterior support, the pair is designed to keep your feet secure, still, and safe. The EVA-cushioned midsole and anti-slip rubber outsole combine to keep you comfortable and provide excellent traction on any kind of terrain. With arch support also built in, your feet won't feel fatigued even after an entire day of frolicking around in the water and sand. Because the dressy beach sandals are so pretty and come in a variety of colors, you can even wear them during non-beachy occasions like an intimate Sunday brunch.
Pros
Available in 18 colors
Braided adjustable straps
Cushioned midsole
Anti-slip rubber outsole
Textured foam insole
Lightweight and supportive
Cons
Might be slightly tight for wider feet
 Beloved by beachgoers everywhere, Chaco brings you one of the best sandals for the beach that are both functional and fashionable. Lightweight but guaranteeing great comfort, these travel sandals have an easily packable design with a low profile. The adjustable polyester jacquard webbing is infused with an injection-molded ladder lock buckle so that the pair doesn't slide off your feet. The EVA midsole is crafted from a proprietary LUVSEAT footbed that enhances your comfort for longer and allows these white beach sandals to protect your feet from abrasion and friction.
Pros
Available in 16 colors
Lightweight
Non-abrasive midsole
Easy to pack design
Adjustable buckle
Excellent support
Cons
Some may find the midsole slightly stiff.
Vionic's beach thong sandals are a classic design with a contoured heel seat for optimum levels of comfort. They have a synthetic sole that is textured so you can get a better grip on the sand, among rocks, and even in the water. Also made of synthetics, the straps of these comfortable summer sandals lie gentle and snug against your skin without pinching or moving around too much. With 3 pretty color options, these flat beach sandals are a must-have accessory for every summer holiday.
Pros
Ultra-soft insole
Textured outsole for grip
Gentle and secure straps
Contoured heel seat
3 color options available
Cons
Might squeak a little when wet
This pair of strappy beach sandals features an exterior made of polyester webbing, which isn't only durable but dries quickly even after getting wet. The EVA yoga mat insole absorbs impact while the built-in arch support keeps fatigue low with high movement. What's unique about the shoes is that they also control your feet and prevent excessive pronation during your gait cycle. These beach walk sandals have a soft and anti-skid rubber outsole for secure footing along with hook-and-loop closures that make adjusting easier and the fit more comfortable.
Pros
Adjustable straps
Padded heel strap
Absorbs impact
Quick-drying upper
Prevents overpronation
Anti-skid rubber outsole
Cons
The straps might be slightly longer for some.
 If you are always on the lookout for footwear that improves your posture and travels easy, check out this pair. Aerothotic's slip-on beach sandals feature an anatomical shape for maximum support, while the smooth-textured arch and toe bar provide you with enough freedom to flex your feet. Featherlight and durable, these waterproof beach sandals come with adjustable dual buckle straps that can be customized to the size and shape of your foot and give you a good grip without loosening over time. The flexible heel cup in these stabilizes your stride and makes sure you are secure on every surface, be it sand or water.
Pros
Available in 9 colors
Helps with posture alignment
Raised toe bar and deep heel cup
Waterproof, lightweight, and flexible
Geometric pattern on outsole for traction
Cons
The best way to keep your baggage light and breezy is to carry multipurpose footwear that can travel seamlessly from beach to brunch and beyond. Ipanema's luxury beach sandals are an excellent contender in the category, being relaxed enough for sand and dressy enough for the rest of the day. They've been crafted with the unique Flexpand material that is 100% recyclable. Running up the center strap, you will find a sequence of 3D spheres that lends this footwear a glamorous look. A glossy finish is given to the tone-on-tone appliqués to make the beach dress sandals contemporary. Available in 5 colors, this footwear is great for fancier occasions as well.
Pros
Glossy finish
Long-lasting materials
Versatile and travel-friendly
100% recyclable material
Lightweight and well-fitting
Pearl embellishment
Cons
The toe strap may slightly irritate the skin.
These beach slide sandals from Adidas are lightweight and comfortable with no straps of toe separation to deal with. As they are rounded on the outer edges, you can enjoy slightly better arch support compared to regular beach shoes. With a logo running through the forefoot strap for a modern-chic look, the other strap on these sandals is adjustable for a snug fit. The Adilette is also known for its great energy return, so you won't need to worry about tired feet anymore.
Pros
Lightweight
Soft and comfortable
Logo detailing
Adjustable strap
Energy return
Arch support
Cons
Dirt and smudges might be more visible on white
On the sportier side, Camel's beach heel sandals feature a soft platform wedge footbed for much-needed arch support and cushioning. The MD anti-slip outsole provides high traction and keeps you from easily falling or slipping on wet surfaces. You can also adjust the straps of these platform beach sandals as there are 3 hooks and loops for a fit that doesn't fail. Lightweight with a slingback strap, these beach sandals with arch support are also waterproof, quick-drying, and equipped with shock pads.
Pros
2 color options available
Quick-drying and waterproof
Provides superb arch support
Adjustable top and back straps
Platform wedge footbed for cushioning
Cons
Might be slightly less stable
KEEN has come up with this pair of really good beach sandals that have a washable polyester webbing exterior. They also come with a quick-drying lining that is PFC-free and water-repellant, meaning the materials used don't harm the environment and your feet remain comfy. Featuring high-traction rubber outsole pods, the sandals make treading on any surface easier, while the compression-molded EVA midsole offers fantastic cushioning to keep your spirits up throughout the beach trip.
Pros
Washable
PFC-free lining
Quick-drying
Soft cushioning
High-traction rubber outsole
3 color options available
Cons
Might be slightly roomy for narrow feet
Now that we've taken a look at some of the best sandals for beach days (or nights!), let's learn how you can pick out the right pair for yourself.
How To Choose The Right Sandals For The Beach
As the beach involves a lot of water, sand, and rocks, you need to look for outsoles made from a thick, high-grip material like rubber. If the underfoot is patterned and textured, that's even better, because it helps you maintain traction and prevent slipping on wet surfaces.
Look for synthetic materials that keep water away from the shoe so you won't have to deal with unnecessary moisture. Synthetics like polyester and rubber are a good idea. Quick-drying materials also prevent the shoe from absorbing and holding on to large amounts of water, which can interfere with comfort.
There are a plethora of styles available on the market for you to choose from, so this ultimately depends on your preference. Slides and flip flops are easy to wear and remove, but some might experience irritation between the toes because of the latter. Strappy sandals are great for all-round support with no slippage and can even be customized for a better fit. However, some people may find the straps annoying to deal with as they can lead to friction. Make sure to try different kinds of sandals and judge each pair based on your needs as well as the fit and overall comfort.
If you struggle with foot-related problems such as pronation, fallen arches, or the like, look for footwear that comes with built-in orthotics. Optimum arch support, cushioning, traction, and outer grip can give you extended comfort and reduce foot fatigue.
Why Trust StyleCraze?
Priyam Gupta, the author, is a fashion enthusiast who believes that to match your beach outfits, beach sandals are a must! In this article, she has curated a list of the best beach sandals that have been carefully reviewed by her after going through multiple reviews and user feedback. These beach sandals are helpful because most beaches have pebbled paths, and walking barefoot on these terrains can be extremely risky.
Recommended Articles