11 Best Sophisticated & Lightweight Beach Wedding Dresses
Make your nuptial moment memorable with these attires giving off the beach vibe.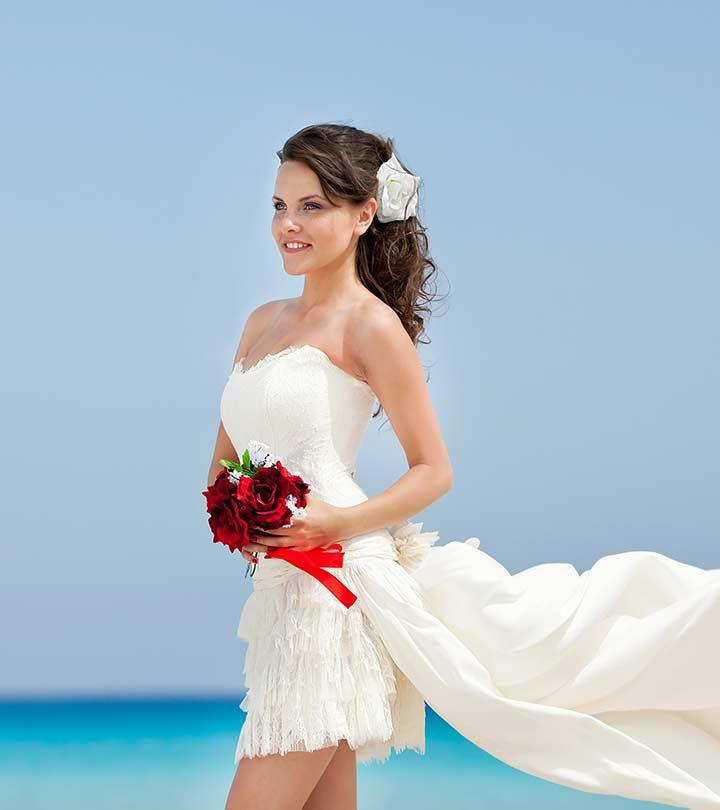 If you're gearing up for one of the best days of your life and have planned a gorgeous beachside wedding, you must be on the lookout for the perfect wedding dress. A wedding on the beach is a dreamy affair, complete with the sound of ocean waves crashing behind, the scent of salty sea air, and of course, the feeling of sand beneath your toes. The best beach wedding dresses that would be ideal for this incredibly special occasion have to be tailored to your tastes and styles, not to mention the beach!
If you're going to a more tropical place, you can consider a beautiful, flowy, and airy dress to tackle the heat, or maybe a shorter beach wedding dress if you want to keep the ends away from the sand. A tight-fitted beach wedding dress will also look chic if that's the bridal look you have in mind. You may want to stay away from the heavy ball gown type of wedding dresses as those may prove a little more uncomfortable at a beach set-up, while lightweight dresses would be a gorgeous and more suitable option. We've put together a list of the 13 best beach wedding dresses that include all kinds of styles and looks, so you can have the most special day.
11 Best Beach Wedding Dresses That Suit Every Aesthetic
Slay your special day at the beach with this gorgeous, full-lace beach wedding gown. The strapless dress has a gorgeous sweetheart neckline that is dainty as well as eye-catching, and the lace detail is bound to turn heads as you say your vows in front of the ocean. This elegant beach wedding dress has a drawstring closure with a lace-up back so you can be sure it will fit you like a glove. Get the dress made in your size and you can walk down the sandy aisle feeling like a mermaid in this beautiful gown.
Pros
Custom-made
Sweetheart neckline
Full-lace design
Strapless style
Drawstring closure
Lace-up back
Cons
May not be ideal for bigger hips
Bring a touch of elegance to the seaside with this classy lace chiffon beach wedding dress that has a boho element to it. This gorgeous number has a sweetheart neckline and a floor-length hemline that sweeps across. The sleeveless dress has pretty lace detailing on the sleeves and upper chest, while the back is lace-up. Customize this dress to your own size and dazzle your future spouse on your big day.
Pros
Custom measurements
Sweetheart neckline
Lace detail
Sleeveless design
Lace-up back
Floor-length hemline
Cons
Size may run slightly big
Stun everyone with this breathtaking mermaid beach wedding dress from Clothfun. The V-shaped neckline complements a gorgeous patterned long sleeve and the A-line princess style gown is made of high-quality chiffon, lace, and tulle so that you can look your very best on the day of your dreamy destination nuptials. The custom-sized dress features a built-in bra for your convenience and has a corset closure to give you an elegant and flattering fit.
Fashion Designer, Raluca Oita, says, "I would recommend choosing simple and delicate jewelry, such as a pair of stud earrings and a bracelet that complement the dress without overwhelming it. The dress's intricate details on the long sleeves and bodice already make enough statement. For the shoes, a pair of simple, elegant sandals or flats would be the perfect choice, as they will not only be comfortable for a beach wedding but also will be in line with the dress's overall aesthetic."
Pros
Custom construction
High-quality fabric
Built-in bra
Floor-length hemline
Lace patterned sleeves
Cons
Material may be slightly thin
Price at the time of publication: $99.99
Don this stunning lace mermaid beach wedding dress that is also from Clothfun. It comes with a semi-open back complete with delicate full-lace detailing and hugs you around your waist, flaring up towards the bottom, while a high-lace neckline accentuates your shoulder blades and collarbones. The customizable dress with a corset closure has a built-in bra for convenience and is also made of high-quality chiffon, tulle, and lace fabric.
Pros
Custom measurements
Full-lace detailing
Corset closure
High-quality fabric
Built-in bra
Floor-length hemline
Cons
If you're the kind of bride who is looking for a simple, dainty, and minimalistic seaside wedding with your close friends and family, this is the perfect beach wedding dress for you! The sleeveless lined tank top dress made up of light, airy cotton is bound to make you look like an elegant, breezy bride. The fitted V-neck dress hugs the waist in all the right ways and is covered with gorgeous lace embroidery. The hi-low pattern is lightweight and keeps you comfortable on your big day.
Pros
Lightweight fabric
Lace embroidery
Lined and breathable
Sleeveless design
Hi-low style
Cons
Might be slightly see-through
This is your chance to bring a fairytale twist to your beachside wedding by picking up this gorgeous lace tulle beach wedding dress. Equipped with a built-in bra, this stunning gown has pearl, satin, and lace embellishments to accent and complement the dress, making it both beach and wedding-ready. The timeless A-line design goes perfectly with the sleeveless fitted top of the dress and is bound to catch the eye of all beach-goers of the day!
Pros
A-line silhouette
Sleeveless design
Built-in bra
Lace, tulle, satin fabric
Pearl and sheer embellishment
Custom-size available
Cons
Fabric may irritate the skin slightly
Take everyone's breath away with this drop-dead gorgeous mermaid lace beach wedding dress from Ryanth Women. The delicate lace embroidery complements the sweetheart neckline, while the statement sleeves and cutout back give you a vintage look for your big day. The dress has a button and zip closure along with a white lace border trail that will make you feel like a goddess at the beach on your wedding day.
Pros
Lace embroidery
Custom-size available
Sweetheart neckline
Button closure
Lace tulle fabric
Cons
The zipper may stick a little.
Price at the time of publication: $138.99
Jaeden's summer beach wedding dress brings you a graceful lace and chiffon number that will look oh-so-perfect against the ocean backdrop. The A-line silhouette of the dress falls in a flattering manner, and the top of the dress is covered with delicate lace that falls around the double V-neckline. The beach-themed gown is made of high-quality soft chiffon fabric and is appliqued with pretty beading and sequins to make you look glamorous.
Pros
Chiffon fabric
Double V-shaped neckline
Beautiful beading and sequins
Button and zipper closure
Custom sizing available
Cons
If you are looking for princess-style flowy beach wedding dresses, Mulanbridal is the place to check out. This sophisticated chiffon beach wedding dress is appliqued with lace detailing that complements the double V-shaped neckline. The long formal evening gown has a lace-up drawstring closure so you can tighten or loosen the top of it to accommodate your body in a comfortable and flattering way. What makes this dress unique is the fact that this brand is very size-inclusive, which means you can find your exact fit!
Pros
Custom-size available
A-line silhouette
Sleeveless
Double V-neckline
Appliqued with lace
Lace-up drawstring closure
Cons
Price at the time of publication: $69.92
What better day to feel like a princess-slash-goddess than your wedding? This gorgeous chiffon fabric beach-themed dress by WeddingDazzle is strapless and brings you a flattering fit. The luxury beach wedding dress has a sweetheart neckline and an embellishment on the waistline that looks eye-catching and elegant. With a bust that doesn't slip down and a corset that accentuates your curves, this is a beautiful and super-comfortable choice for every bride.
Pros
Chiffon fabric
Plus size option
Elegant and strapless
Sweetheart neckline
Waist embellishment
Cons
Fabric may be slightly see-through
Price at the time of publication: $71.69
Another stunning option for your destination wedding is this bohemian wedding gown from Tsbridal. It is made up of high-quality polyester fabric with delicate lace applique and comes with full lining and a built-in bra for maximum comfort and convenience. The beach wedding dress flares out towards the bottom, giving you a mermaid look that is both striking and elegant at the same time. Oh, and did we mention that the dress comes with pockets? That's the full package!
Pros
Lace applique
Pockets included
Custom option available
Polyester fabric
Full lining
Cons
Lining may be slightly stiff
Now that you've taken a look at all the stunning options available for your big day at the beach, keep these tips in mind when going through the list of the 11 best beach wedding dresses of 2023.
How To Pick The Best Beach Wedding Dress
When you're at the beach with your feet in the sand on your big day, you don't want to worry about layers and layers of heavy material weighing you down while moving around. Pick a lightweight, airy, and breezy dress material so that you'll be comfortable in the tropical weather. Whether you're looking for fall beach wedding dresses or a spring beach wedding dress, make sure the materials are appropriate for the weather.
Getting ready for your wedding day, especially if it's a destination wedding, should be a seamless process that lets you have a fun time with your bridesmaids. Pick your preferred closure based on whether you want a smooth zipper or buttons. If you want something more adjustable to your body shape and size, you can opt for the lace or drawstring closure option.
If you're looking for a traditional bridal wedding gown, a floor-length hemline is something you can go for, especially if it is lightweight and airy. Another option is an asymmetrical hi-low dress that will make it easier for you to walk around or a short, pretty beach wedding dress that needs very little maintenance.
Since you'll be unable to try the dress when ordering it online, it's a good idea to check whether the dress can be custom-sized so you can make sure it has the best and most flattering fit for your big day.
Why Trust StyleCraze?
Priyam Gupta, the author of this article, loves fashion like nothing else matters. Her passion for bringing the right product to her readers motivates her to dig through hundreds of reviews to bring you, the readers, the best beach wedding dresses. This carefully curated collection of beach wedding dresses is the right combination of comfort and style, making you look like a chic princess on your special day.
Frequently Asked Questions
What material is the best for a beach wedding dress?
Light fabrics such as linen, lace, organza, chiffon, and cotton are good materials for a beach wedding dress.
Can I wear a satin dress for a beach wedding?
No. Satin fabrics are not good for soaking sweat as they are made with nylon and polyester threads that are not breathable.
What to wear under a beach wedding dress?
You can wear a good-looking underwear set made of breathable fabric under your beach wedding dress.