11 Best Beachy Perfumes Of 2023 With Reviews
It's time to spray on some of these incredible perfumes and steal the spotlight!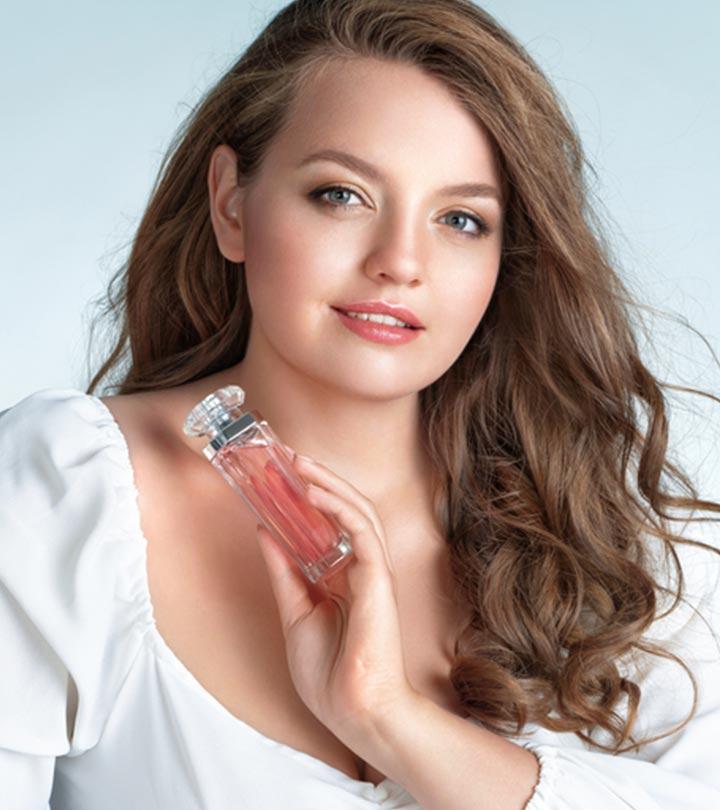 Are you planning to take a vacation to the beach? While sunscreens, shorts, and bikinis are some beach staples, another thing that you should not miss out on is the best beachy perfume. Such a perfume will remind you of the fresh, tropical, coconutty, and beachy fragrances that will instantly uplift your mood. The smell of these tried-and-tested perfumes is inspired by flora and fauna, and the refreshing fragrance will make you remember your beach vacay forever. So, if you feel like visiting the sandy beach and enjoying all the beach vibes, then you should get your hands on the best beachy perfumes. Nathalie Rouquet, a perfume expert, opines, "If you're headed for the beach or somewhere sunny, please be careful of where you're spraying your perfume as the sun might interact with the alcohol it contains. Typically, if you're planning on sunbathing, or know you'll be out in the sunshine for a while, and want to wear your fragrance, please wear it somewhere sheltered from the sun, like in your hair or on your clothes instead of on your skin directly."
Whether you are looking for a mild yet refreshing scent, or something strong and concentrated, we have curated a list of the 11 best beachy perfumes that you will fall in love with. So keep reading to explore our list and pick the one that suits your personality perfectly.
11 Best Beachy Perfumes That Leave You Feeling Refreshed And Rejuvenated
This refreshing body mist is perfect for people who gravitate towards mild yet refreshing scents. It has heart notes of palm leaves, coconut water, and salty amber, which leave the skin feeling fresh, conditioned, and smelling like the beach. This is the perfect summer fragrance, especially if you want to keep your scent light and fragrant. The beach-inspired scent also contains base notes of frangipani blossoms and bergamot waters to leave you feeling happy and relaxed with each spritz. Check out the review of this product for more information.
Pros
Moisturizes the skin
Refreshing and light fragrance
Suitable for hot and humid weather
Suitable for sensitive skin
Cons
It may not last for the whole day
The Lilly Pulitzer Beachy Parfum Spray has a pleasant fragrance of citrus and vanilla. The high-quality ingredients of this perfume are summer scents like citrus, watermelon, marine air accord, amber, vanilla, frangipani, tiare flower, jasmine, and salt crystals. Pair this perfume with your favorite summer dress and enjoy a lovely day at the beach.
Pros
Organic ingredients
Unique sillage
Ideal for summer time
Cons
May cause irritation on sensitive skin
If you want to be transported to a tropical island with just a spritz of perfume, this beachy scent is perfect for you. The alcohol-free concentrated fragrant oil is gentle and long-lasting, and once it dries, it gives off subtle notes of aromatic essential oils for the whole day. The fragrance oil contains prominent accords of coconut, amber, vanilla, and woody notes that ensure you smell your best no matter where you go. Reviewers have mentioned that the scent is perfect for people who enjoy the sweet and musky smells of coconut and Hawaiian tropical oils. It will remind you of warm sand, sea breeze, and that exotic beach getaway you have been dreaming of.

Pros
Suitable for sensitive skin
Long-lasting
Alcohol-free
Travel friendly
Cons
The formula may leave a greasy residue
This popular unisex fragrance is one of the bestselling fragrances by Bobbie Brown and is inspired by the tropical scents of the beach. The formula is designed with an exotic blend of keynotes like sand jasmine, sea spray, and mandarin, making the perfume intoxicatingly beautiful. The perfume is free from any parabens, sulfates, and gluten, making it safe for sensitive skin. It also doesn't contain any animal-derived ingredients. If you are looking for one that can be worn for every occasion without feeling overpowering or heavy, this is the one for you. This gives off sun-kissed, salty air, and breezy vacation vibes along with exceptional results when worn properly.
Pros
Fresh, top notes
Paraben and sulfate-free
Doesn't contain animal-derived ingredients
Not overpowering
Cons
May need constant re-touching
If you love the smell of coconuts and surf wax, you will love this roll-on perfume. This unisex fragrance is formulated with natural ingredients like coconut and tropical fruit essences. It is safe to use on sensitive skin, so you don't have to worry about any allergic reactions. In addition, it is also phthalate-free and prop 65 compliant! With this roll-on fragrance, you will definitely make a statement wherever you go! Just pop it in your bag, and you are set for the day or night.
Pros
Phthalate-free
Prop 65 compliant
Tropical base notes
Travel friendly
Cons
You will get the best of both worlds with this fragrant product because you can spritz it all over your body and your hair. It contains a refreshing blend of coconut water, grapefruit zest, aquatic florals, pink amber, water lily, suede musk, and vanilla, which hydrate your hair and body. This statement-making perfume is the perfect addition to your summer routine; just toss it in your beach bag to keep your hair and body feeling fresh and hydrated.
Pros
Conditions hair and body
Not overpowering
Suitable for teens and young adults
Doesn't leave any greasy residue
Cons
May not be ideal for senstive skin and oily hair
The Lilly Pulitzer Beachy Eau De Parfume was launched in 2008. It is a floral aquatic fragrance made especially for women. Its top notes are watermelon and citruses, which are fruity while middle notes are tiare flower, jasmine, and frangipani that are floral. It has base notes of salt, vanilla, and amber, which are strong yet soothing. This expertly crafted scent is long lasting and offers moderate sillage after application. Its fresh, light, and joyful aroma is ideal for summers and perfect for those sunday brunches and outdoor activities. Many reviewers reveal that it offers a light and airy feel.
Pros
Fresh aroma
Ideal for everyday use
Long-lasting fragrance
Moderate sillage
Cons
None
This beach-scented perfume for women has a refreshing floral fragrance, making it a great addition to any perfume collection that celebrates timeless beauty. The top notes are of hibiscus, ylang-ylang, palm leaf, ginger, and lotus. Also, it contains middle and base notes of frangipani, white flowers, coconut milk, vanilla, and musk, which give off a creamy and sweet aroma. This scent is an excellent choice for women who love floral fragrances with a nice smooth balance without feeling synthetic or heady. Reviewers have noted that you don't have to worry about constantly spritzing this perfume throughout the day, as it's long-lasting while being refreshing.
Pros
Floral and sweet keynotes
Long-lasting
Suitable for casual occasions
Not overpowering
Cons
It may not be suitable for people who experience frequent migraines
This is a charming and relaxing perfume that features a mellow blend of exotic flowers and coconut. It also exudes a musky formula that leaves your skin feeling soft and hydrated. The keynotes in this fragrance include bergamot, ylang-ylang, pink pepper, heliotrope, coconut, musk, benzoin, and cedarwood, which are pleasant and refreshing. This modern perfume is a great choice if you are looking for citrus and spicy nuances as your signature scent. Reviews have indicated that the Replica Beach Walk is a beachy scent that smells like tanning lotion. It is perfect for summer days at the beach.
Pros
Floral and creamy top notes
Long-lasting
Suitable for everyday use
No synthetic additives
Cons
Some may find the fragrance heady or strong
Feel refreshed with the pleasant fragrance of toasted coconut and bergamot waters present in Bath and Body Works At the Beach Perfume Spray. It has top notes of Bergamot Splash, Palm Leaves, and Coconut Water; mid notes of Jasmine Petals, Coconut Chips, and Frangipani; dry notes of Raw Sugar Cane, Salty Amber, and White Musk. The dermatologist-tested, long-lasting fragrance makes you feel relaxed all day long. If you are looking for sensual sunscreen notes coupled with that nostalgic beach cocktail vibe, this is for you.
Pros
Long-lasting
Pleasant fragrance
Travel-friendly
Unisex
Cons
None

This is a popular beach-scented perfume that is suitable for men and women. Even though the perfume was recently launched in 2023, it has garnered quite a fan following because of its refreshing and spicy aroma. The formula contains keynotes of lemon, lavender, sugar, grapefruit, and vanilla, along with being 100% cruelty-free and vegan. The perfume is manufactured in small batches using non-GMO grain alcohol.
Pros
Unisex
Refreshing and spicy fragrance
Cruelty-free
Vegan
Cons
May not suit sensitive skin types
Now that you are aware of the best beachy scents that are available in the market, you must also understand how to identify the perfect one that suits your personal style and taste. This is why we have prepared a buying guide that will take you through some essential factors that you need to look for before choosing the best beachy scent.
A Buying Guide To Choosing The Best Beachy Perfumes For You
Beach scented perfumes can mean different things for different people, so it's important to look for scents that appeal to you. For example, if you want to find a scent that smells oceanic, then look for fragrances with marine notes like sea salt and sea spray. If you are looking for a perfume that smells like suntan lotion, look for a combination of floral and coconut notes. Flowers like tuberose, jasmine, and frangipani are popular choices.
When we talk about perfume quality, we talk about formulas that are safe to use and won't cause any negative reaction once applied to your skin. Hence, you need to look for formulas that contain little to no alcohol, are paraben-free, and gravitate more towards ingredients that react well with your body chemistry.
Speaking of ingredients, you must choose a perfume formula made from natural essential oils and ingredients. Beach scented perfumes contain a myriad of ingredients layered in the top, middle, and base notes. For instance, if you are looking for fruity and floral beach scents, then look for top and base note ingredients with citrus or berry fruits; for middle notes with floral scents look for ingredients like lavender or rose. Look for a combination that will work for you without overpowering your senses.
The Bottom Line
Why Trust StyleCraze?
Makeup enthusiast Srijita De, who authored this article, is passionate about experimenting with different beauty products. She went on a hunt for the best beachy perfumes for her readers and read through hundreds of customer reviews to compile a list of the best ones. These listed perfumes will give you that perfect tropical vibe and keep you refreshed!
Frequently Asked Questions
What is the most popular beachy perfume?
The most popular beachy perfume is the At The Beach Fine Fragrance Mist which comes with a rejuvenating scent. The fragrance is ideal for the summer and spring seasons.
How long does a beachy perfume last on the skin?
Ideally, beachy perfumes should last on the skin for eight to twelve hours. However, it varies depending on the formula and your body chemistry.
How long does a beachy perfume last?
Most beachy perfumes last one to three years from the time the bottles are opened.
Which beachy perfume lasts the longest?
The Beachscape Jennifer Aniston The Fragrance lasts the longest. Its floral-fruity notes typically last all day long.
Are beachy perfumes unisex?
Yes, most beachy perfumes are unisex.
Recommended Articles