13 Best Beaded Jump Ropes For All Ages
Build your stamina and fitness with these durable and lightweight beaded jump ropes.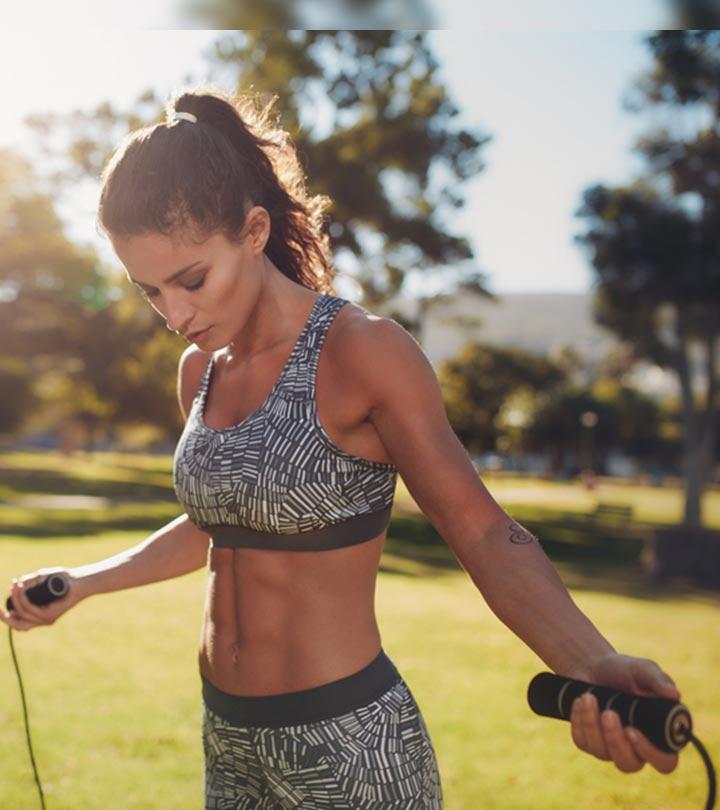 Jump ropes are for all ages, and we love how fun they are! There is nothing like using the best-beaded jump ropes when performing a low-intensity workout. Fitness enthusiasts all over the globe have different opinions about which ropes give you the best outcome; however, beaded ropes are by far the most popular choice for providing effective results.
Jesse Feder, registered dietitian, Florida International University, says, "As a personal trainer, I thoroughly enjoy jump roping as a cardiovascular exercise for both myself and my clients. I recommend beaded jump ropes to get started as they are cheap and easy to learn on!
If you are new to jump ropes and want to select the best, we are here to help. Go through these 13 highest-rated ropes to give you balanced stamina and improve your workouts.
Top Picks
Top 13 Best Beaded Jump Ropes To Stay Fit In 2023
Pros
Lightweight
Flexible
Durable nylon material
Padded foam handles
Ergonomic grip
Ideal for cardiovascular fitness
Cons
None
Price at the time of publication: $7.99
Segmented ropes are prone to tangling, and as a result, they annoy the user. With soft beaded jump ropes, you can say goodbye to this bothersome obstruction and experience a tangle-free exercise. This jump rope comes with ergonomically designed anti-slip handles that are lightweight. The rope is 9 feet long and is ideal for adults. However, you can also adjust the size per the need of your young ones. Shorten the links bypassing the segmented beads through the top handle. Determine the requirements of your children, and remove the link. Easy, right? But be sure to save the detached link in a safe place. You can always reattach them once your kids outgrow this length.
Pros
Lightweight
9 feet
Tangle-free segmented beads
Anti-skid handles
The length can be adjusted per your requirement.
Cons
The plastic may feel hard for some and might not be safe for little children.
Price at the time of publication: $8.49
Pros
Made of shatterproof plastic beads
Adjustable length
Lightweight allows easy maneuvering
Comes in different colors
Cons
The plastic beads can pinch your skin if they are in contact with your arms.
Price at the time of publication: $7.99
Pros
Adjustable
Durable
Suitable for children and adults
Tangle-free segmented beads
Lightweight
Cons
Price at the time of publication: $15.99
Pros
Durable
Heavy-duty plastic beads coating
Ergonomic handles
Tear-resistant design
Cons
None
Price at the time of publication: $8.25
Are you having trouble finding a jump rope with handles suitable for both you and your children? Look no further, the Sportout Soft Beaded Jump Rope comes with a design suitable for all hand sizes. It is equipped with a rubber wrapped handle that adds resistance when holding the beaded jump rope. The rope is easy to manage as the nylon string prevents tangles. It features a protective rubber ring that prevents the handles from damage even when they fall on the ground. The beaded jump rope offers an ideal downward tug due to the balanced weights of the beads.
Pros
Design compatible for all hand sizes
Maintains a constant downward draw
Rubber ring protects handles from damage
Tangle-free
Cons
It may be difficult to adjust the length.
Price at the time of publication: $9.89
Pros
Smooth movements
Adjustable
High-density nylon cord
Bead segmentation
Cons
Price at the time of publication: $13.49
Pros
Ideal for competitive jumpers
Easy to perform acrobatic jump rope sport moves
Well-balanced
Maintains a stable rotation
Accommodates 4 people when turning
Cons
Excessive bare rope space by the handles
Price at the time of publication: $19.99
Whether it's just another casual weekend or a day out with the family, bring out your inner child with the ultra-colorful Coolrunner Jump Rope. These ropes are 16 feet long and are suitable for adults. If the rope is not long enough for you, you can add another 10 beads. You can adjust these ropes to your child's size by removing the excess beads from the jump rope. Using these jump ropes is easy as it has a groove design on the handle and provide a secure and comfortable grip for all hand sizes. They are made of strong plastic, which doesn't hurt even when it accidentally whacks the back of your head.
Pros
Adjustable length
10 extra beads accommodate tall people too
Made of strong plastic
Groovy handles
Cons
Some may find the handles fragile.
Price at the time of publication: $18.98
This jump rope can make any kid appear cool. With printed handles, this beaded jump rope adds an oomph to the otherwise humble kids' accessory. Inventiv Kids jump Ropes are cute and will excite children of all ages. The 9 feet long rope can be adjustable to the length suitable for your children or adults standing 6 feet tall. Moreover, this rope is tested and meets standards set by the consumer product safety commission. It is free of harmful substances that could lead to adverse health conditions.
Pros
Cool designs on the handles
Durable beaded jump rope with adjustable length
Great function and design
Meets the standard of customer product safety commission
Cons
Can be difficult to control
Price at the time of publication: $6.96
The Zonon jump ropes come in a set of 3, which means that you can triple the fun by roping in more friends. These ropes are length-adjustable. You can shorten or extend the length by adjusting beads and knots. Zonon jump ropes ensure a comfortable grip as well. It is designed with reference to human gripping and handling behavior and further provides an anti-slip function. These beaded jump ropes have bamboo design beads that reduce resistance effectively.
Pros
Comfortable grip
Bamboo design beads reduce resistance
Suitable for children and athletic trainers
Set of 3
Cons
It may feel painful when it hits the shins accidentally.
Price at the time of publication: $11.99
Arsaha Kids Jump Rope might be designed to keep the children occupied, but they are suitable for pro-level fitness trainers. The rope is well-balanced, and the beads provide the ideal weight for the perfect swing. Moreover, the beads don't break easily and can be used both for training or outdoor workouts. They have a unique handle construction with a rubber exterior. The design holds the fingers snugly and provides a good grip.
Pros
Suitable for fitness training
Unique handle construction
Rubber wrapping around the handle provides good grip
Well-balanced
Cons
It may be time consuming to adjust the length.
Price at the time of publication: $7.99
Pros
Recommended by jump rope trainers
Helps improve jump rope posture and control
Better rotation rate
Thick and durable beads
Cons
Some may find the rope too light.
Price at the time of publication: $24.99
Beaded jump ropes are excellent for exercises. Selecting one with adequate weight ensures your jumps ropes are durable, allowing uninterrupted cardio sessions for adults and a fun playtime for your children.
How To Choose The Best Beaded Jump Ropes – A Helpful Buying Guide
You will generally find plastic or PVC jump ropes. These beaded jump ropes are affordable, durable, and lightweight. Furthermore, they are ideal for beginners as well as advanced athletes.
You should be able to remove the extra beads to adjust the length of the beaded jump rope according to your height. Some jump ropes even come with additional beads, which you can add if the length of the jump rope is too short for you.
A weighted jump rope improves coordination, footwork, agility, endurance, and quickness. It also helps to burn more calories, which can be beneficial in promoting weight loss and increasing strength.
Select a jump-rope with well-built handles because they provide durability to your beaded jump ropes. Also, to prevent the holder from slipping, find handles with a good grip.
How To Adjust Beaded Jump Rope Types?
Step 1: Remove the end of the rope from the end of the handle
Step 2: Push the rope core
Step 3: Untie the knot
Step 4: Pull the rope head to adjust the length of the rope
Step 5: Cut off excess rope core
Step 6: Finally, tie the rope
Benefits Of Beaded Jump Rope
Keeps cardiovascular health in check
Helps in weight loss
Improves balance, coordination, and rhythm
Can help build muscle mass
Why Trust StyleCraze?
The author, Shreya Vishwanathan, is a fitness fanatic who keeps up with all the trends and loves to explore and experiment with the latest products and brands. She has devoted hours of research and considered the feedbacks of multiple users worldwide to hand-pick the best beaded jump ropes available online. The jump ropes she has reviewed are designed proficiently and perfect for a stabilized performance and balanced low-intensity workout at home.
Frequently Asked Questions
Are beaded jump ropes good?
A heavy rope is good for improving rhythm, coordination, and increasing muscular endurance and cardiovascular fitness. They are also helpful in athletic and CrossFit training, building stamina, and developing speed and agility.
What is a beaded jump rope?
Beaded jump ropes have segmented plastic beads that make a tick-tick sound when they hit the ground. The beads add weight to allow quicker rope rotation and produce a sound to improve concentration, rhythm, and coordination.
What types of materials create the strongest and most durable jump ropes?
Thermoplastic Polyurethane (TPU) and PVC help create strong and durable beads for jump ropes.
How many jumping ropes should I do a day?
A moderate intensity of at least 30 minutes a day is recommended if you're looking to keep your cardiovascular health in check. However, aim for prolonged sessions if your goal is to lose weight.
Do weighted jump ropes build muscle?
By adding extra weight in the handle, you can hit your cardio goals and build muscles.
Should the jump rope hit the ground?
You create a ticking rhythm by hitting the beads on the ground, which improves your coordination and rhythm.
How heavy should a jump rope be?
Use ropes weighing ¼ pounds or heavier to achieve your weight goal or perform basic tricks.
Is a weighted jump rope better?
Weighted beaded jump rope is more efficient in maintaining balance and control.