15 Best Beanies For Women That Will Keep You Warm – 2023
Look fashionably unique and trendy in winter with highly affordable clothing.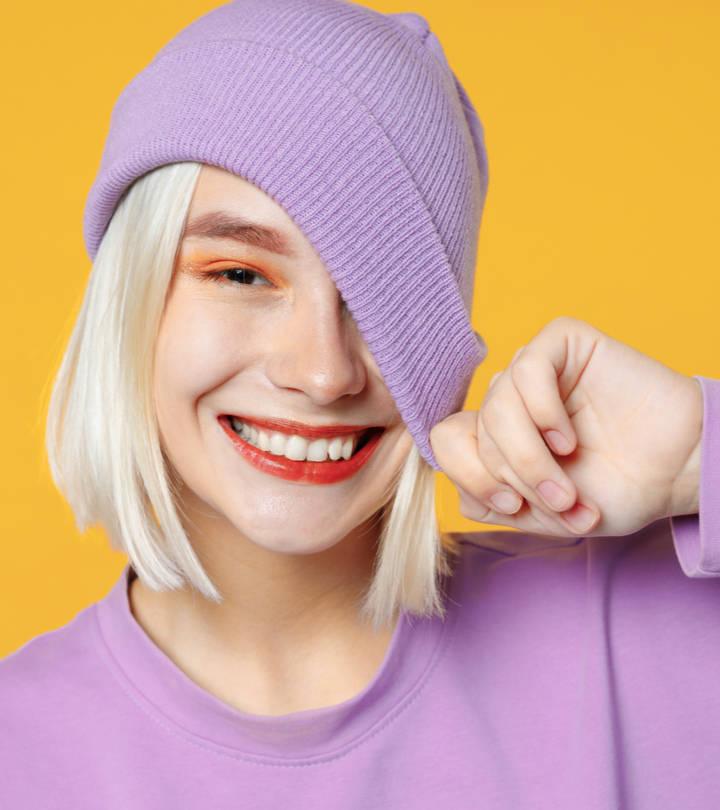 No matter how many trends evolve from time to time, some classics never run out of style. And now that it is winter, get your hands on the best beanies for women to look chic and trendy. In a wold of leather jackets, knitted sweaters, fuzzy boots, a pretty scarf, we may forget to pay attention to the piece of clothing that keeps our heads warm; in this case, the beanie. A beanie not only keeps your head insulated, preventing ears from freezing but is also a timeless accessory to style your otherwise neutral-looking winterwear. Beanies add a pop of color and quirky shape to your layered look.
When they say, "changing your look is as easy as changing your hat," know that a beanie is all they meant. If you have no new winter clothes to wear, a beanie is a win-win to elevate your entire look instantly. From different knit types, colors, add-ons, beanies add the extra oomph to your style. In this listicle, we have listed the 15 best beanies for women to keep you warm, cozy, and equally fashionable.
Stay Warm Yet Stylish With The 15 Best Beanies For Women In 2023
Pros
 Made with soft and stretchable acrylic
 Top hole for buns or ponytails
 Patterned soft cable knit detailing
 Keeps head warm
 Snug fit
Cons
 Top hole might be too big for those with fine hair
Price at the time of publication: $14.99
Pros
 Made with soft and stretchable acrylic
 One-size-fits-all
 Cuffed hat
 Pull-on closure
 Classic design
 Comfortable and warm
Cons
 It might bunch up at the top
Price at the time of publication: $9.99
Pros
 Itch-free fabric
 Thick cable knit pattern
 Comfortable and warm
 One-size-fits-all
 Can be dressed up or down
 Made with stretchable premium acrylic yarn
Cons
 The knitting might come loose with extended use
Price at the time of publication: $9.95
Giving a personal style a facelift doesn't have to be difficult, you could just throw on a beanie and call it a day! Brook + Bay's cable knit designs prep you for the cold months with their winter colors and also do a stellar job at keeping you toasty. Knitted with 100% premium acrylic yarn, this Brook + Bay beanie is roomy enough to cover up your lazy hair days. A comfortable stretch allows it to grace all head sizes with no issues and it's so lightweight you won't even know you're wearing something. A great accessory to go with chilly days, this beanie is also super easy to clean.
Pros
 Lightweight
 Stretchable
 Cable knit design
 Easy to clean
 Keeps warm
 One-size-fits-all
Cons
 The knit might fray with time
Price at the time of publication: $9.95
Pros
 Flexible and stretchable
 Soft and warm
 Available in 14 colors
 Machine-washable
 Cuff provides double lining
 Snug fit
Cons
 Some may find the beanie to be too tight
Price at the time of publication: $14.99
Pros
Odor-resistant
Temperature regulating
Minimizes chafing
Elastic pull-on closure
Breathable
Skin-friendly
Wind-proof
Cons
Available in only one size
Price at the time of publication: $25
Pros
Machine washable
Snap closure
High-quality acrylic
Stretchable
Adjustable elasticity
Thick cable knit pattern
Cons
None
Price at the time of publication: $16.99
Pros
Moisture-absorbing
Breathable
Non-irritating
Stretchable
Skin-friendly
Durable yarn
Cons
None
Price at the time of publication: $8.95
Pros
Wind-resistant
Skin-friendly
Good flexibility
Warm Fleece lining
Comfortable
Unique design beanie
Cons
Color may be different from the shown picture
Price at the time of publication: $11.99
Pros
Warm rib-knit acrylic fabric
Soft and Comfortable
Can be folded or worn straight
Buckle closure
Machine Wash
Stretchabke
Soft
Cons
Price at the time of publication: $5.77
Pros
Acrylic rib-knit
Stretchable
Comfortable fabric
Pull On closure
Skin-friendly
Cons
The hat may shrink in the wash
Available in only one size
Price at the time of publication: $34
Pros
100% acrylic material
Fleece-lined
Hand wash
Available in different colors
Comfortable
Cuff for ears
Faux fur top pom
Cons
Price at the time of publication: $17.99
Pros
Satin-lined
100% acrylic fabric
Easy to wash
Anti-hair fall
Comfortable
Stretchable
Keeps warm
Cons
Price at the time of publication: $18.99
Pros
 Made with soft acrylic yarn
 Inner polyester fleece lining
 Available in 4 colors
 Insulates head and ears
 Comfortable elastic
Cons
 Might be too roomy for some
Price at the time of publication: $21.95
Pros
 Made with soft acrylic
 Snug fit
 Fold-up brim for added warmth
 Soft and comfortable
 Ideal for sports or outdoor activities
Cons
 Some may find that it gathers fuzz easily
Price at the time of publication: $17.05
Now that we've looked at some of the best beanies for women out there, let's take a look at how you can choose the right one for yourself.
How To Choose The Best Beanie For Women
A lot of popular beanies are made with acrylic that is a synthetic fiber and is generally less expensive. Not only is it easy to clean and maintain, it also holds dyes well and won't bleed color when washed. Cotton is also used in making beanies as it is a natural fiber. It is super versatile because it is machine-washable, can be dyed easily, is lightweight, durable, and breathable. Keep in mind that this fabric might shrink at higher temperatures.
If you're looking for a beanie that offers optimum warmth, you should consider those made of fleece. This synthetic fibre is soft and moisture-wicking. Even though it is quite thick for insulation, it is also durable, breathable, and machine-washable. Wool is also quite thick and is a natural fiber derived from animals. It retains heat and is static-resistant but might need special care when washing and drying. Wool is quite expensive and can cause itching due to being constricting.
A good beanie doesn't just keep you warm, it is comfortable when worn. For this, opt for hats that are made with 2 layers of knitting or even better, are stitched with an inner fleece lining. This adds extra warmth and makes it softer. Keep an eye out for non-itch fabrics and elastic closures that aren't tight and don't make you sweat or are so loose that they keep sliding constantly. Loose knits may not keep wind from entering the beanie due to holes or gaps and this can hinder insulation levels.
Beanies come in various styles, and you must pick one that flatters your face shape or hairstyle and adds flair to your overall look. If you sport short hair, a visor or a woven hat can be a great option. Patterned sleek or sophisticated beanies can elevate the look of shoulder-length hair. A conventional beanie when worn with your hair down is a classic yet timeless look for the winter or chilly fall months. If you're someone that can't stop tying your hair in a bun or a high ponytail, try beanies with a ponytail hole. They're like your usual run-of-the-mill hats but the hole allows you to be comfortable without your hair forming a lump inside. Whenever you're looking to add a cutesy touch, a pom-pom or bobble hat can work wonders, or beanies with detachable poms-poms for convenience. If you like being quirky then you can go for beanies with a reflecting logo or LED lights. Additionally, beanies also come with 3D cat or fox ears, and ear flaps which keep your entire head, forehead, and ears covered for insulation while adding a gorgeous point to your outfit.
Why Trust StyleCraze?
Srijani Roy Chowdhury is our resident fashion expert with over 100 articles to her name. She searched far and wide on the internet, going through thousands of reviews, to find the best beanies for women to wear. She selected these products on the basis of material, their comfort level, and how stylish they are, so you look chic even on those bad or greasy hair days.
Frequently Asked Questions
Do beanies cause hair loss and dandruff?
No, beanies do not cause hair loss or dandruff as they are not worn all the time. If a beanie is too tight, it might cause headaches.
Do beanies cause acne on the scalp?
If your beanie is a snug fit and rubs against your skin, it might lead to acne on the scalp or forehead. Our scalps are constantly producing oil and getting rid of dead skin cells, which might clog pores when constricted by a hat. Ensure to wash your beanies after use.
Should your beanie cover your ears?
Yes. Wear your beanie without cuffing the fabric above your ears to keep yourself warm.
Do beanies look good on round faces?
Yes. Beanies elongate and enhance the round facial structure. It offers a sense of balance to your round face.
Are beanies fashionable?
Yes. Beanies are cute hair garments ideal for wintry days. They accentuate the facial structure and complement woolen clothes.
Why do people wear beanies so high?
During the summer, people wear beanies high to avoid getting sweaty and enjoy looking stylish.
Should beanies be tight?
No. A tight beanie restricts blood circulation and causes headaches. Instead, purchase a beanie that sits comfortably on your head.
Is it okay to wear a beanie every day?
No. Do not wear a beanie daily to prevent hair breakage. Also, wearing unwashed beanies causes skin irritations and develops acne.