15 Best BeautyCounter Products You Can Trust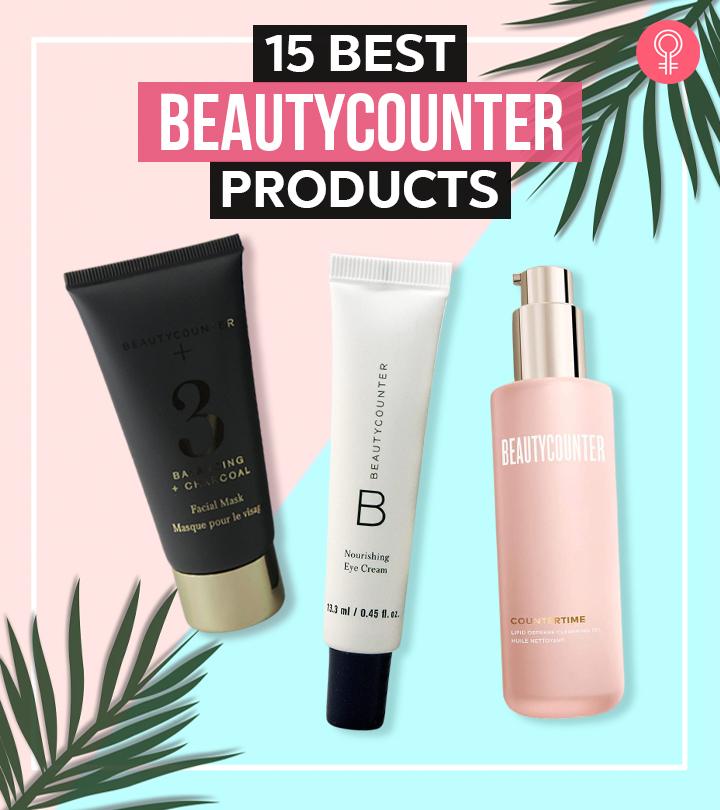 BeautyCounter is popularly known for its "Never List." It aims to provide clean beauty and refuses to use 1500 ingredients that harm the skin. The best BeautyCounter products are ideally crafted to deliver toxin-free skin care products. It was initiated in 2013. This brand serves dryness, aging, acne, and other skin issues. There is a wide range of products from this brand. Hence, selecting the perfect one may be demanding. For your convenience, we bring forth a list of the best BeautyCounter products suitable for your skin. Keep reading to find your best match!
BeautyCounter Charcoal Cleansing Bar contains Binchotan charcoal powder that helps detoxify and absorb impurities from the skin without drying it out. This creates a smoother, brighter complexion. This product is made with a palm-free soap base, antioxidant-rich green tea, and hydrating organic coconut oil that are gentle enough to be used on the face daily. Check out this video on YouTube for a detailed understanding of the product.
Key Ingredients: Binchotan charcoal powder, organic green tea, and organic coconut oil
Pros
Suitable for acne-prone skin
Reduces oil build-up
Makes skin smooth and soft
Does not dry out the skin
Cons
The No. 3 Balancing Facial Mask is a nutrient-dense kaolin clay mask that absorbs excess oil and draws out impurities from the skin. The activated charcoal present in this mask minimizes the appearance of pores and creates a refined and smooth skin appearance. The salicylic acid in it stimulates exfoliation. If you want to know more about this product, check out this video on YouTube.
Key Ingredients: Kaolin clay, activated charcoal, and salicylic acid
Pros
Creates even skin tone
Absorbs excess oil
Detoxifies pores
Reduces the appearance of scars and pores
Cons
BeautyCounter Counter+ Lotus Glow Cleansing Balm is a multitasking cleansing balm that can be used any time of the day. It removes makeup and impurities with the help of its nourishing ingredients and does not strip away your skin's natural moisture. This product is so hydrating that it can be used as a mask for a hydrating overnight facial. This cleansing balm contains a blend of lotus extract, jojoba seed oil, and avocado seed oil that soothe distressed skin while increasing its luminosity. Go ahead and check out this YouTuber's video for more details about the product.
Key Ingredients: Lotus extract, jojoba seed oil, and avocado seed oil
Pros
Effectively removes makeup
Brightens the skin
Does not leave a greasy residue
Hydrates the skin
Cons
The Countercontrol SOS Acne Spot Treatment is a miracle-working spot treatment that reduces the appearance of blemishes and acne scars in no time. This potent and invisible gel formula combines salicylic acid with BeautyCounter's SkinBalance Complex that combats breakouts and soothes your skin without over-drying it, thus creating a clearer, healthier-looking complexion.
Key Ingredients: Salicylic acid
Pros
Instantly relieves unexpected blemishes
Reduces redness
Creates even skin tone
Does not dry out the skin
Cons
The Countertime Lipid Defense Cleansing Oil takes inspiration from Japanese technology. This is a lightweight cleansing oil that gently and effectively cleans away makeup and impurities without stripping essential lipids away from the skin. This formula is rich in vitamin E, fatty acids, and plant-derived Retinatural Complex that help reinforce the skin's fragile moisture barrier to create a soothed and nourished complexion.
Key Ingredients: Retinatural Complex, vitamin E, and essential fatty acids
Pros
Effectively removes face and eye makeup
Does not leave any residue
Moisturizes the skin
Does not irritate the eye area
Evens out the skin tone
Cons
Cleanse your skin thoroughly with the BeautyCounter Rejuvenating Face Cleanser. This cleanser thoroughly removes dirt and makeup from your skin while keeping your skin hydrated. In addition, the green tea extracts infused in the cleanser assist in soothing your skin and keeping it soft and calm.
Key Ingredients: Apricot Kernel oil, Grape seed oil, and Raspberry seed oil
Pros
 Sulphate-free
 Lathers well
Cons
None
The Nourishing Eye Cream is a universal essential as this lightweight and soothing formula pampers the delicate skin around your eyes. This unscented eye cream is rich in aloe and organic coconut oil that easily get absorbed into the skin and offer an instant cooling moisture boost.
Key ingredients: Aloe vera and organic coconut oil
Pros
Reduces puffiness
Reduces dark circles
Lightweight
Hydrates the skin
Easy to apply
Cons
The Overnight Resurfacing Peel is a peel that works while you sleep with a blend of glycolic, malic, and botanically-derived lactic acid that aid in cellular turnover and support visible skin clarity. It provides a smoother, softer, and brighter-looking complexion by morning. This product features a proprietary multi-acid complex that improves your skin's texture and boosts its clarity without irritation or over-drying.
Key Ingredients: Essential fatty acids, glycolic acid, malic acid, and lactic acid
Pros
Improves skin texture
Boosts skin radiance
Does not irritate the skin
Does not dry out the skin
Evens out the skin tone
Glides on easily
Gets absorbed well
Cons
Not suitable for sensitive skin
The No.3 Balancing + Charcoal Facial Mist is an active-infused and alcohol-free mist that revitalizes and preps your skin, sets makeup, and refreshes the skin throughout the day. This product is specially formulated with charcoal powder and kaolin clay that absorb excess oil, refine skin texture, and soothe redness.
Key Ingredients: Charcoal powder and kaolin clay
Pros
Improves skin tone and texture
Amazing fragrance
Easy to use
Lightweight
Absorbs excess oil
Reduces the appearance of pores
Cons
The Countertime Mineral Boost Hydrating Essence is a deeply nourishing and moisturizing essence that lends vital nutrients to the skin's moisture barrier and instantly boosts hydration and radiance. This essence is formulated with a special plant-derived Retinatural Complex, mineral-rich sea water, and a fermented blend of sugars that help renew and balance the skin and prepare it for the treatment steps that follow.
Key Ingredients: Retinatural Complex, sea water, and fermented sugars (Biosaccharide Gum-1)
Pros
Hydrates the skin
Smoothens the skin
Evens out the skin tone
Feels refreshing
Mild rose fragrance
Cons
Feels sticky on the skin
Not lightweight
The Countertime Antioxidant Soft Cream is a velvety revitalizing cream that is formulated with a special plant-derived Retinatural Complex and Nasturtium flower extract that work to visibly plump up the skin while boosting hydration. It protects the skin throughout the day from drying due to environmental stressors.
Key Ingredients: Retinatural Complex and Nasturtium flower extract
Pros
Reduces fine lines and wrinkles
Makes skin look plumper
Brightens the skin
Lightweight
Hydrates the skin
Cons
May feel heavy on the skin
The Countercontrol Instant Matte Toner is an alcohol-free toner that is designed to mattify the skin while removing residual impurities and minimizing the appearance of pores without stripping away the skin's moisture. This formula contains BeautyCounter's special SkinBalance Complex that helps purify the skin while maintaining ideal moisture levels for a refreshed and comfortable complexion.
Key Ingredients: Glycerin, aloe vera leaf juice, lactic acid, and vitamin B5
Pros
Removes residual impurities
Reduces the appearance of wrinkles
Boosts collagen production
Soothes sensitive skin
Moisturizes the skin
Cons
The Countercontrol All Over Acne Treatment is a daily all-over treatment that helps reduce blemishes and prevent any new breakouts. This formula was created specifically for oily and troubled skin types. It contains the brand's signature SkinBalance Complex and salicylic acid that encourage a healthier, clearer, and more even skin tone.
Key Ingredients: SkinBalance Complex and salicylic acid
Pros
Clears acne and blemishes
Suitable for oily skin
Pleasant fragrance
A little quantity goes a long way
Soothes irritated skin and redness
Cons
The Countertime Tripeptide Radiance Serum is a rejuvenating treatment that visibly increases the skin's firmness. This formula contains the Retinatural Complex that helps diminish the look of fine lines and wrinkles. Tripeptide visibly improves the skin's firmness, making it look plump and hydrated. Amino acids help protect the skin from the damage that can be caused by environmental stressors.
Key Ingredients: Retinatural Complex, tripeptide, and amino acids
Pros
Smoothens the skin
Lightweight
Evens out the skin tone
Gets absorbed well into the skin
Increases skin elasticity
Cons
The Countermatch Eye Rescue Cream contains hydrating squalane that rejuvenates the delicate eye area. The betaine and phytic acid in this cream boost oxygenation and reduce the appearance of shadows and puffiness. Shea butter hydrates and conditions the skin, while the revolutionary Bio-Mimic Technology harnesses unique life-giving properties from plants to enhance the composition of your skin.
Key Ingredients: Squalane, betaine, phytic acid, and shea butter
Pros
Lightweight
A little quantity goes a long way
Non-oily
Minimizes dark circles
Brightens the eye area
Cons
Why Trust StyleCraze?
Oyendrila Kanjilal, the author, is a certified skin care coach who knows that the first step to finding a good skin care product is discovering a reliable brand. This is why she trusts BeautyCounter, a skin care brand that specializes in clean beauty and makes toxin-free products. She went through many product reviews to curate this list of their best products. She recommends these products because of their skin-enhancing advantages, ingredients, skin-friendliness, and more.
Frequently Asked Questions
What are the best Beautycounter products?
Some of the best and most effective BeautyConter products are the Counter time Antioxidant Soft Cream, the Counter time Tripeptide Radiance Serum, and the Cleansing Balm.
Do BeautyCounter products actually work?
Yes, BeautyCounter products do work. But just like any other makeup and skin care brand, you will fall in love with some of their products and pass on some others.
Is BeautyCounter a pyramid scheme?
Beautycounter is not a pyramid scheme. Even though most consultants enroll with a product order, no one is required to do so, nor are they forced to purchase anything ever.
Are BeautyCounter products sold in stores?
Yes, BeautyCounter has their own stores as well as seasonal pop-ups. They are also sold in Sephora and a few other beauty stores.
Recommended Articles