The 13 Best Bedroom Fans And Buying Guide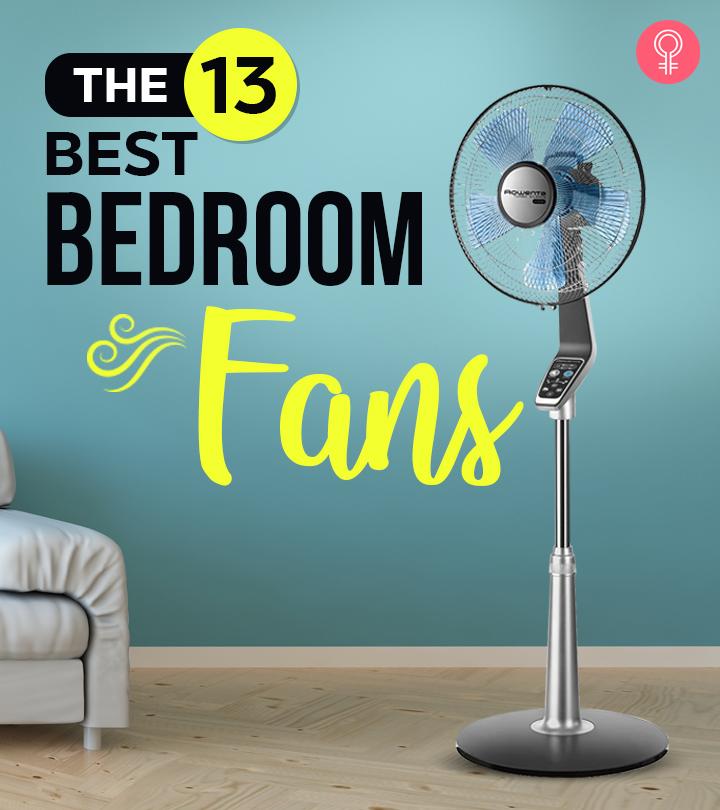 Fans are indispensable electric appliances found in every home. They ensure the right cooling effect throughout the night, helping you rest soundly. And what can be better in maintaining the room temperature than a bedroom fan!If you are a light sleeper, investing in a bedroom fan is imperative.Check out the top 13 bedroom fans available online. Scroll down!
The Top 13 Best Bedroom Fans
The PELONIS FS40-16JR Fan is an 80-degree, oscillating pedestal fan.It is versatile and can be used for one person or family use. It is equipped with a powerful motor and high-quality blades that give out strong winds for better cooling in your bedroom. This fan operates at a low sound level (50db) and has a user-friendly operation panel. The height of this fan is adjustable between 3.5 to 4 feet,and the heavy-duty base provides additional stability during its operation. The built-in overheat protection shuts off the fan automatically when the motor overheats.
Specifications 
Dimensions: 91 x 15.75 x 48.43 inches
Weight: 37 pounds
Color: White
Type: Pedestal fan
Speed Settings: 3
Remote Control: Yes
Timer: 7-hour
Pros
Adjustable height
Wide-angle oscillation
Built-in overheat protection
Sleek design
Easy to clean
User-friendly
Cons
The Lasko T42951 Tower Fan is one of the best bedside fans. It features a sleek and slender space-saver design. It has a quieter operation than its counterparts and operates with side to side oscillation. This fan is significantly safe as the Blue Plug fuse technology shuts it off automatically if any electrical faults are detected. It is ideal for the dorm, kitchen, living room, and RV.
Specifications 
Dimensions: 13 x 13 x 42.5 inches
Weight: 1 pounds
Color: Gray
Type: Tower fan
Speed Settings: 3
Remote Control: Yes
Timer:5-hour
Pros
Wide-angle oscillation
Space-saver design
Automatic shutoff
Easy to assemble
Easy to operate
Cons
The Vornado 630 Fan is a mid-size air circulation fan that comes with a patented Vortex technology. It is made of plastic, and the handle is constructed using chrome metal.The deep-pitched blades paired with an inlet guide cone, enclosed air duct, and spiral grill cover an airflow up to 70 feet. It is equipped with an adjustable tilt-head that ensures multi-directional airflow. This fan features user-friendly speed control and removable grill for easy cleaning.
Specifications 
Dimensions: 25 x 12 x 13.6 inches
Weight: 84 pounds
Color: Black
Type: Air circulator fan
Speed Settings: 3
Remote Control: No
Timer: No
Pros
5-year warranty
Affordable
Multi-directional airflow
Compact design
Stable base
Easy to clean
Easy to use
Cons
The Honeywell HTF210B Fan has an elongated tower design.It has oscillation and automatic shutoff timer options, offering you direct airflow. It comes with four levels of sound and power settings to adjust the intensity of the breeze as per your comfort. It also provides a silent airflow experience.
Specifications 
Dimensions: 10 x 10 x 32.83 inches
Weight: 2 pounds
Color: Black
Type: Mini-tower table fan
Speed Settings: 4
Remote Control: No
Timer: 2/4/8-hour
Pros
Quiet operation
Portable
Compact design
Auto-shutoff timer
Cons
Ineffective in large spaces 
The Blue air Blue Pure Fan cleans the air as it cools it down, removing 99% of pollen particles and airborne dust. It comes with customizable fabric pre-filters that are easily washable. It features a patented fan technology that lets out a gentle stream of cool and clean air in a 90-degree range. This air purifier-cum-fan has a minimalist design with a single button for switching it on or off.
Specifications 
Dimensions: 2 x 16.2 x 14.6 inches
Weight: 22 pounds
Color: White
Type: Air circulation fan
Speed Settings: 3
Remote Control: No
Timer: No
Pros
Purifies the air
Easy to use
Quiet operation
Cons
The HOLMES Heritage Fan looks like a classic old school fan for rooms with the brushed copper finish. It is portable,fits most desk spaces, and has two-speed settings that offer optimal airflow as per your preference. It features an adjustable fan head to direct the air as per your need.
Specifications 
Dimensions: 3 x 9.45 x 9.84 inches
Weight: 79 pounds
Color: Brushed Copper
Type: Desk fan
Speed Settings: 2
Remote Control: No
Timer: No
Pros
Durable
Provides consistent airflow
Wall-mountable
Easy to operate
Portable
Cons
The Air King Box Fan is a powerful and ideal option for limited bedroom spaces. It provides a high CFM of 2140 that makes it stand out in terms of reliability and quality. This fan is permanently lubricated,and its impact-resistant grills protect the blades,ensuring durability.
Specifications 
Dimensions: 00 x 7.00 x 24.00 inches
Weight: 20 pounds
Color: White
Type: Box fan
Speed Settings: 3
Remote Control: No
Timer: No
Pros
Rust-resistant
Lightweight
Compact design
Removable feet
High CFM
Cons
The Rowenta VU5670 Fan is the quietest of the lot with 35 dB whisper-quiet operation. This oscillating pedestal room fandelivers up to 2436 CFM. The energy-saving mode decreases the airflow automatically until the fan reaches its energy-efficient setting.  Its speed settings include a Turbo Boost for extra power and Silent Night mode for soundless operation.
Specifications 
Dimensions: 24 x 7.2 x 20 inches
Weight: 6 pounds
Color: Gray
Type: Pedestal fan
Speed Settings: 5
Remote Control: Yes
Timer: 8-hour
Pros
Ultra-quiet operation
Provides efficient airflow
Easy to clean
Easy to use
Adjustable height
Ideal for home and office use
Cons
Not long-lasting
The grills might rust.
The Woozoo PCF-HE18NAir Circulator Fan comes with a whisper-quiet technology and sleek design. It features a 360-degree adjustable fan head to set the airflow in your desired direction. The unique pitch blades offer maximum cooling power. 
Specifications 
Dimensions: 43 x 10.94 x 11.54 inches
Weight: 09 pounds
Color: Navy
Type: Deskfan
Speed Settings: 3
Remote Control: No
Timer: No
Pros
Quiet operation
Easy to clean
Compact design
Cons
The Dyson Cool AM07 Fan uses the patented Air Multiplier system that delivers a strong air stream without using blades. It features a curved and magnetized remote to be stored on the fan when not in use. This fan has a CFM of 1200 at its highest setting while being quiet.
Specifications 
Dimensions: 4 x 7.5 x 39.6 inches
Weight: 3 pounds
Color: White Silver
Type: Tower fan
Speed Settings: 10
Remote Control: Yes
Timer: 15min to 9-hour
Pros
2-year warranty
Quiet operation
Blade-less design
High CFM
Less power usage
Safe around pets and children
Easy to clean
Cons
The Live Pure LP1500FAN Fan has a blade-less designthatensures safety around pets,children,and during cleaning.It is also useful in preventing dust buildup. This top-rated fan cools down a room quickly with its 45-degree oscillation and smooth airflow stream. Its sleek, modern design and four LED accent lights enhance the bedroom decor.
Specifications 
Dimensions: 73 x 11.5 x 22.44 inches
Weight: 03 pounds
Color: White
Type: Vortex fan
Speed Settings: 3
Remote Control: Yes
Timer: 8-hour
Pros
3-year motor warranty
Blade-less design
Easy to clean
Space-saving
Cons
The FANGZONG USB Fan is equipped with whisper-quiet technology and 160-degree verticalrotation. This bedside fan has a multiple power supply option, wherein it can be powered by a micro USB port. It has a sleek design with an anti-slip rubber base that ensures stability.
Specifications 
Dimensions: 53 x 9.45 x 10.63 inches
Weight: 14 pounds
Color: White
Type: Desk fan
Speed Settings: 3
Remote Control: No
Timer: No
Pros
Anti-slip base
Portable
Compact design
LED indicator
Built-in battery
Includes a USB cable
Cons
The Honeywell Comfort Control Table Fan offers 85-degree oscillation. This fan follows a "no-frills" rule with no fancy features – only simple and precise for your comfort. The sturdy 12 feet blades allow a high volume of air to move across the room. Its robust,metal grill is removable for easy cleaning.
Specifications 
Dimensions: 8 x 11.5 x 19.09 inches
Weight: 74 pounds
Color: Black
Type: Table fan
Speed Settings: 3
Remote Control: No
Timer: No
Pros
Durable
Portable
Affordable
Easy to clean
Easy to assemble
3-year warranty
Cons
Before you head onto purchase a new bedroom fan, you need to know the pointers that can be the deciding factors between a successful and a wasteful purchase. Let us look at some of these factors below. 
What Factors To Consider When Picking Your Bedroom Fan?
Noise Level: It is imperative to check that your fan doesnot hinder your daily activities by producing loud noises. Most fans come with a measurement of the decibel(dB) unit, and the lower the decibel, the quieter the fan. Thus, go for the ones that have a low decibel.
Airflow: Depending on your use and location of the fan, check the degree of cool air the fan can generate. The airflow of a fan is measured in CFM (Cubic Feet per Minute). Try to buy one that has a decent CFM while being energy-efficient at the same time.
Oscillation: Most tower and standing fans oscillate from up and down or left to right to provide cooling across multiple directions. If you are planning to buy either of the two fans, check this functionality.
Controls: Bedroom fans are either remote or manually controlled or both. Various modern fans feature remote controls, but they can be expensive.
Warranty: A fan's warranty period gives you an idea of the period the product will last. Most fans come with a one to five-year warranty. Do not go for ones that come with no warranty at all.
Timers: Sleep timers are usually found in high-tech room fans and are useful for those who do not prefer sleeping with the fan on for the entire night.
Let's now look at the types of fans.
What Are The Different Types Of Fans?
Table/Desk Fans: These are small, portable, and lightweight fans that rest on a small flat surface like a bedside or study table. They are useful only for personal cooling but ineffective for large spaces.
Box Fans: They come in a grate housing and are large square-shaped fans placed usually on the floor.
Tower Fans: These are narrow and tall fans with a thin blade unit and pedestal stand. They are ideal for small spaces.
Stand Fans: Much like a tower fan, a stand fan stands tall on the floor but with a thinner pedestal stand. They have large blades similar to box fans.
Window Fans: These fans are kept either inside or on the window sill. They function as both intake and exhaust systems that need to be chosen based on the dimensions of your window sill.
Ceiling Fans: The ceiling fans are designed exclusively for a bedroom. They have long blades and are fixed on the ceiling to allow easy cooling across a large room.
Every type of bedroom fan has its advantages and disadvantages. It all comes down to which fan suits your requirements the best. Check out our list of the 13 best bedroom fans available online and impart a cooling effect to your room.
Expert's Answers for Readers Questions
What kind of fan is the best?
This depends on your purpose of use and the location where the fan will be placed. Window, box, desk, and tower fans are ideal for small spaces, while stand and ceiling fans are best for cooling large rooms.
How to get pedestal fans to give out cool air?
Place a wet cloth on the fan's grill or nearby your window to get cool air from a pedestal fan.
How to clean fan blades?
Every fan comes with cleaning instructions based on its shape and design. For a table or pedestal fan,just remove the grill, while for a ceiling fan, use a dry cloth to clean the surface dust.
Recommended Articles