9 Best Bee Venom Skin Care Products Of 2022
Fight against aging and replenish your skin with the most skin-friendly products.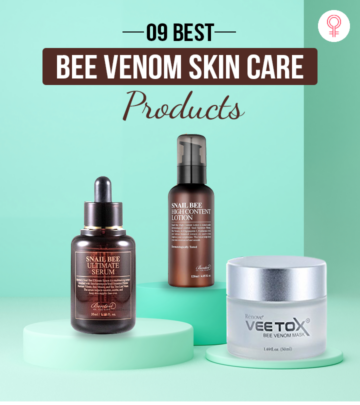 While the beauty world has some strange trends and ingredients going around, nothing can beat the practice of applying bee venom on your face. Applying the best bee venom skincare product on your face comes with a host of benefits. Bee venom stimulates blood circulation, which promotes collagen and elastin production. Doing this gives your face a firmer and fuller appearance. If you can get past the scary part, then you can include it in your daily skincare regime. Here's a list of bee venom skincare products you should check out!
9 Bee Venom Products That Pamper And Heal Your Skin
The Bee Beautiful Bee Venom Anti-Aging Firming Face Cream has a water-based formula made with bee venom and 100% natural Manuka honey. It is enriched with other high-quality ingredients that reduce wrinkles, fine lines, and other signs of aging. It erases laugh lines, crow's feet, lip lines, and hyperpigmentation around the neck, eye, chin, and décolleté. The natural emollients like shea butter and capsicum oil in the cream make your skin feel smoother, firmer, and younger. This bee venom product suits people of all ages who are not allergic to bees and bee products.
Pros
Non-sticky
Doesn't leave residue
Pleasant scent
Suitable for pregnant women
Paraben-free
Vegan
Travel-friendly
Cons
May irritate sensitive skin
The Beloved Bee Venom Facial Serum is a fast-absorbing, weightless product that can be used under your regular day or night face cream. This pure bee venom skin care product is enriched with coenzyme Q10, ceramide, hyaluronic acid, resveratrol, vitamins A, B, C, and E. These ingredients enable the venom to penetrate deeper into your skin and soften it from within. This serum stimulates the regeneration of skin cells and tightens your skin with regular use. It also protects your skin, repairs sun damage, and reduces signs of photoaging.
Pros
Lightweight
Absorbed quickly
Non-greasy
Long-lasting
Suitable for most skin types
Cons
None
If you are looking for a bee venom product to work on wrinkles, acne, and other nagging skin concerns, this multi-care serum-cum-toner is your best bet. Benton's Snail Bee Ultimate Serum is made with bee venom, snail secretion filtrate, adenosine, niacinamide, and green tea leaves. It doubles as a clear, alcohol-free toner that suits most skin types, including sensitive skin. It restores your skin's moisture barrier, hydrates your skin, improves the skin tone, and enhances its radiance. Take a look at this video to learn more about the Benton Snail Bee Ultimate Serum.
Pros
pH-balanced
Dermatologically tested
Non-sticky
Hypoallergenic
Alcohol-free
Artificial fragrance-free
Silicone-free
Cons
None
The multipurpose Benton Snail Bee High Content Essence contains bee venom, snail secretion filtrate, aloe leaf juice, skin-tightening ingredients, niacinamide, and adenosine. This watery gel spreads easily on your face and neck to improve the tone and elasticity of your skin. It smoothens skin texture and doesn't feel icky. The high-quality unique ingredients in this gel remove dead skin, stimulate cell regeneration, soothe inflammation, and protect your skin from sun damage. This skin essence is dermatologically tested and pH-balanced to suit most skin types and achieve lasting results. Check this video for a detailed review of the Benton Snail Bee High Content Essence.
Pros
Easy to apply
Non-sticky
Hypoallergenic
Dermatologically tested
Alcohol-free
Added thickener-free
Artificial fragrance-free
Silicone-free
Cons
None
The Benton Snail Bee High Content Lotion is a bee venom-based weightless moisturizer. A small amount of this lotion is enough to wrap your face in a transparent hydrating film that lasts long. It is enriched with pure bee venom, snail secretion filtrate, and hyaluronic acid that soften the signs of aging, stress, and dullness. This lotion improves elasticity, tone, and texture by deeply moisturizing your skin. Its soothing ingredients heal injuries, allergies, and dryness without leaving a sticky residue on your face and neck.
Pros
Fast-absorbing
Hypoallergenic
Lightweight
Alcohol-free
Added thickener-free
Silicone-free
Cons
None
The Beverly Hills V-Lift Instant Eye Lift Serum has a clinically proven formula that repairs mature skin. It contains bee venom and a peptide acetyl hexapeptide-8, both of which possess anti-aging effects. They soften fine lines, wrinkles, under-eye puffiness, and dark circles in just a few applications. This under-eye serum penetrates deep into your skin to boost blood circulation and naturally stimulate collagen production. Regular use of this serum can make your under-eye area look plump, firm, and refreshed.
Pros
Easy application
Non-greasy
Lightweight
No sticky residue
Fast-drying
Cons
May irritate sensitive eyes
The Celimax Skin Repair Bee Tox Therapy Mask contains skin-repairing ingredients like pure bee venom, AHA (5%), and propolis. It repairs dull skin by accelerating the recovery of damaged skin cells. The ingredients gently exfoliate dead skin and naturally stimulate collagen production. This process brightens the skin tone, brings out your skin's natural texture, and leaves it plump and glowing. This sheet mask is made with plant-based ingredients to suit most skin types, except those allergic to bee products. It is designed to snugly fit all face shapes, maximizing the exposure to the propolis mixture.
Pros
Easy to use
Vegan
Leaves no residue
Fits snugly
Well-soaked sheets
Cons
May have a mild tingling effect
The Rènove Vee Tox Bee venom mask is a gentle, organic cream-based mask. It has pure bee venom and the highest quality Manuka honey that repair and polish your skin. This weightless, non-greasy mask improves the appearance of wrinkles and restores your skin's elasticity. The anti-aging effects of bee venom and detoxifying properties of honey in this mask make your skin look firm, youthful, and spotless. This day and night cream provides daily hydration to most skin types, especially acne-prone skin.
Pros
Non-greasy
Long-lasting
Spreads well
Absorbed easily
Paraben-free
Phthalate-free
Cons
None
The Skin Therapy Bee Venom Manuka Jelly Complex is a rich but weightless night cream that supports firmer and fuller skin. Its anti-aging benefits come from purified bee venom, manuka honey, provitamin B5, and natural beeswax. The unique Australian caviar lime extract in its formula is high in natural AHAs and brightens your skin without irritating it. This night cream softens wrinkles, acne spots, and fine lines while you are asleep.
Pros
Plant-based
Smooth application
Non-sticky
Lightweight
Absorbed quickly
Cruelty-free
Cons
None
If your skin is prone to acne and allergies or is showing signs of aging, it's time you tried bee venom products. These products contain pure and highest-grade bee venom that acts on mature, sensitive, and stressed skin. It polishes and repairs your skin to restore its glow and youth along with other natural additives. So, order your favorites right away! Do a 24-hour patch test and if all's well, pamper your skin with yet another fabulous bee product!
Why Trust StyleCraze?
Shiboli Chakraborti, who penned this article, is a certified skin care coach and StyleCraze's resident skin care expert. She strives to find the most excellent and effective skin care products to handle your skin concerns and needs. She researched many products and their reviews to bring you this curated list of the best bee venom products available right now. She chose these products based on their effectiveness, skin care benefits, and fragrance.
Frequently Asked Questions
What does bee venom do to skin?
Bee venom usually reduces premature signs of aging as they are often used as anti-wrinkle agents. They also boost blood circulation while promoting collagen and elastin production.
How do you use bee venom on your face?
You can use a small amount of bee venom and leave it on your face for a few hours to ensure that your face is not allergic to the formula. Once you are sure about the ingredients, apply them to the aging signs on your face as a part of your skin care routine.
Does bee venom make your skin younger?
Yes, bee venom makes your skin look younger. It increases collagen production and makes your skin appear firmer.
How long do bee venom skin care products last?
If stored well, bee venom skin care products can last up to a year. However, it is recommended to replace them within a year and a half.
Recommended Articles