The 11 Best Benzoyl Peroxide Face Washes To Reduce Acne – 2022
Speed up your new skin cell growth to eliminate your acne scars and pimples.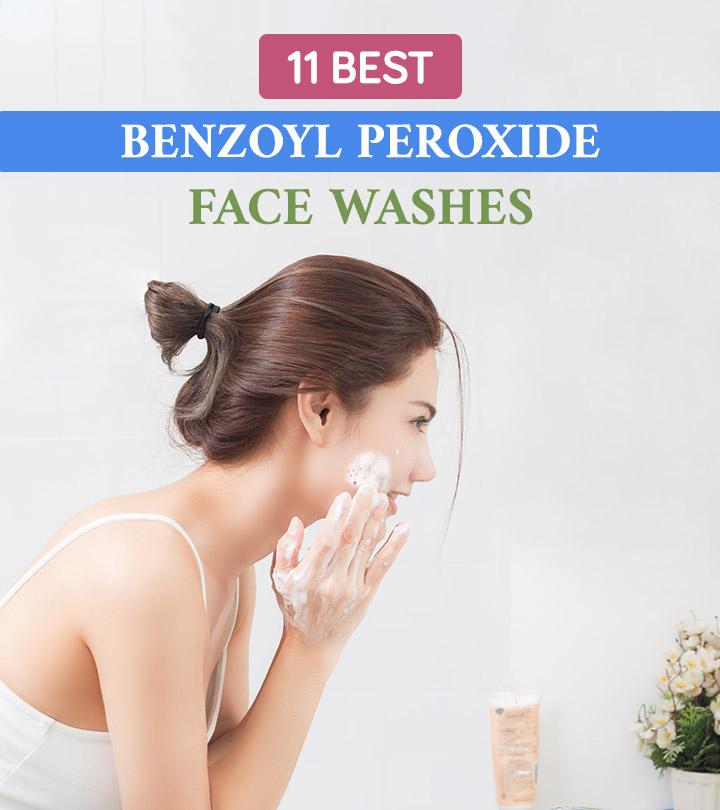 Since acne is a common concern to most of you, keeping your face clean and clear of debris can help you get rid of it. In this condition, benzoyl peroxide appears to play a significant role. Therefore, you must consider switching to the best benzoyl peroxide face wash instead of your regular cleansers!
Benzoyl peroxide has anti-inflammatory and antibacterial properties, which help eliminate germs and dry up acne. It exfoliates your skin and speeds up the rate of cell turnover. This can help remove acne scars and reduce pimple inflammation.
In this article, we have compiled a list of the top 11 benzoyl peroxide face cleansers. These products help treat acne and boost skin health. Keep scrolling for more information!
11 Best Benzoyl Peroxide Face Washes
Dr. Song Benzoyl Peroxide Wash can be used both as a face wash and a body wash. Its benzoyl peroxide formula helps your skin fight breakouts. It has a non-irritating formula and contains deep penetrating medical-grade micro-benzoyl peroxide. In addition to using it for face acne, acne spots, and cystic acne, you can use it for back acne and body acne.
Pros
Can be used as a face wash and body wash
Paraben-free
Cruelty-free
Hygienic pump packaging
Cons
None
EltaMD Foaming Facial Cleanser contains an enzyme and amino acid blend that can help in loosening makeup and other impurities, including the oil in the pores and on the skin. The foam gently lifts the impurities and rinses them away. This makes your skin feel balanced and clean. This video review will give you a deeper understanding about the features and benefits of this product.
Pros
Gentle
Oil-free
Paraben-free
Vegan and cruelty-free
Dermatologist-recommended
Cons
None
This face and body wash uses the healing powers of potent, clinically backed ingredients to offer the best results. It contains 10% benzoyl peroxide and is a dermatologist-tested maximum strength acne treatment for women and teens with mild to moderate acne. It releases oxygen directly into the pores and targets the acne-causing P. acnes bacteria. It also helps lighten blemishes and clear up spots. The best part about this face wash is its clean, safe, sustainable, and cruelty-free ingredients. Check out this review for a closer look into the features of this product.
Note: This product is not for sensitive skin.
Pros
Treats blackheads, whiteheads, pimples, and cysts
Dermatologist-tested
Paraben-free
SLS-free
Formaldehyde-free
No synthetic colors or fragrance
Cons
None
Acne Free Oil-Free Cleanser is a medicated cleanser that contains advanced micronized benzoyl peroxide in 2.5% concentration. It penetrates deep within the skin, unclogging pores and clearing acne-causing bacteria. This cleanser is gentle and does not cause over-drying of the skin. It is infused with ceramides that help maintain the skin's natural moisture barrier for better hydration. It can be used for face and body acne. It is ideal for teenagers and adults who have acne-prone skin.
Pros
Light texture
Dermatologist-recommended
Gentle on skin
Hydrates skin
Prevents blackheads, whiteheads, pimples, and cystic acne
Cons
Neutrogena Rapid Clear Stubborn Acne Cleanser is formulated with maximum strength benzoyl peroxide (10%). It claims to reduce redness and the size of stubborn pimples in just one day. It cleanses and treats the skin to fight acne and prevent future breakouts. You can use it as a part of your regular skincare routine for both morning and night. Regular use can give you healthier and clearer skin. To find out the details of this product, check out this video.
Pros
Contains maximum strength benzoyl peroxide
Suitable for daily use
Makes skin clearer and healthier with use
Cons
May feel extremely drying for some skin types.
Walgreens Acne Treatment Cleansing Bar contains 10% benzoyl peroxide. It also contains vitamin A, vitamin E, and sea whip extract as active ingredients. It can be used on the face and the body.
Note: Avoid this product if you have sensitive skin or are sensitive to benzoyl peroxide.
Pros
Vitamins A and E nourish your skin.
Clears your skin of acne and scars
Cons
Has an off-putting smell.
PCA Skin BPO 5% Cleanser contains a clarifying formula with 5% benzoyl peroxide that penetrates pores, eliminates acne-causing bacteria, and heals and prevents breakouts. Gluconolactone moisturizes your skin and evens out the skin tone, while phytic acid exfoliates your skin gently. It also contains aloe, chamomile, cucumber, and nettle extracts that soothe and calm inflammation and leave the skin looking bright and refreshed.
Pros
Offers antibacterial as well as exfoliation benefits
Calms and soothes acne
Evens out skin tone
No fragrances
No synthetic dyes
No animal testing
Cons
Can be too drying for some skin types.
This therapeutic, soap-free face wash was specially developed for use in dermatology offices. It contains finely milled benzoyl peroxide of the highest medical grade. It is available in benzoyl peroxide concentrations of 5%, 10%, and 10% with aloe vera extract. It gently exfoliates and clears the skin of dirt, oil, and skin-dulling impurities. This face wash is the perfect adjunct therapy for topical and oral antibiotics.
Pros
Does not leave a white chalky residue on the face
Non-drying
Non-irritating
Soap-free
pH balanced
Paraben-free
Oil-free
Fragrance-free
Hypoallergenic
Non-comedogenic 
Cons
Changed formulation isn't effective.
This face wash is specially formulated to improve skin clarity and reduce breakouts. It was developed by a famous beauty influencer, Christina Marie (BeautyChickee). This organic face wash and pore cleanser is suitable for women of all ages who want to improve their skin tone and clarity. It contains salicylic acid that clears acne and blemishes, rosehip oil that soothes the skin, hemp seed oil that hydrates it, and vitamin B5 that heals inflammation. It is suitable for all skin types, including sensitive and acne-prone skin.
Pros
Organic ingredients
Perfect for sensitive and dry skin types
Works well for oily skin
Vegan and cruelty-free 
Cons
Runny consistency
Bad packaging
This face wash contains 10% benzoyl peroxide, carbomer homopolymer, citric acid, edetate disodium, and glycerin. These ingredients cleanse your face of oil, dirt, and acne-causing bacteria.
Pros
Fights acne-causing bacteria
Good for oily skin
Mild 
Cons
May cause breakouts in sensitive skin types
Harris Benzoyl Peroxide Topical Wash contains 5 percent benzoyl peroxide, which helps reduce the number of acne-causing bacteria and dries up acne. It can help treat mild to moderate cases of acne. It may also be used in combination with other acne treatments.
Pros
Inhibits acne-causing bacteria
Lightens acne and blemishes 
Cons
May cause breakouts in sensitive skin types
Why Trust StyleCraze?
The author, Sakshi Bahal, is a skincare enthusiast who loves trying out skincare products. She relies on Benzoyl Peroxide face washes to reduce pimple outbreaks and gently cleanse her skin. They are a must for anyone dealing with acne and stubborn spots on the skin. She has carefully researched products and spoken dermatologists to help her readers buy the best ones. This face wash not only eliminates the germ and buildup but also dries acne and helps you flaunt your naturally glowing skin.
Frequently Asked Questions
What percentage of benzoyl peroxide is the best for acne?
2.5% of benzoyl peroxide is the best for treating acne. Higher concentrations than this may irritate and dry out the skin. However, if you have severe acne, consult your dermatologist to know what percentage will suit you the best.
Can you use benzoyl peroxide face wash while pregnant?
Using a limited amount of benzoyl peroxide during pregnancy and lactation is safe. However, avoid using it on the breast, and make sure you wash your hands before feeding the baby.
Does benzoyl peroxide face wash exfoliate?
Yes, benzoyl peroxide face wash can exfoliate your skin mildly.
How often should I use benzoyl peroxide face wash?
You can use benzoyl peroxide face wash once or twice a day to remove excess oil and dead skin cells from the skin's surface.
How long does benzoyl peroxide face wash take to work?
The benzoyl peroxide face wash takes around a month to show visible results. If you have severe acne, you will have to use it for 2-4 months to see satisfactory results.
What should I not use with benzoyl peroxide face wash?
It is better to avoid applying drying elements like alcohol-containing products on your skin while using a benzoyl peroxide face wash.
Recommended Articles