11 Best Bike Fenders And Mudguards To Protect Your Bike – 2022
Make your riding-experience wonderful by installing these parts to your bike.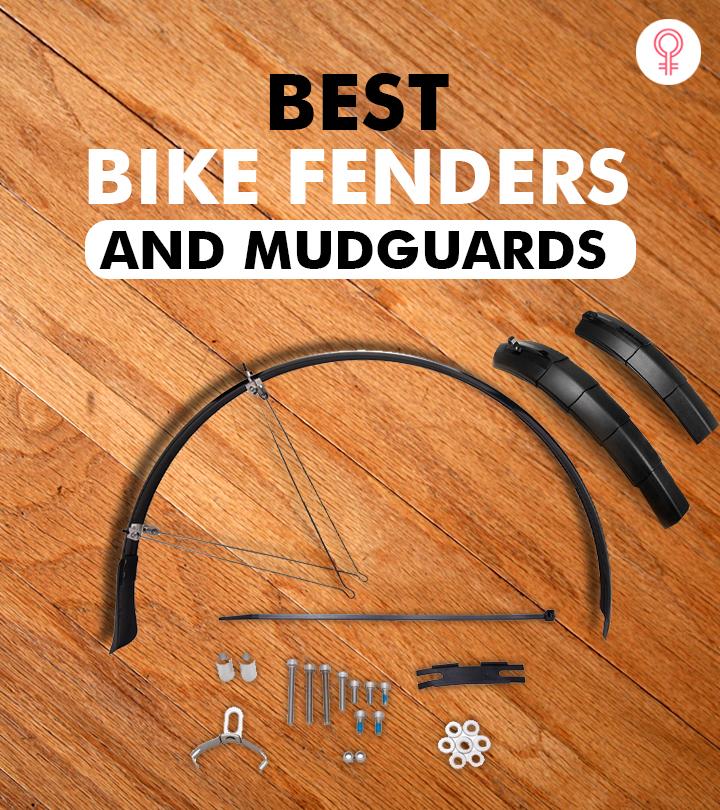 Water splashes can make your day start on a bad note when you're on your way to work or embark on a bike ride at your favorite travel destination. However, when you invest in the best bike fender, that problem is solved. Constructed to give you a dry and water splash-free riding experience, they also eliminate the need for frequent maintenance of your bike as they double as mudguards. Here's a list of the 11 best fenders for your bike that will transform your ride.
Why Should You Use Fenders?
Bike fenders or mudguards catch water, grime, or mud spraying off of the bicycle tire. Along with reducing the amount of wet waste sprayed onto the bike, the fenders also reduce the grit that can stick to the bicycle's moving components while riding in wet conditions. This saves your time and money for maintenance, thereby ensuring longevity.
Best Bike Fenders
The SKS S-Board Bicycle Fender has an adjustable mount designed for 700C wheels. This smart clip-on front fender is ideal for road, gravel bikes, or cyclo-cross. It has a clever double-hinged and quick release fitting system that fits Aero forks. It includes an adhesive protection kit to prevent the paintwork from getting damaged. Need more information? Watch this video to make an informed decision about the product.
Specifications
Dimensions: 15 x 6 x 3.5 inches
Weight: 98 g
Type: Front
Color: Black
Material: Plastic
Pros
Adjustable mount
Paint protection film#Lightweight
Cons
None
The TOPCABIN Bike Fenders Mudguard is made of high-quality ABS plastic, which does not get out of shape easily. It is lightweight and compatible with any seat post. You have the option of adjusting the length and height, depending on your preference. This bike fender is a must if you are riding in mud or rain. It helps reduce wind resistance and prevents your back from getting soggy on muddy roads.
Specifications
Dimensions: 18.5 x 3.15 x 2.36 inches
Weight: 287 g
Type: Front and Rear
Color: Black
Material: Plastic
Pros
Lightweight
Sturdy
Compatible with all seat posts
Adjustable length and height
Cons
The Planet Bike Full Bike Fenders have rugged construction and clean lines that provide immense protection from road grit, rains, and other tire sprays. They feature durable polycarbonate blades for all-weather protection. The release tabs on the front fender add another layer of safety. These bike mudguards come with pre-installed steel U-stays and hardware. If you need further convincing, check out this YouTuber's review.
Specifications
Dimensions: 31 x 12 x 2.6 inches
Weight: 461 g
Type: Front and Rear
Color: Black
Material: Polycarbonate
Pros
Durable
Release tabs
Weather-resistant
Cons
The Portland Design Works Fenders are made using 97% post-consumer recycled beverage bottles. They keep your back dry during rains while popping off easily when it is sunny. The clever hardware is ideal for most city and mountain bikes that come with a hole in the fork crown. They come in two widths to make them compatible with both mountain and city frames.
Specifications
Dimensions: 13 x 3 x 2 inches
Weight: 290 g
Type: Front and Rear
Color: Black
Material: Polypropylene
Pros
Easy to install
Affordable
Durable
Lightweight
Cons
The mounting screw is short
The NICEDACK Bike Fender offers a quick attachment to your seat during a surprise rain. It is pressed using a carbon fiber pattern and fits most mountain bikes. This bicycle mudguard features an improved attachment system and offers better coverage and stability with its large guard area. It is the perfect combination of a bike mudguard and a reflector. The reflector enables visibility in the dark for a safe ride. You can adjust the angle between the fender and the bike tire without using additional tools. The zip ties lock the bike fender securely to the saddle rails. You can check this video out if you need to know more about the product.
Specifications
Dimensions: 11.4 x 12.6 inches (front), 16.5 x 12.6 inches (rear)
Weight: 190 g
Type: Front and Rear
Color: Black
Material: Polypropylene
Pros
Easy to install
Sturdy
Enables visbility
Cons
None
The Planet Bike Cascadia ALX Bike Fenders protect you from sleet, rain, and snow. They have a rugged 6061 aluminum construction and double-riveted 100mm mud flaps for a full-wrap coverage. The pre-installed stainless steel V-stays and hardware ensure hassle-free mounting. They have release tabs for an additional layer of safety and are disc brake compatible.
Specifications
Dimensions: 24.5 x 15.5 x 5.1 inches
Weight: 696 g
Type: Front
Weight:Color: Black/Silver
Material: Aluminium
Pros
Extended mudflap
Release tabs
Pre-installed hardware
Durable
Corrosion-resistant
Cons
The WALD 962 Balloon Fenders offer durable tire coverage with a timeless aesthetic look. They feature a crescent shape for a close and snug fit around the bike tire. This fender set is ideal for bicycles that measure 20 to 26 inches with a wheel size of 2 to 2.125 inches. It does not require eyelets, making it compatible with most bike types.
Specifications
Dimensions: 28.5 x 3.25 x 3.25 inches
Weight: 1380 g
Type: Front and Rear
Color: Black/Chrome
Material: Steel
Pros
Adjustable mount
Paint protection film
Lightweight
Durable
Cons
None
The RBRL Bike Mudguard Bicycle Fender is ideal for 24-29 inches wheels and 1.50-2.35 inches tyres. It helps prevent splattering and flying debris from the front wheels. The tail is made of TPE soft, flexible rubber, which is UV-resistant and can twist continuously. This bike fender comfortably fits the rear rack, and the quick-release design enables easy installation. It has high shock absorption power, which reduces the gap between the seat post and the fender, ensuring your safety.
Specifications
Dimensions: 23 x 4.2 x 3 inches
Weight: 390 g
Type: Front and rear
Color: Black
Material: Plastic
Pros
Suitable for all bike types
Durable
Lightweight
Flexible
Environment-friendly
UV-resistant
Cons
The Fat-Cat Mudguard Fenders Set has a streamlined shape and is suitable for mountain, road, and commuter bikes with holes in the front bar. The angle between the bike tire and mudguard can be adjusted easily without additional repair tools. It is made of sturdy synthetic fiber plastic, that keeps the bike clean and dry.
Specifications
Dimensions: 12.6 x 3 inches
Weight: 203 g
Type: Front and Rear
Color: Black
Material: Plastic
Pros
Adjustable
Lightweight
Durable
Easy to install
Cons
The Jadeshay Bike Fenders set is adjustable and made of high-quality PP plastic. It is impact-resistant and features a streamlined design that prevents mud and rain from splashing. This unit comes with a set of accessories for a fast and efficient assembly.
Specifications
Dimensions: 16 x 4 x 3 inches
Weight: 380 g
Type: Front and Rear
Color: Black
Material: PP Plastic
Pros
Adjustable
Lightweight
Easy to install
Impact-resistant
Includes accessories set
Cons
The BlueSunshine Mudguard Fenders Set has a holed fork and are suitable for mountains, touring, racing, commuter, and road bikes. The rear fender has a universal clip-on mount, making it compatible with all seat posts. It is also easy to mount and dismantle. The front fender has a bolt-on design that needs an eyelet to screw it in place.
Specifications
Dimensions: 16.5 x 3.7 x 0.3 inches
Weight: 203 g
Type: Front and Rear
Color: Black
Material: Synthetic fiber
Pros
Adjustable
Affordable
Lightweight
Easy to assemble
Sturdy
Cons
The front fender can get loose.
Choose a bicycle mudguard that fits your bike seamlessly and provides the required coverage. Let's look are at the different fender types in the following section.
Different Types Of Fenders
Bolt-On Fenders: These fenders are found on commuter, cruisers, cyclo-cross, vintage, and a few endurance road bikes. These bikes come with pre-drilled eyelets or holes to hold the fenders in place. They are a permanent option and popular among regular year-round riders. They are long and offer more coverage, keeping your legs and feet dry while deflecting grime or water.
Clip-On Mudguards: These are the best when your bike does not have pre-drilled eyelets for full or partial fenders. The clip-on mudguard units act as rain shields, which clip directly onto the seat stay or the front fork to prevent water sprays.
Full Fenders: This is a set of two fenders for the full bike, i.e., the front and rear used for wrapping most of the top and sides of the tires. Most full fenders need to be attached to the wheel hub and the frame's attachment point, and mounts near the hubs are also required. They also need a better clearance between the fork, the tire, and the seat stay.
Partial Fenders: These are similar to full fenders, but they do not cover the front and rear wheels. Most partial fenders need an eyelet in the frame for attaching them to your bike securely. They are great if your commuter bike does not offer sufficient clearance between the seat stay, fork, and tire.
Bike Choice And Riding Style – What To Look For In A Bicycle Mudguard
Fitting: There is a chance of flapping noise if the guards are floppy. They can rub on the side of your tire or even bounce up and down on it. Thus, along with length and coverage, the overall security and quality of the fittings are also important.
Ease Of Fitting: The ease of fitting and removal are both important aspects to consider. Many parts might get misplaced or lost, making the installation process complex. Opt for adjustable or clip-on fenders.
Weight: The weight of a bicycle mudguard greatly affects the balance while riding. For fenders made of heavy materials, go on a test ride before taking it for a long commute.
Size: Except for the all-adjustable bike fenders, there are few that fit tires and frames of every size seamlessly. Ensure to take the right measurements of your tires and get an idea of the fender size you need.
Cleaning: Some fender designs are easier to clean than others. If you lack time to clean, go for smooth inner surfaces that need just a quick wipe to clean.
Why Trust StyleCraze?
The author, Aditi Naskar, holds a diploma in health and wellness and is well-versed in sports and outdoor related topics. She has curated a list of the best bike fenders and mudguards after carefully reading reviews on different e-commerce websites. Aditi's list comprises products that are meant to offer you a dry and water splash-free riding experience. Not only are these bike fenders and mudguards adjustable as per your comfort and needs, but they are also easy to clean, sturdy, and lightweight.
Frequently Asked Questions
What if my bike frame does not have pre-drilled eyelets?
If your bike frame does not have pre-drilled eyelets, you can go for a fender that is attached to the front and rear forks instead of an eyelet opening. Alternatively, you can choose a clip-on mudguard set or partial fenders. If you prefer making it work as it is, use zip ties to hold the fenders in place.
Will a set of mudguards protect me from rain?
While mudguards work well during light rains and protect from the stagnant water on the road, they might not be equally effective in blocking water as compared to full or partial fenders. If you use your bicycle in an area that frequently receives heavy rainfall, invest in full or partial fenders.
Do I need fenders on both wheels?
Yes. If you have a fender or a mudguard only over one wheel, the other wheel will spray water at you. In case you cannot find the fender set that fits both your wheels, consider using clip-on mudguards or front guards.
Should I modify my fenders?
While modifying certain fenders may make them more useful, it can also damage them beyond repair. Shortening them is easy but lengthening them can be difficult, especially if you do not have spare parts from a different fender. Similarly, widening them could be tricky, whereas narrowing a typical fender might be possible with the right tools.
How do I determine what size of fenders I need?
The size of the wheels is important if you want a full fender set. If the diameter of the fender is the same as your wheel, you may experience friction against the wheel. Similarly, if the fender is too huge, the water will spray around, making you wet. There are a few options that are adjustable to fit the wheels perfectly with different diameters. Otherwise, measure the diameter of your wheels and then find a fender set that fits that particular diameter.
Recommended Articles
Hybrid Bikes For Women That Keeps You In Shape