14 Best Bike Locks Of 2020 – Reviews And Buying Guide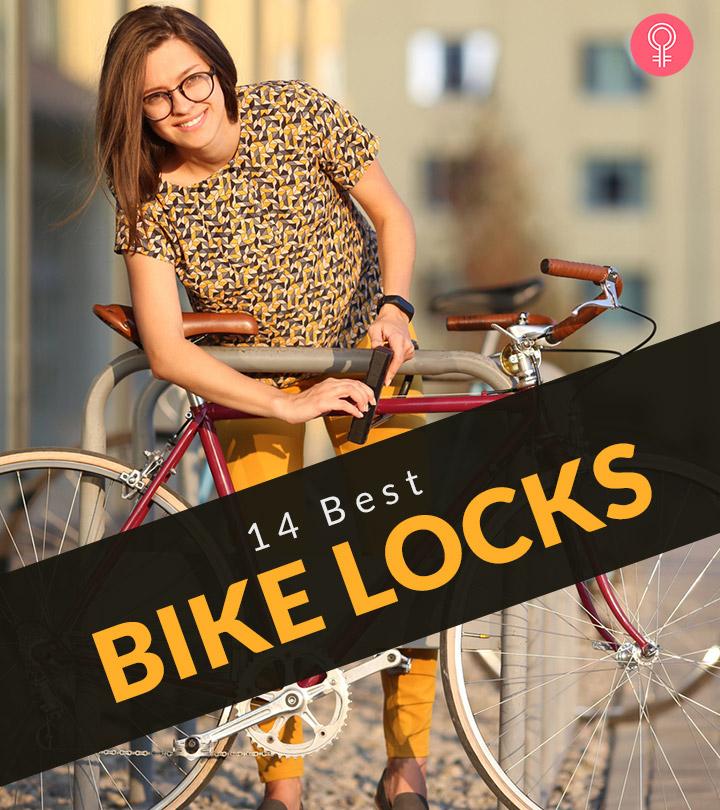 No bike lock can protect your bicycle from determined thieves. However, a good one can dramatically reduce the risk. If you have a bike and frequently use it for travel, we are sure you understand the importance of a bike lock.
While looking to buy a bike lock, you cannot afford to take chances. Which are the most sturdy and reliable bike locks available? Well, we have done the research for you. In this post, we have compiled the 14 best bike locks you can find online. Go through each and pick what you think is the best!
14 Best Bike Locks
The ABUS Bordo Granit X-Plus Folding Lock provides maximum strength and extra security. It is easy to fold. This sturdy bike lock is made with granite, and anyone would have a tough time breaking it.
The 5.5 mm plastic coded bar made with hardened steel connects with a special rivet to protect against bike thefts. These rivets are not only flexible but resistant to any attack. The ABUS Bordo Granit Xplus 6500 Folding lock scores a 15 on the ABUS security system scale. It comes with two keys, and the main key has a LED light facility.
Pros
Heavy-duty folded lock
Flexible, a good alternative to bicycle U-lock
Outer covering made with granite
Very hard steel to crack
Provides high-level protection
Compact and versatile folding technology
Folds up to a compact decent size
Comes with a velcro strap
Cons
Heavyweight
Difficult to remove from holster once installed.
Expensive
Poor key quality
The Kryptonite New York Disc Lock is a top-rated lock. It offers anti-theft protection and is durable. This super-quality lock has 14 mm six-sided chain links made of 3T hardened manganese steel for ultimate strength. The protective durable nylon cover with hook-n-loop fasteners holds the chain in the right place so that it doesn't get displaced while locking.
The fastener and the chain are attached to the maximum-security New York Disc Lock with 15 mm max-performance steel shackle. It provides an oval hardened steel crossbar for extra security. The hardened double deadbolt design provides a better lock for extra security. This highest security disc-style cylinder is resistant to drill, breakage, and any other kind of wear and tear. The sliding dust cover increases the shelf life of the lock, protecting from any damage, dirt, and debris.
This product has two versions with different lengths and weights based on the requirement. The 1410 version is 3.25' (100cm) long and weighs 15.25 lbs (6.92 kg), while the 1415 version is 5' (150cm) long and weighs 10.80 lbs (4.91 kg). It has three stainless steel keys, including a new design and one LED replaceable key fob. The entire design scores 10/10 on the Kryptonite security scale and is eligible for anti-theft protection.
Pros
Heavy-duty durable strong steel chain
Best quality manganese steel
Anti-theft lock protection
Maximum performance steel shackle
Steel crossbar for extra support
Provides simple but deterrent security
Comes with 2 lock versions
Registers key combinations
3 keys with LED facility
Cons
Heavyweight (The owner may need to put in extra effort to lock.)
The ABUS Granik XPlus is one of the best U-locks. This cable lock comes with a patented 13 mm temper-hardened steel square parabolic shackle and a double bolting shackle or lock body. The shackle, cade, and other supporting elements of the lock are all made with a special modernized temper-hardened steel. The most unique feature of this bicycle lock is that it can be keyed with the other ABUS lock that has the same X-Plus cylinder. It is also convenient for multi-lock and multi-bike households.
This bicycle U-lock provides the highest protection against any damage, like hitting, pulling, or scratching with the ABUS Power Cell Technology. The X-Plus Key cylinder provides protection from lock pickers. A total of two keys are supplied with the lock, and one of them has an LED facility.
The automatic keyhole cover protects the lock from dirt or any kind of corrosion. The lock thickness is 13 mm with 9-inch length and 3 lbs weight. This special high picking protection bicycle U-lock includes a code card for ordering additional or replacement keys. The ABUS Granit XPlus Bike U Lock scores a 15 on the ABUS Granit Xplus security system scale.
Pros
Hardened steel
Double bolted
Easy to carry
Bold cutter resistant
Protective cover coating
Medium shackle length
Replacement key
Cons
Heavy lock
Mount is tricky to use
With a slightly smaller circumference, this square lock with a 3.5′ rugged chain U-lock gives the ultimate security. Its oversized, titanium-reinforced hexagonal links provide maximum cut resistance. They also make it impossible for the hacksaw and bolt cutters to break the lock. The tight inside link dimensions offer extra security.
It is available in a wide variety of chain lengths and link sizes to match your security needs. The unique OnGuard cylinder lock provides resistance to bike thieves, picking, and any other kind of attacks. The crossbar and cylinder are covered with a sleeve and a rotating dust cover for extra security and prevents heat, scratches, and any damage. This lock comes with five extra keys.
Pros
Rugged chain with U-lock
Sturdy lock with 5 extra keys
Made with titanium for cut-resistance
Available in a variety of chain lengths
Environmentally protected sleeve
Cons
This is an ergonomically designed foldable lock that can be easily kept in your back pocket or can be mounted to your frame using the water bottle mount it comes with. It is a compact bicycle U-lock that contains hardened pins and 5 mm thick steel links that are covered with a rubber-coated steel plate to protect against any environmental hazards or scratches. This folding lock scores 7 on the RockyMounts Hendrix security system scale.
Pros
Easy to fold and stack
Compact design
Comes with 3 keys
Super strong for bolt cutters to work
Cons
Sigtuna's heavy-duty bicycle U-lock comes with an intelligence interlocking system that easily detects theft. It is made of 16 mm high-performance ABS steel U-lock shackle that offers extensive holding power and is super resistant to be cut by a hacksaw or a bolt cutter. This Model U-lock has a high-security disc-style cylinder and double deadbolt locking mechanism, which are very effective against leverage attacks.
The woven steel cable offers the most protective security against bike theft, and it is attached with a double lop flex cable. The water and dirt resistance rubber coating on either side of the keyhole protects the lock from environmental damage. This double deadbolt locking system is easy to install and has a 85/100 security rating.
Pros
Anti-theft hardened ABS steel U-lock
Anti-picking lock mechanism
Comes with double loop flex cable
Protective rubber coating on lock
High-security bike lock combination
Convenient
Lightweight
Easy to install and mount on the bike
Comes with a 100% money-back guarantee
Keys with LED light
Cons
No replacement key
Not a flexible lock
Expensive
This 13 mm hardened max-professional steel shackle with new hardened double-deadbolts engages both the shackle ends and increases the holding power. This lock has a very hard, double locking and durable crossbar design that is resistant to hacksaws, bolt cutters, and other kinds of theft tools.
The anti-rotation feature of the crossbar protects against twists and a single cut attacks. The lock comes with a 4' Kryptoflex double loop cable that provides security to the front wheel and other accessories. Its special quality rotating dust cover with vinyl coating protects the cylinder from dirt.
It includes a new transit flex frame-U transportation system that helps in easy carrying, and the anti-rattle bumper reduces noise during transport. This extra security anti-theft lock comes with two stainless steel keys and scores a 6 out of 10 on the Kryptonite security system.
Pros
Durable steel shackle
Double deadbolt to attach both ends
Super anti-theft protection
Anti-rattle bumper to cancel noise pollution
Double-loop cable for multipurpose use
Comes with key safe program
Easy to use
Easy to install
Good value for money
Cons
Not rust-resistant
Mount to the bike is poorly designed
This is a very lightweight yet strong bicycle lock to protect your bike without compromising a relaxing ride. The TiGr Mini Lightweight Bicycle lock is 4.7 inches wide and 10.5 inches long with a weight of 0.9 lbs and. The lock is 2016's Red Dot Award winner.
An ergonomically designed high-security disc-style cylindrical lock and a push-button system make this lock easy to attach into the mountain clip. The push button makes it easy to install in one shot. The PVC coating on the bow protects the bike frame from scratches. This laboratory tested and certified TiGr Mini Bicycle lock comes with two keys.
Pros
Lightweight
Ergonomically designed cylindrical lock
Simple push-button for the locking system
Easy to install
Protective PVC coating
Good customer service
Cons
Weak lock system
Not resistant to a bolt cutter
Poor quality mountain clip
The Titanker Bike Lock Cable is a combination lock system. Its four digit combination lock has 10,000 possibilities of number combinations. This bike lock is made from strong premium materials, like a solid zinc alloy lock cylinder and a lock plug with a ABS shell, that make the lock durable and safe.
Flexible steel cables offer strong cut resistance, and the PVC coating and braided steel cable help prevent scratching and make the lock durable. It also has a strong inner core protection for a safer and better anti-theft effect. The mounting bracket support can be easily mounted on the bicycle.
Pros
Resetting combination lock
Mounting bracket helps to hold the lock
Easy to install
Lightweight
A flexible steel cable
Cons
Not as strong as a U-lock.
Poor quality
The Master Lock Street Cuff Lock features a 3-inch (7.6cm) laminated steel construction that is virtually impossible to cut. The cuffs measure 21 1/2 inches (55cm) long. They are convenient for locking your bike to a parking meter, fence posts, or even another bike.
The Master Lock Street Cuff Lock is easy to store when not in use. It can be folded into half. Its unique push-button locking system does not require any key to lock or open. The lock comes with two keys. The anti-theft guarantee and limited lifetime warranty provide peace of mind from a brand you can trust.
Pros
Laminated steel construction lock
Sturdy cuffs
Convenient to lock
Folded to a compact size
Anti-theft guarantee of up to $3500
Easy to install
Pivoting link provides maximum protection
Cons
Bad key design
Poor quality lock mechanism
The Amazer Heavy Duty Combination Bike U-lock is one of the smartest modern designed locks that comes with four combination locking systems. It weighs about 1.8 lbs. The 16 mm hardened long zinc alloy steel shackle greatly protects the bike from bolt cutters or any other leverage attack tools. The 3.85 mm PVC vinyl coating protects the shackle from scratches or any other damage.
The keyless combination lock gives a tough challenge to thieves. The lock comes with a password reset switch in case you forget the combination lock password. The dust cover release button clears dirt and dust to protect the locking system.
Pros
Combination lock
Zinc alloy steel shackle
Scratch-proof PVC vinyl coating
Dust release button
Sturdy lock
Easy to fit
Small and compact
Lock reset button
Cons
The Knock Bouncer U-Lock is a 13 mm hardened steel shackle with a UV resistance silicone covering. It protects the U-lock from scratches or any other damage. The double-dead locking system secures both the ends of the shackles and provides a robust high-security locking system that is difficult to cut open or twisted.
The U-shackle is specifically heat-treated to create a balance between hardness (cut-resistance) and toughness (for tensile and impact resistance). It is a high-security disk style lock barrel, designed for a minimum of 2500 key combinations. Each Bouncer U-lock is provided with a unique key code that is fully traceable if you lose keys. This high-security lock scores 80 out of 100 on the Knog Bouncer security system scale.
Pros
UV-resistant silicone cover
Scratch-resistant
High-security locking system
Double-locking system
Heat-treated U-shackle
2500 key combinations
Comes with 2 keys and a traceable card
Available in 3 colors
Cons
The Hiplok Spin Lok Chain is a wearable lock that is designed as a clip+ride system and can be fastened like a belt when not attached to your bike. It is an integrated four-digit combination lock system and is easy to carry anywhere without carrying a key.
The Hiplok Spin has a premium quality hardened steel with a 6 mm steel chain in the core of the lock and an easy velcro waist adjuster that fits 26"-44" waist size. The lock itself has a 75 cm locking length that is safe and convenient for carrying anywhere with you.
Pros
Convenient to carry
Can be fastened like a belt
Combination lock facility
Premium quality hardened steel
Velcro waist
Available in 2 colors
Cons
None
The Ottolock Steel & Kevlar Combination Bike Lock is designed for quick stops and protects against opportunity theft. It weighs just 145 g (0.319 lbs) and coils into a compact 3-inch diameter. The Ottolock is not a replacement for a U-Lock. For maximum security, use a redundant locking method with both a U-Lock and a secondary lock.
The ultra-lightweight lock is made with multiple layers of stainless steel and aramid fiber convenience. The silicone-coated lock with a tough, durable, and double shackle 12 mm hardened steel and anti-rotation deadbolt protect the bike from any kind of theft. This unique design comes with two keys along with a cinch lock for an all-purpose safety.
Pros
Double security
Ultra-lightweight lock
Made with aramid fiber
2 types of locks
Anti-rotation deadbolt for high-level security
2 keys with combination lock
Portable and convenient security
Can be used in multiple ways
Available in 5 colors
Cons
These are the top 14 bike locks available on the market. In the following section, we will look at the most common types of bike locks.
Types Of Bike Locks
This is a tough lock that can be looped to any bike. The lock is heavy enough to deter many thieves.
These have a solid metal shackle with a removable crossbar that can be looped easily around the frame. They are often accompanied by a cable and are much lighter.
Cable Locks And Combination Locks
These are lightweight and come with a multiple combination lock. They usually have no keys.
Read on to know why bike locks are important.
Why Bike Locks Are Important
A bike lock is important to protect your bicycle from theft. Bicycle recovery may not always be the priority for law enforcement. Hence, it is better to protect your bicycle on your own.
If you have a new bike and do not know how to choose the best quality bike lock, we can help. In the following section, we have listed the factors you need to keep in mind before you make a purchase.
How To Choose The Right Bike Lock
The size and dimensions of the lock are important factors to consider. If you choose a heavy lock, you may find it difficult to carry and even stop using it altogether. Choose a high-quality lightweight (and durable) bike lock that you can easily carry along.
Bike thieves have several bypass tools at their disposal, but the most popular method is to use bolt cutters. Cable locks will not withstand bolt cutters. Hence, if you want real security, use a padlock and a chain or a U-lock.
Check the brand and customer reviews before buying a bike lock.
Conclusion
Protecting your bike from theft is important. If you use your bike often for travel, getting a lock becomes all the more important. You need to make sure you get a good lock – something that is sturdy, durable, and lightweight. Hope this list has helped you make a better choice. Pick the bike lock that suits your needs the best
The following two tabs change content below.

Latest posts by Priyanka S (see all)