13 Best Bike Racks For SUVs – Reviews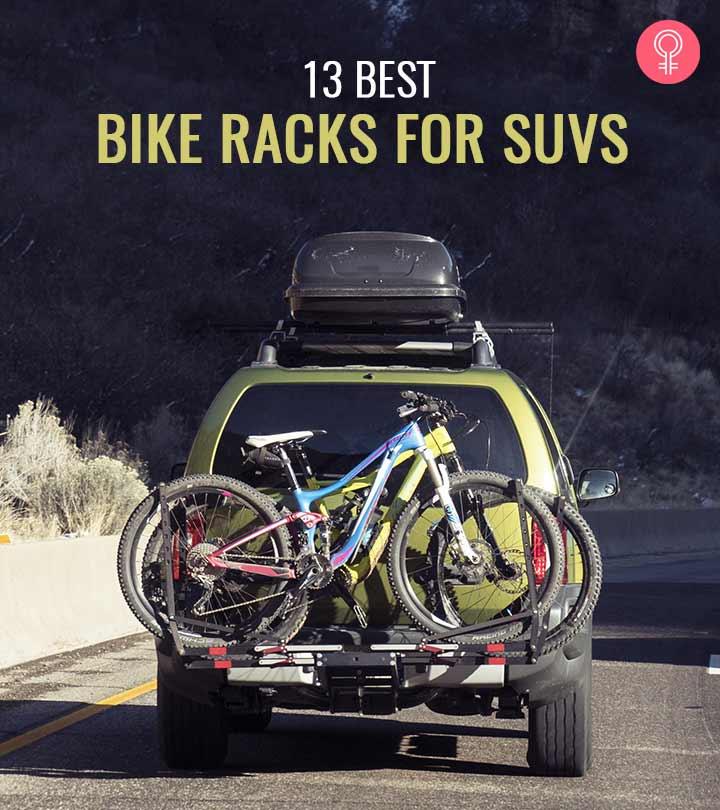 Bike racks have become a requirement for vehicles due to what they offer – durability, utility, and reliability. Several families are installing bike racks to help reduce the burden of tying their bikes to car trunks. Thanks to these racks, you will never have to miss another biking trail!
Here, we have listed the 13 best bike racks meant for SUVs. Take a look at them and see which one meets your needs!
What Are The Different Types Of Bike Racks?
There are numerous types of bike racks available on the market:
Hitch-mounted bike racks
Strap-on trunk racks
Spare tire bike racks
Roof-mounted bike racks
13 Best Bike Racks For SUVs – Reviews
Hitch-Mounted Bike Racks
The Allen Sports Mountain Hitch Bike Rack is perfectly customized with adapters to secure your bike firmly in its place. It comes with individual straps that help hold the bike in position. The fully functional 2-inch receiver hitches make operation easy. You can fold the arms of the rack down when not in use – this provides greater flexibility and space in your vehicle. The rack also comes with no-wobble hitch installations for withstanding the strain from bumpy roads. Accessing the back trunk with the racks installed is easy – you just have to tilt the mainmast to reach your liftgate easily.
Pros
Easy installation
Allows easy liftgate access
Cost-efficient
Cons
The Retrospec Hitch Mount Bike Rack is easy to assemble and comes with straps that help secure your bike. It is equipped to carry two bikes at a time. Its sturdy steel body can carry a weight of 35 lbs. The rack is convenient to use and compact in design. It also is user-friendly. This rack is also structured to accommodate a variety of frame sizes and styles.
Pros
Compact
Convenient
Sturdy
Securing straps
Includes adapter
Cons
None
The Allen Sports Deluxe Bike Hitch Rack helps you transport your bikes safely across rough terrains. The rack is easy to operate and keeps your bike securely strapped. The carry arms are quite functional and can hold an array of frame styles at a time. This rack can accommodate bikes of all sizes, ranging from kids' bikes to adult all-terrain two-wheelers. The tilt-back feature offered by these racks allows you to access the trunk gate without having to remove the equipment. The rack is structured with sturdy bolts that ensure your bike is secured in its place.
Pros
Foldable arms
Hassle-free assembly
Sturdy installation
Cons
The Tyger Auto Deluxe Bike Carrier Rack is capable of carrying four bikes at a time. Its sturdy construction helps it hold your bike in place without any wobbling. It comes with an E-coating that keeps its body rust-free and protects it from weathering. The rack is easy to be installed too. Your bike stays fixed in its place with the safety straps that hold it down tight.
Pros
Hitch lock
Extra straps
Rust-resistant body
Foldable arms
Cons
Strap-On Trunk Racks
The Allen Sports Deluxe Mount Rack has been designed to be easily installed on all four-wheelers, ranging from a luxury sedan to a high-end SUV. This bike rack comes with side straps that help maintain your bicycle's lateral stability and ensure it is in place. You can also keep your bike from falling off with tie-downs. The rack comes with padded frames and does not leave scratches on your vehicle body. Installing the bike rack is quite easy, thanks to its configuration design.
Pros
Easy installation
Secure assembly
Does not leave scratches
Cons
This bike rack is suited for all purposes. It is structured to carry two bikes at a time. It is compact and slick and is viable enough to be foldable and fit into a bag. Its padded design keeps it from leaving scratches on the vehicle body. The security straps on the rack help keep the bicycles secured. Tie-downs that come with this rack help keep the bikes from wobbling and distant from the vehicle. The rack also has a black powder coating that protects it from the effects of weathering.
Pros
Compact design
Foldable
Side straps
Padded spine
Cons
The Allen Sports Mounted Premier Bike Rack comes with a patent design that makes its installation easy. The arm of this rack ranges up to 16 inches and allows it to accommodate three bikes simultaneously. The tie-down cradles that come with this bike rack can keep your bikes secured in their place without a hitch. The rack also comes with pads that keep it from scratching against the vehicle's body. The side straps help maintain lateral stability that holds the bikes tight during extreme jerks.
Pros
Easy setup
Multi-vehicle configuration
No scratches
Weather-proof material
Cons
Warranty constraints
Non-coated clips
The Tyger Auto Deluxe Bike Trunk Mount Rack fits all vehicles ranging from hatchbacks to SUVs. This deluxe 3-bike rack gets delivered 100% assembled – and you need not worry about the installation of the parts when securing it to the car. The rack is structured to be sturdy. It comes with padding that prevents scratches on your vehicle's body. The rack is secure against rusting with a black E-coating. You can put on the safety straps to stabilize the rack during rough adventures.
Pros
Cons
Not sturdy
Unreliable clamps
Spare Tire Bike Racks
This model is the right fit for all Wrangler Jeeps. This spare tire rack can attach itself with tire mounting bolts that also come with plates that fit most industry-standard bolt patterns. You are also provided with a hand tightening knob that will hold your equipment in place, preventing any wobbling even in rough terrain. It comes with 3-extension racks and can hold three bikes at a time. This bike rack also provides support arms that are adjustable if the car has a side spare tire mounting system. The rack can support bicycles up to 35 lbs each. It also comes with a lock that keeps your bike secured to the rack to prevent swaying while traveling through rough terrain.
Pros
Adapters provided
Adjustable
Foldable
Safety straps
Cons
The FieryRed Spare Tire 2-Bike Rack is equipped to withstand all forms of wear and tear. It has been built with a sturdy premium iron that has been coated with powder to prevent rusting. It comprises durable rubber straps. The rack can accommodate most tires and is capable of carrying two bikes at a time. The patented design of the equipment keeps it safe and secure in its place and prevents it from scratching your vehicle. It also has a theft-proof design. The structure is constructed such that it keeps two bikes from hitting against one another.
Pros
Flexible
Compatible to most tire sizes
Foldable
Cost-efficient
Cons
Tow incompatible
Trailer incompatible
The Thule Bike Carrier with Spare Tire Rack comes with cradles that help prevent the rack from swaying in case of bumpy and rough roads. It is viable for Wrangler Jeeps and other heavy-duty rough vehicles. The integrated locks help keep the bikes secure and keep them from excessive swaying. The rack can hold two bikes at a time and can carry up to 75 pounds. It is a hanging style bike rack that is suitable for all adventurers.
Pros
Fits perfectly
Secure
Compact design
Foldable
Cons
None
The Rhino Rack Spare Wheel Rack is suitable for vehicles requiring both spare tire carriers and bike racks. It is capable of carrying two bikes at a time. It fits tires of all sizes. It is secured to the body by thick straps and can stay rigid in its place. When not in use, you can fold the equipment aside to allow more flexibility. The carrier is powder-coated and corrosion-resistant. This bike rack is adjustable too.
Pros:
Simple installation
Secure loading
Easy usability
Corrosion-resistant
Minimal fittings
Cons
Roof-Mounted Bike Rack
The Swagman Roof Mount Bike Rack is easy to install. It can carry one bike at a time and can handle up to 35 lbs. This bike rack comes with a sleek design that is quite minimalistic – especially with its 3-inch wide oval bars and multiple units. The rack's construction is quite sturdy and is a composition of steel and plastic. However, it weighs only 5 lbs. Your bike remains secure in its place with tie-down straps.
Pros
Affordable
Secure structure
Extremely durable
Cons
These are the top 13 bike racks available online. Before you pick any, go through the following buying guide.
What To Look For When Buying A Bike Rack For An SUV?
Number Of Bikes: Always confirm how many bikes you want to carry. There are many options when you look for bike racks that will cater to all your requirements. You definitely would not want to invest in a bike rack to find out later that it can hold only one bike.
Anti-Rust: Nothing should stop you from cycling through the rains or near the beach. To keep the bike rack safe and strong for a longer period, make sure it is anti-rust.
Rear Access: It can be very difficult to dismantle the bike rack each time when not in use. Look for an SUV rack that does not obstruct the rearview. Also, when you are going on a long vacation, accessing the rear luggage should be easy.
Fittings: Not all racks will fit and be compatible with all the SUV models. Hence, to secure and safely attach the equipment, ensure you check the fitting specifications.
The right bike rack gives you the freedom to carry your adventure bike anywhere you would like to go. It offers comfort and ease as you travel to your next destination. Choose your favorite bike rack from this list today!
Frequently Asked Questions
My bike is heavier than average. How can I protect my SUV further while using racks?
You can get a bike rack that comes with extra padding and a sturdy steel body, for it helps prevent the car from denting or scratching.
How often do you use the rack?
It depends on your routine and the sturdiness of the product. If you are someone that tends to go for outdoor adventures quite often, then you probably require a sturdy weather-resistant bike rack to carry your equipment for biking trips.
What do I do with a bike rack when it is not in use?
Try buying foldable racks as you can easily remove them and keep in a bag when not in use. You may also go for racks with flexible arms to move them aside when not in use.
How do I enhance the life of my bike rack?
You can choose to coat your bike rack with a metal coating to prevent it from rusting.
Recommended Articles