15 Best Biker Shorts For Women That Are Comfy And Stylish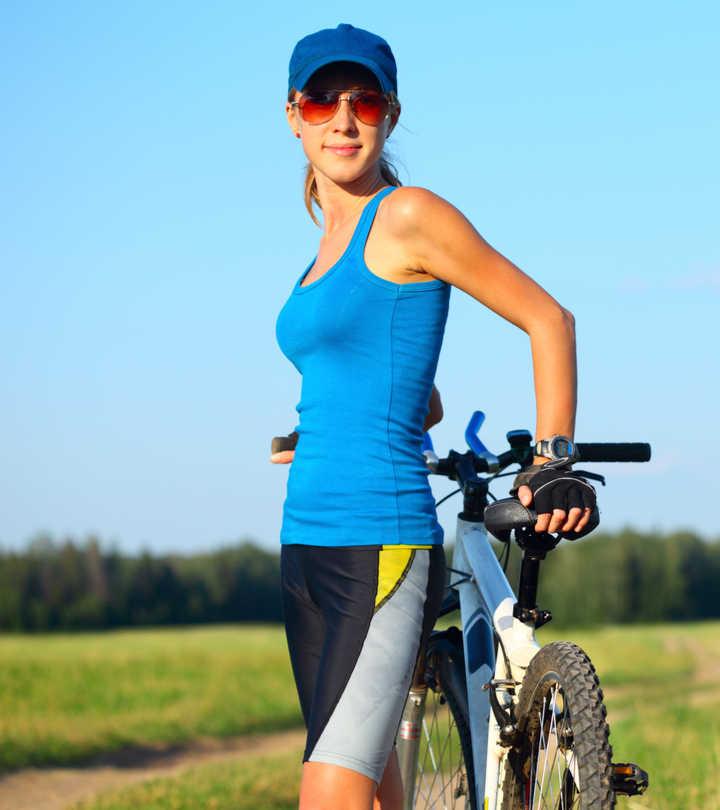 The best biker shorts for women are a timeless trend popularized by Lady Diana and perfected by celebrities like Kendall Jenner and Sarah Jessica Parker. Be it a brunch with friends or a family vacation, you are set for various occasions if you have the biker shorts in your closet. Moreover, this clothing item is an ideal choice for women who love to indulge in regular fitness training. You can also wear them at home while relaxing after a long and hectic day at work. Biker shorts are the perfect combination of fashion and comfort. Wondering how to find some of these pants? You have landed on the right page, because this article will narrow down your search. Swipe up and explore our list!
15 Best Biker Shorts For Women In 2022 To Keep You Comfortable All Day
The Baleaf Women's High Waist Biker Shorts are one of the most popular ladies' biker shorts that provide a nice fit and comfort at the same time. Made up of a mix of polyester and spandex, it provides a good fit and support. It comes in 46 different colors and the few basic shades like the pale grey are made up of breathable cotton that doesn't ride up your thighs and is comfortable to wear all day. Its moisture-wicking stretchy fabric provides full coverage during any workout activity and the high-rise, wide waistband aids in tummy control while preventing the formation of muffin top. Equipped with big side pockets for your phone and essentials, these are one of the best women's compression biker shorts that can take you from workouts to running errands in no time.
Pros:
 With side pockets
 Breathable
 High-rise
 Ergonomic
Cons:
Made up of mostly pure cotton and a bit of spandex, the Hanes Women's Stretch Jersey Bike Shorts offer you that breathable snug comfort all through the day. You can easily wear these in summers to avoid any irritation due to your thighs rubbing together. These have a flare fit at the bottom so would appeal to women who prefer a looser fit rather than the form-fitting spandex shorts. It's great for layering up your favorite dress, a casual bike ride, or even just lounging at home.
Pros:
 90% cotton
 No show-through
 Comfortable waistband
 Soft and breathable
Cons:
 Need to size down
 Not fade-proof
Made from a high-quality 4-way stretch ACEPORA interlock fabric blend of polyester and spandex, these high-waisted bike shorts with pockets provide maximum comfort and protection during everyday activities. The moisture-wicking fabric based on double knits technology gives you a firm fit and ease of movement all through the day. It comes with a gusseted crotch to give you that extra freedom of movement. While the high-rise, wide elastic waistband aids tummy control, the deep side pockets are big enough for your phone and keys. These shorts are flexible and offer the required compression as well.
Pros:
 Quick-dry
 Breathable
 Lightweight
 Non-see through
Cons:
 Might ride up the thighs
 Thin fabric
The PERSIT Women's High Waist Printed Athletic Shorts are made up of 4-way stretch comfortable fabric that provides you ease of movement and flexibility. The moisture-wicking material is quick-drying and helps to keep your skin dry after a workout. It contours and shapes your body, enhancing your curves. These ladies' biker shorts come with side pockets for added convenience. Available in 14 colors and a variety of prints to choose from, these are sure to boost your fitness in style.
Pros:
 Unique print design
 Button closure
 High-rise
 Moisture-wicking
Cons:
 Need to size down
 Not squat-proof
Just My Size Women's Plus-Size Stretch Jersey Bike Short is made of soft cotton with a bit of spandex to give you a comfortable, flexible fit. Its thin, tag-free elastic waistband is squat proof and great for cycling or any other workout. Specially made for women on the heavier side, these plus-size women's bike shorts give a snug fit and don't roll up your thighs. The waistband doesn't cut into the belly and being breathable, these work perfectly to avoid the much-dreaded chub-rub. These run a bit long and cover till right above your knees so you can easily layer it up with baggy shirts or T-shirts for that casual yet fashionable look.
Pros:
 Comfortable
 Tag-free elastic waistband
 Don't ride up
Cons:
 No pockets
 Only two colors
Made up of 80% polyester and 20% spandex, these women's biker shorts come with an inbuilt 3D gel padding that provides extra cushioning for beginner cyclists. The gel pad varies in size and is thicker towards the back, medium in the middle, and thinner at the front. This suits beginner cyclists who mostly ride on their hips. The advanced cyclists who tend to lean forward while cycling might find the front cushioning a bit less. These extra padding shorts are snug enough to stay in place and thin enough to be layered below a pair of leggings. These padded bike shorts are supposed to be worn without any underwear and hence the use of anti-chafe cream is advisable. If you have been looking at women's padded bike short reviews for a while, then you might find these top your list.
Pros:
 Pull-on closure
 Machine wash
 Gel-padded
Cons:
 Band around the legs seem a bit tight
 Not chafe-proof
If you are looking for buttery soft women's biker shorts with convenient pockets, then these from Colourfulkoala might just be the one for you. With a high waistband that stays put and pockets to carry your essentials, these biker shorts are stretchy and comfortable for various activities. The fabric is super soft yet provides the right amount of compression. Also, there's no elastic in the fold-over type waistband making it smooth and perfect for the ones looking for a comfortable snug fit. It is just the right length to keep you cool even in hot and humid weather, without limiting any movement. It fits well against your body and feels as comfortable like your second skin.
Pros:
 True to size
 Buttery soft fabric
 Seamless waistband
 Affordable
Cons:
 Unflattering middle seam
 Tight thigh seam
These high-waisted, squat-proof women's biker shorts by Sunzel give you all the needed support with a good amount of tummy control as well. Made up of a thicker fabric of 75% polyester and 25% spandex, these are not see-through and are very flattering as well. While doing exercises or any fast workout, these give you a snug fit and are comfortable to move about. The side pockets have a good stretch to accommodate more stuff. They come in plain neutral shades as well as funky prints and patterns to give you more options to choose from!
Pros:
 Squat proof
 Sweat-wicking
 Seamless waistband
 No shrinkage
Cons:
 Might roll up
 Might not be suitable for curvy women
Made with 95% cotton, these women's midthigh biker shorts provide you the ultimate comfort and feel that makes you forget you are wearing them. The soft jersey fabric offers a good stretch, making it suitable for your next yoga session or even as everyday wear. It is a bit short in length reaching your midthighs and hence comfortable in hot summers. With a thin high-rise waistband that doesn't dig into your belly, it is comfortable enough and provides ample room for pregnant ladies as well. Machine washable and easy-to-maintain, these are available in a variety of colors too.
Pros:
 Soft jersey fabric
 Comfortable fit
 Stretchy
Cons:
 Might accentuate muffin top
 Thin material
When you are heavy at the thighs or hips, you tend to shy away from form-fitting shorts wondering if they'll highlight the rolls. But then the right fabric and fit can help you accentuate your assets to attain that perfectly flattering curvy look. The length of these high waist shorts by Nirlon runs almost till the knees and doesn't ride up, perfect for those who like to cover up their thighs. These high-waisted black biker shorts are breathable and super comfortable in hot and humid summers even with the long length. They prevent the inner thighs from chafing and gather your body in the perfect shape while keeping the movement restriction-free.
Pros:
 Breathable
 Stretchy
 Fade-proof
 Moisture-wicking
Cons:
YOLIX Women's High Rise Biker Shorts made up of mostly polyester and a bit of spandex are designed to help you move and stretch carefree. The brand claims to have each piece tested to maintain the standards in quality and comfort. Featuring a seamless tummy-flattening waistband, it sits snug at your waistline and makes you feel covered and secure. Available in packs of 3, these are affordable and easily accessible as well.
Pros:
 Cost-effective
 Multi-purpose
 Ultra-soft fabric
 Non-see through
Cons:
 No compression
 Not squat proof
The Danskin Women's Essentials Bike Shorts are made up of a mix of cotton, polyester, and spandex. They fit high on the waist, just above the belly button, and are just the right length to be worn under dresses in summers. With a moisture-wicking gusset, these shorts help prevent rashes due to sweaty thighs. Unlike the slick and tight spandex, they have a very soft cottony feel and don't ride up the thighs or roll down the waist. Also, these don't lose shape even after multiple washes.
Pros:
 True to size
 Machine washable
 Gusseted crotch area
Cons:
 Not sweat-proof
 Not seamless
 Only two colors
These workout bike shorts for women from HHUQ, contour your body curves and streamline your shape for that flattering smooth look. With a high waistband, these are scientifically designed to provide a good amount of tummy control. These come with two side pockets to carry your phone and essentials, and a hidden waistband pocket to carry your keys or credit card. Made from a breathable and moisture-wicking fabric, these keep you confident and comfortable through all sorts of workout activities.
Pros:
 Waistband pocket
 4-way stretch
 Moisture-wicking
Cons:
 Need to size up
 Tight on thighs
SALSPOR Seamless High Waist Workout Shorts made up of a balanced mix of nylon and spandex, come with a 4-way stretch design that is comfortable and doesn't restrict your movement in any way. The fabric is stretchy, moisture-wicking, and quick-drying to make it squat-proof and comfortable even in hot summers. These come designed with a breathable hollow cut heart mesh design at the thighs and hips to provide you with better ventilation and comfort. These form-fitting bike shorts are just the right length and provide you with just the right amount of compression.
Pros:
 Breathable hollow design
 Gusseted crotch area
 Tummy control
 Not see-through
Cons:
 Not squat-proof
 Might ride up the thighs
If you are looking for the best biker shorts for women that provide you with the much-needed support and comfort during your workouts, then these Reebok Women's Compression Shorts must be the perfect fit for you. These are made with a special quick-dry, moisture-wicking material that allows the skin to breathe and prevent any discomfort due to sweating and skin irritation. These compression shorts are also available in mid and high-rise designs. The length is till mid-thighs and these ladies' shorts come handy with pockets on both sides to keep your essentials safe. Overall, these are great for walking, biking, and general exercising at home or at the gym.
Pros:
 Quick-dry
 No see-through
 Sweat-proof
Cons:
With most of us being aware of our health and fitness, some basic form of exercise has become a necessity each day. Even if we are not able to accommodate a full-fledged workout session and choose to cycle, run, walk, or work out at home, a pair of good comfortable biker shorts always comes in handy. Now that we have given you a list of the 15 best biker shorts for women, let us also help you decide how to choose which one would work best for you.
Buying Guide:
What to look for in biker shorts
When you are buying a pair of biker shorts or any workout attire for that matter, your first criteria should be the fabric material. You may be someone who prefers the slick and tight feel of spandex and polyester shorts for women or you may choose to opt for the more sustainable and breathable cotton material. It also depends on what type of activity you want to indulge in and for what duration. A quick-dry, moisture-wicking, non-see-through material is always an added benefit during any sort of workout activity.
Based on your shape, the thickness of your thighs, and your personal preference, you can choose to go for short, mid-thigh, or women's long bike shorts that reach till the knees. Either way, the only concern here should be if the shorts are squat-proof or not.
The biker shorts vary largely in the type of waistband they offer. Some might be high-waisted with a broad waistband that gives you a good amount of tummy control, while some might be the fold-over types with a snug cozy fit. The idea is they should not roll down during any activity and provide you the right amount of compression to give you that perfect streamlined look.
Most women's biker shorts come in plain and neutral colors to match with any type of top or T-shirt. But there are a few brands that also offer a variety of prints and patterns for you to choose from.
Many of the biker's shorts today offer you additional functionality along with comfort and ease of movement. Pockets are one such lucrative add-ons when it comes to your athletic shorts. It's always handy to keep your phone and keys along with you for any activity. Other than that, a few bike shorts come with a gusseted crotch area or a gel padding that gives you that extra comfort and ease of movement.
Why Trust StyleCraze?
Chaitra Krishnan, the author, has a passion for fashion, specifically for finding comfortable fashion options for everyday use. In this article, she recommends using the above-mentioned biker shorts after perusing through many product reviews and conducting her own research. She selected these products based on their material, breathability, pockets, and more.
Recommended Articles