10 Best Bikini Hair Removal Products That Actually Work – 2023
Save yourself a trip to the salons and use these premium formulas to get clear, hairless skin.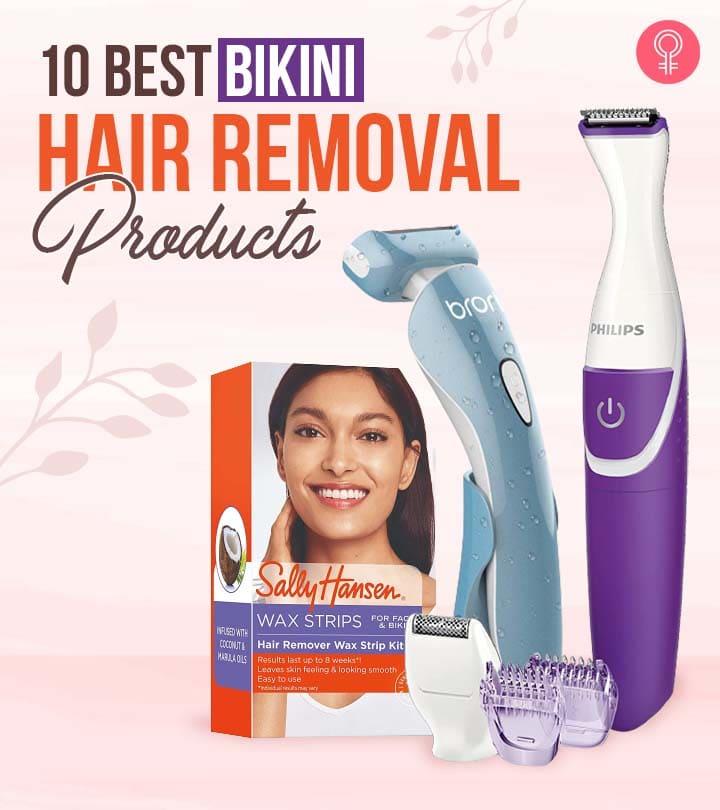 If you are planning to hit the beach soon or just wish to have a hair-free intimate area, you must get your hands on the best bikini hair removal products available. We know that the market is already brimming with a gazillion options. From razors to trimmers, and from sugaring paste to wax strips, you will find them all. Plus, there is the latest laser technology too. This makes your search mission a bit tedious, which is exactly why we have made a list of the 10 best ones that cater to your specific and unique requirements. Go ahead and check!
Best Bikini Hair Removal Products
The Sally Hansen Hair Remover Wax Strip Kit comes pre-cut for use on different parts of your body, including the face and the bikini area. The bisabolol in the strips helps soothe your skin, keeping it soft, supple, and free of irritations. It has azulene finishing oil that moisturizes the skin and removes any residual wax after the waxing. These pre-waxed strips are ideal for removing even really short and stubborn hair while slowing down the process of regrowth too. They are easy to use and offer long-lasting results. Go through this video review for a detailed understanding of the product.
Pros
Pre-cut strips
Long-lasting results
Soothing
Removes short hair
Microwaving not required
Cons
May not be ideal for sensitive skin.
Price at the time of publication: $5.26
If you want that silky smooth skin, but waxing isn't your thing, then The Brori Electric Razor should be your best bet. You can quite easily remove all that unwanted hair from any part of your body without having to worry about pain or allergies. This cordless razor's unique 3 in 1 customized blades move smoothly over the contours of your body, and the LED light helps spot even the finest hair so you can have the ideal hair removing experience. It can be charged using a USB charging stand or directly connecting to a power source. It is waterproof and can be used even in your bath or shower, and can be easily washed clean after every use.
Pros
Safe to use in wet and dry conditions
Quick recharging
Cordless
Customised 3-in-1 blade
LED illumination
Cons
May not give a very close shave
Price at the time of publication: $29.98
Yearning for that impeccable bikini line but dread the pain of the nicks and cuts? The Philips beauty BikiniGenie is the perfect hair remover for you. This easy-to-use trimmer is ergonomically designed to trim even thicker hair that might sometimes be so stubborn. It has two click-on combs to trim your hair to a precise length and a mini shaving head. It is equipped with 2 AA batteries and can conveniently be used even in your shower. A small brush is provided to clean the trimmer off those nasty hairs. All of this neatly sits in a drawstring pouch which makes packing for travel super easy.
Pros
Battery operated
Fewer cuts and nicks
Trims even thicker hair
Click-on combs
Works on wet and dry skin
Cons
May not give a smooth shave
Price at the time of publication: $19.99
The Avashine Wax Strips give an effective hair removal that's not only fast but also less messy and longer-lasting. These strips are made from beeswax essence combined with jojoba seed oil to give that ultrasoft finish. These extra-long strips can be cut to size suitable to the area that needs to be waxed. You need just your hands to warm the strip, as no microwave is needed at all. So that makes it extremely convenient to carry these along with you wherever you go. Fast, easy, and longer-lasting silky effect makes these the perfect hair removal product that you can find. Check out this video for a detailed review of the product.
Pros
Dual side usage
Natural ingredients
No microwaving needed
Easy to use
Long-lasting results
Cons
May need repeated application
Price at the time of publication: $14.99
The multifunction Medimama Bikini Trimmer comes with three interchangeable heads: the bikini trimmer, eyebrows trimmer, and facial hair remover head. It is ergonomically designed to fit perfectly in your hands, and the stainless-steel blades give a painless and effective shave without causing any irritation. It is powered by just one AA battery and can comfortably be used in both wet and dry conditions. The compact Medimama grooming kit is portable and hence ideal for travel purposes.
Pros
3-in-1 function
Ergonomic design
Portable
Hypoallergenic surface and blades
Cordless
Water-resistant
Lightweight
Wet and dry use
Cons
May not give a clean shave
Price at the time of publication: $13.67
The BLITZWAX Wax Machine Kit includes an electric wax heater, 4 bags of lavender fragrance wax beans, 10 large waxing sticks, 10 waxing applicators, along with pre and post-wax sprays. It helps you get a long lasting and professional-grade finish without the hassle.
The wax beans are specifically formulated with vitamin E, lavender oil, and aromatic ingredients for sensitive skin. This stripless wax uses advanced flexible polymers that can be applied in any area without breaking or becoming rigid. The signature hard wax adheres only to the hair and not the skin, thereby minimizing pain and irritation. You can use this wax to safely remove both fine and coarse hair in a single swipe with almost no skin reactions.
Pros
Ideal for beginners
Easy to remove
Gentle for sensitive skin
Spreads evenly
Adjustable temperature control settings
Cons
None
Price at the time of publication: $39.99
A good shaving cream goes a long way in giving you that satisfying, sensual, hair-free experience and the Coochy Plus Intimate Shaving Cream does just that. It is made from highly moisturizing agents rich in vitamins that work wonders on your skin. This shaving cream is safe for various skin types. It prevents ingrowth and razor bumps by forming a protective shield over your skin. It is beautifully scented, leaving you with a feeling of deep pleasure and bliss. This cream is dermatologically tested and is Ph balanced, hence ideal for use even on sensitive skin. Its container comes with a lock-up mechanism which makes it travel-friendly.
Pros
Ideal for sensitive skin
Dermatologically-tested
pH balanced
Cons
Price at the time of publication: $24.95
Do you vouch for the old-school hair removal techniques which use natural ingredients to remove hair? Then the best sugar wax for you should be the Luxury Home Sugaring Paste from the Sugaring Factory. This sugaring paste is made from 100% natural components without any harmful chemical additives, making it safe for your skin and body. It can be used directly without microwave, and the residue can be washed off with water without using any chemical cleaning fluid. It removes hair from the follicles, resulting in a cleaner and long-lasting smooth feeling skin.
Pros
100% Natural ingredients
No preheating required
Easy to use
Long-lasting results
Smooth finish
Cons
Price at the time of publication: $19.89
If you want an all-in-one product, then the Gillette Venus Intimate Grooming Kit checks all the boxes. It comes with a razor, two blade refills, a 2-in-1 cleanser, and a shaving gel, and last but not least, the daily soothing serum. Its razors are armed with the irritation defense bar to ensure a smooth shave while even barely touching the skin. The shave gel cum cleanser is translucent, so you can see the area while you are shaving. The hydrating serum moisturizes and prevents dryness and itchy sensation after every shave. Its dermatologically-tested gentle formula makes it safe to use on sensitive skin. Also, this product is free from harmful chemicals like parabens and also allergy-aggravating fragrances.
Pros
All-in-one kit
Dermatologically-tested
2 blade refills
Ergonomic razor
PH balanced gel and serum
Cons
Cleaning the blades may be messy
Price at the time of publication: $44.99
The Braun Silk-Expert Pro 5 IPL Hair Removal System offers effective treatment. This powerful yet gentle device can be used on the highly-sensitive bikini area and helps you achieve salon-like smooth skin that lasts for ages. It is essentially a gentle alternative to laser hair removal and claims visible results in just 4 weeks. It also promises up to 6 months of visible hair reduction from head to toe and takes no more than 5 minutes to treat lower legs entirely.
This device uses silk pro technology that automatically optimizes the power of each flash to work with your skin tone and body parts. The high-speed flashes ensure less missed spots. You will find different heads for specific areas, namely, the standard cap for underarm and lower legs, precision cap for face and bikini area, as well as the wide cap for chest, back, and upper legs. The power is adjustable with different treatment modes to ensure gentle waxing in the delicate areas.
Pros
Improves skin texture
Ergonomic design
Easy storage
Gentle on sensitive skin
Cons
None
Price at the time of publication: $399.99
Now that you know all about the various bikini hair removal products on the market, choosing the right one should not be an arduous task for you. However, you do need to keep a few things in mind before you make a purchase.
Things To Remember While Buying A Bikini Hair Removal Product (Buying Guide)
Keep reading to find out what you need to look for while buying a bikini hair remover.
Sensitivity: Well, when we talk about bikini hair removal, the first thing that comes to mind is how my skin will like it? The hair needs to be gone, but we also need to consider the sensitive nature of the skin on the intimate area. If you have very sensitive skin that is prone to rashes and itches, you should go for products that are more natural than chemicals. Look for hydrating and moisturizing agents in the product that may soothe your skin. Steer clear from products that may tend to irritate your skin. Some razors and trimmers also come with hypoallergenic surfaces that tend to keep your skin safe so that you can go for such products.
Time: Juggling between home and hearth with hardly any time for personal grooming, let alone a salon visit? We all know how that feels. In times like these, we wish there could be something like a genie that could magically make those nasty hairs disappear in no time. Well, there may be no genie, but some awesome bikini hair-removing products do just that. Hair removing cremes or wax strips that need no preheating and can be used to remove hair in a very short time. So even if you're running short on time, you can say bye to bikini line hair in no time!
Effective duration vs. painless removal: Waxing and laser treatments give longer-lasting effects than razors or trimmers. Moreover, the regrowth is also reduced and slow. But the cons here is they may be slightly painful too. However, if you have a slower hair growth rate, then razors and trimmers can also give similar long-lasting effects despite all the discomfort.
So yes, we all agree that removing bikini hair can be quite a pain, literally. But that pain can now be lessened. We hope that our curated list of bikini hair removal products helps you buy the perfect one that leaves you feeling soft down there. If you ask us, our personal favorite is the Bikini Zone Hair Removal Treatment Kit. With its nature resembling ingredients that keep your skin smooth and free of irritation and its long-lasting effects, this kit works wonders in a really short time. So, go ahead and choose the right product according to your needs.
Why Trust StyleCraze?
The author of this post, Shiboli Chakraborti, is a certified skin care coach. Her in-depth exploration of various skin care products helps her to bring the best ones for the readers. The list of best bikini hair removal products is curated after thorough research and reading many customer feedbacks online from trusted forums. She says these products are a must-have if you are planning a beach vacation.
Frequently Asked Questions
Can I use any normal hair-removing product on the bikini area?
Bikini hair grows on a more sensitive and crucial area than the other parts of the body. The hair may be coarser and more stubborn too. Bikini hair removal products cater to this very important factor and use skin-friendly components to reduce any discomfort or allergic reaction. Hence, it is advisable to use the specifically meant products for the bikini line for better and safer results.
Razor, wax, or creams which is the best bikini hair removing option?
For a painless trim or a quick shave, the razors and trimmers are the best bet. But when it comes to long-lasting silky feel, wax strips and cream gels steal the show.
How often can you use hair removal cream on the bikini area?
You can use a hair removal cream on the bikini area twice a week.
How do you get rid of bikini hair without irritation?
Wet the area which you are attempting to shave before using any hair removal product. Use a mild shaving cream if you are using a razor. Shave in the same direction as the hair growth.
Does removing hair with a hair removal cream last longer than shaving?
Yes, removing hair with hair removal creams last longer since these products remove hair from below the skin's surface and clear the area right from the follicles.
Recommended Articles
Best Products For Shaving The Bikini Line
Best Hair Removal Creams For Soft And Smooth Skin
Best Hair Removal Sprays
Best Hair Removal Creams For Genital Areas