Top 10 Biodegradable Soaps For Fresh Skin Of 2023, As Per An Expert
Say bye-bye to all your skin concerns with the skin-loving and earth-loving soaps.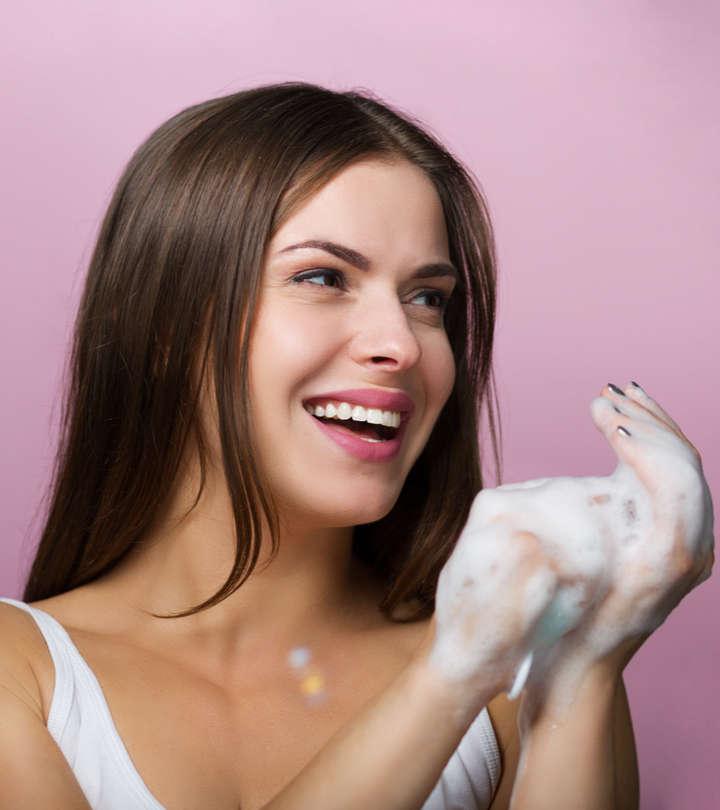 The more we learn more about the harmful effects of chemicals that pollute the earth, the more we are forced to find alternatives that don't. One such genius invention is the best biodegradable soap. Whether you are traveling or simply planning to upgrade your daily washing routine, investing in these soaps is an excellent idea to ensure that your skin remains clean, clear, and fresh while protecting the environment. Not only this, but these soaps are also super mild, healthy, and also act as great deep cleansers. It can serve multiple purposes and clean your traveling gear, too, making it your first choice if you plan to camp out or go into nature. Understanding how effective and earth-friendly these soaps are, many manufacturers are coming up with new ones that are also entirely organic, biodegradable packaging, and cruelty-free, vegan products that support nature. To get your hands on the best one, take a look at these top 10 eco-friendly and biodegradable soaps.
What Is A Biodegradable Soap?
A biodegradable soap is a cleaning agent or tool that decomposes naturally over time and doesn't require artificial decomposition processes. These soaps are considered biodegradable if they can be broken down by bacteria into 90% water, carbon dioxide, and organic matter, within a period of 6 months. A lot of biodegradable soaps use organic oils, which are not harmful to the environment, and are great natural alternatives to skincare.
What Are The Benefits Of Using Biodegradable Soaps?
There are various biodegradable soaps benefits:
 Natural decomposition – They decompose naturally thanks to environmental bacteria and don't require chemical assistance.
 Environment friendly – Biodegradable soaps are less harmful to the environment when disposed of.
 Organic ingredients – Organically, and ethically sourced biodegradable ingredients mean less artificial, and chemical ingredients are exposed to your skin.
 Better skincare – Natural oils are the best source of skin nutrition.
 Cleaner waterways – When soaps are disposed of, they go through the waterways. Biodegradable soaps exit via waterways without contaminating the water.
Top 10 Biodegradable Soaps For Clean, Clear, And Fresh Skin – 2023
This liquid biodegradable soap body wash goes a long way, with just a few drops. Not only can it be used to wash skin and hair, but this biodegradable soap can also triple up as a washing agent for clothes, dishes, and even those monthly pet baths! There are 18 uses in 1 bottle of pepperminty goodness, including degreasing, keeping bugs off plants, hands, face, body, and hair washing, removing residue from fruits and vegetables, and facial and body hair shaving. Here's a biodegradable skincare solution for you if you are struggling with irritated skin. The organic oil blend of coconut, olive, palm, hemp, and jojoba, provides a rich coat of skin-protecting properties, keeping your hands, body, and hair moisturized and smooth. The peppermint oil works well as an antibacterial and antiseptic balm for skin irritations. Not to mention that soothing, cooling, minty fragrance that emanates from your laundry. Not to mention that soothing, cooling, minty fragrance that emanates from your laundry. Dr. Schwarzburg, a cosmetic dermatologist at Skinly Aesthetics, says, "Dr. Bronner's biodegradable soap is a versatile product that can be used for more than just your skin and hair. The star ingredient in this soap is peppermint, which has antibacterial properties making it ideal for keeping your clothes nice and clean. In terms of skin care and hair care, peppermint can promote hair growth and impart cooling and refreshing effects on the skin." This reviewer's experience video will help you understand the product better.
Pros
 All natural, vegan ingredients
 More concentrated, greater usage
 Packaged in 100% recycled plastic
 No synthetics, preservatives, or detergents
Visible results in a week
Cons
 May not be suitable for sensitive skin
Mrs. Meyer's biodegradable soap is the perfect solution for busy hands. If you're someone who gets their hands dirty very often, outdoors or indoors, Mrs. Meyer's Clean Day Hand Soap is the best biodegradable soap for you. Rich in essential oils include olive oil and aloe vera, what we love about this biodegradable soap is that no matter how many times you use it, your hands remain nourished. Unlike most soaps that strip your skin of their natural moisture after a couple of washes, Mrs. Meyes Clean Day Hand Soap keeps your hands moisturized. What's more, you can choose from a range of fragrances like basil, geranium, honeysuckle, lavender, lemon verbena, oat blossom, peony, plum blossom, peony, plum blossom, and rainwater! Check out the detailed review of the product in this video below and get ready to test it out on your own!
Pros
 Essential oils keep hands moisturized
 Clean floral scent
 Free of paraben, artificial colors, and phthalates
 Cruelty-free
Cons
 May need more than 4-5 pumps for full lather
Are you going on a big weekend trip down to the lake forest? Planning a few hikes? What you need is a durable, leak-proof, spacious container that will carry your biodegradable soap efficiently. That's where the Campsuds bottle is a winner. It's durable, reusable, and won't let anything spill out under any circumstances! This all-purpose biodegradable soap is a heavy-duty solution for stubborn stains, dirt, and grime on camping tools, dishes, and muddy clothes. The formula of this sustainable cleansing product is concentrated, so you only need a few drops to wash everything all in one go! And you can use this biodegradable soap for your hair, hands, face, and body too! The all-natural ingredients have essential lime oils that keep your skin clean, lemony fresh, and healthy. The product also offers a pleasant scent as stated by countless reviewers.
Pros
 Durable, reusable, and leak-proof bottles
 Pleasant fragrance
 Multi-functional for body, hair, dishes and clothes
 Little goes a long way
Cons
 May not be suitable for outdoor camping because of the scent
This coconut-based biodegradable soap is just what you need for a gentle, soothing, and comforting wash, without any irritants, aggravations, or hassle. Kirk's Gentle Castile Bar Soap works up a creamy lather, replete with 100% coconut oil, and delivers on the simple mission to clean without leaving a harmful trail in nature. This non-irritating cleansing product is deeply moisturizing and has a soothing feel on your skin after a wash, especially if you've been feeling icky and itchy. Kirk's gentle biodegradable soap formula is worth a try for daily hand, face, and body washing needs, indoors or outdoors.  Dr. Schwarzburg, a cosmetic dermatologist at Skinly Aesthetics, adds, "Kirk's soap is made of 100% coconut oil. Coconut oil can be used all over the face and body to soothe the skin, lock in moisture, and help relieve dry, itchy skin. However, if you have oily or acne-prone skin, skip this product, as coconut oil is highly comedogenic, making it less than ideal if you want to avoid clogged pores." Watch this video of the product for a detailed review and for more information.
Pros
 Suitable for sensitive skin
 Hydrates and moisturizes
 Vegan-based ingredients
 Fragrance-free, gluten-free, paraben-free, and cruelty-free
Cons
 May feel sticky after washing
Going camping and need something quick and easy to wash the dishes, gear, muddy boots, and more? Coghlan's Camp Soap is a compact, sturdy bottle of biodegradable soap sunshine! It can be used for washing in rivers, lakes, and streams without polluting the environment. Don't underestimate the size of the bottle or the quantity recommended peruse. This baby packs a punch and can clean your gear, clothes, dishes, and hair in one day, with lots to spare. What's more, the bottle is reusable, so you can drop a fresh load of Camp Soap in when you're done with the original amount. The easy-squeezy aspect of this bottle makes it for quick and efficient use, making it one of the best biodegradable cleansers on the market!
Pros
 Great for washing dishes and gear
 Reusable and refillable squeeze bottle
 Easy-to-carry
 Ideal for outdoor travellers
Cons
 May not work as effectively on clothes
Sea To Summit effortlessly makes your traveling needs so much easier to meet! Whether you are roughing it out like an outdoorsy trooper or you're hopping cities or countries from flight to flight, Sea To Summit Trek And Travel Pocket Hand Wash is the perfect little addition to your toiletries, especially because it guarantees no spilling or leaking! How you ask? Well, this biodegradable soap dream is a pack of 50 dry soap leaves, which you can lather up with when you need to wash up on the go. The green tea fragrance gives you a fresh scent and is pleasing to your senses. They are single-serve, so you needn't worry about what to do with a wet, soapy leaf that's done its job well. Just use and throw as you go!
Pros
 Ideal for air travel
 TSA compliant
 Pack of 50 leaves
 Dry leaves prevent leakage
Cons
 May need more than one per wash
Talk about mindful, moisturizing, and made for sensitive skin! Cleancult's Bar Soap is a contender for the best biodegradable soap collection this year. This eco-friendly soap option is rich in essential oils, including olive oil, coconut oil, and vitamin E, this biodegradable soapy gift is gentle, soothing, and comforting for your hands, body, and face as you wash away all the toxins and irritants of the day. The fresh citrus and tropical aroma of lemongrass keep you feeling fresh and light, ready to take on new challenges! What we loved about Cleancult's hat in the biodegradable soap ring is that it is mindful not only in ingredients but also in packaging. The paper-based packaging for every Cleancult bar of non-toxic biodegradable soap is truly a testament to their mission to remain eco-friendly.
Pros
 Plant-based ingredients
 Non-toxic
 Moisturizes skin with essential oil blend
 Eco-friendly, paper-based packaging
 Suitable for sensitive skin
Cons
Pine tar soap made of pine tree resins is known for its strong, natural scent. But the beauty of No Plastic Bottle's Handmade Pine Tar Soap is that it reduces wrinkles, relieves itchiness, and soothes skin irritations. If you struggle with skin allergies or mild eczemas, this biodegradable and eco-friendly soap is just the ticket for you. Crafted with coconut oil, aloe vera, and rich antioxidants, Handmade Pine Tar Soap protects and nourishes your skin with every wash. Dr. Schwarzburg, a cosmetic dermatologist at Skinly Aesthetics, opines, "The soap's pine tree resin can aid in healing small wounds and is a great ingredient even for those with sensitive skin. The formula is particularly hydrating with its inclusion of aloe vera and coconut oil."  Whoever said being outdoorsy or on the go indicates that you have to rough it out when it comes to your skin as well? Consider this a skin spa treatment amid a fun, adventurous outing.
Pros
 Provides relief for eczema, psoriasis, and itchiness
 Suitable for dry, damaged, and sensitive skin
Gentle on sensitive skin
 Fragrance of pine tar minimized by aloe vera and coconut oil
 Paper-based compostable packaging
Cons
 Fragrance may be overpowering for some
Imagine being an uptight traveler and finding a small leak dripping from the corner of your suitcase. We understand the worry you get from leakages and general messiness. The Dead Down Wind Bar Soap & Travel Container is a heavy-duty biodegradable soap with an armor to protect it from spilling its guts out! The tallow-free formula is eco-conscious and uses natural enzymes to break down any chemical irritants or odors. Indeed, this chemical-free soap doubles as a deodorant and cleaner! And it's easy to simply toss into your travel bag without worrying about it leaving a wet trail! So this biodegradable soap warrior is just what the doctor ordered for the neat-freak in you!
Pros
 Mess-free travel
 Large container
 Tallow-free formula
 Lightweight
Cons
 May not last long if exposed to moisture
The Joshua Tree Body Wash Biodegradable Plant Based Ecosoap is designed to cleanse and nourish the skin. The scent of this nourishing biodegradable soap is one of its standout features, as it comes with a fresh and invigorating tea tree and mint aroma. This combination of scents is known for its cleansing and rejuvenating properties, making it perfect for starting or ending your day. The formula of this body wash is free from harsh chemicals, parabens, and sulfates, which makes it gentle on the skin. The formula is enriched with natural ingredients such as tea tree oil, mint, and aloe vera. It is easy to use and store.
The results of using this body wash are noticeable and long-lasting. Your skin will feel clean, refreshed, and rejuvenated, and the natural ingredients will hydrate and soothe it, leaving it feeling soft and smooth. This body wash is suitable for all skin types, including sensitive skin, and is cruelty-free, making it a great option for those looking for a body wash that is both effective and ethical.
Pros
Organic formula
Refreshing scent
Paraben-free
Sulfates-free
Cruelty-free
Suitable for all skin types
Cons
None
Now that you know the creme de la creme of biodegradable soaps, look at our buying guide for some useful tips!
Types Of Biodegradable Soaps
 Liquid soap – This is the most common type of biodegradable soap. It is in liquid form and lasts longer compared to its counterparts.
 Bar soap – Bar soaps are solid bars that create a creamy lather when washed with soap. According to research, they produce a smaller carbon footprint than liquid soaps.
 Rinse-free soap – Rinse-free or no-rinse soaps do not require soapy water to lather. Simply apply directly onto the skin or washcloth, massage it to lather, and then towel dry.
What To Look For When Buying A Biodegradable Soap
Before buying your biodegradable soap, it is important to check if the brand you've chosen sufficiently answers these questions:
The first thing one must check in a biodegradable soap is the list of ingredients. It only qualifies as biodegradable if the formula is made of natural, non-toxic ingredients that are not harmful to the skin nor the environment. Hence, it is crucial to scan the ingredient list before purchasing the best soap for your skin.
 Environment-friendly and sustainable packaging
Most biodegradable soaps are made using environment-friendly and sustainable packaging. If you truly want a soap that is good for the environment, do check if your soap is made from sustainable packaging.
Biodegradable or not, we all want a soap that not only leaves our skin fresh and clean but also moisturized. Soaps with ingredients like coconut milk, olive oil, and aloe vera ensure that skin is moisturized, hydrated, and refreshed for smooth and gorgeous skin.
Why Trust StyleCraze?
Kirtana Divakar is a skin care enthusiast who loves trying out new products and recommending them to her readers. She is a big fan of biodegradable soaps owing to their wide range of benefits. For this article, she reviewed tens of biodegradable soaps available on the market and came up with recommendations for the best products you can rely on. These soaps have also been shortlisted, keeping in mind user feedback and their all-natural formulas.
Frequently Asked Questions
What is the difference between biodegradable soap and regular soap?
Regular soaps require several artificial agents and contain harsh chemicals that may harm the environment in the long run, when disposed of. Biodegradable soaps are able to decompose using natural agents, when they come in contact with bacteria in the soil. While they do not biodegrade immediately, they decompose naturally over a period of time, without causing major harm to the environment.
What is castile soap?
Castile soap is vegetable-based, and does not contain animal fats or synthetic ingredients. They are natural, non-toxic and biodegradable and are a popular choice for eco-conscious shoppers, especially hikers, campers and outdoor sports enthusiasts.
How important is biodegradable soap?
Biodegradable soaps are made without harmful chemicals and are extremely beneficial for your skin as well as the environment.
Do I really need to use a biodegradable soap for hiking?
Yes, if you are a nature lover and believe in conscious living, it is recommended that you use biodegradable soaps to stay clean and watch out for the environment.
How long does a biodegradable soap bar last for?
A biodegradable soap bar lasts for roughly six weeks.
How can you use biodegradable soap?
It is best to use your biodegradable soap 200 metres away from a big water source like ponds, lakes, and streams. Let the soapy water seep into the ground and degrade before reaching the water source.
Recommended Articles