The Top 15 Bioderma Products Of 2022
Everyone's favorite and a much-loved brand, Bioderma is a must-have in your routine!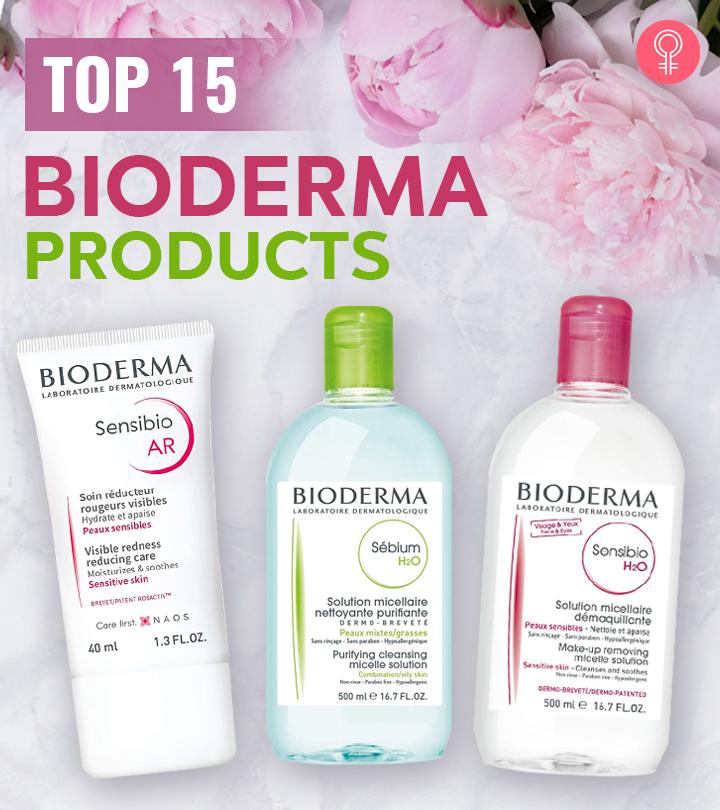 Bioderma is a cult-favorite French skin care brand famous among beauty bloggers, makeup artists, and skin care enthusiasts. The best Bioderma products help strengthen and preserve your natural skin structure. They aim to heal the skin from deep underneath and restore it therapeutically. If you have already tried several products and found no solution to your issues, it is time to switch to Bioderma. Keep reading to find out the 15 best Bioderma products.
Top 15 Bioderma Products Of 2022
The Bioderma Sensibio H20 Micellar Water is an oil-free makeup remover. It cleanses your skin thoroughly and gets rid of pollution, impurities, and makeup. This micellar water is developed with dermatologists and is suitable for sensitive skin. The Dermatologically Advanced Formulation (DAF) helps in increasing the tolerance threshold of the skin. The fatty acid ester micelles soothe and cleanse your skin without irritating or drying it. This all-in-one cleanser can be used twice a day to revive, cleanse, and hydrate the skin.
Pros
Paraben-free
Oil-free
Alcohol-free
Non-sticky
Developed with dermatologists
ConsCons
The Bioderma Atoderm Lip Stick contains shea butter and Vaseline that nourish and hydrate the lips. The combination of vitamin E and laminaria extracts helps lock in the moisture so that your lips are always soft, smooth, and supple. The rich and creamy lipstick eliminates the signs of chapping and dryness, especially for sensitive lips. You can use this repairing and regenerating lipstick any time of the day, as often as you want. This lip balm has a mild raspberry fragrance. This lip stick from Bioderma has amazing benefits. Check this video out to know more about it.
Pros
Paraben-free
Hypoallergenic
Great for sensitive lips
Lovely raspberry fragrance
Makes the lips soft and supple
Cons
The Bioderma Sébium H2O Micellar Water is specially crafted for combination to oily skin types. It is gentle and contains ingredients like copper sulfate, zinc sulfate, and zinc gluconate that purify the skin and control sebum production. Ginkgo biloba mattifies the skin, while the fatty acid ester micelles soothe and cleanse the skin without drying or irritating it. The natural DAF complex helps in increasing the skin tolerance threshold. This micellar water goes deep into the skin to remove dirt,  debris, and makeup so that your skin feels super fresh. It can be used wherever you want and at any time of the day.
Pros
Oil-free
Soap-free
Paraben-free
Colorant-free
Moisturizes the skin
Cons
The soothing and revitalizing Bioderma Sensibio Foaming Gel deeply cleanses and hydrates the skin. It helps eliminate dirt, makeup, and impurities to offer a fresh and clean feeling. The fragrance-free formula provides moisture to the skin, and the patented DAF complex improves skin tolerance. The foaming gel contains coco glucoside and glyceryl oleate that hydrate and soothe the skin. The fatty acid ester micelles work on your skin to repair it from within without causing dryness and irritation. Use this foaming gel twice a day for fresh and radiant skin. You can check more information about this foaming gel from this skincare enthusiast's video.
Pros
Alcohol-free
Sulfate-free
Paraben-free
Colorant-free
Fragrance-free
Removes makeup from the face and eyes
Suitable for all skin types
Comes with a lockable pump
Cons
May dry out the skin
May cause breakouts
The Bioderma Atoderm Intensive Balm is enriched with soothing and purifying ingredients that work wonders for dull, lifeless, and sensitive skin. Its ultra-nourishing formula contains mineral oils and glycerine to repair and moisturize very dry skin. This skin moisturizer has a patented Skin Barrier Therapy formula to prevent the adhesion of bacteria and decrease skin discomfort. The Lipigenium Complex helps strengthen the skin barrier. Zinc helps in reducing skin redness. This moisturizing balm is suitable for the entire family, including babies.
Pros
Non-sticky
Non-greasy
Paraben-free
Alcohol-free
Fragrance-free
Corticosteroid-free
Suitable for eczema-prone skin
Suitable for babies
Cons
Feels greasy
Not absorbed easily
This pore refiner cream from Bioderma minimizes pores and improves skin texture. It contains a Fluidactiv complex that normalizes sebum quality. The silica powders and anti-reflection particles impart a mattifying effect. Salicylic acid exfoliates the skin and restoring its glow, while agaric acid visibly reduces the appearance of pores. Antioxidants, such as ginkgo biloba and mannitol, protect the skin, especially during the daytime. It works best for oily and combination skin types.
Pros
Paraben-free
Lightweight
Refines skin texture
Can be used as a makeup base
Suitable for combination and oily skin
Cons
Contains dimethicone
Does not work for large pores
If you are on the lookout for an intensely moisturizing cream that nourishes and heals your skin, look no further! The Bioderma Atoderm Cream provides 24 hours of moisture protection to keep your skin soft and supple. It contains glycerine and mineral oils that hydrate the skin and soften it. Vitamin B3 enhances the skin barrier and provides long-lasting comfort, especially to sensitive skin. Use this cream day and night after cleaning and gentle drying for a burst of hydration. It is suitable for the entire family.
Pros
Fragrance-free
Paraben-free
Suitable for sensitive skin
Cons
Sticky after-feel
Does not get absorbed well
The Bioderma Sébium Purifying Cleansing Foaming Gel is specially formulated for combination to oily skin. It contains zinc sulfate and copper sulfate that purify and cleanse the skin without making it dry. This cleanser features a patented Fluidactiv technology that helps in reducing skin irregularities. Zinc gluconate mattifies the skin. The DAF complex in this foaming gel cleanser enhances the skin tolerance threshold by strengthening the skin barrier.
Pros
Oil-free
Soap-free
Alcohol-free
Paraben-free
Non-drying
Cons
Overpowering scent
May cause skin irritation
The Sensibio AR Cream from Bioderma is an ultra-soothing cream that hydrates and revives the skin and reduces redness. The exclusive Rosactive patent reduces skin redness caused due to factors like heat, sunburn, itching, or rashes. It makes your skin radiant and hydrated. The cream contains soothing agents like enoxolone, allantoin, and golden algae extract that comfort the skin. Glycerine and canola oil moisturize the skin and improve the skin barrier function, while the DAF complex enhances skin tolerance.
Pros
Paraben-free
Fragrance-free
Suitable for sensitive skin
Can be used as a makeup base
Cons
Does not moisturize well
May cause breakouts
Give a boost of hydration to your skin with this comforting and hydrating facial serum from Bioderma. It provides extra freshness and resistance against external environmental factors. The Bioderma Hydrabio Facial Serum contains nourishing and moisturizing agents like glycerin, xylitol, and hyaluronic acid that help restore the firmness and suppleness of the skin. It contains Aquagenium, a patented biological complex that revives the skin's natural hydration capacities. This hydrating serum is formulated for dry and sensitive skin types. Watch this video on the serum for a detailed analysis of the product.
Pros
Lightweight
Suitable for sensitive skin
Can be used as a makeup base
Cons
Not recommended for people with asthma and allergies.
The Bioderma Sébium MAT Control is a complete skin care solution for combination to oily skin. It tightens pores and enhances skin texture. The Fluidactiv complex limits the appearance of irregularities. The shine control softens and mattifies the skin for eight hours. The cream also contains zinc and vitamin B6 that purify the skin and regulate shine. Salicylic acid and agaric acid refine the skin texture and reduce the pore size. Glycerin helps in securing the moisture so that your skin feels smooth and healthy.
Pros
Paraben-free
Hypoallergenic
Non-comedogenic
Lightweight
Can be worn under makeup
Cons
Unpleasant smell
No long-lasting effects
The Bioderma Hydrabio Gel Cremè provides instant hydration and smoothness to the skin while improving its texture. It activates the natural moisturizing capabilities of the skin. This nourishing cream contains vitamin E that prevents early signs of skin aging and removes dead skin cells. If you want bright and glowing skin, make sure to include this product in your regular skin care regimen. It is suitable for normal to combination skin.
Pros
Lightweight
Non-comedogenic
Layers well under makeup
Suitable for dry, red, sensitive skin
Cons
Dehydrated skin is a result of stress, pollution, hormonal imbalance, and other environmental factors. However, following a regular and balanced skin care routine can help restore your skin. The Bioderma Hydrabio Tonic Lotion provides an effective solution to bring back the skin's charm and radiance. It contains the Aquagenium biological patent technology, which helps the skin regain its natural moisture-producing ability. It is best suited for dry to sensitive skin and is safe to apply on the face and around the eyes.
Pros
Lightweight
Non-comedogenic
Allergen-free
Fragrance-free
Cons
May cause skin irritation
Not suitable for acne-prone skin
Give your skin a chance to breathe and regain its texture with the hydrating and nourishing Bioderma Hydrabio Crème. It contains Acquagenium, a patented biological complex that provides intense hydration to the skin. Apple seed extracts boost the skin's natural hydration capabilities, while vitamin PP enhances the skin's resistance. Vitamin E protects the skin from oxidative damage and slows down the process of premature skin aging. Salicylic acid smooths the skin and imparts long-lasting radiance. This cream is highly recommended for dry to very dry, sensitive skin types.
Pros
Paraben-free
Hypoallergenic
Non-comedogenic
Cons
The Bioderma Hydrabio Mist contains the perfect balance of trace elements and mineral salts, which prevent moisture loss and reduce skin discomfort. It also contains zinc and mannitol that soothe the skin. The DAF patented formula enhances the skin tolerance threshold to external stress. This facial mist leaves your skin moisturized, soothed, and radiant.
Pros
Hypoallergenic
Sulfate-free
Phthalate-free
Refreshes the skin
Suitable for dry skin
Can be used for setting makeup
Cons
May cause skin irritation
Why Trust StyleCraze?
The author, Shiboli Chakraborti, is a certified skin care coach and believes Bioderma's products have made waves in the skin care industry. According to her, these products help protect and restore your skin's natural integrity. She meticulously researched the product reviews and formulations of the above products before creating her curated list of the best Bioderma products. There is something for every skin type in this skin care line to keep your skin looking and feeling great.
Frequently Asked Questions
Why is Bioderma so good?
Bioderma is one of the trusted skin care brands, crafted under the close supervision of world-class dermatologists. It offers a wide range of products that cater to different skin types and issues and focus on enhancing and preserving the natural biology of the skin.
Which Bioderma micellar water is the best?
The Bioderma Sensibio H20 Micellar Water works the best for all skin types as it is mild and gentle on the skin. It helps in removing makeup and impurities in the blink of an eye without causing any dryness and skin irritation.
Which country is Bioderma originated in?
Bioderma is a French-owned brand that offers dermatological products.
Which is better – La Roche Posay or Bioderma?
Both these French skincare brands offer premium products. However, La Roche Posay products specialize in oily skin types mostly, while Bioderma caters to most skin types.
What does Bioderma do for the skin?
Bioderma products moisturize and tone your skin, promote skin renewal, reduce hyperpigmentation, and offer other skin benefits through their gentle yet effective formulation.
Who owns Bioderma?
Bioderma is a NAOS brand that was founded in 1977 years ago by Jean-Noël Thorel.
How old is Bioderma?
As of the year 2022, Bioderma is 45 years old.
Is Bioderma chemical-free?
Yes, Bioderma products are free from most harmful chemicals like parabens, phthalates, silicons, and sulfates.
Recommended Articles