10 Best Biossance Products You Should Own
Enrich your skin with essential vitamins with these plant-based skin care products.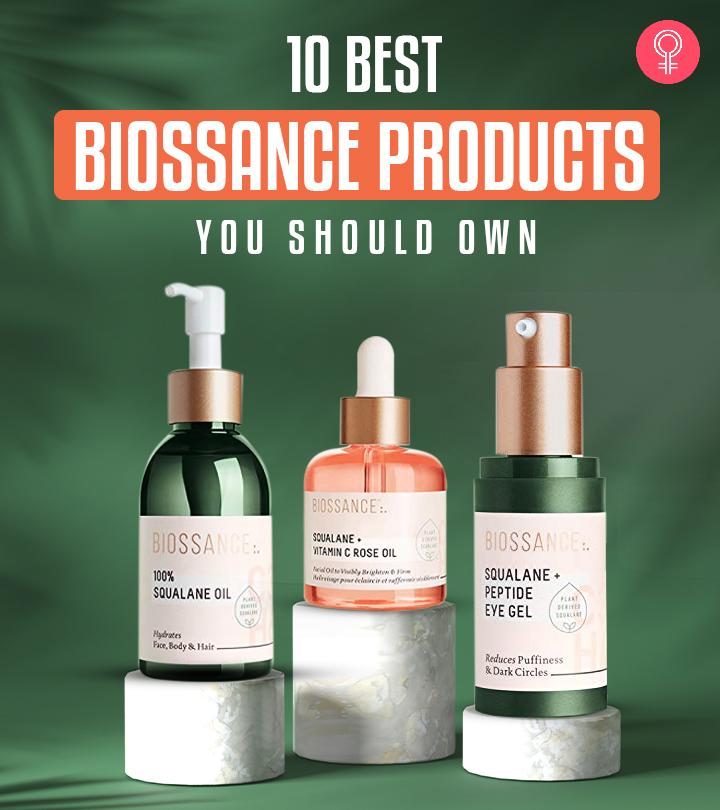 If you have been on a long quest for a non-toxic, plant-based, and clean skincare brand, you have landed on the right page. Ahead, you'll come across the best Biossance products that are known for being safe skin, effective, and environmentally friendly as well. These products are plant-based and non-toxic ingredients that will effortlessly rejuvenate your skin. Wondering what the brownie point is? They are also cruelty-free and have blacklisted over 2000 harmful and toxic ingredients, including phthalates, synthetic fragrances, parabens, mineral oil, or other toxins. Keep scrolling to discover the 10 unmissable Biossance skincare products for flawless skin.
Top Picks
The Top 10 Must-Have Biossance Products Of 2023
Pros
Quick absorbing
Instant hydration
Reduces redness
Soothes irritated skin
Makes the skin soft and smooth
Ideal for dry and dull skin
Cons
Not suitable for acne-prone skin
Price at the time of publication: $32.0
Pros
Lightweight
Quick-absorbing
Non-sticky
Evens out the skin tone
Boosts natural radiance
A little goes a long way
Cons
Price at the time of publication: $24.99
Pros
Non-greasy
Quickly absorbed
Reduces fine lines
Improves skin's texture
Boosts natural radiance
Soothes dry patches
Cons
Takes time to show visible results
Price at the time of publication: $12.44
Pros
Contains SPF 30 and PA+++
Moisturizes the skin
Lightweight
No white cast
Easily blendable
Soothes irritated skin
Reef-safe
Cons
Price at the time of publication: $42.0
Pros
Ultra-hydrating
Reduces fine lines and wrinkles
Diminishes dark circles
Firms skin around eyes
Reduces puffiness and sagginess
Cons
May cause itching in sensitive skin
Price at the time of publication: $51.0
Pros
Weightless
Ultra-hydrating
Imparts radiance
Reduces pore size
Minimizes redness
Evens out the skin tone
Cons
Price at the time of publication: $46.8
Pros
Moisturizes the skin
Lightweight
Quick absorbing
Removes makeup
Makes the skin supple and bouncy
Imparts glow
Cons
Not suitable for acne-prone skin
Price at the time of publication: $30.0
Pros
Visible results
Ultra-hydrating
Works great as a makeup base
Smoothens fine lines and wrinkles
Cons
Not suitable for oily skin
Price at the time of publication: $52.25
Pros
Exfoliates the skin
Reduces pores
Rejuvenates dull skin
Minimizes everyday skin damage
Makes the skin even-toned and radiant
Cons
Not suitable for dry and normal skin types
Price at the time of publication: $49.5
Pros
Retinol-free formula
Evens out the skin tone
Reduces fine lines and wrinkles
Non-irritating
Suitable for all skin types
Cons
Price at the time of publication: $53.5
Biossance products are best known for their nourishing formulas that cater to all skin types and also their environmentally responsible operations. Here is how you can select the best Biossance product if you are looking for clean skin care that is good for both your skin and the earth.
How To Select The Best Biossance Product
Skin Type: For oily to combination skin, choose formulas that are oil-free and non-comedogenic. For a normal to dry skin, look for a moisturizing, creamy product that plumps the skin.
Skin Concerns And Ingredients To Use: Eye creams are a good way to address and target lines and wrinkles around your eyes. When it comes to eye creams, going all naturals is a good idea because the skin around your eyes tends to be very sensitive and may react negatively to extremely harsh ingredients. So, look for ingredients like peptides, marine algae, antioxidants, and squalene. For visibly pen pores, choose night serum with lactic acid and squalene. For dullness, opt for moisturizers formulated with natural ingredients such as red seaweed extract, ginger extract and more that can soothe and brighten your skin
Formulations: Choose formulations according to your skin type. For example, choose cleansing oils for dry skin and the gels for oily to combination skin type. Look for non-greasy, quick-absorbing and easily blendable formulas that feel lightweight on the skin. Ensure that the products do not leave a white cast or any residue.
Additional Benefits: Sunscreen is non-negotiable when it comes to having healthy skin. However if you have sensitive skin sunscreen with strong chemicals can tend to irritate the skin. For such skin types, going natural can be the answer. The Biossance Squalane + Zinc Sheer Mineral Sunscreen is a lightweight sunscreen that can soothe and protect your skin without feeling extremely greasy or irritating your skin.
Let's now look into the key ingredient in Biossance products and understand why it is used.
What Is Biossance's Key Ingredient?
The star ingredient of Biossance products is squalane. From retaining lost moisture, soothing irritation, infusing hydration, and making the skin exceptionally soft and smooth – squalane does it all!
Here are a few more reasons:
Squalane has antioxidant, detoxifying, hydrating, and soothing properties (1).
It plays a key role in protecting the skin and acting as a skin lubricant.
It restores the skin's lipid barrier, consisting of corneocytes (dead skin cells), along with lipids like ceramides, cholesterol, and fatty acids.
It creates a moisturizing barrier on your skin to protect it from the sun or environmental damage by blocking the irritants out.
Biossance naturally produces squalane as safely and effectively as the body does. It is 100% plant-based and made from the best quality Brazilian renewable sugarcane. This is then bio-fermented to finally achieve the highly sustainable, stable, and eco-friendly squalane used in all their products.
Why Trust StyleCraze?
Shiboli Chakraborti, the author of this article, is a certified skin care coach who loves experimenting with different skincare products. Her passion for skincare products motivates her to search for the top products in the market for her readers. She has spent hours pouring through feedback written on trusted online forums to curate this list of the best Biossance products. They are cruelty-free, plant-based, and environment-friendly, which makes them must-have products in any skincare arsenal.
Frequently Asked Questions
Is Biossance a good brand?
Yes. Biossance products are 100% plant-based, with no parabens, toxins, or any harmful chemicals. They are cruelty-free, sustainable, and also Green Lab certified.
What is Biossance's best squalane product?
Biossance 100% Squalane Oil is the best squalane product as it contains 100% squalane oil.
Which is better – hyaluronic acid or squalane?
While both hyaluronic acid and squalane have hydrating properties, hyaluronic acid cannot hold moisture in your skin for a long time. On the other hand, squalane not only pulls moisture from the air to deeply hydrate the skin but also forms a barrier to lock the moisture in for a longer period. This makes your skin soft and supple.
Is Biossance dermatologist approved?
Yes, Biossance products are Green Lab tested and approved by dermatologists.
Is Biossance all-natural?
Yes. All Biossance products are natural and free of mineral oil, parabens, phthalates, and synthetic fragrances.
Is Biossance good for older skin?
Yes, Biossance products work great on mature skin. For example, the Biossance Squalane + Marine Algae Eye Cream is the perfect formulation to treat fine lines and wrinkles.