6 Best Biotique Face Washes Available In India
Enjoy the flawless skin of your dreams with products from this trusted brand.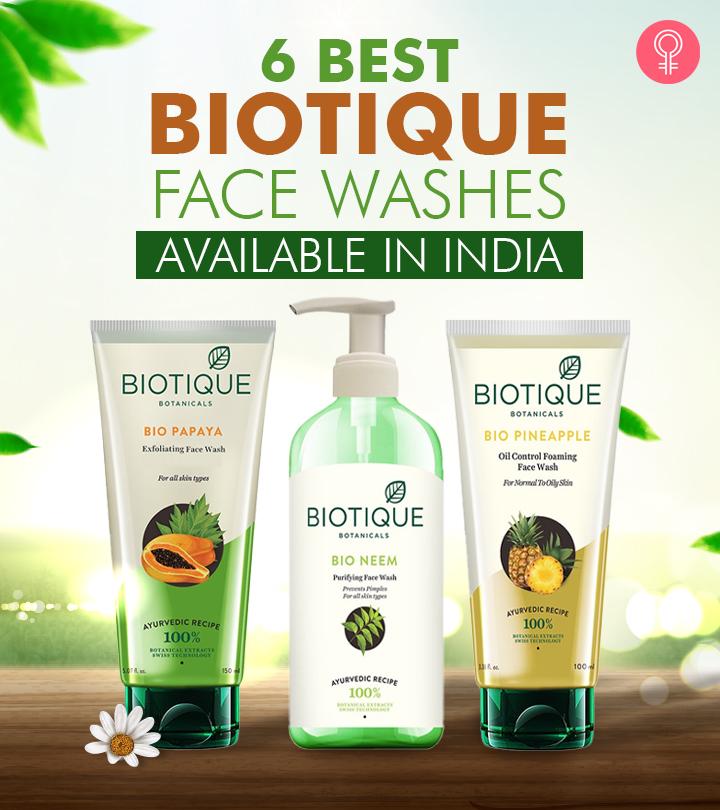 Biotique is one of the best-known Indian brands on the market. It was started in 1992 by a brilliant female former bio-science and bio-technology student and a budding entrepreneur, merging Ayurveda and the demand for a nature-based skin and hair care brand in India. Today, the brand's effective formulas, affordable prices, elegant packaging, and numerous variants are loved by users of all skin types. They contain 100% organic, preservative-free ingredients and are cruelty-free. This article lists the 6 best Biotique face washes available in India. Scroll down to take a look!
6 Best Biotique Face Washes Available In India
Top Picks
The BIOTIQUE HONEY GEL Refreshing Foaming Face Cleanser is a 100% soap-free gel formula. It contains pure honey, extracts from the bark of the arjun tree, euphorbia plant, and wild turmeric that help you achieve fresh and flawless skin. This product removes makeup and other impurities, making the skin tender. It has no harmful chemicals and improves complexion naturally.
Key Ingredients: Arjun (Terminalia arjuna), Chhoti duddhi (Euphorbia thymifolia), Banhaldi (Curcuma aromatica), Ritha (Sapindus trifoliatus), Honey, and Himalayan water
Pros
Soap-free
Lightens the skin tone
Suitable for sensitive skin
Easy to apply and wash off
Mild scent
Cons
Price at the time of publication: ₹8.8
The BIOTIQUE BIO WHITE Advanced Fairness Face Wash is a luxurious and advanced fairness treatment face wash. It is blended with the juices of pineapple, tomato, and lemon fruit, which visibly lighten dull and uneven skin to make it bright and flawless. Regular use of this face wash helps the skin reclaim its soft, smooth, and youthful tone and texture.
Key Ingredients: Ghrit kumari leaf pulp, Tomato fruit juice, Pomegranate fruit juice, Kikar gum, Amla fruit, Madhu, and Ritha
Pros
Soap-free
Evens out the skin tone
Great for normal to oily skin
Gentle
Mild scent
Cons
May dry the skin out.
May cause breakouts.
The BIOTIQUE BIO PAPAYA Exfoliating Face Wash contains 100% natural ingredients. The luscious tropical papaya fruit extracts, rich in enzymes, infuse the cleanser with revitalizing and healing benefits. Other ingredients include neem, turmeric, and walnuts, which exfoliate facial skin. This face wash rejuvenates and protects the skin from dirt and pollution.
Key Ingredients: Carica papaya, Akhrot chhal, Neem, Banhaldi, Ritha, Kikar gond, Groundnut oil, and Purified Himalayan water
Pros
Gentle
Mild scent
Brightens the skin tone
Cons
Drying
Does not foam well.
The BIOTIQUE BIO NEEM Purifying Face Wash contains neem extract that helps treat acne-prone skin. Neem is an antibacterial agent that fights acne, pollutants, and other infections. This purifying face wash has an herbal formulation of ritha and kulanjan, which gently remove impurities from the skin, making it clean and clear.
Key Ingredients: Neem bark, Ashwagandha root, Kulanjan rhizome, Reetha fruit, Madhu, Coconut oil, and Purified water
Pros
Great for oily and acne-prone skin
Reduces acne and acne marks
Imparts glow
Mild scent
Cons
The BIOTIQUE BIO MORNING NECTAR Visibly Flawless Face Wash is a brilliant formula that revitalizes and brightens dull, irritated, and lifeless skin. It makes the skin appear younger and refreshed. It also removes excess oil, dirt, pollution and, leftover makeup.
Key Ingredients: Gehun seed, Kumari leaf pulp, Madhu, Badam seed oil, Mungfali seed oil, Kusumbhi seed oil, and Purified water
Pros
Great for oil and sensitive skin
Lightens the skin tone
Non-drying
Pleasant scent
Cons
The BIOTIQUE BIO PINEAPPLE Oil Control Foaming Face Wash cleanses excess facial oil secretion due to weather conditions or skin composition. This 100% soap-free cleansing gel contains pineapple extracts essential for skin revitalization whenever you wash your face. It also contains neem leaves, euphorbia, and clove that act as anti-acne agents.
Key Ingredients: Pineapple extracts, Neem leaves, Gajar, Badam tel, Akhrot, Mahuva tel, Rai tel, and Moongphali tel
Pros
Anti-aging
Anti-acne
Gentle
Pleasant scent
Cons
A good face wash is the first step towards healthy and clear skin. It is always best to choose it wisely without breaking the bank on this quest. Biotique face washes are a great way to explore and discover what ingredients suit your skin type the best at an affordable price range. Buy any of the above products and support an Indian brand that uses natural ingredients and helps you minimize the use of chemicals on your skin!

Recommended Articles
The following two tabs change content below.