Pick These 16 Best Biotique Products Available In India For Ultimate Hair Care
Effective hair care range for the nature-loving and environment-conscious beauties!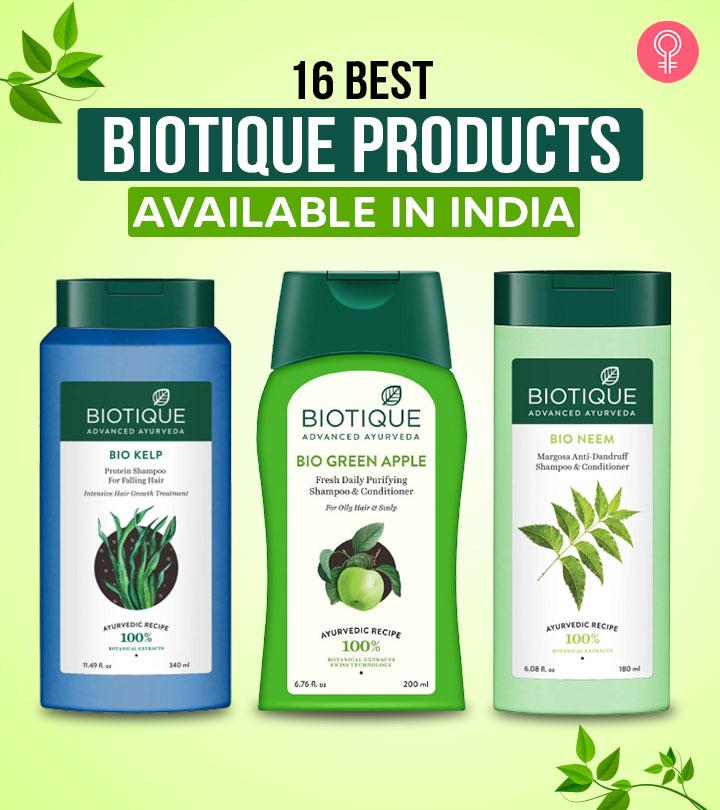 Hair care products with natural ingredients are the rage nowadays. Most consumers are now replacing their existing hair care products with natural, organic substitutes to add more life to their hair.
The market is decked up with tons of herbal or organic brands that claim to offer hair care solutions with natural ingredients. But most often fail to deliver what they promised. While picking the right product for the job can be challenging, there is no need to fret. If you are craving silkier and shinier locks coming from natural ingredients, look no further than Biotique.
Here, we have listed the 16 best Biotique hair products worth giving a try. Check them out!
16 Best Biotique Hair Care Products In India
Hair fall will be a thing of the past with this ayurvedic hair vitalizing serum from Biotique. It is infused with 100% pure botanical extracts that nourish the scalp and act as an intensive hair growth treatment for hair fall. Mountain ebony, long pepper, and euphorbia extracts strengthen the hair roots, while preventing dryness and irritation in the scalp. Apply a small amount of serum to the dry scalp, massage gently in a circular motion, leave on for some time, and style your hair as desired.
Key Ingredients: Mountain Ebony Extracts, Long Pepper, Euphorbia Tree, and Glycyrrhizin
Pros
Nourishes scalp
Reduces hair breakage
Promotes new hair growth
Easy to apply
Cons
Overpowering fragrance
Leaves the scalp oily
Price at the time of publication: ₹162
The Biotique Bio Bhringraj Therapeutic Oil is an intensive hair regrowth treatment that helps manage alopecia and other common hair fall issues. The blend of pure bhringraj, palash, amla, and centella asiatica nourishes the scalp, strengthens hair strands, and prevents hair fall and premature greying. The mix of coconut oil and goat milk strengthens the hair strands, preventing hair breakage. This therapeutic oil contains a potent Ayurvedic formula that gives you strong, shiny hair. Apply liberally to dry hair and scalp, massage gently in circular motions, leave on for 30 minutes, and rinse well with water.
Key Ingredients: Bhringraj, Amla, Palash flower extracts, Coconut oil, Goat milk, and Centella asiatica
Pros
Halts premature greying
Alcohol-free
Cruelty-free
Paraben-free
Sulfate-free
Cons
Price at the time of publication: ₹12.49
Add the Biotique Bio Kelp Protein Shampoo to your hair care routine and turn your Rapunzel-like hair dream into reality. This nourishing shampoo is a blend of natural ingredients that gently cleanse the scalp and promote hair growth. The intensive treatment is high in vitamins, nutrients, and minerals. Pure kelp and bhringraj stimulate hair growth, while neem controls dandruff and other scalp issues. The mint leaf extracts leave a cool, refreshing feeling.
Key Ingredients: Pure kelp, Protein, Peppermint Oil, Mint Leaf, Neem Bark, Reetha Fruit, and Tes Flower
Pros
Nourishes scalp
Lathers well
Cruelty-free
Dermatologically-tested
Cons
Craving for beautiful, silky, and long hair? Pick the Biotique Musk Root Fresh Growth Nourishing Treatment Pack right away. This herbal hair mask reduces scalp inflammation and restores the rich natural color to the hair. Musk root and amla extracts nourish the hair follicles, promoting hair growth. Jaiphal stimulates blood circulation in the scalp that enhances hair health further. Mix with egg or yogurt before application and apply liberally to dry scalp and hair. Leave on for 30 minutes and rinse well with water.
Key Ingredients: Musk Root, Bhringraj, Kikkar Gaund, Neem, Jaiphal, and Bael Extract
Pros
Stops premature greying
Nourishes scalp health
Easy to apply
Cons
Texture could be too thick
Messy application
The minimalist in you will love the Biotique Bio Green Apple Fresh Daily Purifying Shampoo & Conditioner. What makes this product worth adding to your collection is its versatility. It comprises properties of both shampoo and conditioner and, therefore, you don't have to purchase two different products. The nourishing shikakai purifies the scalp and adds volume to your hair. Its conditioning properties of sea algae, green apple, and aloe vera render the hair shiny, refreshed, and silky. Centella asiatica helps maintain the pH balance of the scalp, making the shampoo ideal for everyday use. Apply this to wet hair and massage gently to produce lather. Rinse well with water.
Key Ingredients: Green Apple Extract, Sea Algae, Centella Asiatica, Shikakai, Coconut Oil, and Aloe Vera
Pros
Affordable
Detangles hair
Makes hair bouncy
Pleasant fragrance
Cons
Price at the time of publication: ₹165
Getting annoyed with dandruff? Try the Biotique Bio Neem Margosa Anti-Dandruff Shampoo & Conditioner and get rid of this problem now. The neem extracts purify scalp and clear dandruff, while the spurge retains the natural moisture of your hair. The Ayurvedic formula of this product fights the root causes of dandruff and eliminates dryness, flaking, and itchiness associated with the same. It is gentle on the skin. This shampoo leaves hair fresh, lustrous, and full of natural body.
Key Ingredients: Neem Margosa, Euphorbia Trees Extract, Bhringraj, and Reetha
Pros
Boosts hair volume
Prevents scalp itchiness
Cons
Price at the time of publication: ₹9.99
This rich and nourishing Biotique Bio Soya Protein Fresh Nourishing Shampoo is a blend of natural ingredients that protects your hair color to the fullest. It is replete with essential proteins and minerals that cleanse hair without disturbing the natural pH balance of the tresses. The soya protein-infused formula strengthens hair strands and leaves it silkier and shinier like never before. Additional ingredients like black mustard oil and sweet almond oil moisturize the scalp and hair follicles.
Key Ingredients: Pure Soybean Protein, Wild Turmeric Extract, Burberry, Black Mustard Oil, and Sweet Almond Oil
Pros
Boosts hair shine
Keeps color and perm intact
Moisturizes hair
Suitable for daily use
Cons
None
If you love bouncy and voluminous hair, try out the Biotique Walnut Bark Volumizing Shampoo right away. It promotes hair growth from root to tip and leaves the scalp feeling soothed. The walnut bark extracts work as exfoliating agents, while the soap nut – a natural cleanser – removes buildup and dirt from the tresses. Amla and malya flower improve hair texture and add shine to the tresses. This nourishing formula thoroughly cleanses and revives hair for a lifted, fuller, and thicker look. It reduces dryness and irritation too.
Key Ingredients: Walnut Bark, Musk Root, Amla, Black Malya Flowers, Soap Nut, and Bhringraj
Pros
Cleanses oil from scalp and hair
Paraben-free
Boosts hair shine
Soothes irritation
Cons
Might leave hair frizzy
Contains sulfates
Price at the time of publication: ₹135
The Biotique Bio Thyme Volume Conditioner is blended with the natural sap of peppermint oil and berberis tree that detangles, conditions, and hydrates dry, frizzy hair. It balances the pH level of the tresses, leaving them thicker and shinier. This conditioner adds bounce to your hair and makes it look wavy and voluminous. Plus, the blend of nourishing oils – peppermint, olive, and sunflower – promote new hair growth.
Key Ingredients: Pure Thyme, Peppermint Oils, Lavender, Berberis, Sunflower Oil, and Olive Oil
Pros
Strengthens hair follicles
Gives hair a fuller look
Maintains scalp pH balance
Cons
Consistency could be too thin
This hair mask from Biotique, infused with 100% pure argan oil, is ideal for conditioning, moisturizing, and strengthening your hair. Argan oil is rich in vitamin E, CoQ10, and a host of antioxidants that enhance hair health. They also leave your hair frizz-free and add a healthy shine to it. This hair mask retains moisture to the scalp and keeps your hair smooth and shiny. Apply it to dry scalp and hair, leave it on for 30 minutes, and rinse well with water. This product must be applied once a week or as required.
Key Ingredients: Argan Oil
Pros
Improves hair texture
Hydrates hair
Cruelty-free
Preservative-free
Cons
Price at the time of publication: ₹187
The Biotique Onion Black Seed Shampoo is formulated with Himalayan onion black seed extract that stimulates the follicles and nourishes hair from root to tip. It gently removes buildup and impurities on the scalp and leaves behind a refreshing feeling. The antioxidant-rich black onion seed extracts prevent hair breakage. The shampoo maintains the normal pH balance of your hair and prevents premature hair graying.
Key Ingredients: Himalayan Onion Black Seed Extract
Pros
Lathers well
Prevents premature graying
Dermatologically-tested
Sulfate-free
Preservative-free
Cruelty-free
Vegan
Refreshing fragrance
Cons
Want to add some shine and luster to your hair? Buy the Biotique Bio Flame Of The Forest Shine Expertise Oil and make your hair shinier than ever before. This rich oil is a blend of hibiscus extract that makes the hair silky and shiny. The oil also fortifies the follicles against damage and promotes hair growth. Moreover, the vitamin-rich shikakai and mango butter boost scalp collagen and prevent free radical damage. This oil also helps you reduce dry flakes from the scalp by removing grease and dirt from the follicles.
Key Ingredients: Tesu, Amla, Shikakai, Mango Butter, and Hibiscus
Pros
Strengthens follicles
Improves overall scalp health
Pleasant fragrance
Color-safe
Perm-safe
Cons
None
Wish to have strong and frizz-free hair? The Biotique Banana Deeply Nourishing Hair Mask might be the best solution. It gives intense hydration that deeply conditions your hair, improves hair texture, and repairs frizz. This weightless, intensely nourishing treatment restores moisture balance in your hair and makes it look healthy and shiny. Apply this product to your hair from root to tip, leave it on for 30 minutes, and rinse well. Add this mask to your hair-care regime and use it at least once a week.
Key Ingredients: Himalayan Banana Oil
Pros
Prevents frizz
Moisturizes hair
Lightweight
Dermatologically-tested
Vegan
Cruelty-free
Preservative-free
Certified organic
Cons
Heena is a natural hair conditioner loaded with tannins and antioxidants. The Biotique Bio Henna Leaf Fresh Texture Shampoo & Conditioner brings these magical leaves to your hair routine without the mess. The shampoo is infused with pure henna leaves and burberry extracts that condition your hair, making it smooth and frizz-free. Additionally, reetha cleanses the scalp while mulethi soothes scalp inflammation.
Key Ingredients: Mulethi, Mango, Heena Leaves, Burberry, Reetha, and Myrobalan
Pros
Reduces premature graying
Gentle formula
Easy to apply
Repairs hair follicles
Cons
Doesn't lather well
Might cause dryness
The Biotique Onion Black Seed Hair Mask nourishes and protects your hair and scalp. The antioxidant-rich onion seeds repair hair damage caused by environmental aggressors. The blend of black onion seed extracts prevents hair fall and leaves your hair with a natural finish.
Key Ingredients: Black Onion Seed Extracts
Pros
Quick and easy application
Strengthens hair
Cruelty-free
Suits all hair types
Suits color-treated hair
Cons
The Black Onion Seed Oil from Biotique revives thin, dully, unruly hair and makes it silky, smooth, and nourished. This non-sticky oil makes your hair stronger and healthier by adding essential nutrients to it.
It is suitable for all hair types, including colored and chemically-treated hair. You can gently massage the oil onto the scalp and hair. Leaving the oil on your hair overnight and shampooing the next day can give the best results.
Key Ingredients: Black Onion Seed Oil
Pros
Makes hair silky
Vegan
Cruelty-free
Suits all hair types
Suits color-treated hair
Cons
None
Biotique products are gentle to use and deliver excellent results. In case you are looking for a minimalistic hair care routine, pick the Biotique Bio Kelp Protein Shampoo. The natural sea kelp protein strengthens your hair and prevents breakage. You may otherwise choose your favorite from the list of the best Biotique hair care products and show some love to your hair.

Recommended Articles