Best BIOTIQUE Shampoos Available In India – Our Top 6 Picks
Nurture your hair with the goodness of natural ingredients and cruelty-free products.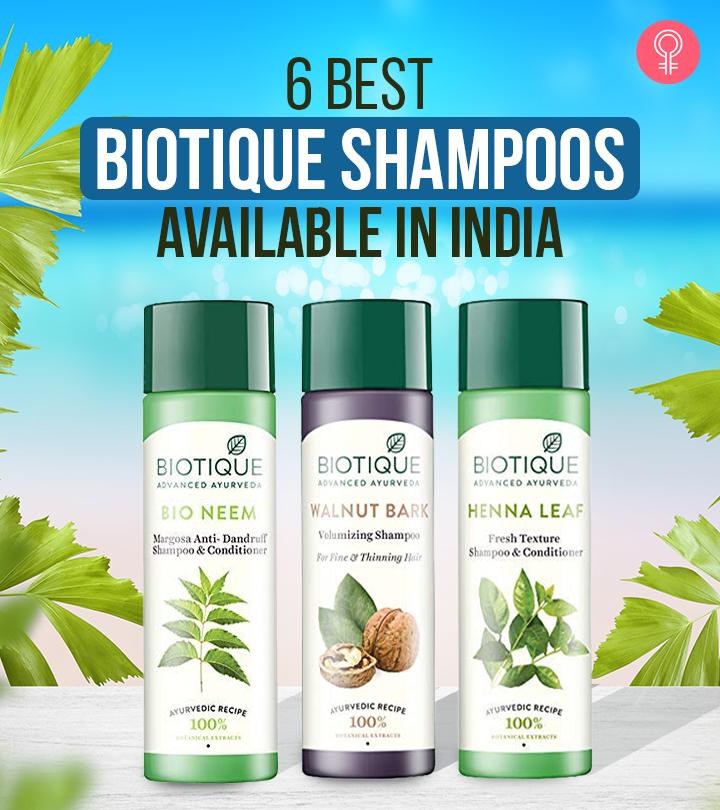 Looking for eco-friendly shampoos that contain ingredients extracted from nature? Try BIOTIQUE.  Their hair care products are based on authentic Ayurveda recipes and cutting edge Swiss biotechnology.
All the products are 100% organic, and the ingredients are cultivated in the foothills of the Himalayas. The best part is they are cruelty-free, dermatologist-tested, and do not contain preservatives. Check out our list of the 6 best BIOTIQUE shampoos. Scroll down!
6 Best BIOTIQUE Shampoos In India
The BIOTIQUE Bio Kelp Shampoo For Falling Hair contains pure kelp, peppermint oil, natural proteins, and extracts of fresh mint leaf that revitalize your scalp for healthy hair growth. It rejuvenates your hair and adds shine. The natural proteins help reduce hair fall and encourage new growth. This shampoo is free of sulfates and preservatives and produces less lather.
Pros
Softens the hair
Adds shine
Sulfate-free
Suitable for all hair types
Unisex
Cons
None
The BIOTIQUE Bio Soya Protein Fresh Nourishing Shampoo improves hair health and shine. It contains soya bean protein, wild turmeric extracts, and berberry that cleanse your hair without upsetting your scalp's pH balance. This preservative-free shampoo also contains rai oil, badam oil, and Himalayan water. It prevents color fading and helps maintain curls and perms.
Pros
pH-balanced
Color-safe
Maintains curls and perms
Cons
None
The BIOTIQUE Walnut Bark Volumizing Shampoo contains bodybuilding ingredients that lift limp, lifeless, or thin hair. It is made of natural walnut bark, ritha, amla, bhringraj, musk root, black Malya flowers, soap, and Himalayan water that revive your dry hair. This shampoo thickens the hair, treating hair loss and thinning hair.  It promotes natural hair growth, restores hair shine, and adds bounce.
Pros
Gentle formula
Non-drying
Reduces hair fall
Unisex
Suitable for all hair types
Cons
None
The BIOTIQUE Henna Leaf Fresh Texture Shampoo & Conditioner prevents premature graying of the hair. The luxurious formula contains natural henna leaves, berberry, and soap nut that moisturize your hair. This shampoo helps smoothen your hair and add natural shine. It cleanses and purifies your scalp, eliminating product residue and excess oils. This product also nourishes dry, lifeless hair and is suitable for all hair types.
Pros
Prevents premature graying
Pleasant fragrance
Suitable for all hair types
Cons
The BIOTIQUE Green Apple Fresh Daily Purifying Shampoo & Conditioner contains green apple extract, centella, and sea algae. These natural ingredients purify and nourish the scalp and hair, eliminating sweat, dirt, and sebum caused by pollution.
This pH-balanced shampoo is enriched with natural proteins and minerals that add body and shine to your hair. The pure green apple extract provides volume and vitality to your dry, limp hair. This shampoo rejuvenates, softens, and nourishes your hair. It is unisex and suitable for oily hair and scalp.
Pros
Unisex
Gentle formula
pH-balanced
Pleasant scent
Value for money
Can be used daily
Suitable for oily hair and scalp
Cons
The BIOTIQUE Bio Neem Margosa Anti-Dandruff Shampoo & Conditioner contains natural sap of Margosa and Euphorbia trees and bhringraj herb that reduce dandruff and flakiness. It alleviates dryness, itching, and discomfort caused by dandruff. The pH-balanced formula volumizes your hair and adds shine. This anti–dandruff shampoo also fights hair fall and hair thinning, promoting healthy hair growth.
Pros
Gentle formula
Unisex
Can be used daily
Suitable for all hair types
Cons
These are our top 6 picks of the best BIOTIQUE shampoos available in India. They are all-natural and cater to specific hair needs. Choose a shampoo from our list that is best suited for you.

Recommended Articles