10 Best Black Bath Bombs For Your Skin, Recommended By An Expert – 2023
Create a gothic setting while taking a relaxing bath after a long and chaotic day!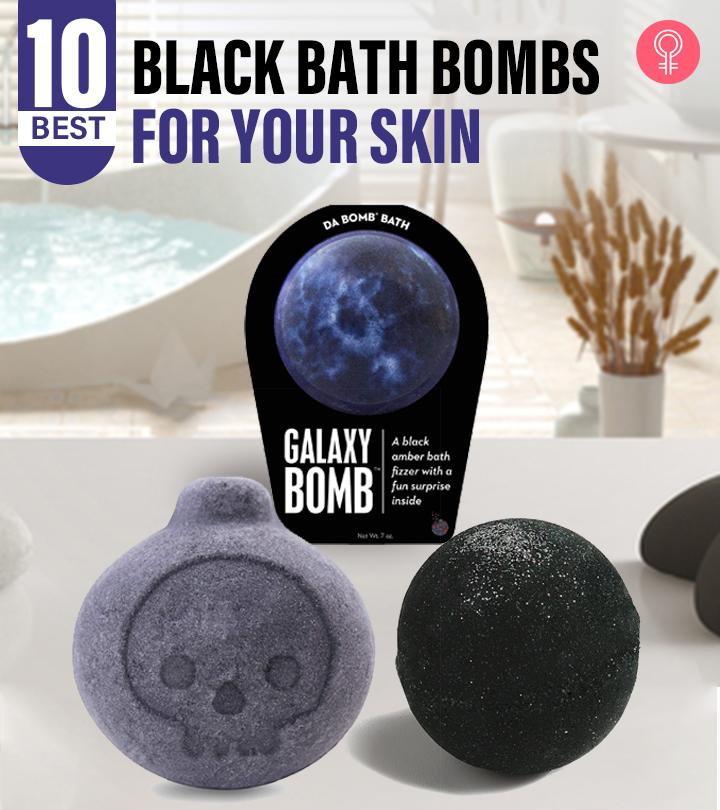 Stop right there if you're looking for the best black bath bombs this spooky season!
Black bath bombs are increasingly popular these days. This is the ideal blend of relaxation and black magic to get you in the mood for Halloween. These bath bombs may turn your bath as dark as your gothic mood, with a fizz and extra sparkles. They include a variety of skin-nourishing formulations of essential oils and natural ingredients.
Liquid black iron-oxide colorants or activated charcoal make these bombs black. Both these ingredients deliver a soothing, pleasant bath. So, grab a few of these black bombs from our list of the 10 finest black bombs for your skin and indulge in some relaxing, peaceful, and revitalizing black waters.
10 Best Black Bath Bombs For Your Skin
This black amber bath bomb is suitable for adults and children. It is beautiful to look at and comes with a surprise inside. Many reviewers are highly impressed by the bomb ability to dissolve smoothly without staining the skin or the tub. It is a simple formula of natural ingredients like sensual patchouli, fresh lemon, and rich woody fragrances that hydrate the skin and rejuvenate the mind. The non-toxic and fun fizzing bubble bath experience transports you to another galaxy.  Click here to check out a detailed personal review of a tester's experience of using this product.
Pros
Phthalate-free
Paraben-free
SLS-free
Nut-free
Gluten-free
Cons
Surprises can be disappointing.
The Soapie Shoppe Midnight bath bomb turns your bath water jet black. It is infused with activated charcoal and bentonite clay that help you detox while you soak. The bomb also contains deep-cleansing ingredients like sea salt and argan, coconut, blood orange, and cinnamon oils that leave you feeling refreshed and rejuvenated. It has a pleasant fragrance of citrus blended with deep cinnamon is loved by multiple reviewers. It is handmade and makes for a perfect gift for any occasion.
Pros
Pleasant fragrance
Softens the skin
Cons
Contains SLS
May leave glitter on your skin.
The Little Black Dress by Intimate Bath & Body is sparkly, warm, and sensual. It turns the water dark black without staining the skin. The bath bomb is enriched with aloe vera, kaolin clay, and activated charcoal that cleanse and detoxify the skin while you soak.
The handmade bomb has a fragrance of blended black rose, sandalwood, blood orange, vetiver, patchouli, and white carnation and is perfect for gifting purposes. It activates the senses and leaves you feeling clean and recharged. It is infused with silver glitter and fragrance oil and colorant, which are skin safe.
Pros
Amazing smell
Dissolves fast
Does not discolor hair
Cons
May leave residue in the tub.
This black bath bomb is known for its romantic "soul cleanser" perfume, which is a unique blend of patchouli,  vetiver, sandalwood, blood orange,  black rose, and white carnation. This black bath bomb is an anti-aging formula infused with coconut oil, Epsom salts, and kaolin clay.
Coconut oil has antibacterial and antifungal properties that moisturize the skin. Epsom salts help relieve pain, muscle tension, and joint inflammation. Kaolin clay is a natural mineral that cleanses and purifies the pores, reduces oily skin, and detoxes the body. This premium bath bomb hydrates and moisturizes the skin while you soak. The dark black water with silver glitter leaves you feeling relaxed and revived.
Pros
Cruelty-free
Amazing scent
Does not stain the bathtub
Cons
The Dark Like My Heat black bath bombs are great for those who had a bad day and want to relax while soaking in a hot tub of water. This is a set of 10 bath bombs that make the water as dark as the mood. The bombs are infused with activated charcoal, which acts as a cleanser. Soaking in the black water will cleanse not only your body but also your mind and soul.
Pros
Affordable
Good for gifting
Cons
Small
Leaves residue in the bathtub.
The Dyfina Black bath bombs are a set of cute skull-shaped bombs. They are formulated with natural ingredients like bath salts and activated charcoal, along with essential oils that nourish and cleanse the skin.
The bath bombs provide a luxurious spa-like experience and relieve joint pains, muscle aches, and dry skin. Your body is healed and moisturized while you relax and soak in the jet-black water. The bombs are fun for kids as well, since once dropped in water, they explode and bubble, creating the perfect bubble bath. These black bath fizzers come in four fragrances – lemon, rose, sage, and rosemary.
Pros
Skin-friendly
Amazing smell
Unique design
All-natural formula
Cons
This black bath bomb is infused with coconut oil and Epsom salt, which cleanse the body and moisturize the skin. It has an exotic fragrance with top notes of aquatic blended with rare camellias, Italian bergamot, and lime. The middle notes are a blend of jasmine, lily, and rose, while the finishing notes are an infusion of vetiver and sandalwood. Nichelle Temple, an esthetician, says, "This product is formulated with epsom salt that can soften rough, dry texture on the skin."
Pros
Organic ingredients
Smells amazing
Rinses off the tub easily
Cons
May stain the skin a little if you sit too long in it.
The Cosset bath bombs offer therapeutic treatment for body ache and mental relaxation. They are infused with essential oils like rosemary that relieves muscle pains and peppermint oil that helps increase awareness and respiration. The bath fizzer increases mental focus and calms breathing. Multiple reviewers also love its moisturizing effect on their skin. This therapy bomb turns water midnight black without staining the tub and skin. The water-soluble dyes dissolve quickly on touching the water. It is a good way to relax after a hectic day.
Pros
Hand-made
No harmful chemicals
100% recyclable packaging
Therapeutic
Cons
The Bath Sherbat luxury bath bombs come in a set of 10 pieces with the same fragrance as the famous Dead Sea mud soap. These bath bombs are great to soak your tired feet in or for excellent pedicures. The set comes in a resealable pouch and is great for gifting purposes.
The bombs fizz when they come in touch with water and release nourishing ingredients that soften the water and fill the air with a sensual fragrance. They are infused with sea salts, shea butter, essential oils, and sodium bicarbonate to keep the skin soft and thoroughly cleansed. The bombs also contain oatmeal that helps in exfoliating dead and dry skin cells gently.
Pros
Paraben-free
SLS-free
Cruelty-free
Petroleum-free
No harsh detergents
Mineral oil-free
Cons
None
These black bath bombs are infused with glitter, dark gray, and medium-sized. They are handmade and enriched with coconut oil, kaolin clay, mica powder, and glitter, along with some aromatic fragrance oils. They rejuvenate the skin while cleansing and moisturizing it. The LLC black glitter bombs leave you feeling relaxed.
Pros
Chemical-free
Natural
Hand-crafted
Cons
*The prices provided in this article are based on the latest available information. However, they may vary due to changes in pricing by the seller and/or promotional offers.
Why Trust Stylecraze
All you need is a black bath bomb for a relaxing bath time with a little bit of magic! However, our certified skincare coach, Shiboli Chakraborti, understands how difficult it is to find the right one. To help you out, she has listed the best black bath bombs to ensure your bathing experience is both soothing and fun-filled. Before listing the top-rated products, she compared various products online and wrote in detail about their features, formula, benefits, and drawbacks.
Frequently Asked Questions
Is black bath bombs good for your skin?
Yes. Black bath bombs are made up of iron-oxide colorants or activated charcoal that aid in nourishing, conditioning, and detoxifying your skin. They are the perfect mood-setter during Halloween.
Is black bath bombs safe for toddlers?
Yes. Black bath bombs are infused with 100% safe, natural ingredients that are safe for the sensitive skin of toddlers. In addition, the bath bombs are too large to be a choking hazard. However, supervise them during use so that they don't put any soap in their mouth.
Can you use black bath bombs during pregnancy?
Yes. Black bath bombs are potentially harmless during pregnancy. The bombs are infused with natural ingredients that benefit the skin and do not harm the fetus. But avoid black bath bombs that contain essential oils like cinnamon and clove that disrupt the pH level of the vagina and develop yeast infections.
Can you use bath bombs every day?
No. Do not use bath bombs daily to prevent irritating or overdrying your skin. Instead, try other soothing tactics like fragrant candles and music to enhance your bathing experience.
Do you take a bath after using a bath bomb?
Not necessarily. Take a clean shower after using bath bombs only if you see any stains or residue left by the bath bombs.
What is the best way to use a bath bomb?
•  Start by lighting some scented candles in your bathroom. Dim the lights.
•  Fill your tub with warm water.
•  Unwrap the bombs and drop them in the tub.
•  Put on some soothing music.
•  Get in the tub.
•  Stay in the tub for 15-20 minutes and enjoy the relaxing aromatherapy session.
Recommended Articles