15 Best Black Eyeliners To Perfectly Define Your Eyes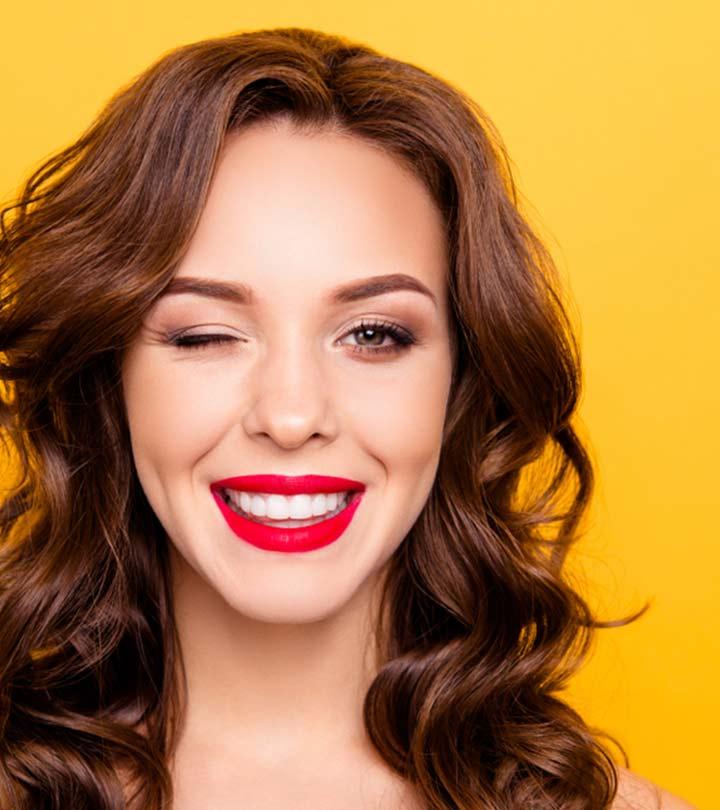 When we look at a person, we'd mostly notice the eyes first. And, so as a general rule of thumb, it is important to focus foremost on your eyes when you start your makeup routine. It helps make a good first impression. It can also help create a balanced look when you start first with your eyes. And one of the crucial makeup tools that we can totally not miss out on in terms of eye makeup is an eyeliner. Eyeliner is something you cannot do away with. It pulls attention to your eyes and improves its appearance by enhancing its shape. And picking the best black eyeliner is the easiest way as it is just as versatile for every eye color.
Applying black eyeliner on the waterline can define eyes like nothing else, and defining your lids with the eyeliner totally completes your eye makeup. A universal choice among women, black eyeliner gives depth to your eyes. We are sure that you must have now made up your mind to buy one. So, let us help you with the best options you can try.
Top 15 Black Eyeliners To Complete Your Eye-Makeup
No products found.
Let your eyes do the talking with this black eyeliner pencil that gives you a super-defined and sharp look to complement your entire makeup. The smudge-proof retractable eyeliner glides on your lash line effortlessly for an easy application. The creamy formula of the black eyeliner is made with synthetic beeswax and citric acid among other ingredients. These key ingredients help it stay put all day long through heat and humidity. It also does not require any sharpener and hence, you need not dig into your bag every now and then, searching for a sharpener. The highly-pigmented twist-up liner is certified cruelty-free.
Pros
Water and smudge-proof
Lasts an entire day
Cruelty-free
Intense color
Easy application
Moisturizing formula
Cons
May not be as richly pigmented
You need not struggle to rest your elbow on your dressing table and hold it steady while you glide this waterproof black eyeliner on your eyelids. Its unique flex tip brush and custom hexagonal grip makes it super easy to apply. The liquid liner is smooth to apply with no slip and no skip formula. Its smudge-free, intense, and pitch black color can help beautifully define the shape of your eye and lasts for as long as 24 hours. Ophthalmologist-tested, it is suitable for sensitive eyes and contact lenses too.
Pros
Waterproof
Smooth application
Lasts up to 24 hours
Intense color
No skip, no slip formula
Ophthalmologist-tested
Suitable for sensitive eyes and contact lenses
Cons
May not glide easily on oily eyelids
Walk in and out the gym without worrying about smudgy or runny eyeliner as this sweat-proof black eyeliner pencil locks in the intense color to stay put for extended hours. The waterproof liner gives a smooth finish and is smudge-proof. The creamy formula glides on easily to give an instant impact. The ophthalmologist-tested product is suitable for sensitive eyes and is also safe to use if you wear contact lenses. You can wear it alone or add several shades for a scandalous look and explore an edgier you. As the brand says, embrace self-expression and your unique personality with this kajal black eyeliner.
Pros
Rich color
Smooth and creamy formula
Ophthalmologist-tested
Heat and sweat-proof
Stays put in humid conditions
Suitable for sensitive eyes
Safe for those who wear contact lens
Cons
Some may find it slightly difficult to sharpen the pencil.
If you are looking for a long-lasting black eyeliner that does not fade or smudge, let us break the news to you that you have finally landed on the right product. This black eyeliner pencil is fade-proof and smudge-proof, and lasts for up to 16 hours. The mechanical liner is formulated with hydrogenated olive oil, sunflower seed oil, and candelilla wax. It comes with a built-in sharpener for the pencil tip to help you draw beautiful and defined strokes on your eyes. Its smooth application makes it easy for you to get ready quickly for work or any special events. Pair it with a black mascara and let your eye makeup stand out.
Pros
Smudge-proof
Rich color
Lasts for up to 16 hours
Built-in sharpener
Fade-proof
Cons
May not be suitable for sensitive eyes
This brand by Lady Gaga stands by what she sings — 'Open your black eyes wide and testify as everyone's looking at you!' So, make a bold statement, highlighting your eye makeup using this liquid black eyeliner and enhance the beauty of your eyes with this junk black shade. The  ultra-thin, micro felt tip smoothly glides on your eyelids with great precision, offering a fuller-looking lash line with semi-shine finish. The signature shade dries quickly to give smudge-free and fade-free finish. It is recommended that you store this cruelty-free and vegan black eyeliner upside down for better ink flow.
Pros
Semi-shine finish
Glides smoothly
Cruelty-free and vegan
Smudge and fade-proof
Highly pigmented
Has ultra-thin, micro felt tip
Cons
It can become a nightmare to use eyeliner that is not as pigmented, especially if you need to apply a couple of layers to just have decent eye makeup. Well, your prayers for the best black eyeliner have been answered. Now, get smooth and beautiful-looking eyes in just one stroke. Moreover, the smudge-proof eyeliner comes in 3 finishes— essential matte, glitter, and metallic. The eyeliner glides easily and blends well to give you a perfect and full lash line. Its creamy, cruelty-free formula sets well as it is waterproof and stays put for as long as 24 hours. So, pick it up and add it to your makeup kit.
Pros
Waterproof
Cruelty-free
Rich color
Transfer-proof
Lasts for up to 24 hours
Comes in 3 finishes
Cons
Some may find it slightly difficult to sharpen the pencil.
If you are planning to try a gel formula, you might as well start off with this black gel eyeliner. It is very smooth to apply on your eyelids and easier for use even for those who feel intimidated by eyeliners. This black eyeliner does not tug and sets in 30 seconds to give you intense and highly pigmented color in blackest of black. This eyeliner has been clinically-proven to last for over 10 hours. Its creamy, paraben-free formula does not smudge easily, maintaining a defined look for longer durations.
Pros
Waterproof
Ophthalmologist tested
Lasts for over 10 hours
Sets in 30 seconds
Cruelty-free
Paraben and SLS-free
Cons
May not be suitable for waterlining
There is a good reason why this has been a cult favorite for a long time. This award-winning cruelty-free product is made with moisturizing ingredients like vitamin E, jojoba oil, and cottonseed oil. This thick black eyeliner hydrates your lash lines while softening the skin. Its creamy and blendable formula comes in 5 different finishes — matte, creamy, shimmer, metallic, and glitter. It offers long-lasting results by preventing running and smudging. It does not budge once it dries and moves effortlessly on the lids without dragging or skipping.
Pros
Matte-finish
Darkest black
Smudge-proof
Waterproof
Long-lasting
Blendable and creamy
Hydrating formula
Cruelty-free
Cons
Some may find it slightly difficult take it off.
Being great at getting the cat-eye technique right gets easier when you lay your hands on the best black eyeliner. So, pick up this intense black eyeliner for a stress-free eye makeup experience. Made in the USA, its smooth and creamy formula glides on your eyelids easily, drawing a precise line with its rich pigments. The gluten and toxic-free formula is enriched with minerals and vitamin C that help soothe and nourish your lids while defining them. This black eyeliner gives a smooth finish that lasts long without any smudges, smears, or fading too soon. It comes with an in-built sharpener so you can nail finer strokes with a sharp tip.
Pros
Gluten and paraben-free
Toxin-free
Cruelty-free
Free of artificial fragrances
Soft, creamy texture
Highly-pigmented color
Contains minerals and vitamin C
Cons
May require primer before application
Now carry the secret to beautiful eyes wherever you go. This cool and compact liquid black eyeliner helps you create impressive looks with subtle strokes and bold lines. The highlight of the product is its thin and tapered felt-tip applicator. It features a smudge-free and non-flake formula that does not take too long to dry. Its key ingredients include glycerin, and citric acid that help make it suitable for all skin types. The rich matte black eyeliner will definitely get you all the attention in the room.
Pros
Matte-black finish
Thin and tapered felt-tip applicator
Suitable for all skin types
Smudge-free
Does not flake
Moisturizing formula
Cons
Using this liquid eyeliner, you can draw some clean and accurate lines, and manage to perfect both bold and precise strokes. The waterproof eyeliner has an automatic delivery system with a flexible brush tip that makes it easy to apply fine or dramatically bold lines around your eyes. This long-lasting black eyeliner is also easy to get off the lids when you want to clean it up before going to bed. All you need to do is clean it with an oil makeup remover. Formulated with citric acid and glycerin, its skin-friendly ingredients has made it a favorite among A-list celebrities and pro artists alike.
Pros
Long lasting
Waterproof
Flexible tip
Smudge-free
Budge-free
Cons
Redefine your eye makeup with this long-lasting black eyeliner that can be a compact addition to your on-the-go makeup pouch. This liquid black eyeliner will impress you with its well-pigmented color, smooth application, and stay-put wear. Inspired by traditional calligraphy, the water-resistant eyeliner can help you achieve those perfect and beautiful cat-eye looks. It features a precise brush tip, glides on easily and lasts for almost 24 hours without smudging or fading. The enriching formula of the matte black eyeliner made with hydrogenated castor oil, citric acid, and glycerin provides long-term lash care apart from instantly beautifying your eyes.
Pros
Waterproof
Fade-proof
Long lasting
Has a precise brush tip
Matte-black finish
Cons
There is definitely no point taking all the trouble to perfect your eyeliner strokes if they're going to vanish by afternoon. That is why trying this long-wearing black eyeliner that stays put for at least 10 hours is the right choice you make if you'd like to avoid retouching every now and then. The creamy, smooth ink glides on easily on your eyelids and does not pull or tug on eyelids. Clinically-tested, the eyeliner is vegan, and paraben and sulphate-free. Now, get a perfect, blackest of black shade for well-defined eyes as you pick this amazing product.
Pros
Smudge-free
Easy to remove
Smooth application
Retractable
Clinically-tested
Paraben and sulphate-free
Vegan
Cons
Sometimes, it gets extremely difficult to find that one perfect eyeliner that checks off all the boxes. Well, fret no more. This is definitely a thick black eyeliner that deserves to be a staple in your vanity as it can help you achieve every look. One of the darkest black eyeliners, it has a flexible applicator tip that enables it to glide on easily. Ophthalmologist-tested, the waterproof liner is suitable for sensitive eyes and also those who use contact lenses. The longwear product with rich and intense color lasts for up to 16 hours. It dries immediately after application and is smudge-free.
Pros
Ophthalmologist-tested
Waterproof
Easy to remove
Smudge-free
Lasts for 16 hours
Safe for sensitive eyes and contact lens wearers
Cons
Have a larger than life appeal like the A-list celebrities with the rich and intense color of this black eyeliner. It adds an intense and dramatic look to your eyes that stays on throughout the day. Its long-lasting formula is easy to apply and gives a smooth and budge-proof finish. The black eyeliner pencil stays on your greasy eyelids easily too. It makes for simple and clean strokes, and can be perfect even for those who are not a huge fan of makeup but like to wear it occasionally.
Pros
Budge-proof finish
12-hour wear
Rich and creamy color
Smooth application
No smearing or caking
Cons
Some may find it to be slightly scratching on the lids.
You must have gotten an idea about the best black eyeliners available in the market. Here're the factors you need to keep in mind so that you can make a more informed choice.
How To Choose Best Black Eyeliner
There are mainly 3 types of eyeliners that you can try that include pencil, liquid, and gel. Pencils can be easier to use than liquid. You can try pencil, especially if you want smokey eyes. Liquid eyeliners give you more intense and highly-pigmented color. Gel, on the other hand, gives you the best of pencil and liquid with better stability and pigmentation and helps nail finer strokes like no other.
You should always opt for eyeliners that stay put for long without smudging or fading because reapplying eyeliner frequently would take too much effort. Also, waterproof ones can be a great pick so that your eye makeup isn't ruined due to sweat or rains. Look for formula that helps you avoid flakes and peel-offs.
You can check the applicators and pick one that glides on easily. A thin and tapered felt-tip applicator or an appropriate brush will aid in better control and grip for smooth application. You can look for a long brush for an ideal stroke.
You can pick eyeliner in a certain finish as per your preference. You can go for matte, metallic, glitter, or shimmer. One with matte finish can be ideal for regular office wear. The metallic one would be perfect for a formal event. If you are looking for something to wear at parties, you can go for a shimmery finish. But if you have a liking for a certain finish, don't shy away from instantly choosing an eyeliner that offers you just that.
Our eyes definitely do the talking when words don't suffice. And to help you with it, you can totally rely on your eyeliner as it can make your lashes look thicker and fuller, highlight the color of your eyes, and make them look beautiful, especially when you pick the best black eyeliner. They define the shape of your eyes and attract attention by giving them a more dramatic appearance. Whether you're an amateur or a makeup pro, our list of the best black eyeliners definitely has something made just for you! So, go through our well-researched list and pick your fav!
Frequently Asked Questions
Does black eyeliner suit everyone?
A black eyeliner may not suit everyone. You can definitely try it on if you are a person of color or have deeper skin tone. But if you have a fairer complexion, you can buy a shade that is slightly lighter than dark black to create the right impact, unless you're aiming for a dramatic effect.
Does black eyeliner make you look older?
Black eyeliners seldom make one look older. They're quite versatile and can suit every age group as they primarily work to define and beautify your eyes.
Can you use black eyeliner as lipstick?
A black eyeliner may not serve the purpose of a lipstick as it is not formulated to be worn on lips. However, if you're keen on picking an eyeliner for your lips, you may have to pick a waterproof pencil eyeliner so that your lips do not dry out and one that is free of any harmful chemicals.
Is black eyeliner good for brown eyes?
Though black eyeliner is a common choice for all women, it is better to go for brown or amber colors if you have brown eyes.
Is black eyeliner too harsh?
While black eyeliners are not too harsh unless they're formulated with an ingredient that could cause irritation, they definitely create a lot of impact and help you stand out, especially if you have a very light skin tone.