13 Best Blackhead Peel-Off Masks For Clear & Healthy Skin – 2023
Remove blackheads and unclog your pores to reveal brighter skin within minutes!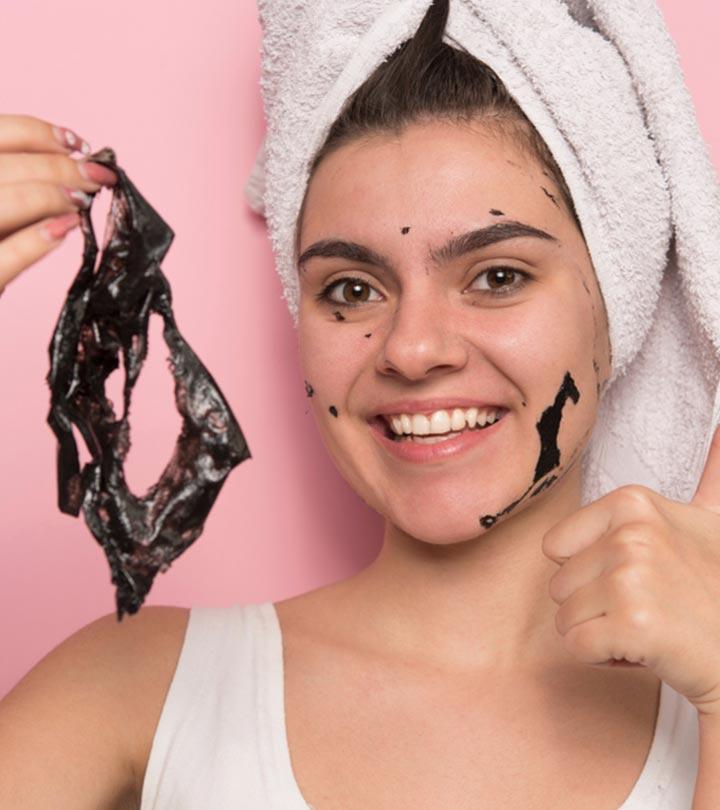 Blackheads are no less than nightmares! They are tough to get rid of and keep coming back. While there are plenty of options available for blackheads removal, peel-off masks are the best among them. Adding the best blackhead peel-off mask to your skin care regimen helps you deal with this problem easily and offers clear and clean skin. Blackhead peel-off masks can effectively remove blackheads from your skin and unclog the pores by removing dirt and grime. These peel-off masks also remove whiteheads, other dirt, and bacteria from the skin. In addition, they work gently on your skin and offer brighter skin within minutes. Also, these masks can reduce pigmentation, dullness, improve skin texture, and reduce the look of wrinkles and fine lines.
Peel-off masks are formulated with effective and active ingredients such as glycerin, aloe vera, kaolin clay, castor oil, and tea tree extract. With tons of options available in the market, you may get confused while selecting the one among them. To help you out, we have narrowed down the options and come up with a list of the 13 best blackhead peel-off masks for clear and healthy skin. Scroll down and check them out.
13 Best Blackhead Peel-Off Masks For Clear And Healthy Skin
Are you looking for vibrant, glowing skin? You should try this deep cleansing peel-off mask that removes dead skin cells and impurities and increases the vitality of your skin, while smoothening and evening out the texture. It contains vitamins and plant extracts that soften the skin and restore a youthful glow. This face mask removes acne, blackheads, facial hair, and blemishes along with stubborn dark spots. It also reduces the effect of radiation caused by phones and computers on the skin, adds brightness and smoothness to dull and uneven skin, and makes the skin firmer. This blackhead removal peel-off face mask also aids in blood circulation and results in smoother skin. Take a quick look at a review of the product based on a reviewer's experience to decide if you would want to purchase it. Moreover, thousands of positive reviews on Amazon indicate that people experience visible results, such as reduced discoloration, with its use.
Pros
Designed for weekly use
Suitable for all skin types
Suitable for both men and women
Reduces effect of computer radiation
Cons
May not suitable for acne-prone skin

This cooling and hydrating Freeman blackhead peel-off mask might just be the answer to your dull skin woes as it peels away impurities from your skin, leaving it vibrant and refreshed. Cucumber is the key ingredient in this gel mask and along with aloe vera soothes and moisturizes your skin while removing blackheads and other impurities. It works well for normal to combination skin. Simply apply this acne-clearing mask for 15-20 minutes and be free of blackheads and other impurities, and welcome bright and clear skin. Take a quick look at the video to find the honest review of the Freeman Renewing Cucumber Peel-Off Gel Mask.
Pros
Contains natural ingredients
No harsh chemicals
Cruelty-free
Suitable for all skin types
Cons
This rose-scented blackhead peel-off mask infused with 24K gold is formulated with high-quality, natural ingredients, including rosehip oil, gold, collagen, hyaluronic acid, vitamin C and E, coconut oil, and aloe vera. It helps hydrate, tone, and rejuvenate skin. It also helps unclog pores, removes blackheads, cleanses dirt and oils, and detoxifies and moisturizes your skin. It also reduces the appearance of wrinkles while adding a non-greasy luminosity to your skin which leaves your complexion glowing. It ensures an even skin tone and may be just the answer to your skin woes. Watch this video to know more about the pore-tightening effect of the Azure Rose Gold Sparkling Peel Off Mask based on a reviewer's experience.
Pros
95% natural
Vegan
Cruelty-free
Hypoallergenic
Paraben-free
Dye-free
GMO-free
Suitable for all skin types
Cons
May not peel off in one piece.
This gentle face mask is fortified with real calendula petals, orange peel oil, Texas cedarwood, and balsam torchwood bark oils. It exfoliates your skin with every use and leaves your skin visibly smoother and softer. It helps to clean pores and removes blackheads and other impurities, which improves the absorption of subsequent skin care products. It hydrates your skin leaving it softer and more vibrant than before. The good thing about this deep cleaning mask is that it's suitable for all skin types. So, if you suffer from blackheads, you should definitely try this blackhead exfoliating peel-off face mask and face the world with new and rejuvenated skin.
Pros
Sulfate-free
Natural ingredients
Paraben-free
No artificial fragrances
Gluten-free
Suitable for all skin types
Cons
May not peel off easily in some cases.
This cruelty-free blackhead peel-off mask is a fantastic choice to tighten, tone, smoothen, and firm your skin. It is suitable for all skin types and keeps your skin youthful by removing blackheads and other impurities as well as fine lines and wrinkles. It contains hydrolyzed collagen and radish root ferment that keep the skin hydrated. It is also a natural and safe alternative to paraben preservatives in skincare products. Vitamin E  present in the formula helps protect the skin against free radical damage and prevents water loss. Say goodbye to dull and damaged skin with this anti-blackhead peel-off mask, known for improving skin texture and giving your face a youthful look.
Pros
Natural ingredients
Cruelty-free
Paraben-free
No artificial fragrances
Cons
It contains polyvinyl alcohol, which some may find drying.
The Mabox Black Mask is infused with charcoal powder and composite bamboo, which pulls out excess oil and dirt from your pores. The ingredients also help to remove blackheads, dead skin cells, and acne-causing bacteria. It cleans the pores to enhance skin breathability while brightening and clearing the skin. It is fairly easy to use and offers quick results. You can use this black, skin detox mask on oily, sensitive, and dry skin. It also has a unique and appealing strawberry fragrance.
Pros
Contains natural ingredients
Cruelty-free
No artificial fragrance
Cleanses pores effectively
Enhance skin health
Ideal for all skin types
Cons
Slightly drying on the skin
Boscia Luminizing Black Mask is a chemical and preservative-free face mask that absorbs excess oil and impurities to help you achieve clear and healthy skin. It consists of activated charcoal as its primary active ingredient that penetrates deep into all the pores to eliminate dirt or dead skin cells. It is a purifying peel-off mask that is ideal for all skin types, including sensitive skin. It also includes vitamin C, which helps to brighten the skin and target scars and pigmentation. It also pulls off blackheads or whiteheads while thoroughly cleansing pores.
Pros
Suits all skin types
Color-free
Vegan
Cruelty-free
Fragrance-free
No preservatives
Natural ingredients
Cons
If you want to treat your skin to some authentic spa-like treatment, it might be a good idea to try out this gold mask for blackheads. It draws out blackheads, impurities, dirt , excess oils, and pollutants effectively and leaves you with glowing and radiant skin. It's a combination of 24K nano gold, which has anti-aging properties, verbena officinalis, which prevents clogging of pores, aloe extract that moisturizes the skin, and chrysanthemum and rose extract that reduce fatigue and brighten skin tone. It's also enriched with a powerful combination of vitamin C and hyaluronic acid, which hydrates the skin. It has an added bonus of 4 blackhead removal tools and 1 silicone brush. These practical beauty tools help to remove blackheads, acne, and various blemishes easily.
Pros
Oil-free
Fragrance-free
Contains natural ingredients
Contains aloe vera and vitamin C
Cons
May not be suitable for all skin types
Remove blackheads with the at-home treatment solution from the Epielle Black Charcoal Peel-Off Face Mask. This blackhead prevention mask is infused with patented activated charcoal technology. When applied to the skin, it gently detoxifies and purifies the skin to boost a healthy complexion all day long. Unclog the pores to prevent further acne breakouts and dry skin before any grand event.
Pros
Patented activated charcoal technology
Dye-free
Mineral oil-free
Paraben-free
Petroleum-free
Suitable for all skin types
Cons
None

The catch line of this product is, 'Blackheads are no fun but removing them can be'. This is one of the best black peel-off masks for blackheads and is gentle but effective in its action. It smoothens the skin by minimizing pores and extracting impurities. It removes excess sebum and excess oil for even and radiant complexion. This face mask contains glycerin, bamboo, activated charcoal, Ceteth-15 among others and cleanses the skin, unclogs pores and removes deep impurities and dead skin cells. It's applied as a liquid mask, which quickly hardens to effectively extract impurities. Do try this oil control face mask and see your skin become radiant and rejuvenated.
Pros
Vegan
Cruelty-free
Paraben-free
Sulfate-free
Non-toxic botanical extract
Natural ingredients
Very effective for oily skin
Cons
The VELAMO Black Mask is a deep pore cleansing mask that consists of activated bamboo charcoal to detoxify the skin to help you achieve clearer and flawless-looking skin. It gently draws out the blackheads, pore-clogging dirt, dead skin cells, and excess sebum from the skin. It contains green tea and aloe vera to prevent the skin from drying out. It also has matthiola incana, which is rich in linolenic acid to reduce hyperpigmentation. The mask has a pleasant coconut smell and is suitable for all skin types.
Pros
Detoxifying
Suits all skin types
Shrinks pores
Prevents skin from drying out
Natural ingredients
Vegan
Dermatologically tested
Cons
If blackheads have been bothering you and you haven't yet found a solution to them, it is a good idea to try out this charcoal blackhead peel-off mask with volcanic ash in a gel base. It clears your pores and tones and refines your skin's appearance with its deep cleansing action. This deep cleansing face mask with volcanic ash and charcoal removes dirt, oils, and other pollutants that clogs your pores, without over-drying your skin. It is suitable for all skin types and assures you of glowing and radiant skin.
Pros
Paraben-free
Not animal-tested
Natural ingredients
No harsh chemicals
Cons
Some may find the cologne-like scent overpowering.
Deep cleanse your facial skin with the TOTCLEAR Black Mask Premium and remove your blackheads in only a few uses. The formula is infused with activated charcoal that clears all impurities and strengthens skin elasticity, removing the appearance of wrinkles and fine lines. The active ingredients include vitamins, aloe vera, sophora flavescens root extract, lychee fruit extract, echinacea purpurea extract, and nutrients that enhance your skin's health without any pain or irritation. The unique absorption quality tightens the pores while removing stains and spots from your face, resulting in flawless, smooth skin.
Pros
Deep cleanse
Natural ingredients
Painless formula
Reduces acne breakouts
Easy to apply
Easy to wash
Cons
None
Now that we have looked at the 13 best blackhead peel-off face masks of 2023, here are a few things you need to keep in mind while buying a product for your skin, so that you make the right choice for yourself.
How To Choose The Best Blackhead Peel-Off Mask
If you use the right type of mask for your skin type, it will hydrate, exfoliate, detoxify, and add a healthy color and glow to your skin. Keep these points in mind to choose and use the face mask that suits you the best. Always check out the product on a small patch of skin first.
Most peel-off masks for blackheads will absorb excess oil from the skin, which makes it an excellent product for those with oily or acne-prone skin. Since these masks help reduce the size of pores and make the skin firmer, mature skin can also benefit from it. However, if you have sensitive skin, active acne or rosacea, we suggest you consult your dermatologist before using them so that they don't end up aggravating the skin further.
There's no one-size-fits-all when it comes to peel-off blackhead clearing masks. If you have oily or acne-prone skin, it makes sense to look for masks that contain clinically-proven ingredients like tea tree oil, charcoal, clay, glycolic acid, or salicylic acid for best results. If you have normal to dry skin, ensure your peel-off mask contains hydrating ingredients like vitamin E, glycerine, aloe vera gel, and hyaluronic acid which give your skin an extra boost of hydration. For sensitive skin, opt for dermatologically-tested ingredients and do a patch test to check for irritation.
Use it in your nighttime skincare routine
All peel-off face masks gently exfoliate the top layer of the skin, removing dirt, blackheads, and some facial hair along with it . Exposing your skin to the harsh rays of the sun afterwards can really damage your skin, so it's a good idea to apply your masks at night after thoroughly cleansing your face.
Just because it gives your skin a squeaky clean look does not mean you should use it round the clock. Using a natural peel-off for blackheads 3 times a week is fine if you have oily skin with clogged pores, but if you have sensitive skin you should stick to using it once a week.
How To Use A Blackhead Peel Off Mask
With so many face masks available in the market, one can always find one to suit one's personal requirements. However, it's equally important to know both how to apply it correctly and how to peel it off correctly.
Steps to follow:
Step 1: Cleanse your face with warm water to remove impurities and open up your pores.
Step 2: Apply a thick layer of the mask to your face and let it dry for about 20 minutes.
Step 3: Remove the mask by peeling it off from the bottom of your face.
Step 4: Apply moisturizer and follow your usual skin care regimen.
Common Mistakes To Avoid
Overusing is a common mistake, no matter your skin type. If you don't leave enough days between applications, you'll likely suffer from excess drying, skin irritation, and clogged pores. Limit it to no more than once a week or as mentioned on the product.
You are not using the right mask for your skin type
If you have dry skin, look for a peel-off mask that has hyaluronic acid or glycerin and if you have oily skin try to use clay or charcoal as an ingredient while aloe is good for sensitive, irritated skin as it's soothing. Do take out the time to study and research the right mask for your skin.
You are leaving it on for too long
There can be drawbacks to forgetting to remove your face mask at the right time. If you leave on the product for too long it can cause irritation to the skin, especially if you're using a mask with fragrance. Most masks will direct you to gently remove them as soon as they dry.
You are too rough with your peeling-
When it's time, make sure you peel it off slowly, beginning at the bottom and sides. Try to remove the peel-off mask in one piece without hurting your skin. This is usually possible if you use the right amount and leave it on just long enough to be fully dry.
Restrict your multi-masking to rinse-off masks versus the peel-off kind. If you're trying to tackle like an oily T-zone while your cheeks are prone to dryness, it's more effective to alternate your peel-off masks weekly rather than trying to tackle 2 issues at once. You won't run the risk of mixing the masks, which can cause burning. Plus, as drying times vary there can be issues leaving them on for too long.
You are waxing or threading before peeling
Both waxing and masking remove a layer of skin cells, and doing both simultaneously could leave your skin feeling sensitive and raw. This could potentially expose your skin to bacteria, which leads to breakouts, redness, or inflammation. The bottom line is to leave ample time in between beauty treatments.
Why Trust StyleCraze?
The author of this article, Medha Deb, is a skincare enthusiast. Having fought against blackheads herself, she has tried many products to resolve the issue. After doing hours of in-depth research on several products and checking for many online reviews, she has compiled this list of the best blackhead peel-off face masks. These products not only remove blackheads but also improve skin texture.
Frequently Asked Questions
Are peel-off masks good for blackheads?
Peel-off masks can temporarily remove keratin plugs and improve the appearance of blackheads. Therefore, peel-off face masks for blackheads have to be used regularly, otherwise the blackheads will reappear.
Can I use a peel-off mask everyday?
In general, you can use a mask one to three times per week. Stick to once a week if you have sensitive skin. If you have oily skin or clogged pores, look for a purifying mask with clay or charcoal to achieve professional-like skin care results, and you may be able to use it more often.
Should I wash my face after using a peel=off mask?
Gently peel the mask from your face. Once you remove the mask, proceed with your usual skin care routine. There's no need to rinse. Whether it's a clay mask, cream mask, sheet mask, peel-off mask, or other type of face mask, always cleanse your skin first. If the face mask is to be rinsed off, apply it after cleansing your face, but before you start the rest of your skin care routine.
Are peel-off masks better than wash-off masks?
Face masks in general can have amazingly beneficial results for the skin, so it's more in the ingredients that are present in it than whether it's a peel off or not.
How long does the blackhead peel-off mask last?
Leave on a blackhead peel-off mask on your face for 15 to 30 minutes. Then, gently peel away the mask from the face. You can use one mask each week to keep blackheads away.
Recommended Articles: