10 Best Blackhead Removal Tools & How To Use Them Safely – 2022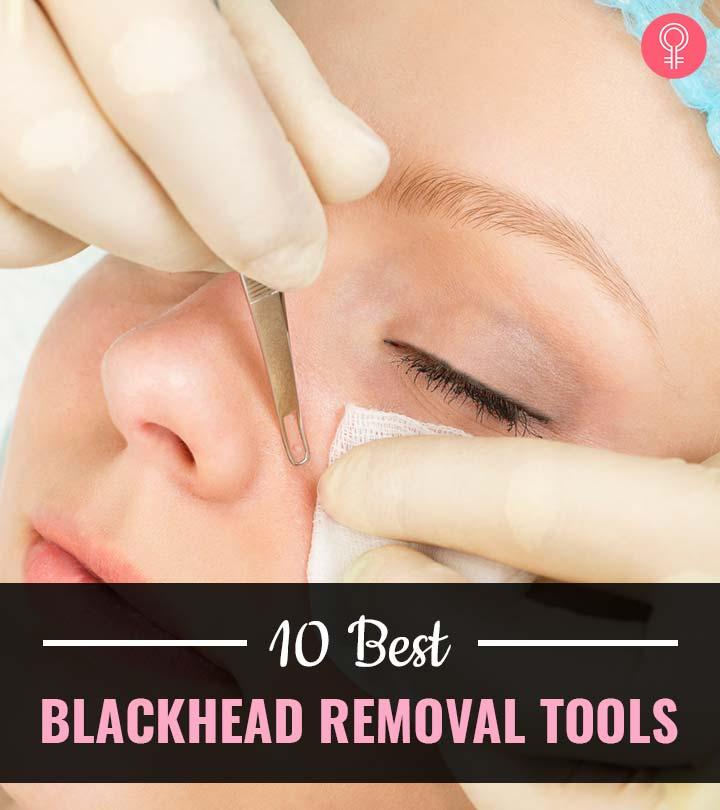 Whether you are dealing with acne or blackheads, we have what you need! All you need is the best blackhead removal tool that safely and effectively removes these pesky skin troubles. These tools help remove blackheads and pimples and maintain a healthy and youthful glow on your skin. They are made from surgical-grade stainless steel. These tools are safe, long-lasting, and kind to your skin. Cleansing and disinfection are relatively simple. These tools have ergonomic handles and curved needle tips for ease of use. These innovative designs offer gentle and comfortable ways to remove blackheads. However, the blackhead removal process requires patience and precision.
Blackhead removal tools typically come in sets. The tools feature blemish removers and comedone extractors. A blemish remover tool eliminates dead skin cells, whiteheads, dirt, and clogged pores. The comedone extractors work best on acne-prone skin, as they help clear acne outbreaks. However, make sure not to scar the skin while using these tools. It is recommended to consult a skin care professional before using these beauty tools. Most blackhead removal tool kits are available in easy-to-travel cases and are portable enough to fit in any makeup bag.
Keeping your skin healthy requires using blackhead removal tools since just washing and cleaning your face will not eliminate blackheads and acne. Here are some of the best blackhead removers on the market right now. Scroll down to take a look!
10 Best Blackhead Removal Tools Available Right Now
BESTOPE Blackhead Remover Kit comes in tin packaging that ensures the safety and hygiene of the tools. It also makes it easy to carry. This multipurpose tool kit can be used to remove acne, blackheads, and blemishes. The blackhead remover (and the other tools) in this kit is suitable for all skin types as it is made of professional-grade stainless steel coating and an electroplated needle. Its anti-slip handle offers the user precision and control over the tool. Its triangular loop and sharp needle point remove even the stubbornest blackheads without damaging the skin or causing an allergic reaction.
Pros
Multifunctional set
Anti-allergenic
Ergonomic handle
Unique package
Cons
Not very easy to use, may require some skill
JPNK Blackhead Remover Kit is made with high-quality steel. It helps extract blackheads, blemishes, and acne so that your face looks smooth and clean. The blackhead removal tool in it helps in removing dirt from clogged pores without leaving behind scars. Its anti-slip grip makes sure that you have control over the extraction process. This effective tool can be used on sensitive skin. It is easy to use and convenient to carry. This kit comes in a beautiful leather case. 
Pros
Anti-slip handle
High quality
Durable
Comes in a gorgeous leather case
Cons
The Omdeal Blackhead Remover Kit contains 7 pieces of bottleneck tools, needles, and tweezers that can be used to extract pimples, blackheads, and acne. It also helps clear your pores by removing dirt and impurities. In addition, the non-slip grip gives you better control while removing blackheads. These tools are made of stainless steel that is safe and hygienic to use. 
 Pros
Durable
Pointed needle
Comes with a pair of curved tweezers
Non-slip grip
Inexpensive
Safe and hygienic
 Cons
None
Utopia Care Professional Blackhead Remover is made with surgical-grade stainless steel. It is easy to use, clean, and maintain. It does not rust quickly and lasts for a long time. This dual-ended tool safely extracts and removes stubborn blackheads, comedones, and pimples quickly and without any fuss or scarring.
Pros
Tarnish-resistant
Made of surgical-grade stainless steel
Durable
Dual-ended
Inexpensive
Cons
May be a bit painful to use
The Seki Edge Blackhead Remover Tool is a uniquely designed stainless steel tool with two holes of different sizes on both ends to remove blackheads of different sizes painlessly. This acne preventive tool is very handy and travel-friendly as it can easily fit into your bags or even pockets. The easy-to-use tool offers a good grip to extract blackheads or pimples effortlessly.
Pros
 Easy to use
 Travel-friendly
 Safe on skin
Cons
None
The Tomata Blackhead Remover Tool Set is a 6-piece set to remove comedones, pimples, and blackheads. These are made of high-quality stainless steel that is durable and long-lasting and doesn't injure the skin. The anti-slip handle design offers a solid and comfortable grip. It removes whiteheads, blackheads, clogged dirt, and impurities. The kit comes in a leather case, making it easy to carry while traveling.
Pros
 Painless
 Long-lasting
 Made of high-quality steels
 Comes in a leather case
 Easy to use
Cons
 Might not be suitable for professional use
Rapid Vitality Blackhead Tweezer is professionally designed with a curved steel tip for easy extraction and calibrated tension for superior precision and grip. The shape aligns perfectly with your skin to remove blackheads and pimples and extract splinters without any pain. It is made with surgical-grade materials that are safe, hygienic, and skin-friendly.
Pros
Curved steel tip
Can be used to extract splinters
Good grip
Calibrated tension
Cons
A bit uncomfortable to use
Bedace Blackhead Remover Tool Kit helps pop pimples, remove blemishes, and extract blackheads quickly and easily. It is made with high-quality materials that are safe to use on the skin without any risk of infection or allergies. The professional electroplated needle helps in precise extraction, and the ergonomic design ensures good grip and exceptional control. This set comes with 12 alcohol pads.
Pros
Multifunctional
Ergonomic handle
Anti-allergenic
Comes with 12 alcohol pads for easy sterilization
Cons
None
Foamily's Professional Blackhead And Blemish Removal Tool – as the name suggests – helps remove blackheads, pimples, and blemishes. It has a premium-quality stainless steel coating that does not cause any allergic reactions on the skin. Thus, it is safe and hygienic to use for all skin types. Its ergonomic design and non-slip grip make it easy to use and allow you to maintain the desired intensity level.
Pros
Multipurpose
Non-slip grip
Anti-allergenic
Ergonomic design
Inexpensive
Cons
Not suitable for small blackheads due to the large loop
Remove blackheads, whiteheads, pimples, acne, fat grains on the nose, forehead, and cheek with this simple blackhead popper. The pack includes 2-pieces of blackhead remover tools with different sizes and angles. This popper is made of stainless steel material to prevent rust. It is durable, hygienic, and easy to disinfect. The polished extractor doesn't leave any scars on your skin and can be used on delicate skin.
Pros
Ergonomic handle
Stainless steel
Pain-free
Anti-slip
Easy to disinfect
Cons
None
The most important thing to consider while buying blackhead remover tools is whether they are the right ones for your blackheads, pimples, or whiteheads. The next section discusses the different types of blackhead removal tools and how to use them safely to extract blackheads. 
Types Of Blackhead Removal Tools 
Flat Loop: This is best suited for large blackheads. It can be pressed firmly to dislodge a blackhead without disturbing the skin around it.
Angled Loop: An angled loop blackhead remover helps remove stubborn blackheads or a cluster of blackheads in one gentle but firm scoop.
Small Loop: A small loop tool is perfect for removing the debris, dirt, and other impurities clogging the pore after removing the blackhead.
Eye Loop: The eye loop tool is precise but requires a lot more pressure and effort to remove a blackhead. It needs to be used properly, otherwise it may leave behind scars.
Spoon: This is not the most gentle tool to remove blackheads as it can bruise the skin.
Once you have selected the correct blackhead tool, it is recommended to use caution while using it. We have put together a simple guide on how to use these tools safely without any causing any injury.
How To Safely Remove Blackheads Using Blackhead Removal Tools
Cleanse Your Face: It is extremely important to cleanse your face before extracting blackheads to minimize the risk of infection. Use a gentle face wash that is suitable for your skin type. You can use a facewash specifically formulated for acne-prone skin.
Unclog Pores: Pores can be unclogged with the help of various skin care products such as clay masks, exfoliators, steam, or a warm compress. They prep the skin and open up the pores, which make it easy to remove all the dirt and impurities clogging them. You can use a clarifying toner to soothe your skin and balance its pH after this step. The antibacterial and anti-inflammatory ingredients in the toner can help calm redness or irritation if your skin is inflamed.
Extract Blackheads: Use the blackhead removal tool suitable for the type and size of the blackhead, as discussed in the previous section. Gently dislodge the blackhead. Be gentle yet firm. Keep trying to remove the blackhead from different directions without applying too much pressure. This helps in preventing bruising and scarring.
Apply Treatment: Cleanse your face with a mild facewash to remove any leftover particles or dead skin cells after the extraction process. Use dermatologically approved blackhead treatments to control oil production and soothe your skin and enlarged pores. The strong anti-blemish ingredients in the treatment help in fighting the acne-causing bacteria that lead to the formation of pimples and blackheads. 
Why Trust StyleCraze?
The author, Shiboli Chakraborti, is a certified skin care coach and understands how blackhead removal tools work. She researched many such products and carefully examined customer reviews on different online forums to zero in on the best blackhead removal tools. These products help clear dead skin cells, dirt, and clogged pores. More importantly, these wonderful tools are durable and cost-effective.
Recommended Articles