11 Best Blackhead Removers To Get Clear And Radiant Skin Easily
Get flawless skin by getting rid of those pesky little dots with the right products.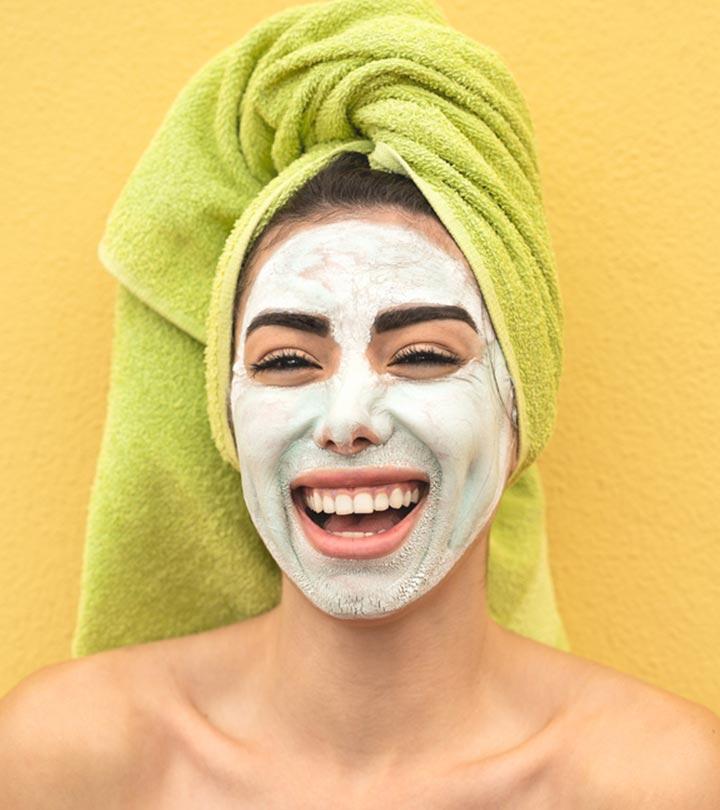 Get the best blackhead remover on the market and ditch the habit of squeezing blackheads out of your nose. While extracting the muck may be rewarding for some, it is also excessively uncomfortable and messy. Excess sebum and skin debris clog pores, resulting in blackheads. They may also cause inflammatory acne if ignored. From pore vacuums to spatula scrubbers, there are a variety of blackhead removers on the market. But haven't we had our fill of suffering? Give safe and mild blackhead removers a shot to avoid the constant squeezing and constant struggle.
Today's beauty shops are brimming with treatments that successfully eliminate blackheads without irritating the skin. Exfoliating chemicals, including beta hydroxy acids (BHAs) and retinol, enter deep into the pores to remove debris and excess oil. To help you in your search, we have compiled a list of the 11 top blackhead removers that can leave your skin clear and radiant. We are confident that you will not be dissatisfied. Scroll down.
11 Best Blackhead Removers For Radiant Skin
Here's an efficient blackhead acne remover that truly works! Its formula is powered with acne-fighting retinoid and adapalene, which regulates skin cell turnover and unclogs pores. It eliminates dead skin cells and prevents the formation of whiteheads, blackheads, and pimples. Inflamed skin will be a thing of the past with this product. It also contains glycol and purified water to retain moisture and soothe acne-prone skin. With only 12 weeks of regular use, you can see a visible reduction in acne lesions and skin damage.
Pros
Improves skin texture
Even out skin tone
Water-based formula
Oil and alcohol-free gel
Cons
May not be suitable for sensitive skin
Price at the time of publication: $13.47
Unclog your pores and exfoliate your skin with this deep blackhead removal liquid exfoliant by Paula's Choice. The formula contains 2% beta hydroxic acid, which penetrates the pores and eliminates dead skin cells and excess sebum. The salicylic acid sheds the outer layer of the skin, combatting enlarged pores and blackheads. It also contains green tea, which fights skin damage caused by sun exposure while refreshing and soothing your skin.
Pros
Paraben-free
Fragrance-free
Fights wrinkles
Hydrating formula
Combats inflammation and redness
Cons
Formula may be a bit heavy
Price at the time of publication: $34.0
Looking for a pimple and blackhead remover that is gentle while eliminating excess dirt and oil? Try this Neutrogena Oil-Free Acne Wash that is infused with the goodness of grapefruit fruit, aloe vera, Matricaria flower extract, and salicylic acid. These ingredients work together to unclog pores and clear dead skin cells. It is powered with MicroClean technology to fight blackheads while acting as an effective acne treatment. To add to this, it also contains vitamin C, which brightens skin and fades acne scars. Ideal for everyday use, you can achieve clear, glowing skin within no time.
Pros
Oil-free cleanser
Pleasant fragrance
Fades acne scars
Rich, creamy lather
Cons
May not be suitable for dry skin
Price at the time of publication: $8.68
Clear, bright skin is now no longer a dream. This power liquid formulated with betaine salicylate reduces excess sebum, reduces the appearance of pores, and eliminates blackheads, leaving you with smooth and clear skin. It contains xanthan gum and white willow bark water, which chemically exfoliates your skin by deeply penetrating the pores and unclogging them. It has no harmful chemicals, making it ideal for everyday use.
Pros
Vegan
Cruelty-free
Hypoallergenic
Dermatologist-tested
Made with natural ingredients
Free of parabens, sulfates, and phthalates
Cons
Consistency of the formula may be a bit thin
Price at the time of publication: $24.9
Are you looking for a deep cleansing blackhead remover mask that eliminates toxins and blackheads? TheTessa Naturals Dead Sea Mud Mask is what you need. Formulated with collagen, vitamin E, hyaluronic acid, and beeswax, it improves elasticity and skin tone. The secret ingredient is mineral-rich Dead Sea mud, which helps renew dead skin cells and remove impurities such as excess oils and dirt. It is also enriched with amino acids and witch hazel extract to help eliminate blackheads and acne, once and for all!
Pros
Tightens skin
Minimizes pores
Reduces wrinkles
Free from mineral oils
Cons
May not be suitable for sensitive skin
Price at the time of publication: $13.95
Are you a fan of kale products just like us? If yes, this Pop Modern OrganicFood Dead Sea Mud Mask may be the one for you. This miracle mask is enriched with kale and fights against free radicals while maintaining the skin's health. It is also formulated with jojoba seed oil, aloe vera, and green tea to rejuvenate the skin, improve elasticity, and offer an even skin tone. Are blackheads and acne troubling you? Well, not anymore! The avocado and Dead Sea mud in this formula minimize pores, remove blackheads, and eliminate dead skin cells, acne, and blemishes.
Pros
Vegan
Hydrating formula
Restores pH balance
Made from natural ingredients
Mask brush and blackhead extractor included
Cons
It may take some time to dry.
Price at the time of publication: $13.99
Bid farewell to blackheads and say hello to clean and clear skin with this deep blackhead removal scrub. It is formulated with 2% salicylic acid, which reduces breakouts and clears pores. The charcoal powder in this formula draws out impurities and purifies your skin, leaving you with smooth, glowing skin. It is also made with jojoba oil and castor oil, which provides hydration and locks in moisture.
Pros
Fights acne
Fragrance-free
Exfoliates gently
Brightens complexion
Cons
Price at the time of publication: $7.99
It is common knowledge now that glycolic acid addresses problems like pigmentation, fine lines, and wrinkles. But did you know it is also instrumental in fighting blackheads? An oil-soluble chemical, glycolic acid can penetrate the pores, eliminate impurities, and prevent blackheads. This concentrated serum also contains willow bark, witch hazel, vitamin C, hyaluronic acid, prebiotics, and probiotics, which nourish your skin, making it softer and brighter. Suitable for all skin types, it is a must-have if you dream of clear, radiant skin.
Pros
Cruelty-free
Hydrating formula
Suitable all skin types
Revitalizes skin's complexion
Free of parabens, mineral oil, and unsafe preservatives
Cons
Fragrance may be overwhelming for some
Price at the time of publication: $20.0
Are you exhausted from using painful tools to extract blackheads? Give this gentle blackhead remover a shot. It is made with 12 detoxifying herbal extracts, including aloe vera and lavender essential oils; it exfoliates the skin, cleans pores, and prevents blackheads. It also contains extracts of yellow dock root, turkey rhubarb root, sheep sorrel herb, and spirulina, which remove toxins, eliminate cellular debris, soothe inflammation, and reduce breakouts.
Pros
Sulfate-free
Cruelty-free
Fragrance-free
Natural ingredients
Restores pH balance
Non-GMO organic herbs and oils
Cons
Price at the time of publication: $39.99
Shrink pores and cleanse your blackheads in a flash with this 3-in-1 blackhead removing kit. The kit includes a peeling pore strip to remove blackheads and a pore refining serum that minimizes pores. The blackhead removal mask contains tea tree leaf oil and aloe vera to deeply cleanse your pores, remove blackheads, and moisturize your skin. The refining serum is made from tea tree leaf oil, cica, and chamomilla extracts. Together, these ingredients effectively remove acne scars and minimize pores for blemish-free skin.
Pros
Fights acne
Cruelty-free
Hypoallergenic
Organic formula
Suits oily, combination, dry, and normal skin
Cons
May leave behind a sticky residue
Price at the time of publication: $9.9
What's the first thing you need to do to get rid of blackheads? That's right! You've got to clear your pores, and the Hanskin Pore Cleansing Oil will help you do exactly that. It is enriched with lemon, glycerine, tea tree, olive oil, and jojoba oil to exfoliate the skin and gently remove blackheads. It is also powered with polyhydroxy acid, which absorbs into the skin to melt away dead skin cells, dirt, and makeup. Enjoy bright, clear skin with this cleansing oil.
Pros
Moisturizing properties
Suitable for sensitive skin
Lightweight formula
Plant-based ingredients
Retains oil-moisture balance
Cons
Scent may be a bit overwhelming for some
Price at the time of publication: $24.98
Now that you are all caught up on the 11 best blackhead removers, take a look at the things you must keep in mind before purchasing one for yourself.
How To Choose A Blackhead Remover
Here are a few tips that will help you select one for yourself.
No one magic blackhead remover will work for all. Depending on your skin type, you must choose an effective blackhead removal product. If you have oily skin, you can opt for a formula that contains aloe vera, vitamin C, or hyaluronic acid to help regulate sebum production. Both RD Alchemy Desincrustation Extraction Solution and Neutrogena Oil-Free Acne Wash are ideal for oily skin. If you have dry skin, invest in a blackhead remover that contains beeswax, jojoba oil, or tea tree oil such as the Tessa Naturals Dead Sea Mud Mask, AcneFree Blackhead Removing Scrub, and BREYLEE 3-In-1 Blackhead Removing Kit. For sensitive skin, make sure you buy a product free of parabens, sulfates, and other harsh chemicals. You can pick between COSRX BHA Blackhead Power Liquid, Pop Modern Organic Food Dead Sea Mud Mask, and InstaNatural Glycolic Acid Serum.
Physical exfoliants contain tiny grains, which eradicate dead skin cells and impurities like dirt and excess oils from the skin. These include ingredients such as clay, fine mud, and charcoal. If you have sensitive skin, we suggest you skip physical exfoliants as they may cause micro-tears and opt for a gentle, chemical exfoliant.
Chemical exfoliants control excess sebum production and prevent the formation of blackheads. They contain oil-soluble ingredients such as salicylic acid and hyaluronic acid, which remove dead skin cells, penetrate the pores, and thoroughly clean them. If you want to give chemical exfoliants a try, we suggest the AcneFree Blackhead Removing Scrub or the InstaNatural Glycolic Acid Serum.
Now that you know the various parameters to judge a blackhead remover, here are some tips on how to use them.
How To Use Different Types Of Blackhead Removers
This depends on the kind of product you are using.
You don't need a skin expert to tell you that using a cleanser is the secret to clear skin. It unclogs your pores and eliminates dirt and excess oil. Use your favorite cleanser and massage the formula in gentle strokes around your face. After which, rinse with lukewarm water and pat your face dry.
Rich in hyaluronic acid and salicylic acid, leave-in serums can be applied to skin directly. After cleaning your face with a gentle cleanser, apply a serum using your fingertips and lightly pat it into your face.
Another painless way to get rid of blackheads is with masks. They draw impurities like dirt and excess oil, leaving you with clear, unclogged pores. Simply apply a mask to a clean face and wait for 10-15 minutes before you peel or rinse it off.
And with that, you now know how to use your blackhead remover products. Here's a quick look at some precautions you need to take while using a blackhead remover.
Precautions To Keep In Mind While Using A Blackhead Remover
Here are a few things you must be cautious while using a blackhead remover
While products with beta hydroxy acids (BHAs) and retinol are great for your skin and remove blackheads effectively, make sure you don't overload your skin. These products can over-dry your skin in an effort to get rid of blackheads and may lead to further skin damage.
Several ingredients in blackhead removal products such as glycolic acid and salicylic acid tend to leave skin vulnerable to sun damage. Ensure to apply sunscreen during the day to protect skin from the sun's harmful rays.
Refined grains, sugar, and foods rich in omega-3 fatty acids leave you at risk of excess sebum production, which may lead to blackheads. So, even if you have a proper skincare routine in place, you must make crucial dietary changes if you wish to eliminate blackheads.
Why Trust StyleCraze?
Kirtana Divakar has a deep interest in skin care and loves writing about beauty and skin care products. She has curated this list of the best blackhead removers after closely reviewing all products and analyzing user reviews on multiple online forums and brand websites. The listed blackhead removers help eliminate dead skin cells and prevent the formation of whiteheads, blackheads, and pimples.
Frequently Asked Questions
Is blackhead extraction good for your skin?
Unless you extract blackheads under the supervision of your dermatologist, blackhead extraction can do more harm than good. If you plan to remove the impurities yourself, you may risk scarring and acne development.
Are blackhead removal products safe during pregnancy?
It is advisable to consult your doctor before using a blackhead remover.
Do blackhead removal products leave scars?
If you are squeezing your skin to remove blackheads, such abrasions can leave scars. However, if you are using gentle exfoliants to remove blackheads, they won't leave scars.
Can I use a toner after blackhead removal?
Yes. Once you remove blackheads, your pore size will reduce, and you can use a toner to condition and kill any bacteria in the area.
Do blackheads leave holes?
It is normal to see holes after you have just extracted blackheads on your skin. These holes are nothing but your pores that are now free of debris and dirt, leaving a small space.
Can you use blackhead strips everyday?
Use blackhead strips once a week to keep your skin free of damage and abrasion.
Does removing blackheads make pores bigger?
No, removing blackheads with approved methods such as using blackhead removers do not make your pores seem bigger. However, tugging, pulling, and squeezing your pores in an attempt to remove them may eventually make your pores increasingly bigger.
Recommended Articles: