8 Best Bleaches For The Face Available In India
Say goodbye to dull skin and unlock a glowing complexion in the comfort of your home.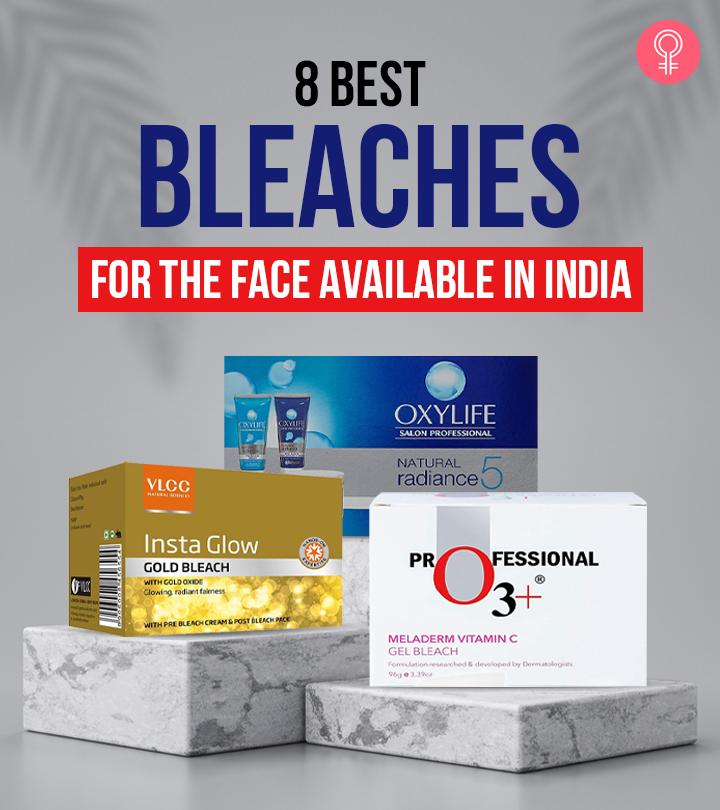 Bleaching is one of the most sought-after and easiest methods to brighten the skin. Facial bleaches have potent formulas that lighten dark spots, pigmentation, and facial hair and reduce tanning to make your face look radiant. They give you a smooth and clean look without any blemishes.
With various bleaches available online, it can be hard to find the perfect one that suits your skin needs. So, we have researched and put together a list of the 9 best bleaches for the face in India to help you achieve spotless and glowing skin. Scroll down to check them out!
Note: Before applying bleach to your face, do a patch test to prevent skin allergies and other reactions.
8 Best Bleaches For The Face In India
This Insta Glow Gold Bleach from VLCC purifies and lightens your skin to add radiance and glow to your face. It bleaches facial hair for an even-looking skin tone. It is enriched with the anti-aging properties of real gold that help fade wrinkles and fine lines, giving you a visibly younger face. Each pack of this facial bleaching kit comes with a pre-bleach cream, a bleach cream, a powder activator, and a post-bleach pack.
Pros
Easy to use
Ammonia-free
Budget-friendly
Cruelty-free
Cons
May irritate sensitive skin
The Natural Radiance5 Crème Bleach by Oxylife is a four-step bleaching routine that fights the five major skin problems – suntan, dullness, uneven skin tone, dark spots, and dead skin cells. This bleaching kit consists of a pre-bleach cream, a post-bleach serum, a powder activator, and a crème bleach. The pre-bleach cream has vitamin E that forms a protective shield over the skin, while the post-bleach serum boosts active oxygen into your skin with its OxySphere technology. The formula, powered by patented German Technology, provides you flawless skin in just 15 minutes. It brightens and nourishes your skin by giving you an instant radiance.
Pros
Easy to use
Pleasant scent
Gentle
Suitable for sensitive skin
Cons
Contains parabens, sulfates, and phenoxyethanol
Price at the time of publication: ₹9.99
The Meladerm Vitamin C Gel Bleach by O3+ Professional lightens your facial hair for an even skin tone without drying your skin. It purifies your skin deeply with the strong oxidizing properties of ammonia pursulfate in the formula. Vitamin C present in the bleach lightens blemishes, dark spots, and wrinkles while promoting collagen production. The three-step kit comes with vitamin C bleach, a meladerma activator, and a vitamin C cream. This facial bleach is peroxide-free and does not irritate your skin.
Pros
Formulated by dermatologists
Peroxide-free
Non-irritating
Hydrating formula
Cons:
Very mild effect on facial hair
This luxuriant bleach by VLCC is enriched with diamond bhasma obtained by heating and grinding tiny diamonds with herbs. It brightens your face while working as a skin purifier. The formula is infused with aloe vera, a natural anti-inflammatory agent with rejuvenating and healing properties. These two ingredients help fight premature aging and add a natural glow to your skin.
Pros
Hydrating formula
Ammonia-free
Cruelty-free
Cons
The Lacto Bleach by Nature's Essence is specially formulated to remove tan and hyperpigmentation from your face while lightening and nourishing your skin at the same time. This bleach contains both milk proteins and vitamin E extracts that contribute towards the de-tanning process without causing excessive dryness to your skin. The honey in the cream is a natural antibiotic that prevents allergies and gives you an enhanced facial glow.
Pros
Smooth application
Hydrates the skin
Ammonia-free
Cons
Looking for a salon-like glow at home? Try the Gold Ultra Creme Bleach by Fem. It gives you instant radiance in just a few minutes with its three-step routine. It is enriched with real gold dust and coconut oil that brightens your face while nourishing your skin. This is an ideal pick for any special occasion.
Pros
• Moisturizes the skin
• Irritation-free
• Dermatologically tested
• Budget-friendly
Cons
The Haldi Chandan Herbal Cream Bleach by Aryanveda helps bring back your natural glow by herbal means. It contains turmeric and sandalwood powder, rich in antibacterial and anti-inflammatory properties, that help decrease spots and blemishes and protect the skin from sun damage. This bleaching cream reduces acne and clears excess sebum and oils from your skin to give you a natural and oil-free look. It also improves blood circulation, provides anti-aging benefits, and contributes to cell repair.
Pros
Reduces dark circles
Non-irritating
Gentle fragrance
Cons
Does not bleach facial hair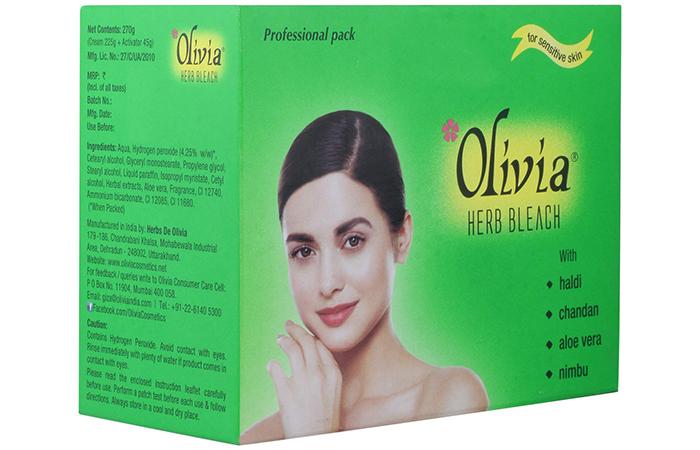 The Olivia Herb Bleach is specifically formulated for sensitive skin. It is enriched with natural ingredients like turmeric, sandalwood powder, aloe vera, and lemon that brighten your face and reveal your inner radiance. This bleach instantly brightens your complexion and lightens unwanted hair. The formula gradually fades the signs of aging and tanning. It can be used on your face and body.
Pros
Gentle
Moisturizing formula
Dermatologically tested
Hypoallergenic
Cruelty-free
Value for money
Cons
There are the best bleaches for the face available in India. Now, let's go deeper and understand how to apply bleach on your face and neck. Here is a step-by-step guide on bleaching your face.
How To Use Bleach On The Face
Wash your face and pat it dry.
If your kit has a pre-bleach cream, now is the time to apply it.
Mix the activator cream and powder, and apply the solution in the direction of your hair growth. Make sure you apply an even coat of the mixture all over your face, forehead, and neck. Do not apply it on your lips, eyelids, or nostrils.
Leave it on as per the directions on the pack.
Wash your face with regular water and pat it dry. Avoid very hot or very cold water.
If your package comes with a neutralizer, apply it to your face now.
Moisturize your face post-bleaching, as this treatment often dries out the skin.
Important: Make sure you don't expose your face to heat post-bleaching for at least 4 hours as it may irritate your skin.
Cream or powder-based bleaches de-tan and brighten your face. Here is an essential guide on choosing the best bleach for your skin that delivers maximum results.
How To Choose The Best Bleach For The Face
Choose a face bleach depending on your skin type and skin issues. Ideally, a facial bleach is recommended for the following skin issues:
Visible facial hair
Suntan
Pigmentation and dark spots
Open pores
High sebum production
Based on your skin problems, choose the right bleach that matches your skin type.
Dry Skin: Go for an oil-based or soap-based bleach that does not dry out your skin.
Sensitive Skin: Choose a milk-based bleach that does not irritate your skin. Also, look for products with fewer chemicals.
Mature Skin: Choose a facial bleach infused with anti-aging ingredients that help fade fine lines and wrinkles.
Normal Skin: Powder-based bleaches are perfect for normal skin.
Bleaches work wonders on your skin by fading dark spots and reducing suntan. They bring back the natural glow of your face while addressing additional skin concerns. Now that you are aware of the best bleaches for the face available in India, include any one of them in your skin care routine and say hello to glowing skin today!
Frequently Asked Questions
Are there any side effects of using bleach on the face?
If you have extremely sensitive skin, bleaching may cause redness, swelling, itching, dryness, burning sensation, or blisters.
How many times can we bleach our face?
It is recommended to bleach your face only once a month.
How to remove bleach from the face?
Wash your face with regular water that is at room temperature. If you are using a cleanser, use one with a mild formula.
Recommended Articles
The following two tabs change content below.