10 Best Bleaching Creams For Face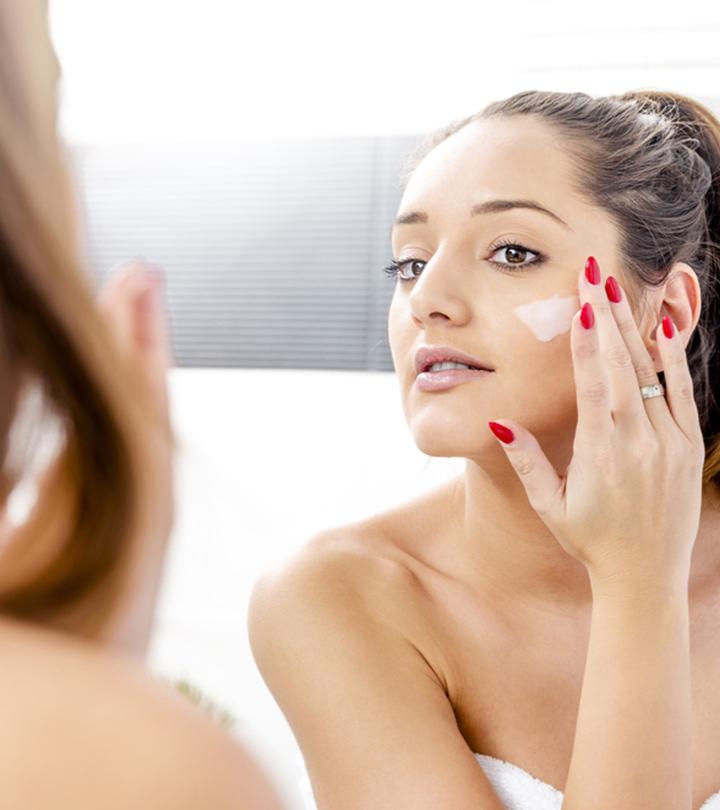 Is your skin prone to dark spots or freckles? Have you noticed an uneven skin tone or patches on your face? If you answered yes, you might be experiencing hyperpigmentation. So, is it possible to get rid of these skin concerns, you may ask? Well, yes, face lightening/whitening creams or bleaching creams are one of the best products that help mitigate pigmentation-related skin issues.
Hyperpigmentation is a normal response of your skin when exposed to the sun or when your body is experiencing hormone fluctuations leading to skin that is dull and dark. Fret not. With the help of certain good quality bleaching creams, you can achieve smooth and radiant skin. A word of caution – it is advisable to limit your exposure to the sun or use a sunscreen with SPF 30 or higher after using these creams to avoid dark patches from recurring.
We have compiled a list of 10 best bleaching creams that effectively work towards eliminating dark spots, discoloration, and scars visible on your face.
10 Best Bleaching Creams For Face Of 2021 (Reviews)
This lightening cream by PurePeaks evens out and brightens skin tone while also correcting and eliminating dark spots, acne scars, and melasma. Formulated with pure and organic plant-based ingredients, it features alpha arbutin, which is a key skin-lightening agent that works to reduce melanin production. At the same time, niacinamide helps to fight acne and reduce redness. Other ingredients such as aloe vera, vitamin C, and hyaluronic acid, work together to diminish fine lines and wrinkles, provide nourishment and give you smooth and moisturized skin. It is one of the best face lightening creams to treat hyperpigmentation and is suitable for all skin types.
Pros
Can be used on neck, arms, underarms, elbows, and intimate areas
Improves skin texture and evens skin tone
Lightens scars and dark spots
Moisturizes and nourishes the skin
Suitable for all skin types – from combination to oily skin
Cons
It is a potent product and may cause minor skin irritation for people with sensitive skin
No products found.
What's not to love about this brightening cream that includes powerful ingredients yet is gentle enough to be used on sensitive areas? First off, it features skin brightening ingredients such as 4-butyl resorcinol (potent hypopigmentation agent) and α-arbutin that gives you even-toned skin. This formula also nourishes and moisturizes your skin, thanks to the addition of niacinamide. It is suitable for all body parts – face, intimate area, underarms, neck, back, legs, and elbows. It is the best bleaching cream for dark skin.
Pros
Improves skin tone
Moisturizes skin
Effectively reduces stubborn spots like freckles and melasma
Suitable for face and body
Cons
May make your skin dry
People with sensitive skin are recommended to do a patch test first
Caution: This cream is not recommended for pregnant and breastfeeding women.
Brighten your complexion instantly with Jolen Creme Bleach! All it takes is 10 minutes to give you results that last for up to 1 month to 6 weeks. This cream bleach is mainly used as a facial bleach that lightens unwanted hair on the upper lip, chin, cheeks, and also sideburn areas. Essentially, this lightens the facial hair to blend with your natural skin tone, which, in turn, makes your skin tone even. It can be used to minimize noticeable hair on the arms, thighs, back, and stomach. This is the best face bleaching cream for body and powder combo comes with a mixing cup to mix the bleach before application.
Pros
Lightens facial hair
Brightens complexion
Gives results in 10 minutes
Includes mixing cup
Contains aloe vera to soothe skin
Cons
Some people may not like the strong odor of bleach 
Featuring two essential ingredients that helps lighten skin and evens skin tone, Protégé Luminate Premium Skin Lightening Cream is one of the best bleach creams for face. The 2 key components are kojic acid and alpha arbutin that work together to help eliminate melasma, hyperpigmentation, and acne scars. This antioxidant-rich formula seeps into the skin and diminishes dark spots. Furthermore, it prevents spots from reappearing and stops skin darkening pigments from forming. If used daily, as recommended, expect visible results in 6 to 8 weeks.
Pros
Clinically-tested and proven formula
Can be used on face, neck, decollette, knees, armpits, and intimate areas
Suitable for all skin tones
Includes anti-aging benefits
Reverses skin damage caused due to sun exposure and pollution
Free from hydroquinone and other harsh chemicals
Cruelty-free
Cons
Say hello to radiant, glowing skin with VLCC Insta Glow Diamond Bleach. Enriched with Diamond Bhasma, this bleach purifies the skin, removes dead skin cells, and tan effectively. Aloe Vera hydrates the skin, making it soft and smooth. It lightens facial hair to match your natural skin tone perfectly for an even-toned appearance. It gives a bright and healthy skin tone after a few uses.
Pros
Instant results
Can be reapplied to achieve desired results
Can be used on the body and face
Cost-effective
Cons
Might cause a burning sensation on initial application
The Pearl Bright Skin Whitening Cream provides effective skin whitening for all skin types. It is formulated using 4% alpha-arbut in, which is supposed to be safer than the more commonly used kojic acid. It provides gentle bleaching that nourishes the skin and prevents damage. The formula also contains multiple powerful ingredients, such as licorice, citric acid, aloe vera, and lemon essential oil. They help the skin fight visible signs of aging and restore elasticity within a few days of use.
Pros
Suitable for all skin types
Provides anti-aging benefits
Moisturizes the skin
Cons
The Intilight Skin Lightening Treatment brightens, protects, and repairs all skin types. It is an effective formula enriched with hydroquinone, jojoba seed oil, apricot kernel oil, and hyaluronic acid that moisturizes the skin while fading dark spots, discoloration, hyperpigmentation, acne scars, and melasma. It lightens and even tones skin up to three shades lighter in six to eight weeks. It is safe to be used on the face and other sensitive areas of the body for all skin types.
Pros
Suitable for all skin types
Can be used on sensitive areas
Works for all skin tones
No harsh chemicals
No fragrance
Cons
None
The GiGi Gentle Bleaching Cream can be used for facial, legs, and arm hair. It lightens unwanted hair to an almost invisible skin tone shade. The pack contains a bleaching cream, cream activator, and an instruction booklet so that you can use it the right way. It is safe and easy to use.
Pros
Safe to use
Easy to use
Gentle on the skin
Cons
Might have an unpleasant smell
The Skin Pro Ultra Bright Lightening Cream is a dark spot corrector for the face and body. The formula is infused with 2% hydroquinone that helps fade skin discoloration and lighten dark patches caused by hyperpigmentation. It revitalizes and rejuvenates the skin, whitens uneven skin tone for a clear and bright appearance. This cream is also effective for melasma, age spots, sun spots, freckles, and liver spots.
Pros
Suitable for all skin types
Brightens skin upto 7 shades
Fast-acting results
Cons
Magiclear Luxury Dark Spot Corrector is a toner formula that removes dark spots and corrects hyperpigmentation. It lightens and brightens dark skin, fades hyperpigmentation and melasma, making the skin spot-free, clear, and glowing. The moisturizing properties of this product smoothen and soften the skin, giving it a healthy appearance. It is suitable for all skin types and can be used throughout the body.
Pros
Suitable for all skin types
Gel-like toner
Fast results
Can be used in all body parts
Unisex product
Cons
If you are still unsure about which bleaching cream you prefer, here are a few points you must consider.
Buying Guide Of Best Bleaching Cream For Face
A Guide To Choosing The Best Bleaching Cream For Face
The main function of a skin bleaching product is to inhibit the production of melanin and get rid of unwanted blemishes and scars. But before you decide to invest in one and make it part of your skin care routine, we would recommend you go through the following factors:
When purchasing a bleaching cream, it is important to read through the list of ingredients at the back of the bottle or box. These creams are generally made using a combination of natural ingredients and active chemicals, and not all of them suit every skin type. Look for creams that use natural skin lightening agents such as alpha arbutin or kojic acid, along with soothing ingredients like aloe vera or vitamin C. You may notice that a few products may include hydroquinone as a skin lightening ingredient – it is not harmful as long as the cream does not contain it in a high concentration. Also, ensure the formula does not contain toxic or harmful chemicals that may cause damage to your skin.
Not all bleaching creams are suitable to treat all skin concerns. While they are specially designed to reduce the appearance of pigmentation, these formulas can also be used to help with other concerns such as age spots or acne scars. So identify the skin concern you want to target and choose a cream accordingly.
The price of the product should always be taken into account. If you know your budget, it gets easier to pick a product.
It is always advisable to follow the direction given on the packaging.
Cleanse your face with a face wash to get rid of dirt and impurities.
Make sure your face is completely dry.
Apply an appropriate amount of cream on your face.
Massage the cream gently with your fingertips until fully absorbed.
Some bleaching creams need to be washed off after 10 to 15 minutes of application.
Tips To Consider While Using Bleaching Cream
Do not apply the cream on wounds or rashes, as it may further irritate your skin.
Do not step out in the sun after using bleaching cream. This formula makes your skin photosensitive, which means you could burn your skin easily. If at all, you have to step out, always apply a sunblock with high SPF.
Some bleaching creams are not suitable for pregnant or breastfeeding women. Always consult a doctor if you plan to use it.
Remember to wash your hands before and after use, unless you are using it on your hands.
Side Effects Of Bleaching Creams
Almost all products have side effects. Here are a few side effects that bleaching creams could cause.
Dry skin
Redness
Itching
Allergic reactions
Swelling around the eyes
Skin turning bluish-black
While the side effects for the products mentioned above may be rare, consult a doctor immediately if you think any of the side effects trouble you or don't go away in a day or two.
The right bleaching product should suit your skin while also delivering desired results. We have put together a list of 10 of the best facial bleaching creams available in the market. We hope this makes your search easier and you are able to find the best one that matches your needs. Let us know your experience if you try any of these 10 best bleaching creams for the face. Just drop a comment below and we will get back to you.
Recommended Articles