9 Best Blender Food Processor Combos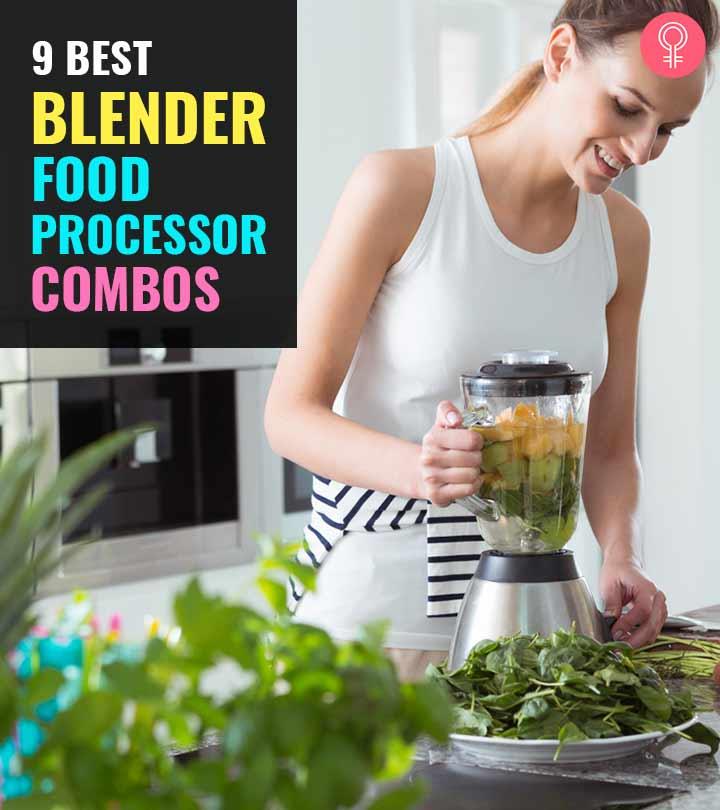 Are you fed up of cluttering your kitchen cupboards with multiple appliances that perform only one function? One to make your breakfast smoothie, one to grind the coffee, and one to chop up veggies or make sauces – the storage struggle is real. If this describes you, it is time to consider investing in a blender food processor combo. Make your life simpler and your cooking experience so much more enjoyable!
But with so many options on the market, finding the ideal product could be a challenge. To make your job easier, we have listed the 9 best blender/food processor combos. Check them out.
9 Top Blender Food Processor Combos
The Ninja Mega Kitchen System is a 2 horsepower, 1500-watt appliance. This blender can easily crush loads of ice into small smoothie bits. It also includes an XL 72 ounce total crushing pitcher, an XL 8 cup food processing bowl for making dough and chopping vegetables, and 16 ounce Nutri Ninja cups. The combo features a 3-speed system that can also pulse.
Features
Bowl Capacity: 8 cups/64oz
Weight: 9.2 pounds
Power: 1500 watts
No of Jars: 4
Pros
Accessories are BPA-free
Dishwasher-safe
Easy to clean
Cons
Separate Nutri Ninja cups not easily available
Shredding cheese needs a separate accessory
May cause noise
The Braun 12 in 1 Multi-Functional Food processor, with its cutting-edge technology and multiple blades, makes this food processor an all-in-one investment for your kitchen. This compact food processor comes with 2 bowls of different sizes, a 600W power outlet, and seven blades which lets you shred, slice, and knead an assortment of different food within minutes, thus saving you electricity and time. The food processor is also designed to make less noise and has adjustable speed control which let you achieve consistent chopping with minimum effort.
Features
Bowl Capacity: 12-Cup and 0.75L
Weight: 13.67 pounds
Power: 600 watts
No of Jars: 2
Pros
Anti-slip bottom
Leak-resistant
Has a safety lock system
Less sound
Fast chopping
Different sized blade
Cons
The SharkNinja Professional Kitchen System is a heavy-duty appliance with a power of 1200 watts. It includes a large 72-ounce blender pitcher, a 64 oz food processor bowl, a dough blade, one 18 oz. Nutri Ninja Cup, one 24 oz. Nutri Ninja Cup, and two spout lids. The base of the appliance has suction cups that help keep the device in place. The pitcher and processor have locking lids for safety. The blades of the pitcher go about two-thirds to the top, so you don't have to stop to stir its contents repeatedly. The blades are so sharp that they will turn your smoothies smooth and creamy. This blender is also very easy to clean – you just need to slide your blades out. The containers, attachments, lids, and blade assemblies are all dishwasher-safe. 
Features
Bowl Capacity: 64 oz.
Weight: 9.88 pounds
Power: 1500 watts
No of Jars: 4
Pros
All parts are made with BPA-free plastic.
Easy to clean
Has suction cups for stabilizing base
Has safety locking lids
Cons
May cause noise
Expensive
The Cuisinart Velocity Ultra Trio Blender/Food Processor has 1 horsepower motor that equals 746 watts. It has a 56 oz BPA-free Tritan plastic jar, a 3-cup attachment with feed tube and pusher, a stainless steel chopper blade, and a slicer cum shredder disc. It has pre-programmed functions for crushing ice and smoothies. It has a slip-proof bottom that keeps it from moving while in use. It also has convenient push-in cord storage, and a 2 oz measured pour lid.
If you want to make smoothies or you generally process small amounts of food, then this processor is ideal for you.
Features
Bowl Capacity: 56 oz
Weight: 11 pounds
Power: 1 HP (746 watts)
No of Jars: 4
Pros
Tritan BPA-Free plastic
Reasonably priced
Easy to clean
Cons
Small processor bowl
Travel cup lids difficult to remove
Oster Blender comes at a reasonable price. It has 1200-watt power. You can use the blender and food processor interchangeably as its processor attachments, glass jar, and smoothie cup are heavy-duty. The blender blade is 3.5 inches wide. It also comes with a Dual-Direction Blade Technology, which enables you to blend forward and reverse for better, smoother results.
The blender is equipped with 7 different speeds for blending various kinds of food.  It has 3 pre-programmed settings for smoothies, milkshakes, and salsas, and a pulsing option that enables you to chop and grind. The Oster Pro package includes one 6-cup Boroclass glass jar, a BPA-free 5-cup food processing bowl, a 24-ounce Blend-N-Go cup, one stainless steel chopping S-blade, and a slicing/shredding disc. It comes with 900-watt power for crushing ice. 
Features
Bowl Capacity: 5 cups
Weight: 13.4 pounds
Power: 1200 watts
No of Jars: 3
Pros
Versatile appliance
Long-lasting
Heavy-duty glass blender jar
Dual-Direction Blade Technology for better results
Cons
Food may stick to the smoothie cup
May cause noise
The Nutri Ninja Personal And Countertop Blender offers Auto IQ technology, which features timed, intelligent blending programs. It has an XL 72 ounce jar that can pulverize ice within seconds. Its extractor blades can easily break down vegetables, whole fruits, and seeds for maximum vitamin extraction. It has 1200 watts/2 hp performance power. It includes 18-, 24- and 32-ounce cups with spout lids. 
Features
Bowl Capacity: 72 ounces
Weight: 10.1 ounds
Power: 1200 watts
No of Jars: 4
Pros
Auto IQ technology for better performance
BPA-free plastic
Easy to clean in a dishwasher
Cons
Not long-lasting
Leakage issues
Black & Decker is a budget food processor and blender. It includes a 500-watt 10-cup capacity unit with an easy-to-use wide mouth feed chute. It has a simple yet safe locking system and a 3-speed system with soft-touch Mylar buttons. The base of the blender has a hidden cord storage space and suction cup feet. The unit includes a chopping blade, a blender jar attachment, and a slicing/shredding disk. 
Features
Bowl Capacity: 10 cups
Weight: 8 pounds
Power: 500 watts
No of Jars: 1
Pros
Affordable
Easy to clean
Acceptable noise level
Cons
Does not blend ice very well
The Hamilton Beach Wave Crusher Blender System is a super affordable unit. Though it doesn't have the power that other high-end models have, it can do a decent job. This appliance comes with a 40 oz glass blender jar, a 20 oz travel bottle for beverages, and a 3-cup food processor bowl. It has a wave crusher system and 14 blending functions, all powered by 700 watts. You also get a reversible slicing/shredding disc and a chopping S-blade. 
Features
Bowl Capacity: 3 cups/40 Oz
Weight: 7.7 pounds
Power: 700 watts
No of Jars: 3
Pros
Affordable
Easy to clean
BPA-free
Cons
May cause noise
Not suitable for blending large ice cubes
The KitchenAid 13-Cup Food Processor is made with stainless steel. It has an all-in-one storage unit making it an efficient and functional addition to your kitchen. The food processor is equipped with an adjustable slicing disk and a multipurpose blade that let you adjust the thickness of the chopping according to your preference. With its 13 cups capacity and one-click bowl assembly, this food processor lets you chop, shred, mix, and knead a variety of food items and significantly reduce your food prepping time.
Features
Bowl Capacity: 13 Cup
Weight: 9.7 Pounds
Power: 500 watts
No of Jars: 1
Pros
Easy to clean
Comes with a storage caddy
Adjustable slicing
Reversible shredding
Twist-free assembly
Dishwasher-safe
Cons
These are the top 9 blender food processors available online. In the following section, we have listed what you need to look for in a blender food processor before making a purchase.
What Should I Look For When Buying A Blender Food Processor? 
Size: Everyone doesn't have a huge kitchen. Hence, for smaller kitchens with limited storage space, a lot of the units won't be suitable. For small kitchen owners, an appliance that can be quickly taken out and used could work best.
Bowl Capacity: Food processor bowls usually have a capacity of 3 to 10 cups. The capacity you want depends on what you need your appliance to do.
Blades: The S-shaped blade, also known as the Sabatier blade, is a standard blade that comes in food processor units. It can make nut butters, hummus, salsa or pesto. Some units come with extra discs or blades in the box, while others would need you to purchase them separately. Even budget food processors typically offer a slicing disc that doubles up as a grater.
Ease of Cleaning: Are the parts dishwasher-safe? Make sure the appliance is easy to be cleaned to avoid any hassles in the future.
Power: Those needing a dough mixing function should opt for processors with wattages above 700. A unit with low power can still perform most functions a high powered appliance can, but it may end up burning its motor or dull the blades. Choose an appliance with a higher wattage, if possible, for added safety.
Functions: This refers mostly to speed settings. Almost every appliance has a pulse setting that works in a similar fashion. You may go for a device that has functions that suit your needs.
BPA-Free Material: Ensure all the plastic parts of the device that will come in contact with food are BPA-free.
Accessories: Don't worry about the accessories too much. If the actual unit isn't good enough, the parts that use its functions wouldn't be any great either. Some food processors may not perform a certain function, for example, making dough, without you having to purchase an extra piece. Hence, focus on getting a unit that does what you need it to right out of its box.
Controls: Don't jump at buying an appliance with several controls that look fancy. You will end up using just the basic controls unless you are a pro chef. Hence, don't break your bank unnecessarily.
Safety: Units that have accessories that get automatically locked or don't start unless locked properly could be lifesavers. They can protect you from accidents. Ensure your appliance comes with all the important safety features.
Is There A Difference Between A Blender And A Food Processor?
Yes, the two types of appliances have certain differences. They are as followed.
Blenders have a very powerful motor and short blades. They mostly work on liquids. Hence, blenders are also known as liquidizers. Food processors, on the other hand, mostly work on solid food items. They have different attachments and blades. They also have a slower motor than blenders do.
Food processors can be used to grind dry ingredients, but blenders only work after you add a liquid inside the container. Hence, food processors are more versatile.
Food processors are generally bulky and stubby while blenders appear longer. .
Food processors can grate vegetables and even cheese, while a blender will not be able to grate a food item.
How Do I Know What Size Food Processor To Pick?
From tiny, 3 cup choppers to large 20 cup versions, food processors come in all sizes. What size is suitable for your personal use depends on the number of people in your family that you cook for or the recipes you will prepare with it. If you have a family of four, a 10 cup size processor should be enough. If you need to chop little amounts of nuts or herbs or make and store small amounts of sauces and dips, you may get a unit that includes a small blade and a work bowl.
This is our list of the best blender food processor combos available on the market. If you select the right one for your use, you will have everything you need for a very long time. Some of the more flashy looking, high-end choices may not be what you require, and some of the more inexpensive ones may only serve your kitchen needs partially. With all these options to choose from, you will never find cooking a tiring task ever again. Happy cooking!
Expert's Answers for Readers Questions
Can I make smoothies in a food processor?
Yes, a food processor can give you awesome smoothies – and the more power it has, the more blended the smoothie will be. You can even add ice to your smoothie and get it crushed and blended in a food processor.