Guide To The 13 Best Blenders For Ice Crushing in 2020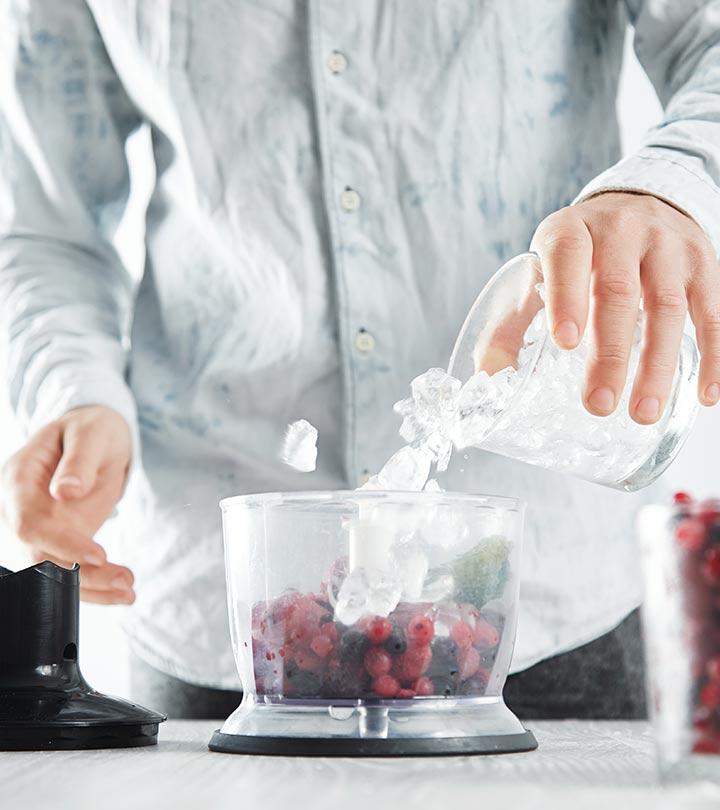 Whirr.. Whir.. Whi.. Looks like your blender is having a tough time crushing the ice for smoothies. You need to buy the best blenders for ice crushing if you need great results. Now, ordinary blenders might not prove to be efficient and nobody likes a smoothie when there are unintentional lumps of ice or fruit that are still floating in the glass. We can all agree that without the right consistency, it is impossible to enjoy a good drink. So, maybe it is time for an upgrade.
There are hundreds of blender options in the market which can be quite overwhelming. But making a smoothie is no rocket science, and selecting a blender should not be either. To help you out, we have made a list of the 13 best blenders for ice crushing. Be it crushing ice for smoothie, cocktail, mocktail, or even your regular protein shakes, these blenders are sure to get the job done.
13 Best Blenders For Ice Crushing You Can Find In 2020
First on our list is Ninja's sleek-looking countertop blender that has proved itself over and over again that it can crush through those frozen ingredients in seconds. They make blending very convenient all while giving you the consistency that you are looking for. It does not matter if you are using it twice a day or once every few days, they still perform exactly the same. And, this is the reason why Ninja is considered as one of the best in the industry. Now, let your whole family enjoy a glass of cold smoothie that they are waiting on.
Features
1000 watts of efficient power
Specially designed blades for great consistency
64-ounce maximum liquid capacity on its 72-ounce pitcher
6-blade assembly for faster ice crushing
4 manual speed levels for total control
Pros
Crushes ice for that bar-style drinks
Can also be used to make a purée, salsa, dressings, and much more
Easy-to-clean
Large-capacity pitcher to blend in large quantity
Cons
The pitcher is made of plastic.
Crushing ice cubes should be as easy as just pushing a button and surely, Hamilton Beach agrees with that statement. With over 100 years of experience in the cooking innovation, Hamilton Beach has provided some of the finest high-quality home appliances to make cooking easy and fun. You don't have to keep stirring while blending anymore; Hamilton Beach uses their patented Wave~Action System that forces the ice cubes down into the blades without spinning and splashing them around the walls of the jar. The blades have been performance-tested by blending 8,000 frozen drinks and crushing up to 2 tonnes of ice to ensure durability and your peace of mind.
Features
Powerful 700-watt motor
Patented Ice Sabre blades for easy ice crushing
Comes with a 40-ounce glass jar
14 blending functions
Pros
Consistent, smooth results
Spout for mess-free pouring
Easy cleaning
It can be used to whip, purée, grind, crush, grate, stir, and much more.
Cons
Might have difficulty blending frozen fruits
Looking for a blender to crush ice for that special frozen dessert you are planning on making this weekend? Made in North America, this classic series of the blender from Oster could be your go-to appliance for all your blending needs. Their Reversing Blade Technology ensures the maximum crushing capability. This feature allows their expertly designed Crush Pro 6 Blade to alternate between forward and backward directions so that the frozen food is continuously pushed downwards to crush through any leftover chunks. You can control the pace of the blades with their 7-speed feature.
Features
Backed by their All-metal Drive for the high-quality product
Powered up to 1000 watts but blends steadily at 600 watts
The jar is made from shatter-proof 6-cup Boroclass glass.
The filler cap comes with a built-in marking to measure your ingredients while blending.
It comes with Pre-Programmed Smart Settings Technology to relieve you from the blending option guesswork.
Pros
BPA-free
Back-lit buttons
Has a 16-inch cord
6-point designed blades to crush those ice into snow
Dishwasher-safe for easy cleaning
Built and tested to last up to 10,000 smoothies
The reverse blade technology does not allow the blades to be jammed.
Cons
Might be a bit on the louder side
Top off your favorite cold coffee with some crushed ice by using Cleanblend 3HP Commercial Blender. This high-performance ice crusher blender also helps you in making some healthy and delicious drinks for your complete family. The BPA-free pitcher retains all the vitamins and nutrients on your food and does not leave anything behind. Made from food-grade hardened stainless steel, the blades pulverize those thick ingredients that other blades may find difficulty in doing so. Those powerful blades have the horsepower you need to make a mix, purée, and more.
Features
1800-watt motor
6-blade system configuration
Variable speed controllers with pulse feature
8-blade sealed ball bearing for extreme performance satisfaction
The 9-in-1 functionality of the blender replaces your coffee grinder, juicer, ice cream maker, meat grinder, and few others.
Pros
Chemical-free plastic jar
Ideal for everyday use
Butter-smooth results
Can handle any household, professional, commercial, or heavy-duty activities
Cons
Since the pitcher is quite long, it might wobble on the blender.
Out of crush ice for your margarita? You don't have to fret. Instant Ace Nova is here to save the day! Just add some ice cubes and water to the jar and hit that dedicated Crushed Ice button. Voila! Just like that, your crushed ice is ready in minutes. If you are hosting a party at your home, this food processor makes the meal prep feel like a cruise. This versatile 9-in-1 blender can not only crush, grind, and blend but it can also prepare a variety of dishes — from making a bowl of hot soup to making ice cream.
Features
Uses 1000 watts for blending and 800 watts for heating soups
8 customizable controls with built-in Smart Program function
Control the momentum with 10-speed manual settings
Provides flexibility with their one-touch control feature
See real-time temperature on the display
Blades run at a 25,000 RPM to pulverize thick ingredients and in large numbers
The Delay Start option can be used to delay the start by up to 12 hours and the automatic heater keeps the food warm up to 2 hours.
Pros
Easy-to-use
ETL-certified
Can blend nuts or oats for a dairy-free milk
It has concealed heating elements to cook hot soups without puréeing them.
Cons
You need to hand wash it since you can not submerge it in water due to its heating elements.
If you need an ice crushing blender that can also make large batches of frozen drinks or smoothies, then HomeGeek Blender is a superb choice that you should be considering. Once you start using it, there is no going back. The blender makes cooking easy and pleasant, even if it is for your day-to-day use. If you are a working person, then you know having that extra time in the morning can be life-saving. And, the high-speed vortex blending function on this machine can blend through any ingredients in minutes so that you can get other things done. Hankering for a hot soup? The friction from the blade prepares soup for you in under 10 minutes. And, when the time comes to clean, you can just add soap water and blend for about 5 to 10 seconds.
Features
8-speed control
4 pre-programmed buttons
Has a meticulously-designed stainless steel blades
Operates between temperatures ranging from 68°F to 228°F
The jar has a volume of 72-ounce and is made from thicker Tritan material.
Pros
BPA-free
Easy-to-wash, Dishwasher-safe
Great options for gifting to someone
Has a built-in pre-programmed Ice Crush, Smoothie, Grind, and Pulse buttons
Adept in making hummus, curry pastes, cocktails, and baby food just to name a few
Cons
Slight odor during the initial use
Beat the heat! — Isn't that how the saying goes? It is that time of the year when the heat makes you not want to step outdoors and all you want to do is sit back and sip on frozen drinks all day. Don't worry, COSORI has you covered. The 3-edge blade on their compact C011-PB High-speed blender lets you turn the ice cubes into snow without any trouble. Additionally, the high-torque power base can chop and dice all fruits and vegetables.
Features
Packs with 800-watt power motor
Highly-efficient 23,000 RPM motor speed
Hardened steel blades to chop, dice, and extract all kinds of elements
The operation is safe with an interlocking system and a suction-cup base.
It comes with an 18-ounce Tritan travel cup with a lid that you carry anywhere with you.
Pros
UL-certified
BPA-free material
Secured with overload and overheating protection
Make it easy with "Auto Blend". Ingredients will be blended in 3 seconds with a 1-second break.
Cons
The lid on the jar can prove to be tight in some situations.
Are you always low on time in the morning and you need a drink to on-the-go? Considered as one of the best personal blenders for ice crushing, this high-powered 700-watt blender can make you an ice-cold smoothie in seconds. Just add some fruits and ice cubes with water and blend away. The ultra-sharp blades will completely crush the fruits and ice with a blink of an eye. And the best thing? You don't even have to pour it in a different cup. It comes with a travel cup to make it all the more convenient.
Features
Copper body for durability
Heat dissipation bottom
Prevent-ejection locking
It is an upgraded 2020 multifunctional blender for making smoothies and chopping your vegetables easily.
Pros
Dishwasher safe
One-button operation
BPA-free product
Non-slip sucker feet
Leak-proof sealing lid
Can blend all kinds of coffee beans and nuts 
Cons
You will need to hold down the blender to stabilize it
When it is a question of versatility in blenders, Aicok always lands in the list for top blenders. Their blender is designed to solve all your blending problems. Especially when it comes to your ice needs, the 6 high-quality, stainless steel blades powered by the 1400-watt motor can provide you with your desired results in a very short span of time. They are made to crush the toughest ingredients like ice, frozen fruits, and nuts. With their 70-ounce pitcher, you can make smoothies for your whole gang. You don't need to stop at making smoothies, you can even make hot soup, frozen desserts, shave ice, baby food, and so much more!
Features
7 precision speeds include 3 pre-programmed settings
Has a Pulse function
Blades can generate heat through friction to cook your soup under 5 to 6 minutes.
The pitcher creates a vortex and pulls the mixture down towards the blades for smooth textures.
It has a safety snap on top of the base so that when the pitcher is removed, the blender will automatically stop spinning.
Pros
BPA-free pitchers
Drop tested to ensure your safe use
You can use the Pulse feature for easy cleaning
Cons
The lid can get tight after use.
Kids have a craving for snow cones all the time, don't they? But as a parent, you are probably apprehensive about buying it from stores. So, why not make it at home? KitchenAid K150 blender is backed by a robust motor and blades to crush ice in less than 10 seconds. While you are at it, you can make it healthy by adding some fruits for that extra oomph. This way not only can you quench your kid's cravings but also keep them healthy.
Features
3 different speeds with specially-designed ice-crush settings
In-built Intelli-Speed Motor Control to maintain an optimal speed depending on the content added.
Asymmetrical blade designs for blending food in 4 distinct angels.
Soft Start Feature allows the motor to start slowing and gradually gain speed to avoid splattering.
Pros
Easy-to-clean
The pitcher is made from hard plastic.
It has a compact design to fit in most cabinets.
Cons
The blender base is heavy.
In the earlier days, when you needed crushed ice for your drinks, you had to wrap those ice cubes with a cloth and bang them on the table until they are crushed (or until you give up because it is just too much trouble). You don't have to do that anymore. All you need is a BioloMix Professional commercial blender for ice crushing. It is expertly designed to crush ice and make those delicious smoothies you need. It gets through with even the toughest blending activity with ease.
Features
6 metal-drive stainless steel blades
2200-watt motor to spin the blades up to 45000 RPM
The 70-ounce pitcher is heat-resistant
Variable speed control knob with Pulse
Pros
The motor has a built-in feature that does not allow itself to overheat.
Easy-to-clean; just add some water with detergent and turn on the blender for 30 seconds.
Cons
If you are in the market for a good blender for ice crushing, then you might have definitely heard about blenders from IKICH. They are one of the most trusted brands for home appliances like coffee makers, toasters, electric kettles, and other products to begin with. With IKICH, their complete blending system focuses on giving a smooth and even blend for that flavor-packed ice-cold smoothie. The motors on the blenders are very robust and do an impeccable job blending your ice cubes, frozen fruits, and all your greens.
Features
1000-watt motor power for rotating the blades up to 22000 RPM
8-blade system is made from food-grade and stainless steel material
The cooling system at the bottom depletes the heat quickly to keep the machine safe.
The vacuum pump on the back helps in taking away all the excess air to avoid oxidation.
The Smart Recognition System senses the type of attachment being used on the base and displays a menu with pre-set programs exclusive to that equipment. 
Pros
Compact design lets you store easily
Rechargeable with the USB cable at the back
25-ounce portable bottle with spout lid for you to carry wherever you want.
The arrows on the jar indicate the direction it needs to twist to properly lock-on to the blender.
The pitcher has 3 assembly ways and the bottle has 2 assembly ways to match your cooking style.
Cons
Might have difficulty while locking the pitcher on the base.
This is one of the top-rated blenders for crushing ice and is preferred in many households. Their innovative and advanced technology is sure to make your life easier. How is that you ask? It has 3 preset modes that can crush ice, make smoothies, and heat your soup, all in just this one appliance. It features a 1400-watt and 2.25 horse-powered motor blender for that fine texture you always wished for. No wonder why it is regarded as a great option for prepping breakfast and dessert.
Features
BPA-free and ETL-certified
Has an in-built Overheat Protection feature
6 stainless steel razor-sharp blades to breakdown any ingredient
Temperature Limiter (Circuit Breaker) with Auto-Reset Function
Adjustable speed with pulse
The 8-in-1 multifunctional blender can crush ice, make frozen drinks, milkshakes, cold coffee, soybean milkshake, and so much more.
Pros
Powerful motor that can attain 34000 RPM
Removable parts of the blender are dishwasher safe
Heat, chop, grind, blend and emulsify — everything and anything you want
It has a soft knob that can be used anytime while blending to take control.
It comes with a 72-ounce Tritan pitcher to make drinks for the whole family.
Cons
Now that you have seen our list of best blenders for ice crushing, you know that there are so many factors that you need to consider while buying a strong blender for ice crushing that will meet your requirements. Read our buying guide to know exactly how you can choose the right one.
Ice Crushing Blenders – Buying Guide 
Features And Factors To Consider When Buying A Blender For Crushing Ice 
Power: Without the right amount of power, achieving the desired results is a monumental task. Especially when you are trying to crush ice or any other tough ingredients like frozen fruits or nuts. The blender needs to have a minimum of 1000-1500 watt power to process these ingredients with ease.
Motor Speed: The blender needs to have a high-speed motor so that it can create a vortex to pull the ice cubes down towards the blades for that consistent crushed ice quality. Reaching such high speeds can cause the motor to overheat and reduce its lifespan. So, it is of utmost importance that the motor also has protection against overheating to avoid unnecessary problems.
The Jar: Jar is an important accessory and in fact, a lot of the blenders on this list can make hot soups and ice-creams with the same equipment. For this exact reason, the jars should be thick and durable to endure the different temperatures and should be constructed with Tritan BPA-free material so there are no chemicals released during the process. And, depending upon your usage, you can choose the size accordingly.
Crusher Settings: Some blenders tend to make work easy for you by adding a pre-programmed button for crushing ice. If having a dedicated button is a prerequisite for you, then you should look for blenders that crush ice with this one-touch user experience.
The Blades: Just like power and motor speed, having the right kind of blade is extremely important. They are the holy trinity of blenders. It is preferable to have blades that are made from heavy-duty stainless material. When it comes to the number of blades, the more is merrier! Having multiple blades means you can crush, blend, and grind in different directions without letting any ice cubes escape.
Noise and Performance: Every time you are making a smoothie in the middle of the night, you wouldn't want your neighbors to know about it, isn't it? So, it is very critical that your ice-crushing blenders have motors that can perform efficiently all the while keeping the noise limited. Unless of course, you are trying to wake your neighbor up.
The Type: Choosing the right type of blender can be overwhelming because there are so many — countertop, portable, commercial, personal-sized, and immersion blenders are just to name a few. Depending upon your frequency or the volume of your usage, you can select the type of blender. For instance, if you are somebody who lives alone, a portable blender should suffice. In the same way, if your family is big, you could choose something bigger.
Material: When considering an ice crusher blender, avoiding a cheap-quality product is necessary. If it is not made with the right materials, then it could tamper with the quality and flavor of the food. The ideal choice should be a heavy-duty Tritan (Copolyester) pitcher that is BPA-free with a blender base that is built to last.
Cost: The price point could range anywhere from 50$ going all the way up to 600$ (price trends subject to change). Considering how high the blenders cost, it could prove to be a gamble or a great investment. Again, it all depends on your usage. If you fancy a blender with more features, the price is going to be high; if you want something simple and not complicated you could buy the less expensive ones.
Durability: The durability of the blenders depends on its material and features. The jars need to be made from thick plastic to last a long time; the blades need to be made from hardened stainless steel to retain the consistency and its own health, and features like protection from overheating can avoid the melting of the materials around the motor to ensure a long lifespan.
Size: When choosing the size of the blender, you could consider things like the amount of food you are going to prep for, or whether it will fit in your cabinet or not. If you have a family to feed, then something like a Ninja Blender could be the one for you. Or if you have only yourself to take care of, then a personal-size blender from FOCHEA could be the most beneficial.
Common Problems When Blending Ice With Blender
When you are trying to blend those really hard ingredients, it can often prove to be quite the hassle. It depends on the kind of appliance you are using and sometimes you might not be following the exact instructions. For example, if you are finding it difficult to crush frozen fruits, then you should keep them out for a few minutes for thawing. Add some liquid along with it so it can get the momentum of the blades going.
Here are some tips that will help you avoid having a troublesome ice crushing experience with your blender.
Mistakes To Avoid 
Ignoring the motor: Motor is a primary functioning part of the blender. When blenders have a manual speed, a lot of people cannot evaluate the right speed. Using unnecessary torque for easy ingredients might reduce its performance. So it is recommended you start off with a lower speed and gradually increase, if and when required.
Worrying too much about the settings: When you buy one of the professional-grade blenders, it is easy to get intimidated by looking at all those options. It is okay, it will take some time to understand them all. Usually, these settings are pre-programmed and self-explanatory but you should read the instruction manual before you start handling it. 
Going too small: As we discussed earlier, there are plenty of blender sizes to choose from. You could probably misjudge and order the one that isn't sufficient for your needs. To make a better judgment, please read through the product specifications before buying.
Picking the sharpest blades: It is a common mistake that most people make — choosing blenders with the sharpest blades. It is more about the design and the technology the blades have. Most of the machines on this list have blunt blades but are made from hardened steel for better crushing, blending, and grinding results.
There you go! That was our list of the top 13 best blenders for ice crushing. Now all you need to do is select the one that you think is the best one for you and click on the link. Don't forget to let us know your experience with the product in the comment section. 
Expert's Answers for Readers Questions
Can all blenders crush ice or frozen fruit?
It majorly depends on the blades. Blades on a few blenders are not made for crushing ice and frozen fruits. If you are trying to use a hand-held or portable blender for crushing ice cubes, they might be able to crush small amounts of it but not much. You will need to add a portion of liquid along with it for easy crushing.
How do you blend ice smoothly?
You can scarcely crush the ice cubes before adding it to the jar. But we highly recommend you add some liquid along with ice cubes. The liquid being a thinner ingredient, will push itself towards the blade along with the ice cubes creating a vortex and hence crushing it effectively.
Why does my blender not crush ice or frozen fruit?
If the blades are made of low-quality material and the motor does not have enough power supply, then they will not be able to crush frozen fruits. But if that is not the case, then the blade might have worn out and will just avoid the frozen ingredients completely. Make sure to read the specification of the blender before you buy to see if they are made to crush ice.
Can you put frozen fruit or ice in a blender?
If the Ice cubes and frozen fruits are completely frozen then they should go into a blender that has the power and blades to handle such ingredients. Low-quality blenders can suffer damage trying to crush frozen foods. If you do not have such a blender at hand, then you can defrost frozen food and scarcely crush the ice cubes before adding it.
Can you crush ice cubes in a blender?
Yes, you can. Although most blenders can crush in small amounts, you need a lot of power with strengthened blades to handle the regular-sized cubes.
How many watts do you need to blend ice?
Ice cubes are one of those stubborn and hard ingredients that need extra power to crush through. Motors should at least have 500-watts for the smaller chunks and 1000-1500 -watts for your regular sized cubes.
Do all blenders come with a warranty?
Most blenders do come with a manufacturer warranty. We suggest you thoroughly read the product description and specifications on the product page to see if they are backed by any warranty plans.
What should I prioritize more when looking for the right blender to crush ice?
You should prioritize a blender that has a motor powered with 1000-1500 -watts minimum and hardened blades for the desired consistency.
How should I wash my blender if it is not dishwasher safe?
Washing a blender is pretty simple. Add a little warm water with a few drops of liquid soap to the jar and turn on the blender for seconds. Let it dry out and store it when done.
Can I order replacement cups from the manufacturer?
That is a question for the manufacturer's customer support to answer. Please get in touch with their customer care regarding warranty and part replacements.
Where can I buy spare parts?
Most manufacturers sell parts on e-commerce sites. But, if you are unable to find the ones you need, please get in touch with the manufacturer's customer support.
What does "limited warranty" mean?
It means that the warranty is limited to certain specified parts, types of defects, or other factors that the manufacturer has specified in the warranty manual. For example, some manufacturers do not replace products that are damaged by dropping it. Please read the warranty guide to be better informed while buying the product.