15 Best Blenders Under $100 – 2020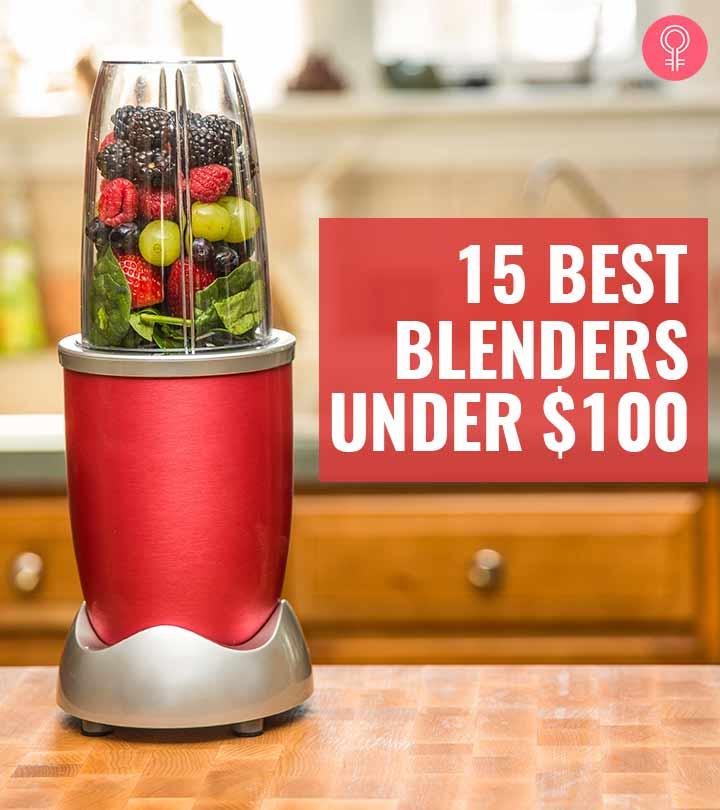 Sometimes, spending large sums of money on gadgets and home appliances does not seem like a viable option. Especially when you know that you will not be using the said appliance to its fullest potential or even that often. This scenario can be very true in the case of blenders, because you often do not want an expensive bulky blender that only ends up taking space in your kitchen cabinet. In such a case, an affordable yet good quality blender is exactly what you need. So we have prepared a list of the best blenders under 100 dollars. All the blenders in the list given below are low price, affordable and top rated.
So check out the list given below to find the best inexpensive blender that you can use for smoothies, salsas, juices and purees, or simply anything your heart desires to blend!
The Magic Bullet Blender is capable of making things quick and simple. It is a 13-Piece Set. its compact design makes it work like your personal kitchen food processor & blender. Its hi-speed blender & mixer system makes it easy to Chop, Mix, Blend, Whip, Grind, and Mince. This blender takes up minimal counter space while providing maximum speed and versatility. The most amazing feature of the Magic Bullet and its time-saving efficiency is the specially designed blade and unique bullet shape. These features work together to quickly and forcefully circulate food back into the Cyclonic Cutting Zone, allowing the Magic Bullet to do any food prep in seconds.
Features
Size: 4.01 x 4.48 x 11.61 inches
Material: plastic
Power: 250 watts
Blades: stainless steel
Jar capacity: 12 oz, 18 oz, 18 oz
Pros
Easy cleaning
Simple to use
Affordable
Compact storage
Comes with different attachments
Dishwasher safe
Cons
Not durable
Not ideal for tough and frozen foods
The Ninja professional blender has an amazing ability to perform well. It has a stylish sleek design. The Ninja total crushing blade perfectly crushes ice, blends, purees, and controls processing of crushed ice and frozen fruit in seconds. This 72 ounce large blender jar works wonderfully well for making large batches of creamy, frozen drinks and smoothies for your entire family and large group of friends. Its 6 blade assembly allows you to crush ice faster and blend ingredients smoother than other blenders. The cleaning of this blender is fairly easy, you can simply use a damp cloth to wipe it clean.
Features
Size: 9.5 x 7.5 x 17 inches
Material: plastic
Power: 1000 watts
Blades: stainless steel
Jar capacity: 72 oz
Pros
Easy to use
Simple cleaning
Dishwasher safe
Powerful motor
Lightweight
Cons
BThe Oster Pro 1200 Plus makes your blending experience all the more better. The versatility and performance of this blender can help you create a vast variety of tasty treats. The powerful motor of this blender can easily blend through ice, greens, frozen ingredients. This blender works with a blending force that creates the consistency you require for your dish. The smart settings of this blender are programmed to blend any dish from smoothies, to salsas and milkshakes with the help of its one touch buttons so you never have to guess how long or what speed to blend for the dish you choose to make. The wide base of the jar allows the contents to flow easily down to the blade while the dual direction technology spins the Crush Pro 6 Blade to optimize the blade's power to blend all kinds of foods.
Features
Size: 8.5 x 10.15 x 13.9 inches
Material: glass
Power: 1200 watts
Blades: stainless steel
Jar capacity: 24 oz
Pros
Powerful motor
Dual direction motor
Value of money
Dishwasher safe
Durable construction
Cons
The NutriBullet is the healthiest option for making nutrient rich tasty smoothies. All you have to do is load it up with your favorite whole foods like nuts, berries and spinach or any other healthy ingredients and twist push and blend! This blender also has powerful stainless steel Extractor blades that use Cyclonic action technology to break down tough ingredients. Its high-performance, BPA-free plastic cups are safe to use and long lasting. This blender is also fairly easy to clean, simply twist off the blade, rinse with soap and water, and put the cups in the top rack of your dishwasher.
Features
Size: 11.61 x 6.85 x 12.28 inches
Material: plastic
Power: 600 watts
Blades: stainless steel
Jar capacity: 24 oz
Pros
Simple to clean
One twist operation
Dishwasher safe
Compact storage
Blends very quickly
Cons
The Hamilton Beach Personal Blender is ideal for healthy smoothies consumers and people who enjoy protein shakes on a daily basis. The Travel Lid provided with this blender  lets you blend on the run and carry your fresh smoothie wherever you go. Just replace the jar from the base, put on your lid and you're ready to go. The mug also has measuring marks up on its sides. And it fits in most car cup holders.
Features
Size: 5.2 x 4.2 x 11.9 inches
Material: plastic
Power: 175 watts
Blades: stainless steel
Jar capacity: 14 oz
Pros
Value for money
Easy to operate
Dishwasher save
Compact
Quiet functioning
Cons
The Instant Pot smoothie blender is a durable and versatile blender that makes meal prep a breeze. It has 8 smart, one-touch programs and 3 manual speed settings with the help of which you can quickly crush, grind and blend ingredients to prepare all your favorites. Now you can quickly make smoothies, icy treats, frozen desserts,  oat milk, soy milk and rice milk with the press of a few buttons. This blender also has four hot-blending programs that turn fresh ingredients into Chunky soups, smooth purees, sauces and more. And the four cold-blending programs make it easy to whip up tasty dips, milkshakes, smoothies and other cold beverages.  Enjoy the option of one-touch control with the flexibility to customize cooking time and temperature for an added control over cooking.
Features
Size: 16.93 x 12.36 x 10.79 inches
Material: glass
Power: 1000 watts
Blades: stainless steel
Jar capacity: 54 oz
Pros
Heavy duty construction
Comes with cleaning kit
Quiet operation
Includes reusable strainer bag
Self cleanse option
Cons
Not dishwasher safe
Heavy pitcher
The La Reveuse personal size blender is committed to efficiency, ease of use, and a sleek design. This  250-Watt bullet blender is equipped with 8 pieces that are designed to fit your fast-paced lifestyle. This blender is great for making smoothies, shakes, dips, salsas, baby food, dressing and so much more. With its pulse technology and strong blades, you simply have to push down on the cup to blast through ice and frozen ingredients, and you can make your own smoothies in just about 15 seconds.
Features
Size: 12.40 x 5.20 x 7.60 inches
Material: plastic
Power: 250 watts
Blades: stainless steel
Jar capacity: 16 oz, 16 oz
Pros
Easy to clean
Value of money
One press function
Not too loud
Perfect for single servings
Cons
The Herrchef Personal Blender has four really effective steel ultra-sharp blades that quickly crush fruits, and vegetables and are ideal for making healthy and deliciously silky shakes and smoothies. This is a lightweight blender that is compact. It has silicone seal rings under the lid that prevent any leakages. It also has a hoop handle for easy carrying. Its simple one-touch operation easily makes your favorite smoothies within 10 seconds. The built-in overheat protection system makes the blender stop automatically when the motor's temperature gets too high.
Features
Size: 4.92 x 4.72 x 15.75 inches
Material: Tritan (BPA Free)
Power: 350 watts
Blades: stainless steel
Jar capacity: 20 oz
Pros
Easy to clean
Powerful
Portable
Quick operation
Easy to store
Cons
The LaHuko Personal Size Blender is designed with six stainless steel blades and a strong power system that is made up of a pure copper motor. It has a quick speed and long life. It can effortlessly make fruits and vegetables into smoothies within a minute. Its stainless steel blade has a hidden design for the purpose of safety, helping you avoid being cut while cleaning. The mini blender is equipped with a double lithium battery and a powerful 7.4 V double power motor, the battery can be easily charged by power bank, computer, your car's charging system or other USB devices. It takes about three hours to charge and can be used for around 12 to 15 times per charge.
Features
Size: 3.15 x 3.15 x 9.45 inches
Material: food-grade PCTG material, BPA free
Power: 4000mAh USB Rechargeable
Blades: stainless steel
Jar capacity: 12.8 oz
Pros
cordless
Long lasting battery
Easy to use
Simple to clean
Perfect for travelling
Cons
Not suitable for ice and other hard foods
The Ayyie Portable Blender has a unique and high-tech design that makes the blades stop automatically when the blender's body and cup separate. This makes it very convenient to carry and make your smoothies and juices on the go safely and without any leakages. This mini blender is equipped with an ultra high speed blending motor system that uses four blades to turn a mixture of frozen fruit, nuts, and milk etc into a silky smooth, thick drink. This portable juicer does not leave behind any chunks. This smoothie blender cup has 2*2000mAh rechargeable battery that can be supported by power bank, laptop, computer or any other USB devices. It takes approximately 5 hours to charge completely. The charge lasts for 20 cups of blender juice.
Features
Size: 9.8 x 3.1 x 3.1 inches
Material: Tritan
Power: 80 watts, 2*2000mAh rechargeable battery
Blades: stainless steel
Jar capacity: 12 oz
Pros
Easy to clean
Cordless
Long lasting battery
Value of money
Quiet
Cons
Not suitable for hard fruits and vegetables
The Aicok Smoothie Blender is a great blender for someone who enjoys their smoothie and juices on the go. The sports lid that comes with this blender makes it easy to take on the road to the office, gym or class, in the car or in your bag. It has a high quality pure copper motor that offers a long service life. Its 4 Leaves high speed stainless steel blade is strong enough to crush vegetables, fruit and ice easily and can also pulverize ice. This product is great for making smoothies, shakes, baby formula and salad dressings.
Features
Size: 5.5 x 5.5 x 14.2 inches
Material: BPA free/stainless steel
Power: 300 watts
Blades: stainless steel
Jar capacity: 21 oz
Pros
Affordable
Easy to clean
Simple to assemble
Compact design
One button simple operation
Cons
The MONJ smoothie blender is a compact blender that can be perfect for someone who enjoys fresh smoothies and juices in a rush and on the go. You simply have to put in all your ingredients, twist and push so the blender does its work. All you have to do then is to replace the jar and screw on its to-go lid. And viola! Your instant smoothie is ready in seconds. Its powerful motor does justice to its small size and its stainless steel blades definitely make it perfect for tough fruits and veggies.
Features
Size: 4.90 x 4.90 x 14.80 inches
Material: Tritan BPA-Free
Power: 300 watts
Blades: stainless steel
Jar capacity: 20 oz, 20 oz
Pros
Simple press to the pulse function
Fan cooled motor
Perfect for on the go
Lightweight
Easily blends ice and hard foods
Cons
The UBEGOOD personal blender is easy to carry cordless that is ideal to carry around in your office, gym or simply anywhere you want to go. This smoothie blender has a built-in battery that can be charged by any power bank, laptop, computer or other USB devices to make your travel easier and more enjoyable. The upgraded 6 ultra-sharp blades help this small body blender make the mixing faster and easier.
Features
Size: 9.3 x 3.5 x 3.5 inches
Material: Food grade PCTG
Power: 4000 mAh rechargeable built-in battery
Blades: stainless steel
Jar capacity: 13 oz
Pros
Cordless
Portable
Easy to clean
Simple to use
Powerful battery life
Cons
The CHWARES Portable Blender has six stainless steel blades and a stronger power system consisting of a pure copper motor and quick speed which can effortlessly make fruits, vegetables into smoothies within a matter of seconds. The USB juicer cup is equipped with 2000mAh rechargeable high quality batteries that can be recharged in a variety of ways, like with the help of power banks, computer/laptops or even your car's charger. Each charge can last upto twenty to thirty uses. The jar is made from high borosilicate glass which is more durable, heat-resistant and stronger than normal glass and plastic. It is also non- exotic and environmentally friendly.
Features
Size: 10.67 x 4.57 x 4.25 inches
Material: glass
Power: 2000mAh rechargeable batteries
Blades: stainless steel
Jar capacity: 12.8 oz
Pros
Cordless
Portable
Easy to wash
Affordable
Convenient to use
Cons
The Decen Personal blender is equipped with 4-leaf sharped Titanium-Coated Stainless Steel blades, that can help you make your favorite smoothie in less than 15 seconds. The travel cup of this blender comes with a travel lid, that is ideal for the gym, work, school, home or days out. And the lightweight bottle fits the car cup holder or your bag with ease. Since this product is BPA free, you can use this blender with confidence to make healthy items for yourself and your family. You can even make baby food in this blender!
Features
Size: 4.72 x 13.78 x 5.12 inches
Material: Tritan
Power: 300 watts
Blades: titanium coated stainless steel
Jar capacity: 20 oz, 20 oz
Pros
Portable
Simple one touch operation
Dishwasher safe
Easy to store
Value for money
Cons
Not suitable for ice or hard items
Are glass blenders better than plastic?
There not be one material better than the other, this solely depends on the kind of use you are looking to get out of your blender and also your personal preference.this can be estimated by understanding the different criteria of each material. For example, glass jars can be heavy and on the costlier side, but they keep very clean and are considered to be a healthier alternative to plastic. Whereas plastic can be lightweight, easy to transport but it could also scratch easily and get cloudy over time. Tritan is another material that is increasingly used for blenders as it is shatterproof and sturdy. You simply have to look at all these criteria and make your decision.
How much does a good blender cost?
A 'good' blender is one which simply checks all your boxes when you list out the qualities of the perfect blender. So this answer can vary from person to person. What you have to do is understand the purpose for which you need a blender and your personal preferences. Once you understand this, selecting a blender can get easier. For instance, if you are someone who lives alone and is looking for the best smoothie blender under 100 dollars then you should look at the portable blender options. If you live with your family, then a blender that has a large pitcher that can blend larger quantities at once is something you need.
Conclusion
Ultimately, when you are looking for the best affordable blender, you must first understand what kind of blender you require for your personal needs. When you are clear about your requirements from a blender, you can narrow down your choice greatly. Once you do this, it is a matter of looking after the best budget blenders given in the list above to find the right blender for you!
Recommended Articles