7 Best Blinc Beauty Products In 2022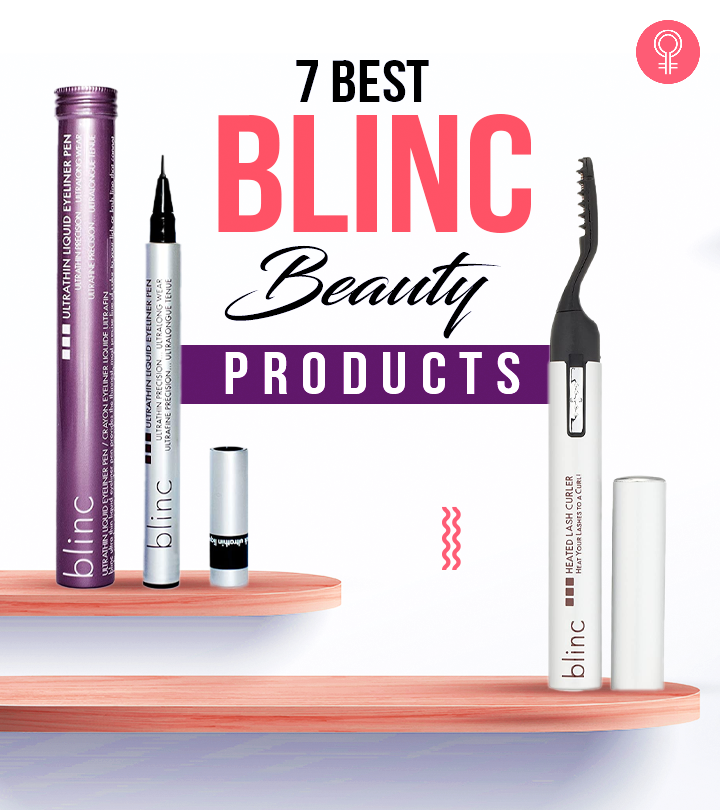 Modern women have hectic schedules in this fast-paced world, so much that they don't have enough time for touch-ups now and then. What would you do for your eye makeup if this is the case? You'd prefer going for cosmetic products that won't smudge or fade. Try out the best Blinc products. This brand has developed a sophisticated and innovative range of long-wearing cosmetics that is easy to apply and remove. Whether you are up for a professional board meeting, having a sweaty workout session, or going to a party at night, Blinc products will be here to your rescue.
Blinc cosmetics are of high quality, and they are safe both for you and your environment. To make your search easy, we have listed the 7 best Blinc beauty products that are worth investing in. Keep reading!
7 Best Blinc Beauty Products
The Blinc Heated Lash Curler shapes your lashes in no time. Its unique design delivers the perfect amount of heat and makes it easy to reach even the tiny lashes. Keep the comb pressed against the lashes for 5 seconds and curl your lashes upwards to give them a gorgeous long appearance. It comes with a protective guard and keeps your lashes clamp and pinch-free. In addition, it doesn't damage your lashes and keeps them curled all day. It heats up quickly and can be used before or after applying mascara.
Pros
Innovative design
Easy to use
Long-lasting
Heats up fast
Doesn't get too hot
Cons
Requires battery replacement often
The Blinc Eyeliner Pencil offers a comfortable hold and conditions the delicate skin around your eyes with nutrients. This waterproof, fade-proof, smudge-proof eyeliner lasts all day and comes in different colors. It is formulated with antioxidants and vitamins to fight environmental stress. This product does not irritate the skin; instead, it nourishes it. It can be taken off easily with a gentle makeup remover.
Pros
Smudge-proof
Fade-proof
Waterproof
Vegan
Paraben-free
Gluten-free
Sulfate-free
Oil-free
Odorless
Cons
The Blinc Amplified Tubing Mascara promises a soft glam look with a semi-matte finish to your lashes, making them look fuller and alluring. This mascara doesn't smudge, clump, run, or flake. It is clinically tested, non-irritating, and ideal for sensitive eyes and contact lens users. You can keep reapplying this formula to build until you get the desired length and volume. While removing, use warm water and gentle pressure to take it off effortlessly from your lashes without leaving any residue.
Pros
Smudge-proof
Non-irritating
Easy to remove
Cruelty-free
Gluten-free
Fragrance-free
Sulfate-free
Paraben-free
No residue
Cons
The Blinc Eyebrow Mousse shapes your brows like a gel, shades hair, covers sparse areas with color, and gives a natural appearance. It is water-resistant and does not fade, smudge, or run even while you work out. It reduces the appearance of fine lines and provides moisturization. It is easy to apply, and you can use any gentle makeup remover to remove it thoroughly.
Pros
Water-resistant
Anti-aging
Vegan
Cruelty-free
Lightweight
Easy to apply
Suits all weather conditions
Paraben-free
Gluten-free
Cons
Oversized wand applicator
The Blinc Flawless Definition Eyebrow Pencil is a multifunctional eyebrow pencil that helps shape, condition, and enhance your eyebrows. It has a brush on one side for combing and a precision tip on the other which helps to fill and define the eyebrows. This subtle-colored pencil is smudge-proof and compliments any skin tone or hair color, keeping your eyebrows pretty and full all day. It is infused with natural antioxidants like sunflower seed oil, vitamin E, and vitamin C to moisturize your skin and provide anti-aging benefits. It is fortified with chamomilla extract to calm and smoothen your skin.
Pros
Easy to blend
Water-proof
Long-lasting
Anti-aging
Vegan
Cruelty-free
Paraben-free
Sulfate-free
Odorless
Cons
None
If you are into subtle makeup and want the thinnest line of color on your eyelids, go for the Blinc Ultrathin Liquid Eyeliner Pen. It doesn't smudge, fade, or run even if you rub your eyes or cry. It comes with a 0.00876mm brush, one of the thinnest brushes in the cosmetic industry. It is highly pigmented, easy to apply, and long-lasting. This eyeliner is ideal for people with an active lifestyle and those who wear contact lens.
Pros
Highly pigmented
Precise application
Long-lasting
Non-irritating
Water-proof
Vegan
Cruelty-free
Odorless
Sulfate-free
Cons
None
The Blinc Original Tubing Mascara forms tiny, water-proof tubes around your lashes and gives them an amplified look. These tubes attach to your lashes and don't run, smudge, flake, or clump even if you rub your eyes or get teary. It adds volume and length to your lashes, giving them a naturally radiant look that lasts all day. It is non-irritating, clinically-tested, and suitable for sensitive eyes and contact lens users. It can be applied even on fake lashes and eyelash extensions.
Pros
Non-irritating
Water-proof
Cruelty-free
Vegan
Sulfate-free
Paraben-free
Odorless
Cons
Why Trust StyleCraze?
Baishali Bhattacharya, the author of this article, is certified in makeup techniques. She loves bringing you products that are smudge-free, affordable, and easy to use and remove. She has tried several products and collated this list of the leading Blinc beauty products you must add to your collection. These products are long-lasting, easy to remove, and suitable for every occasion, be it work, a workout session, or a night out with your friends.
Recommended Articles