12 Best Bliss Skin Care Products – 2023
Moisturize, cleanse, and exfoliate your skin with PETA-certified, chemical-free formulas.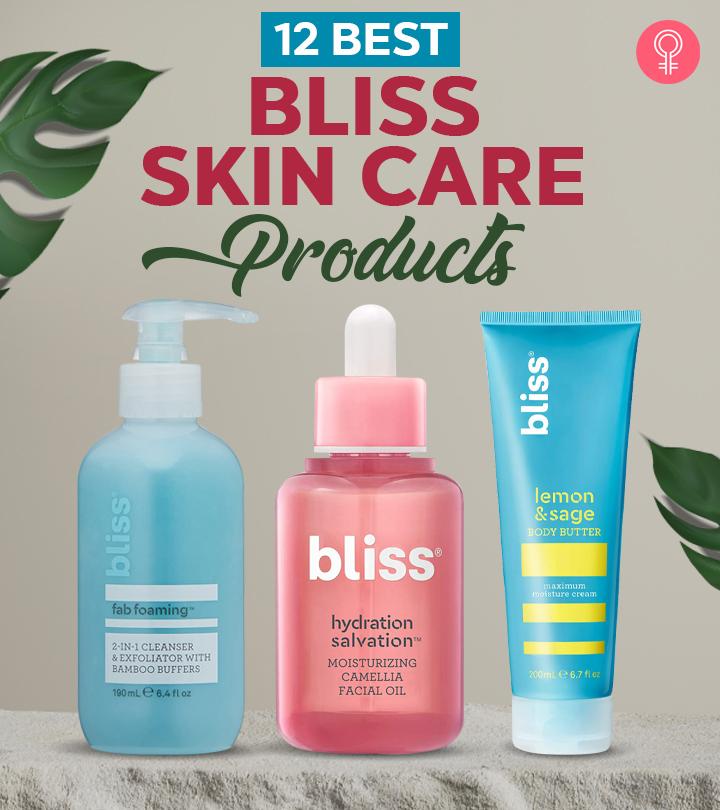 The struggle to find the perfect skincare products is real, and we relate! And to help you in your journey to find the ideal ones, we've made a list of the best Bliss skincare products. Wondering what Bliss is? It's a skincare brand that is a cult favorite, affordable, effective, and safe for the skin. So, now you don't have to carry out the daunting task of finding reliable skincare brands. Bliss Skincare was founded back in 1996 by Marcia Kilgore.
This skincare brand started as a chain of NYC spas back in the time. Ahead, this brand started making the finest skin products with gentle, effective formulas. All the products are PETA-certified and formulated without parabens, SLES, and phthalates. Now get up, get ready to try this cruelty-free brand!
We have rounded up 12 Bliss skincare products that you can't afford to miss! These products will offer spa-like benefits at home. Keep scrolling to know more.
12 Bliss Skin Care Products For Flawless Skin
Bliss Fab Foaming 2-In-1 Cleanser & Exfoliator is an oil-free cleanser with a gel-like texture that removes tough dirt and oil from your face. It is enriched with bamboo buffers and flower botanicals that work effectively on sensitive skin. It also contains glycerin, rose hips, chamomile, and passionfruit that soothe your skin all day long and do not let it feel dried out. Click this video to learn more about the product.
Pros
Soothes the skin
Oil-free
Lightweight
Removes grime, dirt, and oil
Suitable for sensitive skin
Cons
None
Price at the time of publication: $9.97
Give your body some intense moisturization with Bliss Lemon & Sage Body Butter. Its gentle, hydrating formula is made of shea butter, coconut oil, and algae extracts that combat dryness and flakiness. It also soothes your skin. This best-selling body butter makes your skin soft and supple with every use. It is suitable for all skin types.
Pros
Moisturizes the skin
Gets absorbed quickly
Makes skin soft and supple
Suitable for all skin types
Cons
Price at the time of publication: $12.99
Fine lines? Blemishes? Discoloration? Try out the Bliss That's Incredi-peel Glycolic Resurfacing Pads to treat all these unwanted skin troubles overnight. Its formula is inspired by Bliss Spa Facial Peel. It has a spa-strengthening formula with vitamin E, calendula flower extract, witch hazel, glycerin, licorice root extract, and 10% glycolic acid. You can observe noticeable changes in the texture and tone of your skin after using these pads. It also brightens and softens your skin. Learn more about the product in this video.
Pros
High quality
Protects skin from environmental damage
Fades discoloration
Reduces fine lines and wrinkles
Improves skin tone and texture
Cons
Not suitable for all skin types
Price at the time of publication: $19.54
Blissfully exfoliate your skin with the Bliss Jelly Glow Peel. The bouncy gel formula of this exfoliator is made with plant-based ingredients like pineapple, papaya enzymes, pro-vitamin B5, coconut fruit extracts, niacinamide, sodium hyaluronate, and cellulose. The gentle microbeads in this peel-off mask act like micro-lint rollers to help you get rid of the grime, oil, dirt, and flakiness from your skin. This video gives you more information about the product.
Pros
Bouncy gel formula
Exfoliates the skin
Brightens the skin
Effectively removes oil and dirt
Cons
None
Price at the time of publication: $38.37
Are your hands always dry? Then, they are in dire need of some moisturization. Bliss- Lemon & Sage Hand Cream is a must-have in your handbag. Its ultra-nourishing formula is enriched with ingredients like shea butter, pro-vitamin B5, macadamia nut, grape seed, soybean oil, aloe leaf juice, and sodium hyaluronate. It feels soft and non-greasy on application.
Pros
Non-greasy
Softens the hands
Smoothens rough cuticles
Suitable for all skin types
Energizing fragrance
Cons
Price at the time of publication: $10.0
Bliss Makeup Melt Dry/Wet Jelly Cleanser is exclusively formulated to suit all skin types. It is enriched with soothing ingredients like rose flower extracts, pro-vitamin B5, shea betaine, apple amino acids, and oat amino acids. It has a milky, gel-like formula that works as an effective cleanser. Just a single swipe with a cotton ball of this Bliss makeup remover helps you eliminate all the traces of makeup, excess oil, and dirt on your skin.
Pros
Lightweight
Removes makeup, dirt, and oil
Makes skin feel soft and nourished
Suitable for all skin types
Cons
None
Price at the time of publication: $11.99
Bliss In the Honey Mega Lavender Honey Mask has a nourishing formula that penetrates deep into your skin to hydrate it. It is formulated with skin-saving ingredients like acacia honey, lavender oil, squalane, cocoa seed extracts, and propolis extracts. This face mask eliminates dullness and soothes irritated skin. It leaves your skin looking dewy and feeling refreshed all day long.
Pros
Moisturizes the skin
Soothes irritated skin
Non-greasy
Reduces dullness
Hypoallergenic
Dermatologist-tested
Mild lavender fragrance
Cons
Not suitable for sensitive skin
Price at the time of publication: $29.89
When it comes to proper skin care, we tend to pay a lot of attention to our face. But, don't ignore the rest of your body that is equally exposed to external dirt and pollutants. Exfoliate your body with the Bliss Hot Salt Scrub. This oil-free scrub is dubbed as a Self-Heating Body Polish. Its super-softening formula contains sea salt, rosemary leaf oil, eucalyptus leaf oil, algae extract, glycerin, vanillyl butyl ether, and a warming agent to stop skin irritation. Your skin feels instantly soft and smooth after using this scrub. It is also an excellent scrub for rough feet and heels.
Pros
Gentle formula
Softens the skin
Soothes skin irritation
Useful for rough feet and heels
Cons
Price at the time of publication: $19.99
When it comes to skin hydration, we all need a serum. Bliss Glow & Hydrate Day Serum has a multi-action formula that contains vitamin C, niacinamide, hyaluronic acid, and aloe leaf juice that add a radiant glow to your skin instantly. It restores the moisture in your skin and offers relief from any external aggressors.
Pros
Reduces dullness
Diminishes pores and blemishes
Protects skin from environmental pollutants
Does not leave a residue
Lightweight
Cons
None
Price at the time of publication: $19.97
Bliss What A Melon Replenishing Watermelon Toner is a refreshing and nourishing alcohol-free toner. Its hydrating formula consists of electrolytes, watermelon fruit extracts, willow bark extracts, witch hazel, sodium hyaluronate, and cucumber fruit extracts. It makes your skin feel instantly refreshed and energized and gets rid of tired and dull-looking skin. It also removes dead skin cells and toxins to give you clear skin.
Pros
Alcohol-free
Removes toxins and dead skin cells
Maintains the natural balance of the skin
Prevents free radical damage
Cons
Not suitable for sensitive skin
Price at the time of publication: $9.97
Bliss Hydration Salvation Moisturizing Camellia Facial Oil is a potent blend of fermented camellia oil, sunflower seed oil, and jojoba oil. It is rich in antioxidants and moisture-packed molecules that visibly plump up and rejuvenate your skin. The non-greasy oil gets absorbed quickly and removes all toxins and skin impurities.
Pros
Gets absorbed quickly
Non-greasy
Removes skin impurities
Hydrates the skin
Cons
None
Price at the time of publication: $23.99
If you have normal to combination skin, your search for the perfect moisturizer is over. Bliss Rose Gold Rescue Gentle Moisture Cream is formulated with gentle ingredients like rose water, jojoba oil, colloidal gold, German chamomile, and Alpine rose stem cells. It is the perfect blend of ingredients that offer instant hydration. It is free from artificial fragrances. This Bliss moisturizer is also suitable for sensitive skin.
Pros
Soothes the skin
Moisturizes the skin
Fragrance-free
Rejuvenates the skin
Suitable for normal, combination, and sensitive skin
Cons
None
Price at the time of publication: $18.99
From the gentlest face oil to the best moisturizer, Bliss has a solution for every skin care concern. Pick your favorite Bliss products from the ones listed above to get fabulous, glowing skin!
Why Trust Stylecraze?
Oyendrila Kanjilal is a certified skincare coach who enjoys researching new products and the latest trends. She has tried out a wide variety of Bliss skincare products available in the market and has carefully scrutinized hundreds of reviews online to create this list of the best skincare products from the cult brand Bliss. She enlists all the necessary skincare products such as cleansers, exfoliators, hand creams, scrubs, and more from Bliss in this article.
Frequently Asked Questions
Is Bliss a good skincare brand?
Bliss is a fan-favorite spa brand that makes genuine skincare products. All their products are cruelty-free, PETA certified, and free from all sorts of harsh chemicals.
Who owns Bliss skincare?
Catterton Partners own bliss skincare.
Does Sephora carry Bliss products?
Bliss is no longer going to be carried by Sephora. You can check out their websites and find many retailers selling Bliss products.
Is Bliss skincare Korean?
Yes. Bliss is a top cosmetic brand from Korea.
Are Bliss products good for the skin?
Yes. Bliss skin care products are suitable for all skin types. Their effective formulas improve the texture of the skin and help clear acne and treat other skin problems quickly. This PETA-certified brand is a cult favorite.
Is Bliss face care good?
Yes. Bliss face care products feature hydrating ingredients. They add an instant jolt of energy to the face and smoothen the skin's texture. The products are designed to eliminate toxins from the face and reveal healthy skin.
Are Bliss products all-natural?
Yes. Bliss is a 100% organic brand. It features potentially harmless natural ingredients.
Is Bliss good for sensitive skin?
Yes. Bliss skin care products are free from harsh chemicals, toxins, and other additives. They feature soothing ingredients that treat and calm down sensitive skin.
What does Bliss toner do?
Bliss toners draw out dirt from the pores, tone, and rejuvenate dull-looking skin. They improve the look of your face instantly.
Recommended Articles