36 Stunning Blue and Purple Hair Colors
Unicorns may not be real, but the magical aura of this stunning hair look is.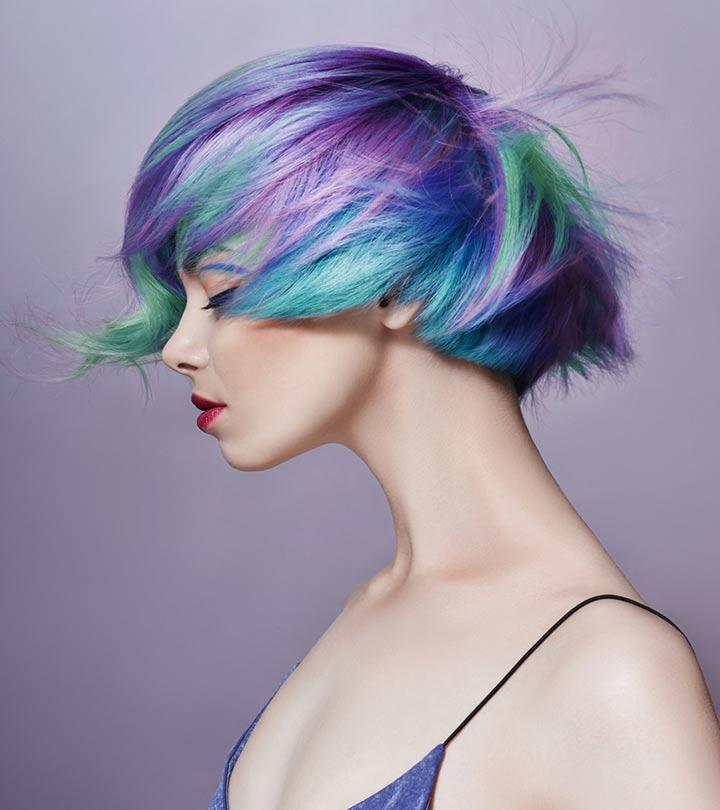 Purple, the color of femininity; blue, the color of intelligence and strength. Together, they are a symbol of feminine strength, and also rather aesthetically pleasing!
Blue and purple are great for highlights. But you can experiment with midnight and galaxy hair blends as well. Go intense, bright, or light according to your choice and mood to make your unique statement. All you have to do is choose the blue and purple shades that complement your skin tone and undertone.

Quick Tip
A blue color tone with green or purple hues suits best on people with warm complexion to balance their golden or yellow undertones and if you have cooler complexion pure blues will be best for you.
Scroll down to check out blue and purple hair color ideas that have taken over Instagram. Swipe up!

Before You Get Started
Getting your hair colored blue and purple will require multiple rounds of bleaching if your hair is dark.
Licensed hairstylist Andrea Claire says, "Use shampoo and conditioner for color-treated hair, formulated with UV protectors. And avoid excessive sunlight to prevent discoloration and fading."
She also recommends using cool water to wash your hair and help maintain these colors that can otherwise fade quickly.
She adds, "If your stylist recommends any treatments to maintain hair integrity, go for it! You can never be too careful with hair color chemicals."
36 Stunning Blue and Purple Hair Colors
1. Plush Pastels
Are you bold enough to carry off a hair color that is otherworldly? You can try this super vivid combination of pastel blue, purple, and candy pink on your platinum blonde hair. These pastel colors offer a surreal feel to the look, and the ombre shading will set you apart.
2. Galactic Swirls
In love with your natural blonde hair but yearning to add some color to it? Show off your natural color while sporting these purple and pink galactic peekaboo highlights. The aquamarine blue dipped ends with purple and pink highlights add the finishing touch to this layered lob.
3. Electric Blue And Purple
If you love bright colors and have a fair skin tone, this look is totally for you! The colors are vibrant and pop out. They also blend together beautifully. You can see a deeper blue just where the blue meets the purple. It is a great color look that does not disappoint.
4. Mermaid Highlights
Mermaids are mythical creatures, but you might catch sight of one with this hair trend. This blend of deep purple, teal, and pink accents on blonde hair is perfect for the summer and spring. It gives the vibe of colorful hair without being overly bright.
5. Deep Mermaid Hair
If vibrant hair colors are not your thing, try out this understated look. Navy blue and maroonish purple come together to give you this deep blend, which is accentuated with slightly brighter blue highlights. It adds shine and texture to your hair.
6. Autumn Blue And Purple
Autumn is the season for earthy colors! This means warm earthy tones like yellow, orange, and brown are the colors of the season. But if you have cool-toned skin, opt for intense blue and purple shades. They work well with the fall theme.
7. Unicorn Blue And Violet
Opt for unicorn hair this season! Go for a bright blue and fuchsia-purple blend. It looks vibrant and out of this world. The violet takes on a more pinkish hue with subtle but strong hints of purple.
8. Deep Galaxy Blend
This blend mixes dark and light shades of intense blue with hints of purple. You can see the burgundy shade where blue and purple meet. Just add some stars, and you've got a midnight galaxy blend. Stunning and bold hair look!
9. Electric Blue Pop With Subtle Purple Hints
Notice how the purple accentuates the ends of her hair? This electric blue ombre looks great. The top is darker, which makes your face look longer. The lighter blue is quite soft and not as harsh as the more commonly seen electric blue.
10. Galaxy Blue And Lavender
I googled galaxy images, and – trust me – this comes pretty close. This balayage blend of dark lavender and sky bly blue creates a galaxy on your head. This vibrant blend will immediately brighten up your day!
11. Midnight Indigo And Purple
Light colors like electric blue look fantastic on people with fair skin. But if you have a deeper skin tone, try this color blend with highlights. The rich indigo and purple shade look so good together that you will want to buy a range of moon and star-themed hair accessories to style it every day.
12. Intense Periwinkle And Magenta Purple
Nothing can go wrong with this happy mix of colors. Dark waves of pink, purple, and periwinkle blue hair look amazing. This blend of colors will look good on all skin tones. These highlights add texture and shine to your hair without styling it wavy or curly.
13. Bright Blue And Purple Pixie
Bright purple is often used to portray a rebel. Take this vibe to your hair with stunning twirls of bright purple and blue colors. Get your hair cut in a bob and blowdry it to finish off this look.
14. Blueberry Blend
I love how the shocking blue and violet shades blend to create this gorgeous hair color blend. If you want a more edgy look, get the top half of your hair colored blue and the bottom half colored violet. This color combination will work well with cool undertones.
15. Intense Blue And Purple
Purple and blue create a combination to be reckoned with. If you've recently gotten a pixie cut, here's one way you can jazz it up. Color the hair around the nape of your neck purple and the top of your hair blue. Go for a muted blue to avoid looking tacky.
16. Blueberry Pop
Light blue hair looks amazing on fair skin. Also, have you ever seen light blue hair and not stopped to admire it? This light blue hair has been subtly highlighted with hints of purple at the ends to add movement and dimension to this look.
17. Azure And Amethyst
Hair inspiration by gemstones is making waves right now. This lovely hair color blend is following that hair color trend. It starts off as an amethyst purple at the top that gradually blends into a brilliant azure hue. Talk about magical.
18. Muted Smokey Blend
When it comes to hair colors, you can go as bright or as understated as you want. This interesting hair color is a blend of a dark, smokey blue and a muted purple shade. You can't really make out where the blue ends and the purple begins, which adds more intrigue to this look.
19. Cool-Toned Phoenix Blend
Violet and hints of pink and lavender blend together to form this stunning color palette. If you have a wide face, dark roots will make your face appear longer and slimmer. This color blend will also make green, blue, and hazel eyes pop.
20. Classic Blue And Purple
I have to say, I love this hair color! It is a rosy mix that has a reddish-purplish hue. Get this balayage look to add some dimension and texture to your brown locks. Style your hair in waves to make this hairstyle look more flowy. This mix of blue and purple leaves us wanting more.
21. Blue Roots With Intense Purple Ombre
Looking for a drastic makeover this year? Cut your hair very short and color it purple. But, I must warn you that as cool as this looks, it comes with a lot of maintenance. You will need to get your hair color touched up to prevent your roots from growing out.
22. Glossy Bright Blue And Deep Purple
The craze of electric blue and shocking purple hair is never going to end. If you have cool-toned skin, try out this look. It looks vibrant and lively. It is the perfect hair color for the winter season!
23. Peekaboo Blue And Purple
This color popping blend will look good on all skin tones. The frosted purple color is just astounding, and the electric blue takes your breath away. Peekaboo highlights are only done on the under-section of hair, helping them to be concealed by the natural-colored hair on the top.
24. Bright Purple And Blue Waves
Jet blue hair streaked with blue looks remarkable. Kylie Jenner has rocked this deep lilac and blue many times. While she did remind all of us of one of Cinderella's step-sisters, she totally owned the look. Knotted half updos look great with this hair color.
25. Rainbow Blue And Purple
Deep navy blue looks mesmerizing. This deep blue and ultraviolet color blend is most certainly on my list. It looks very debonair. The color blend, along with the layers, makes for a stunning hair look. Flaunt the best of your hair makeover!
One blogger posted about how she planned to dye her brown hair rainbow blue but was met with a realization as soon as she bleached her hair to reveal orange/brassy tones, "Asian hair is particularly notorious for being a shocking orange underneath, and unfortunately, I can't dye myself purple at this stage because purple plus orange makes brown. So even though I want to end up at a relatively dark shade of purple, I need to bleach myself all the way to blonde before the purple will be cleanly visible. (i)."
26. Metallic Blend
This blue-black hair color is lovely! Icy blue-black looks like something out of a fairytale. This mix of metallic blue hair with hints of purple looks absolutely gorgeous. If you have an olive or fair skin tone, try out this color!
27. Aquamarine And Amethyst
This is a color blend that people will remember for years to come. The bright aquamarine shade creates a breathtaking contrast with the deep amethyst hue in this stunning hair blend. Style your hair in loose waves to take this look up a notch.
28. Dimensional Blue With Purple Hints
The two shades of blue used here blend together so well. This balayage is trending all over the world. It uses multiple shades of blue and purple to create a perfectly blended multidimensional hair look.
29. Purple To Blue Ombre
This color look is perfect for brunettes with cool undertones. The violet at the top flows into a subtle indigo towards the ends. If you are going through an experimental or rebellious phase in your life right now, I would recommend you go for this hair look.
30. Aqua Blue And Deep Lilac
If you are a fan of pastel hair colors, we have got just the right hair color look for you. This ethereal blend of lilac and aqua blue will have people complimenting you wherever you go. Get ready to become the fairy princess of your fairytale, girl!
31. The Unicorn Ombre
Unicorns are said to be the life of the party. This is because blue and purple make people think of happy and bright things. This color is perfect for brunettes with cool undertones.
32. Oceanic Highlights
Here is an over-the-top look that is not for the weak-hearted. These oceanic blue highlights have been done in a peekaboo style on black hair. The subtle hints of purple add dimension to this color blend.

Quick Tip
Singer Iggy Azalea has pretty blue oceanic hair which surely creates waves and makes heads turn.
33. Wild Blue And Purple Curls
This is one way to really jazz up your look. The electric blue at the top flows gorgeously into a bright purple shade. If you have hazel eyes, this color is sure to bring out the golden flecks in them. This hair color goes really well with neutral-toned skin.
34. Pastel Lilac And Light Blue
Pastel purple has taken the world by storm. You can see it everywhere, from hair to interior decor. This pastel shade suits all skin tones and looks great in the spring and summer. The subtle blue tips help frame your face and highlight your facial features. They also soften your face.
35. Blue Mystique And Purple Raven
This look is just so beautiful! It's like a twilight sky that is on the darker side. The top is visibly darker, while the center has magenta accents to make the purple pop. The ends are darker and brighter. This is just perfect!
36. Denim Blue And Purple
Shades of blue-green hues look amazing on olive-skinned women. This hair color is sure to turn heads in your direction. After all, purple hair with blue undertones is one of the most sought after hair color looks. These shades are subtle but intense, which makes them look spectacular.
Infographic: 6 Popular Blue And Purple Hair Color Ideas
The beautiful blend of blue and purple is considered a symbol of feminine strength. Be it bright or light, the choices are endless. We have rounded up 6 popular blue and purple hair colors you can experiment with in the infographic below.



That concludes our list of the top 36 recommendations for the edgiest blue and purple hair ideas. This vibrant color combination can help you break the monotony and spice up your hairdo. There are several ways to style these stunning hues on your hair, ranging from ombre and balayage to peekaboo highlights. Choose colors and tones that complement your skin tone and facial characteristics for these vivid highlights. Feel free to experiment with these styles and tweak them to your specific requirements and tastes. These eye-catching hues make your hair stand out, and you will be the star of any party effortlessly. It's time to set some new hair fashion goals and flaunt your funky hair transformation! Get professional tresses that would look as if it was styled in a hair salon by a hairstylist. Also, it is very crucial to be mindful of effective hair care and hair maintenance through the use of good hair products.
Frequently Asked Questions
What does blue-purple hair fade to?
Blue purple hair will eventually fade into green.
How long does blue and purple hair last?
If use blue or purple hair dye to dye your hair and they are semi-permanent color, it will last for about six to eight washes. Therefore, it is crucial to space out your hair wash days.
Is purple hair hard to maintain?
Yes. For purple hair color to last longer than a few weeks, it needs a lot of maintenance and periodic touch-ups. Whether you use temporary dye or permanent dye, purple hair color eventually loses its vibrancy because of the size of the color molecule.
Key Takeaways
Purple and blue hair symbolize feminine strength. That is why they make for a gorgeous hair color combo.
You can experiment with different shades of purple and blue according to your mood and choice of style.
Blueberry pop and denim blue with purple are just a couple of the numerous color styles you can go for.
Watch this video to witness the beautiful transformation of hair from ocean blue to vibrant magenta-purple ombre. Prepare to be amazed after witnessing this colorful shift.
Personal Experience: Source
i. hows and whys of rainbow hair coloration: how to dye your hair like an engineer
https://rhetoricize.medium.com/hows-and-whys-of-rainbow-hair-coloration-8d9453635410
The following two tabs change content below.