11 Best Blue-Black Hair Dyes Of 2023
Achieve raven-black tresses without spending too much money in expensive salons.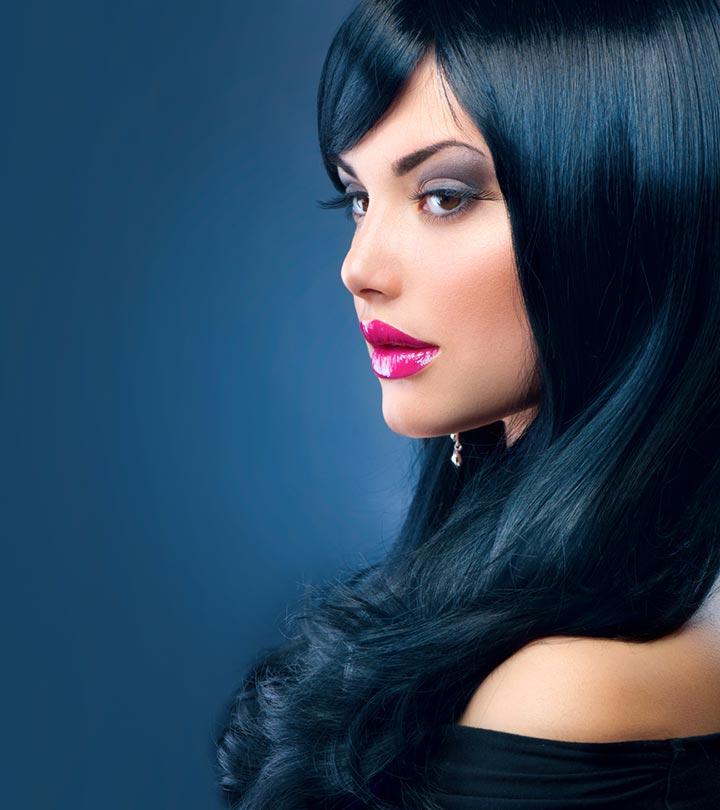 When you think of changing your look, dressing sense comes to mind; for others, it's hair color. Speaking of hair colors, blue-black hair dye seems quite a popular choice for a makeover. To find out which is the best blue-black hair brand you can use to jazz up your look, head on to our list of the top 11 blue back hair dyes. This particular color is quite popular because it's pretty subtle and doesn't make you look very loud. If you like subtlety, then you should opt for this hair dye.
Why Should You Choose Blue-Black Color
Blue looks calming, whereas, black lends a prestigious, elegant, and formal look. The two colors combined together look mesmerizing and attractive.
It is a mix of bold and traditional and is liked by all.
It works well for most skin tones.
Here are the 11 best blue-black hair dyes that will help you try new hair looks without looking dull!
Top 11 Best Blue-Black Hair Dyes Of 2023
The INH Semi Permanent Hair Color in the shade Blue Black Lava is a color-depositing conditioner that can deliver a range of colors from midnight blue to a black-blue tint, all while keeping your hair nourished and making it appear shiny. This hair dye is temporary and fades out over the next few days. The hair dye provides full coverage and can be mixed and matched to get intense color at home, making it perfect for beginners.
Pros
Beginners friendly
Bleach- and peroxide-free
Paraben-free
Sulfate-free
Semi-permanent
Ammonia hydrate-free
Cons
Price at the time of publication: $18
The Naturtint Permanent Hair Color in the shade 2NB Blue Black is a permanent hair dye and a conditioning hair mask that is best for covering up gray hair strands with a vibrant, deep blue-black color. This gel-based hair color is made with 92% naturally derived ingredients, including organic shea butter, quinoa, olive oleic acid, and baobab proteins that provide hydration to your hair while making it healthy and improving its quality.
Pros
Ammonia-free
Vegan and cruelty-free
Long-lasting
Best for gray coverage
Paraben-free
Artificial fragrance-free
Cons
May cause allergic reactions in some
Price at the time of publication: $14.99
The ARCTIC FOX Transylvania Semi-Permanent Hair Color Dye is a conditioning hair dye that is designed to provide you with a highly pigmented hair color without causing any damage to your locks. This hair dye is free of alcohol, PPDs, and any harsh chemicals that can rip the hair off moisture and nutrients. The dye has a creamy formula that provides your hair with extreme hydration and vibrant color.
Pros
PPD-free
Ammonia- and peroxide-free
Paraben-free
Sulfate-free
Cruelty-free and vegan
Stain-free
Cons
Can be messy
May not wash off easily
Price at the time of publication: $18.49
L'Oréal Paris Feria Multi-Faceted Shimmering Color is well known for offering shine and softness to the hair with its edgy colors. Transform your hair from dull to brilliant with this highly enriched formula. This hair dye seals in moisture and smoothens your hair while delivering a long-lasting color. This Downtown Denim shade works well on brown hair too. This hair color is easy to use and does not leave any stain.
Pros
Long-lasting color
Covers gray hair
High-quality dye
Fade-resistant
Adds shimmer
Cons
May not provide full gray coverage
Price at the time of publication: $9.97
This John Frieda hair color offers the most natural-looking shade to your hair. It is super easy to apply and does not drip or leave any stains. It makes your hair look gorgeous and lasts for long. This hair dye penetrates every strand of hair to provide deep color saturation with 100% gray coverage. This package includes 1 bottle of colorant, 1 bottle of color developer, 1 tube of intense after-color conditioner, 1 foamer for dispensing the product, and a pair of salon professional gloves along with complete usage instructions and tips.
Pros
No stains
No dripping
Spreads easily
Fade-resistant
Adds shine
Makes hair healthy-looking
Doesn't have a strong smell
Has nourishing and conditioning properties
Cons
Might not be suitable for people with allergies
Price at the time of publication: $8.65
The Khadi BLUE BLACK (Indigo) Natural Hair Color is a herbal and plant-based hair dye that uses the goodness of Ayurveda and Indian medicinal plants to dye your hair without using any synthetic or artificial ingredients. This 100% natural dye has Indigofera tinctoria leaf powder, also known as Indigo powder, which gives your hair a rich color and strengthens it at the same time. This nourishing hair dye comes in a superfine powder form. Mix it with water to create a creamy paste and apply it on washed hair to get instant color.
Pros
100% natural formula
Ayurvedic formula
Contains no harmful chemical
Color intensifies over time
Vegan
Plant-based
Cons
Needs almost an hour of application
Has a strong smell
Price at the time of publication: $21.99
This Schwarzkopf Professional hair color cream delivers professional, salon-quality results. Schwarzkopf is one of the few brands that makes its dye user-friendly in a way that those with sensitivity can also use it. Get vibrant color and highlight your hair with this blue-black hair color that's intensely concentrated.
Pros
High-quality
Rich color
Fade-resistant
Itch-free
Adds shine
Long-lasting
Covers all gray hair
Blends well
Cons
Might not work well on blonde hair
Price at the time of publication: $9.49
The Bigen Hair Color in the shade 88 Blue Black is a powdered hair dye that helps to cover graying hair strands. The hair color is formulated to help you achieve a rich color without sacrificing the quality of your hair. It is ideal for people with black, dark brown, or blue-black hair who want a subtle change in their hair color. This hair color does not require you to lighten your natural hair color and can deliver a natural and shiny-looking finish when applied directly.
Pros
Ammonia-free
Does not require lightening
Works on all hair types
Gives a natural finish
Easy to use
Cons
Price at the time of publication: $7.56
The HJL Blue Black Hair Dye is a permanent hair dye that gives a salon-like finish that lasts up to 6 weeks. This hair dye gives 100% gray hair coverage and comes with a comb applicator that allows you to apply the dye evenly from the roots to the tips. The hair dye is made with nourishing ingredients such as jojoba seed oil that conditions your hair deeply. The dye comes with a complete set of hair-dying tools, such as a pack of herbal shampoo, a hair mask, hairdressing clips, application gloves, and a comb, making it an all-in-one kit for at-home hair coloring.
Pros
Nourishing formula
Ammonia-free
Comes with a complete coloring kit
Easy to apply
Long-lasting
Complete gray coverage
Cons
The color may differ from the picture
Price at the time of publication: $19.59
The Lime Crime Unicorn Hair Dye in the shade Full Moon (Blue Black) is a semi-permanent hair dye that can help you achieve salon-like vibrant hair color from the comfort of your home. This sweet-smelling hair dye has a gentle formula and contains beneficial ingredients such as fatty acids and vitamins that provide nourishment and adds shine to your locks. The hair dye contains no harsh chemicals, is animal friendly, and has been approved by Leaping Bunny and PETA.
Pros
Vegan and cruelty-free
Sweet citrus smell
PPD-free
Peroxide and ammonia-free
Cons
The color may differ from the picture
Price at the time of publication: $16.47
The Milano Care Milano Colore – Nourishing Hair Coloring Treatment gives you a natural-looking color that provides 100% gray coverage. This cream hair dye is infused with the goodness of oats extracts, inca inchi oil and argan oil that nourishes your hair and protects it from breakage, making it appear glossy and healthy. This semi-permanent hair dye is designed to retain color to give you long-lasting results.
Pros
Contains nourishing ingredients
Suitable for color-treated hair
Suitable for keratin-treated hair
Works on all hair types
Long-lasting color
Easy to apply
Cons
None
Price at the time of publication: $10.99
In order to buy the most ideal and best hair dye that is suitable for you, have a look at this buying guide that will answer all your queries and clear your confusion.
Buying Guide
How To Choose The Best Blue-Black Hair Dye
Determine your needs based on the color, length, and quality of your hair.
Use gentle products, ensure there are no harsh chemicals used.
Select a non-drip formula, so it's convenient to use.
Look for products with deep conditioning properties.
How To Get Blue-Black Hair
It might be a bit tricky to get the perfect blue-black shade. You would have to bleach your hair and then dye it to get the right color.
Bleaching should be done if you have dark hair. Only then can you expect the blue-black shade to appear correctly. This will help lighten your hair before you dye it. You can skip this step if your current hair color is already light. Use aluminum foil for balayage as it keeps the color from getting onto your natural hair color part. Moisturized and well-nourished hair always delivers better results.
Apply a little bit of petroleum jelly to the scalp to protect it from staining the skin. Use gloves and an apron and follow the instructions that come along with the product. Apply the hair color on your head thoroughly, then move towards the tips and work on the roots later. Use hair clips to make partitions and cover hair with a shower cap once the application is done. Rinse your hair with cold water as it will lock in all the color. Then shampoo and condition your hair, and you are good to go!
What Are The Types Of Blue-Black Hair Dye You Can Buy
The type of blue-black hair dye you choose will depend on the kind of look you want.
In permanent hair dyes, the color lasts for long and requires recoloring only once new hair grows.
Then there are the non-permanent and semi-permanent hair dyes that are used to color the outer part of your hair, and will last for 4 to 10 weeks until your next shampoo.
Demi-permanent hair dyes last longer than the semi-permanent ones as the color deposits deeper within each strand of hair.
Why Trust StyleCraze?
Kirtana Divakar is a hair and skin care enthusiast and a product writer who strives to deliver the finest product recommendations to her readers. She combed through hundreds of internet reviews to produce a list of the best blue black hair dyes on the market, which could give your natural hair a trendy look. Each product on the list is reviewed in-depth to highlight its essential features, benefits, and downsides. The post also has a buying guide and answers to some common questions to help you choose the best blue black hair dye.
Frequently Asked Questions
Is blue-black a natural hair color?
No, blue-black is not a natural hair color. The natural color of your hair is based on the melanin (pigment) present within the hair; it is genetically determined in humans. No type of melanin produces blue hair.
Should I wash my hair before dyeing it?
No. One should not wash their hair before dyeing as it removes all the natural oils and hence makes the hair susceptible to damage.
How long does hair dye last?
It depends on the type of dye you use. A permanent hair dye can last 8 to 10 weeks. However, semi-permanent and demi-permanent only last for about 10-15 shampoos. If you have a habit of shampooing very frequently, then the color could fade within a month.
Does leaving hair dye in longer make it darker?
Yes, leaving it for longer does help, but the chemicals present in the dye could damage your hair if it is left on for a long time.
Can you dye wet hair?
Yes, you can. Dyeing wet hair is an effective way of coloring your hair as it ensures even results and less dye use. It also protects your hair from damage.
How to maintain blue-black hair for longer?
Wash your hair twice a week only
Use cold water for a head shower
Use shampoos and conditioners for color-treated hair
Avoid direct sun exposure
Does swimming affect colored hair?
Swimming pools have chlorine, which can have an impact on dyed hair. It dulls the shine of hair color and this can be prevented by wearing a swimming cap. Wetting your hair before swimming prevents chlorine from getting absorbed into your hair.
What about heat styling colored hair?
Use the right hairstyling products that provide heat protection to maintain the proper condition of your hair.
Can I dye red hair blue-black color?
Red and blue are bright colors. So the result might not look good. First, you must have to decolor your red hair and make it lighter so the blue shade can stand out.
Recommended Articles