Best Blue Mascaras For Different Eyes
Get stylish and elegant eyes with these listed blue mascaras and enhance your entire look.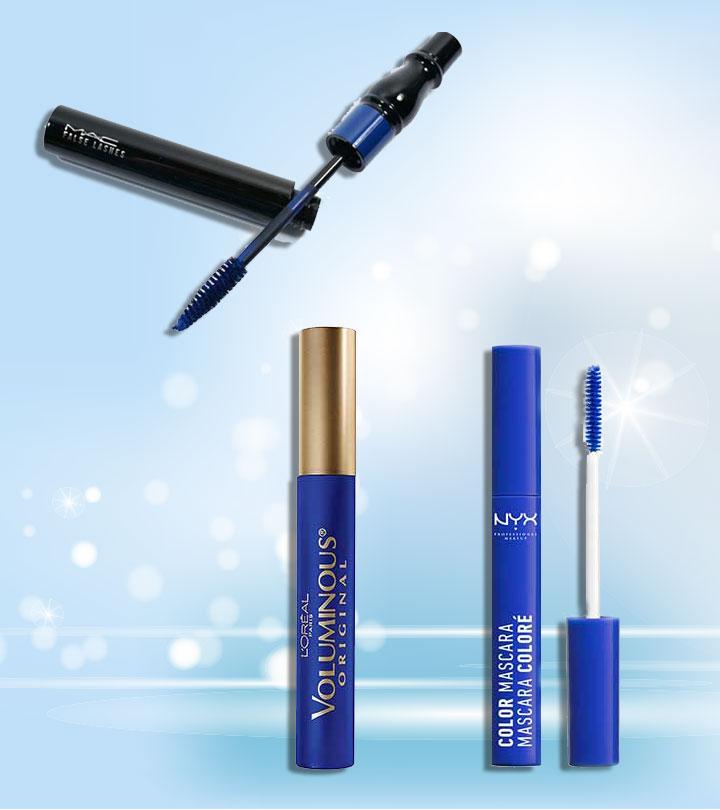 Are you bringing back the 90s make-up trends because you can't get enough? Then you need to have the best blue mascaras in your beauty cellar! Yes, time to take a break from your usual black mascara and amp up your look with blue mascara. From runways to street style, blue mascaras are now trendy beauty statements. So, go ahead and strengthen your eye make-up game quite effortlessly with blue mascara. To help you get the perfect one, we have combed out the top blue mascaras that'll make your eyes the focal element.
Top 12 Blue Mascaras That You Should Try
Pros
Intense color payoff
Provides length and volume to the lashes
Long-wearing
Does not flake
Holds and defines the curl
Cons
Benefit They're Real! Mascara Review
This is a gorgeous dark shade of blue. I love the wand and packaging of this Benefit mascara – the wand is made of rubber and has got spiky bristles that separate and coat each lash with the product. Its formula is neither too wet nor too dry, and two coats gave my lashes a nice, intense color. What impressed me most is its incredible staying power – never did it smear or flake – and if you're going to be caught up in the rain, you don't need to worry about this running down your face!
This dark shade is great for those of you all with lighter eyes and can be worn even on a boring weekday to brighten up your look (it's quite a subtle shade).

Price at the time of publication: $43.67
Pros
 Volumize eyelashes
 Easy to use the wand
 Blends smoothly
 Intense look
 Buildable
Cons
PUPA Milano Vamp Mascara Review
The PUPA Milano Vamp Mascara is specially formulated to add volume to your lashes with its blend of different waxes. It also contains polymers that coat each eyelash for a long-lasting smudge-free look. The mascara wand comes with a unique design with soft bristles that glides over the lashes smoothly for an even application. It has a rich, creamy texture, offering an intense look to your eyes. It will add a nice dash of color to all eye colors.

Price at the time of publication: $26
Pros
Hypoallergenic
Easy to remove
Water-resistant
Long-lasting
Cruelty-free
Paraben-free
Sulfate-free
Phthalate-free
Silicon-free
Cons
None
PYT Beauty Lengthening And Volumizing Mascara In Blue Review
The PYT Beauty Lengthening And Volumizing Mascara In Blue is infused with pro-vitamin B5, vitamin E, and olive leaf extract that moisturize your lashes and add visible length to them. It is a water-resistant formula that lasts on your lashes for 12 hours. This easy-to-remove mascara is free of harsh chemicals and is hypoallergenic.

Price at the time of publication: $20
Pros
Adds loaded volume and length to your lashes
Super pigmented color
Long-wearing
Suitable for contact lens wearers
Cons
Maybelline New York Volum' Express The Colossal Big Shot Mascara X In Boomin' In Blue Review
This one's another of my most adored drugstore mascaras, and I'll tell you why! It's extremely pigmented, it stays on all day long, and the wand is perhaps my favorite. It separates my lashes and coats each individual lash beautifully. Shayla Mitchell collaborated with Maybelline, and this mascara was born. The color is a cool blue tint that really brings out my eye color and makes my whole eye makeup look so bold.
If you have blonde eyelashes, this will be an ideal choice for a more poppy, out-there effect. However, you can enhance its effect by applying a white primer before throwing in this mascara. Watch this video to get a detailed review of the product.
Price at the time of publication: $18.75
Pros
Lightweight
Smudge-proof
Does not clump
Long-lasting
Easy to remove
Cons
None
Vivienne Sabo Cabaret Premiere Artistic Volume Mascara In 02 Blue Review
The Vivienne Sabo Cabaret Premiere Artistic Volume Mascara In Blue defines your lashes and offers them a fanned look. This lightweight mascara has a unique plastic wand that gently applies the product evenly on the lashes without clumping. Although transfer-proof, this volumizing mascara can be removed easily with warm water or makeup remover.
Price at the time of publication: $16.99
Pros
A hypoallergenic formula which is great for sensitive eyes
Volumizes and lengthens lashes
Paraben-free
Contains antioxidants and vitamins A & E
Cons
Beautify Beauties Easy On The Eyes Sensitive Eye Mascara In Navy Review
This is a navy blue shade of mascara that I am so fond of! Its formula is very pigmented, and the color is buildable – so you can do a subtle or a more dramatic look, as per your preference. This mascara's a  holy grail product for those with really sensitive eyes as it's made of very gentle ingredients, is non-irritating, and is also fragrance-free. Its flexible wand helped me define my lashes with much ease and flexibility. Also, if you wear contact lenses, this is great as it won't smudge or budge.
The navy blue color will look gorgeous on every eye color and will especially flatter fairer skin tones. "Dark navy is always a choice for me as a makeup artist, especially for brown eyes. For extra bang, give your lashes a good curl before applying," says Nyssa Green, an Emmy award winning makeup artist.
Price at the time of publication: $17.5
Pros
 Waterproof and smudgeproof
 Easy to use
 Non-toxic
 Lump-free
Cons
Maydear Waterproof Mascara Review
The Maydear Waterproof Mascara makes your lashes appear 2X thicker and lengthy. It comes with a unique brush head that helps in easy application, coating each lash for a thick, luscious look. In addition, the mascara is infused with moisturizing ingredients for nourished, soft, and flexible lashes. This intense shade will particularly look great on fairer skin tones.
Price at the time of publication: $9.99
Pros
Fuller-looking effect
Pigmented
Contains natural ingredients
Long-lasting
Cruelty-free
Non-toxic
Cons
Can be difficult to remove
Wet N Wild Fantasy Makers Halloween Colored Brow & Lash Mascara Cobalt Blue Review
Get a wild and bold look with this colorful brow and lash mascara. It contains natural ingredients such as sunflower seed oil, argan oil, macadamia seed oil, and coconut oil to nourish your lashes and avoid breaking them. In addition, this gel mascara offers a comfortable hold for easy styling.
Even the wildest brows and lashes are simple to tame with this colorful gel's quick and efficient formula. In addition, this mascara is highly pigmented, so you can go bold with your makeup!
Price at the time of publication: $4.28
Pros
Volumizing and lengthening
Separates and builds every lash
Does not clump
Easy to use the wand
Cons
L'Oreal Voluminous Original Mascara In Cobalt Blue Review
This is a royal blue, and I've received compliments every time I wore this. I like its formula that resists clumping and keeps my lashes soft. Also, it does add a lot of volume and length to my lashes. Another factor that impressed me is its ingredient list – it contains Panthenol and Ceramide-R to condition and nourish lashes.
This shade will look great even on darker eyes and skin tones. It makes a great shade for summer for the right amount of oomph!
Price at the time of publication: $5.82
Pros
Suitable for sensitive lashes
Smudge-proof
Waterproof
Precise application
Cons
None
Mavala Volume & Length Waterproof Mascara In Midnight Blue
Mavala Volume & Length Waterproof Mascara In Midnight Blue is a vibrant blue formula that defines your lashes and smoothes them. The mascara contains a unique double fiber brush that applies the product evenly with precise control. It is infused with moisturizing ingredients and antioxidants that treat damaged lashes and restore their shine. In addition, this waterproof formula maintains the flexibility of your lashes and is suitable for sensitive skin.
Price at the time of publication: $23.75
Pros
Hypoallergenic
Does not dry the lashes
Causes no lash breakage
pH-balanced
Easy to apply
Easy to remove
Gentle
Smudge-proof
Cons
Prime Prometics Primelash Lengthening & Volumizing Mascara In Blue Review
The Primelash Lengthening & Volumizing Mascara In Blue has a nutrient-infused base that stimulates the growth of your lashes and heals damaged lashes. This hypoallergenic formula is pH balanced. It comes with a magic wand that separates the lashes and evenly coats them with mascara while withstanding your hand tremors. In addition, this gentle mascara does not smudge throughout your wear time but is easy to remove with the help of a makeup remover.
Price at the time of publication: $28
Pros
Adds volume and definition
Smudge-proof
No flaking
Cruelty-free
Cons
Covergirl Exhibitionist Mascara in True Blue Review
The Covergirl Exhibitionist Mascara is available in several shades, but the True Blue truly steals the show. It is a volumizing mascara that glides smoothly on your lashes and leaves them looking thick and bold. A single coat is all you need for dramatic length and definition. It does not flake or smudge, and your lashes stay soft and gorgeous throughout!
P.S. I have noticed that when applied over a base of mascara primer, it adds an extra boost of volume.
Price at the time of publication: $5.35
While the traditional black mascara may always be your go-to, for a bold and dramatic look that will draw attention to the color of your eyes, try adding a hint of blue mascara. Blue mascara is very popular in high-street fashion and on the runways. Here are some tips to help you decide which blue mascara will go best with your eye color if you're unsure.
How To Choose The Best Blue Mascara For Different Eyes
Your eye color plays a vital role in determining the best blue mascara. If you have dark brown or black eye color, more deep and warmer tones of blue will help to bring out the warm color of the irises. On the other hand, bright and pastel shades of blue mascara pair best with light irises. They can add a pop of color and bring out the bright tones in your eyes. For blue eyes, steer clear of blue eyeliner as you don't want it to look over the top with too much blue.
Use different brushes to create different effects. If you want to give your lashes length and definition, pick the basic oval mascara wand with a rounded tip. Additionally, the jumbo version of this brush will provide you with added volume. A long, skinny wand with short bristles will lengthen while separating your lashes. A tapered cone brush will help you quickly reach all your lashes to achieve full coverage. If your lashes are poker straight, you only need a bendable or a curved wand.
You never want your mascara to look clumpy. So, ensure that your mascara is from a reputable brand that glides on smoothly. Also, look for labels like 'smudge-free' and 'water-proof' on the mascara.
How To Wear Blue Mascara? – Quick Tips
Now that you have a dozen options to choose from, let me give you a few tips on wearing it the right way (to add charm and volume to your gorgeous lashes). If you aren't sure the trend is for you, read on!
If you're going to go in with blue mascara, keep the rest of your makeup neutral, especially your lips, to balance the look. A "barely-there" makeup look is an ideal companion to be paired with colored mascara.
You can add a dust of pale nude or peach eyeshadow to make the blue pop even more.
For a more intense look, makeup artists suggest applying mascara primer before you go in with your colored mascara to prep and then add two coats of your blue mascara.
If you want to keep it subtle, then wear the blue mascara and then layer it with your usual black. Swipe on your traditional black formula and add a coat or two of the color for just a hint.
Blue mascara is a fun tool to add to your makeup kit, and even if you don't wear it on the regular, you'll like having it there to give your eye makeup just the right amount of boost when you're in the mood for it. It's now time for you to try some of these products. Do you have a favorite blue mascara that you can't stop obsessing over? Share with me in the comments section below.
Why Trust Stylecraze
Esha Saxena, the author of this post, is a makeup enthusiast with a natural flair for searching best makeup products and new trends. She enlists the best blue mascaras available on e-commerce websites in this post. She has extensively studied user reviews and ratings before handpicking these mascaras. The detailed description, pros, and cons of each of these products will help you pick the better one amongst the best.
Frequently Asked Questions
What eye color is the best for blue mascara?
Blue mascara looks best on brown, green, and gray eyes.
Is blue mascara flattering?
Yes, blue mascara enhances the white of your eyes and makes them appear bigger.
How do you make blue mascara look good?
You can rock blue mascara with a nude and metallic eye or use a bold orange or pink for that dramatic effect.
What does blue mascara do for green eyes?
Blue mascara on green eyes complements each other and brings out the brightness of your eyes.
Recommended Articles