9 Best Blue Shampoos For Brunettes To Eliminate Brassy Tones
Nourish your brassy tresses and improve their texture with gently formulated products.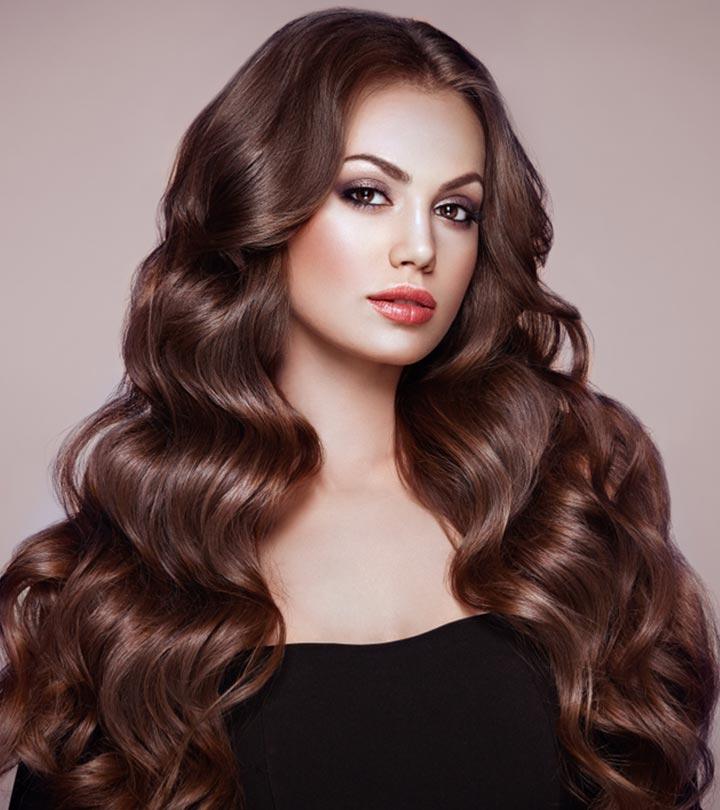 Blondes need the best purple shampoo whereas, with brown hair, you may need the best blue shampoo for brunettes. Whether you are a natural brunette or you have color-treated your hair, you need to make best friends with blue shampoos that can tone down the brassiness that destroys the appearance of shiny brown tresses.
The blue pigments in blue shampoos help to remove the orange and red undertones that creep up sooner or later on brown hair. Choosing the right blue shampoo for brunette hair can be a much less expensive alternative to color correction treatments at salons. Additionally, if you have naturally brown hair, blue shampoo can make your tresses look shinier as the blue pigments stay on. We have collected the best 9 blue shampoos for brunettes that work on both color-treated and naturally brown hair. So, check them out!
Top 9 Best Blue Shampoos For Brunettes – Reviews Of 2023
Pros
Hypoallergenic
Value for money
Long-lasting effect
Reduces split ends
Prevents hair breakage
Cons
May not entirely suit extremely dry hair type
Price at the time of publication: $14.58
Pros
Portable
Affordable
Long-lasting
Lends silky soft hair
Makes hair manageable
Cons
May leave hair slightly dry after wash
Price at the time of publication: $64.0
Pros
UV protection factor
Moisturizes hair
Has soothing citrusy scent
Helps you achieve strong and smooth tresses
Cons
Might stain the scalp if the product left on for too long
Price at the time of publication: $23.0
Pros
Durable
Value for money
Locks in moisture
Prevents hair damage
Sulfate-free blue shampoo for brunettes
Cons
May have an unpleasant scent
Price at the time of publication: $42.0
Pros
Vegan
Stain-free
High-quality
Cruelty-free
For everyday use
Cons
Price at the time of publication: $73.19
Pros
Vegan
Portable
Sulfate-free
Lends smooth hair
Sweet orange fragrance
Cons
Hair may feel a bit dry after use
Price at the time of publication: $32.99
Pros
Gluten-free
Smells nice
Lends shiny, soft hair
Not tested on animals
Free of sulfate, paraben, silicone, and phthalate
Cons
Price at the time of publication: $28.0
Pros
Portable
Durable
Sulfate-free
Makes your tresses shiny
Cons
Price at the time of publication: $13.99
Eliminate brassiness and preserve your hair color with the Oligo Blacklight Blue Shampoo. It repairs damaged hair, strengthens the hair structure, and makes hair shiny and irritantion-free. In addition, it tones the dry and faded hair. The unique blend of argan oil and amino acids makes your hair healthy and shiny.
Pros
Vegan-friendly
Sulfate-free
Paraben-free
Cons
May not work on bleached hair
Price at the time of publication: $48
Blue shampoos are the best suited for brunette hair as they amp up the vibrancy of the strands. But, there are just too many brands out there promising the best results. To help decide on a product, we have listed a few factors to keep in mind. Check them out below.
How To Choose The Best Blue Shampoos For Brunettes
Formulation: Choose a blue shampoo that conditions your strands and nourishes your scalp. Also, look for products that offer deep moisturization and add long-lasting shine to your hair follicles. Make sure that your shampoo contains blue-violet pigments that help to rejuvenate the color. .
Ingredients To Avoid: Hair follicles are precious and must be preserved. Use shampoos free from harmful chemical preservatives. Avoid artificial additives such as parabens, sulfates, phthalates, and silicones. These chemical ingredients strip off the natural moisture of the scalp. They also make the hair strands weak and vulnerable to breakage.
Hair Types: There are shampoos suitable for different hair types. Look for products that work on coarse, fine, curly, or fine hair. Choose a shampoo that is gentle on the scalp and contain rich natural ingredients like plant-based proteins and coconut oil. It must not have any overpowering or unpleasant scent nor leave a greasy impact once washed off.
Additional Benefits: Ensure that your blue shampoo works well on bleached or color treated hair. Choose shampoos that offer deep cleansing of the scalp without leaving undesired stains and also protects agaisnt UV rays and pollutants.
Understanding more about blue shampoo will help you make a wise decision when picking the right one.
Benefits Of Blue Shampoo
Brunettes are the ones who benefit more from blue shampoo:
It helps color correct brunette hair that has been lightened or highlighted.
The blue shampoo cancels out the brassiness and unwanted orange or red hues in your hair that mostly develop due to color treatments or excessive sun exposure.
It helps hair regain shine and makes it brighter.
Using blue shampoo at home is convenient and affordable.
How To Use Blue Shampoo For Brunettes
Here are the steps to follow while using blue shampoo for brunettes:
Step 1: Take a small amount of anti-brass shampoo for brunettes, according to the length of your hair.
Step 2: Apply the shampoo from root to tip. Use it 2-3 times a week.
Step 3: Leave it for a few minutes.
Step 4: Rinse it thoroughly.
Step 5: After shampooing your hair, use a conditioner, and then wash it properly.
Why Trust StyleCraze?
The author of this article, Kirtana Divakar, is a hair care expert. She loves experimenting with different hair care products, especially the new arrivals. She has also conducted hours of research on blue shampoos and went through many online reviews to compile the list of the best blue shampoos for brunettes to reduce brassiness. These products can make your locks look shinier.
Is blue or purple shampoo better for brunettes?
Blue shampoo works best for brunettes as it helps neutralize the brassiness and make hair shinier and brighter. Purple shampoo is not very efficient in removing brassiness on brown hair.
Does blue shampoo work on all hair colors?
Blue shampoo is particularly made for brunette hair, so it might not work on all hair colors.
Will blue shampoo lighten dark hair?
Blue shampoo may not lighten dark hair but might make it shinier and natural-looking.
Can brunettes use purple shampoo?
Purple shampoo will work only to remove yellow tones but not red or orange tones. Hence, it may not be a good choice for brunette hair
Is it okay to use blue shampoo every day?
Yes, you can use blue shampoo every day. Using blue shampoo twice weekly is enough to keep the orange or red tones from your hair, but if you wish, you can apply them daily.
Can I use blue shampoo right after dyeing my hair?
Yes, you can use blue shampoo right after dyeing your hair to avoid unnecessary brassiness.
What happens if you leave blue shampoo on too long?
If you leave a blue shampoo on too long, you will get blue tones in your hair instead of removing the brassiness.
How long does it take for blue shampoo to work?
Blue shampoos usually take five minutes to work on your hair and remove red or orange tones.