12 Best Blush Brushes Of 2022
Pick any of this selected range of products that quickly offer you rosy pink cheeks!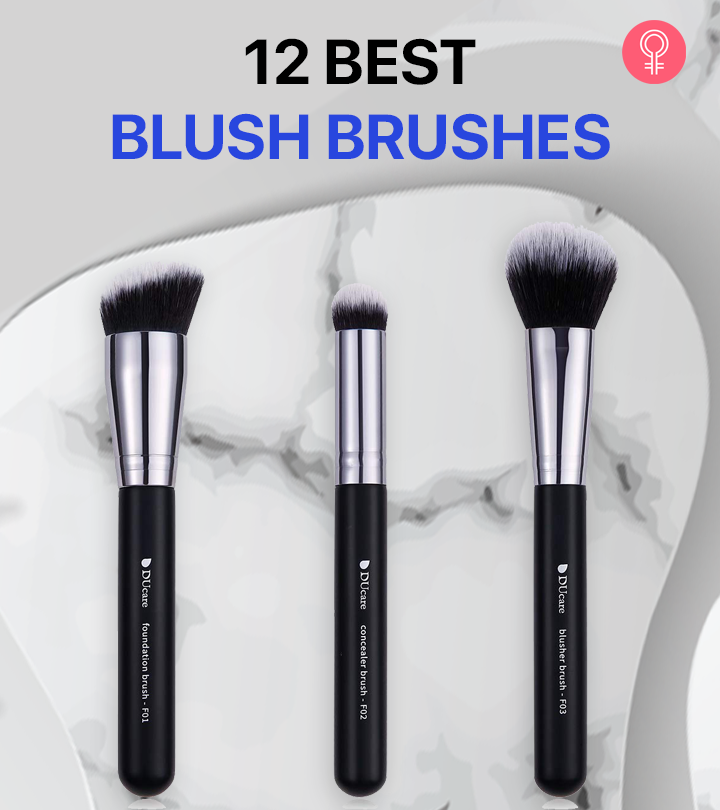 Are you looking for the best blush brush to make your cheeks rosy pink? We have just what you need. Makeup has become an inseparable part of our life, and no matter how late you are for work, you need to make sure your look is easy, simple, and quick. To make your touchups flawless, you need to make sure you don't spend more time than necessary on blending and contouring your makeup. We often mistake experimenting with every piece of makeup with that one brush that did not give away its bristles, but that is a huge mistake. Makeup does require some patience and talent, and even the best brush, if not used correctly, will not give you the results you were looking forward to. If you have decided to choose the ideal brush for making your cheeks blush, we have a list of 12 brushes that have the highest rating among makeup enthusiasts. Go through them to find a perfect match for your cheeks.
The 12 Best Blush Brushes For A Flawless Flush
The three-piece DUcare Makeup Brushes set consists of a foundation brush, a concealer brush, and a blusher brush. The multitasking blush brush features super soft bristles and works equally well with bronzers, highlighters, mineral makeup, and setting powder. These skin-safe brushes have wooden ergonomic handles and premium grade aluminum ferrules along with dense bristles that blend and buff to deliver a flawless finish. Watch this video to know more about the product.
Pros
 FSC certified handles
 Handcrafted
 Shed-proof
 Premium ferrules
 Soft bristles
 Vegan
 Cruelty-free
Cons
None
The dome-shaped Pro Multitasker Powder Brush from Beauty Junkees is crafted with beveled bristles, designed to lift just the right amount of product. It blends the powder effortlessly to deliver a perfect color payoff. This versatile tool can be used to apply blush, setting powders, and highlighters. This fluffy brush has dense bristles that distribute the product evenly and can be used to layer up the color to a dramatic look or a diffused glow. It features a long wand with a solid long-lasting wooden construction. This video will give you more insights into the product.
Pros
 Beveled bristles
 Sturdy
 Value for money
 Easy to clean
 Vegan
 Cruelty-free
 30-day refund guarantee
Cons
None
The Angled Blush Brush by Keshima is crafted from superior quality synthetic fibers that are as soft as natural hair. The brush is long-lasting and does not shed. It offers effortless and even application of the product as it picks up just the right amount. The shape of the bristles makes blending and contouring easy as it fits perfectly into the hollows of the cheeks. With accurate application, it ensures an overall smooth, natural look. To make an informed decision before buying, you can check out this video.
Pros
 Shed-proof
 Precisely shaped
 Synthetic fibers
 Precise application
 Soft bristles
 Easy to clean
 Value for money
Cons
The synthetic-haired blush brush from e.l.f. has antibacterial properties to maintain the best hygiene practices. The soft bristles are highly absorbent and can be used with wet or dry products. The smooth handle and contoured design provide precise color application and easy manoeuvring. The flat shape and dense build of the brush allow effortless application and blending.
Pros
 Soft bristles
 Dense build
 Easy to maneuvre
 Precise application
 Contoured design
 Cruelty-free
 Vegan
Cons
This versatile blush brush from Flower Beauty is made from premium quality soft synthetic fibers that are easy to clean with warm soapy water. It has a tapered tip design for precise application. The brush dusts just the right amount of product to highlight and define the cheekbones. It can be used to add a flush of color and finishing touches for a smooth, professional look. The rounded handle provides easy maneuvrability and a comfortable grip.
Pros
 Soft bristles
 Precise application
 Efficient design
 Comfortable grip
 Easy to clean
 Cruelty-free
Cons
None
The Sigma Duo Fiber Powder/Blush Brush has a blend of natural and synthetic fibers that have deep beveled edges. The specialized tips pick up just the right amount of product, and the non-absorbent synthetic bristles ensure optimal delivery to the skin. The premium-grade bristles have antibacterial properties and retain their color and softness even after repeated washing. The SigmaAlloy ferrule is highly durable, while the lightweight handle is coated with eight layers of paint to make it scratch-proof.
Pros
 Beveled bristles
 Non-absorbent
 Antibacterial
 Hypoallergenic
 Durable ferrule
 Lightweight
 Scratch-proof handle
 Easy to wash
 Cruelty-free
 Vegan
 2-year warranty
Cons
None
The curved bristles on the Energy Blush Brush are made of superior quality soft goat hair. The large, dense bristles of the brush pick up just the perfect amount of product for a smooth and even application. The brush is efficiently designed for precise application and contouring. Apart from blush, it can also be used with face powder, bronzer, or highlighter to build good coverage. The wooden handle is lightweight and coated with eight layers of lacquer primer to make it scratch-proof, long-lasting, and durable.
Pros
 Dense bristles
 Scratch-proof handle
 Durable
 Easy to use
 Non-toxic
 Hypoallergenic
Cons
None
The silky bristles on the Mineral Fusion Blush Brush are designed to offer perfect application of blush on your cheeks. The round shape of the brush is used to define and enhance the cheekbones or highlight and contour the jawline. The tapered wand enables easy application, and the aluminum ferrule is highly durable and provides a good grip. This brush provides even coverage and can also be used for light shading and a soft diffused finish.
Pros
 Durable ferrule
 Good grip
 Hypoallergenic
 Easy to clean
 EWG verified
 Paraben-free
 Artificial fragrance-free
 Vegan
 Cruelty-free
Cons
The Love Beauty Fully Flawless Blush Brush from IT Cosmetics has medium dense bristles with an angled tip that is crafted to deliver color to the cheeks. It can be used with cream or powder blushes and highlighters. The angled head follows the contours of the cheekbones to blend the product effortlessly. The brush is handcrafted with a sleek silver tapered handle that is weighted to offer controlled and comfortable application.
Pros
 Medium dense bristles
 Tapered handle
 Angled head for contour
 Ultra-soft hair
 Cruelty-free
Cons
None
The 100% natural goat hair bristles of the Demure Blush Brush from Deluvia offer smooth and streak-free coverage. The non-absorbent, soft bristles provide even blending of makeup, resulting in a flawless finish. The multipurpose tool can be used to apply blush, bronzer, highlighter, mineral makeup, and finishing powder. This set comes with two brushes for the price of one.
Pros
 Natural bristles
 Non-absorbent
 Streak-free
 Versatile
 Set of 2
 30-day replacement/refund guarantee
Cons
The handcrafted Vela.Yue Angled Blush Brush is made from premium-grade synthetic fibers to ensure there is no shedding. The bristles remain fixed firmly even after repeated uses and washing. This slanted brush can be used for contouring and sculpting the hollows and apples of the cheeks with precise and even strokes. It has a beveled tip to use minimum amount of product for highlighting and shading and achieve a smooth, professional look. This tool can be used to apply loose and compact powder. It has a durable aluminum ferrule and matte plastic handle with a comfortable grip.
Pros
 Shed-proof
 Durable bristles
 Slanted tip
 Precise application
 Durable ferrule
 Comfortable grip
 30-day replacement/money-back guarantee
 Vegan
 Cruelty-free
Cons
None
This RT 402 Blush Brush from Real Techniques ensures that your makeup has a pixel-perfect, professional finish. You can also use it for setting, highlighting, blending, etc. It has soft, fluffy bristles that naturally blend makeup, while the tapered tip allows precise application. The synthetic bristles are less prone to breakage and don't trap or absorb product, making it easier to keep the brush clean. The extended aluminum ferrules are lightweight and enable effortless use.
Pros
 Soft bristles
 Non-absorbent
 Shed-proof
 Durable ferrule
 Lightweight
 Easy to clean
 Quick-drying
 Cruelty-free
Cons
None
Recommended Articles