11 Best Blushes For Dark Skin For A Natural Flush Of Color – 2023
Achieve a lovely, rosy flush that complements your natural skin tone effortlessly.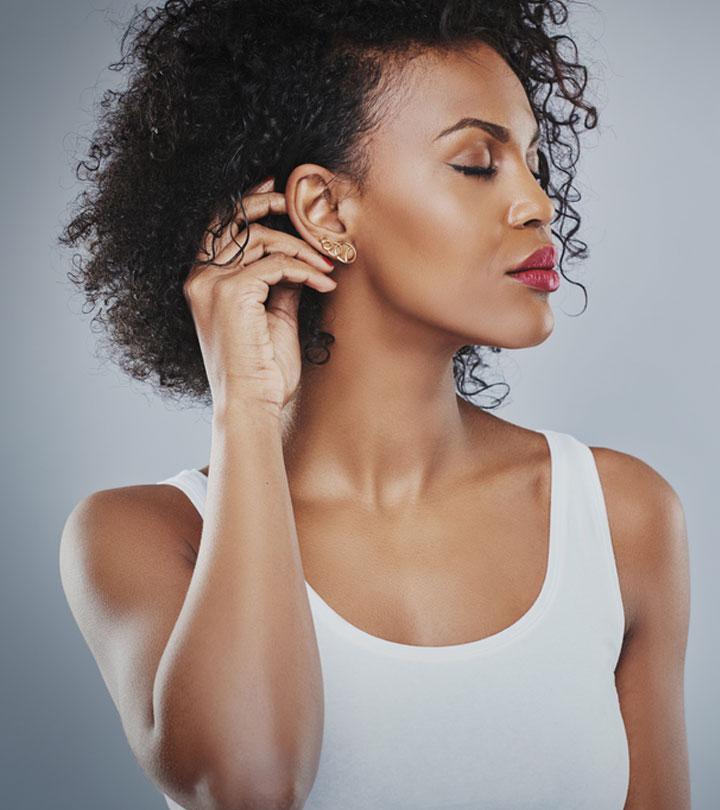 It is difficult to find the best blush for dark skin or African-American skin tones. Some blushes may appear to complement diverse skin tones, and many are frequently sold as such. However, the fact is that most blushes appear ashy on darker skin tones. Excepting a reliable black eyeliner, blush is the only other beauty product that can effortlessly boost your look. A few touches of blush can bring a healthy flush of color to your face and make you look radiant. It is a makeup must-have that you should not leave your home without when you need to look pristine, and it is practically a sin not to have one in your makeup bag at all times!
The key to succeeding in your beauty and makeup goals is facing your fears and putting on a bright-colored blush. All dark skin tones can benefit from wine-colored blushes and blushes in bold hot pinks. Just in case you were wondering, we have compiled a list of the 11 finest blushes perfect for dark skin tones. Scroll down!
11 Best Blushes For African-American Skin
Here is a blush for dark skin that can never go wrong. It's so richly pigmented that your cheeks will shine from a mile away. You can use it as a shimmery blush or also shape, contour, and highlight your facial features. What's unique about this blush is that it's been sunbaked on Italian terracotta tiles to give your skin warm and natural radiance. This creamy formula glides like butter and offers buildable coverage. It contains jojoba seed oil that soothes your skin and keeps it moisturized while controlling excess sebum production. Here's a personal review video to help you get a better understanding of the product.
Pros
Highly-pigmented
Sun-baked on Italian terracotta tiles
Buildable coverage
Mirror and mini brush are included
100% vegan
Cruelty-free
Paraben-free
Cons
It may not be long-lasting.
It may not be suitable for people with extremely sensitive skin.
Price at the time of publication: $6.5
A beautiful shade of pink for darker skin tones, this blush blends into your skin and gently conditions it. It is a soft powder blush that adds a natural and healthy radiance to your face in a few strokes. The easy-application brush follows the natural contours of your face and the apples of your cheeks to make your face light up with color. A little bit of this blush can go a long way, and this creamy, ultra-pigmented blush also offers a fine show of shimmer. If you want a good-quality blush that won't burn a hole in your pocket, you should choose this one. Click here to check out a detailed personal review of this product.
Pros
Comes with a mini brush
Long-lasting wear
Dermatologically-tested
Mirrored compact case
Ultra-blendable
Cons
Price at the time of publication: $5.69
If a single shade of blush doesn't appeal to your senses, perhaps this versatile palette will do the trick. Filled with 10 alluring matte shades in hot pink, sultry mauves, and deep plums, this palette is the best blush palette for people who like to switch it up. Packaged in a compact case, these highly-pigmented blushes offer a lightweight and silky finish. These blushes are buildable and double up as the perfect eyeshadow shades. To understand the nuances of the product in detail, you can check out this review.
Pros
10 blush palette
Pigmented
Matte-finish
Lightweight
Cruelty-free
Cons
Some may find it hard to blend.
Price at the time of publication: $7.93
What's life without a little experimentation? Let the beautiful colors of this palette spark joy in your everyday makeup routine. This palette offers you ultra-pigmented gorgeous shades in peach and pink that you can mix and match to create new shades every day. An award-winning blush and exceptionally versatile palette, you can use it for various other purposes like highlighting, shading, sculpting, and contouring. When you're in the mood for it, you can even use it as an eyeshadow. A perfect blend of both matte and shimmer finishes, this palette is ideal for all occasions.
Pros
Suitable for all skin tones
Ideal for highlighting
Incredibly pigmented
Matte and shimmer finish
Cruelty-free
Cons
Price at the time of publication: $8.89
This gorgeous blush dares you to show your cheeks to the world. Arguably the best peach blush for dark skin, it stays on throughout the day. It is a creamy formula that settles on the skin without feeling heavy and offers a natural and flushed finish. It contains color pigment polymers, which makes it super conditioning and sweat and oil-resistant. For that added shimmer effect, it is enriched with light-reflecting pearl particles. To top it off, it's a blendable and buildable formula, so you don't have to worry about the powder clumping on your cheeks.
Pros
Blendable and buildable
Creamy formula
Shimmer finish
Contains light-reflecting pearl particles
Cruelty-free
Paraben-free
Cons
Price at the time of publication: $20.0
This uniquely packaged blush palette offers 5 colors of pure bliss and a million ways to play with color. It features basic colors like Orange, Cherry, Coral, Peach, and Pink, and a single swipe of this product goes a long way. This palette offers a shade to match all your moods and outfits, no matter what the occasion. Each shade is pigment-rich and complements all dark skin tones. The smooth and soft powder formula is easy to apply and lasts throughout the day.
Pros
5-in-1 blush palette
Long-lasting
Includes a mirror and application brush
Waterproof
Suitable for sensitive skin
Cons
Some may feel that it is designed more for costume wear than everyday use as the colors are too bright.
Price at the time of publication: $14.99
Give your cheeks an extra dose of love with a little help from this fig colored creamy powder blush. It delivers a flattering and natural-looking flush to melanin-rich skin tones. This 'artistry-inspired' matte powder blush comes with a hint of shimmer, making it an excellent choice for day and night makeup. It is also popular for its high-pigment glow, which comes from finely milled particles. For best results, apply the product evenly on the apple of your cheeks and the bridge of your nose.
Price at the time of publication: $7.5
If you are skeptical about lighter shades of pinks and peaches to work wonders for darker skin tones, perhaps this one will get your nod of approval. A deep and sultry shade that translates well on deeper skin tones, it stands out and illuminates the face with a glow that seems to have come from within. The formula is smooth as silk and blends easily to reveal a highly-pigmented sheer finish. You can also apply this formula as a wet blush for an intensified color. When you're not using it as a blush, you can repurpose it as a highlighter or bronzer.
Pros
Blends easily
Ideal for wet or dry application
Baked on terracotta tiles
Affordable
Sheer shimmer finish
Buildable coverage
Cons
It may not last a long time.
Price at the time of publication: $4.74
We tend to pile on a lot of blush on our cheeks, and harmful ingredients ultimately clog our pores paving the way for annoying blackheads. Once you get your hands on this blush, your skin will thank you. Ideal for all skin tones, this natural blush is infused with the goodness of lavender extracts, jojoba oil, grapeseed oil, rice powder, olive leaf extract, and many more. It also contains vitamin E, which moisturizes and nourishes your skin while reducing hyperpigmentation and wrinkles.
Pros
Contains 75% organic botanicals and minerals
Talc-free
Preservative-free
Non-toxic
Vegan
Cruelty-free
Cons
Slightly high-cost
Some may feel that the application is not smooth.
Price at the time of publication: $21.95
10. Best Fragrance-Free: EX1 Blusher
If you are an ardent fan of peach-colored blushes, this one will keep you insanely happy. Perfect for brown skin tones, you can apply a little bit of this product for a subtle day look, or layer it up to create a more sophisticated and intense look. This ultra-pigmented and creamy formula glides like butter and feels incredibly lightweight. It is 100% oil and fragrance-free, and it's worth mentioning that this blush is approved by celebrities like Kylie Jenner, Bella Hadid, Ashley Graham, and Kim Kardashian.
Pros
Vegan-friendly
Paraben-free
Clinically-tested
Dermatologically-tested
Doesn't clog pores
Cruelty-free
Cons
It is slightly expensive for the quantity provided.
Price at the time of publication: $14.5
A compact and sleek blusher that can comfortably fit in any makeup pouch, even in your pocket, this shimmer blush is what wild nights are made of. A pressed powder blush that offers a silky-smooth application, it is the perfect blend of transparent sheen and a bright pop of color for all skin tones. It is bold, pigmented, and offers maximum color in a single swipe. You never have to worry about re-application or the blush fading away, as this lightweight wonder product lasts a long time.
Pros
Suitable for all skin tones
Transparent sheen
Lightweight
Long-lasting wear
Cruelty-free
Gluten-free
Fragrance -free
Affordable
Cons
Some may find the blush too small.
Price at the time of publication: $2.99
People with darker or brown skin tones often complain about not finding the right shade of any makeup product that flatters their skin tone. Thus, they are often skeptical about bright colors like reds, pinks, oranges, and peaches. The same applies to blushes as well. Yes, it is true that some blushes look over-the-top and makes the skin look dry and dehydrated. However, we are here to solve that problem once and for all.
Kerrin Jackson, a 4-time Emmy-nominated film and television makeup artist, suggests, "When choosing a shade for your skin, don't be afraid to try vibrant, rich hues in reds, pinks and oranges. These vibrant tones really pop and have such a lovely glow on darker skin tones, that you truly can't go wrong."
We've compiled a list of the 11 best blushes for dark skin so that you don't have to go through the hard work of finding one. We hope that you find a shade that speaks to you. Do let us know in the comments if you liked any of these blushes and how you like to experiment with blush palettes.
Why Trust StyleCraze?
Chaitra Krishnan, the author of this article, is a makeup enthusiast who loves to keep up with the latest trends in the beauty industry and review makeup products. Her strong knowledge of makeup trends and products help her provide a well-researched article on the best blushes for dark skin. These blushes help you attain that perfect makeup look.
Frequently Asked Questions
What shade of blush is best for dark skin?
Blushes in the shade range of burgundy, coral, peach, and rosy pinks look best on dark skin.
Does red blush look good on dark skin?
Red blush works well on almost every skin tone, including dark skin. It can bring out the orange and olive undertones of darker skin.
Can brown skin blush?
Yes. Brown skin can blush, but it is often hard to detect a blush on darker skin. Dark skin with red or pink undertones can blush more than ones with warm skin tones.
How do you apply blush on dark skin?
Apply blush on dark skin by lightly dusting the blush with a brush on the apples of your cheek and build it up to your desired level.
Does orange blush look good on dark skin?
Yes, orange or coral shade blush complements darker skin tones, imparting a natural and skin-like glow.
How do I know what undertones I have?
An easy way to determine your undertone is by studying your veins. If your veins look colorless, you have a neutral undertone. Greenish veins mean a warm undertone. If your vein looks blue or purple, you have a cool undertone.
Should I use powder or cream blush?
Go for a powder blush if you have oily and acne-prone skin. On the other hand, cream blush works better on dry skin for a dewy look.
Do you put blush on before or after foundation?
A blush looks the best when you apply it on top of the foundation. Adding foundation on top of blush will hide the color.
Recommended Articles: