The 12 Best Blushes For Olive Skin To Try In 2022 – Stylecraze
These hues of vibrant blushes are bound to highlight your olive skin tone effortlessly.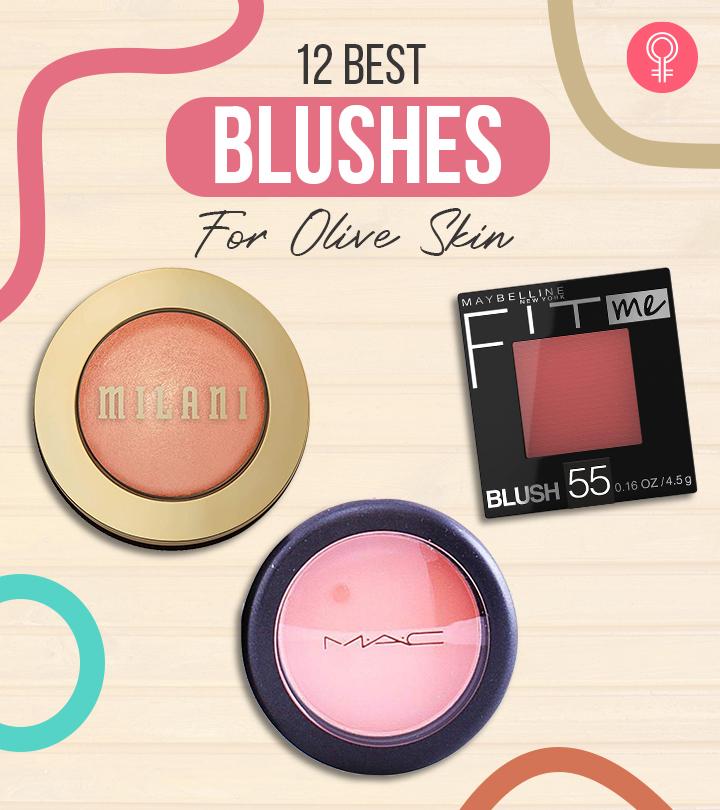 The only thing worse than not using blush to finish off your makeup is using the wrong blush. To avoid this beauty and makeup blunder, you need to choose the best blush for olive skin.
For women with an olive skin tone, very bright shades can make the cheeks look painted or scarred— not recommended. Contrarily, a shade too close to your natural complexion can completely be lost on your skin. To help you navigate the way to finding the perfect blush shades for olive skin, we have got a list of the 12 best options. Explore away!
12 Blush Shades That Are Perfect For Olive Skin Tones
The Milani Baked Blush in Luminoso shade has the perfect texture and shimmer for a blush. It blends effortlessly into olive skin tone and pop your cheekbones. True to its name, this blush has been sunbaked on Italian terracotta tiles. This effect gives your skin a warm finish and a radiance that looks natural. Luminoso is enriched with jojoba seed oil and vitamin E that nourish your skin when you wear it. If you are looking to subtly contour your cheekbones, this is the best option.
Pros
Richly pigmented
Buildable
Long-lasting
Cruelty-free
Vegan
Paraben-free
Subtle shimmer
Easy to apply
Cons
None
Multistick Toasted Nutmeg shade from HAN Skincare Cosmetics is 100% natural and non-toxic. It is formulated with shea butter, coconut oil, and acai oil, along with plant-based and mineral-based pigments. This nourishing and hydrating multistick can be used as a blush, highlighter, lip tint, and eye shadow to add a sheer pop of healthy color on olive-toned skin. It carries a vitamin-rich formula that glides smoothly on skin and leaves a long-lasting tint.
Pros
Gluten-free
Cruelty-free
Petrochemical-free
Paraben-free
Synthetic dye-free
GMO-free
Phthalate-free
Silicone-free
Vegan
Cons
None
L'oreal Paris' True Match™ Blush in Subtle Sable shade is the best blush for olive skin tone with no orange undertones. It flawlessly complements your skin tone and highlights your cheeks with the perfect matte tint. True and deep pigments of this blush coat your skin in a single sweep and stay in place all day long. They also blend in seamlessly without leaving flakes or shimmer. Because of its fine texture, this blush is a good option to use on mature skin too.
Pros
Non-comedogenic
Buildable shade
Fine texture
Pleasant smell
Cons
Product crumbles after minimal use
Maybelline New York Fit Me® Blush, Berry is a weightless powder blush that gives a true-to-tone, natural pop of color to your face. This blendable formula spreads evenly, provides a radiant glow, and complements olive skin. It is also dermatologically tested for allergies to suit all skin types, particularly sensitive skin. The fine texture of this blush makes it blendable and yet subtly noticeable. You can also build the shade up as per choice — it'll stay exactly the same all day long.
Pros
Lightweight
Non-comedogenic
Easy to build
Cruelty-free
Value for money
Cons
Maybelline New York Cheek Heat is a water-based gel-cream blush. The shade, Nude Burn, creates a natural, sheer flush on olive skin-toned cheeks. It is infused with vitamin E that nourishes your skin to prevent flaking or drying. Its true pigments are buildable and blendable on most skin types. Its oil-free formula glides onto your skin, leaving a soft, dewy finish. You can also mix any of the available shades to create a better-suited, seamless cheek tint.
Pros
Buildable pigments
Long-lasting
Good color payoff
Wears evenly
Doesn't turn flaky or dry
Cons
Jane IredalePurePressed® Blush in the Dubonnet shade gives a natural, just-blushed look to olive skin. Thanks to the minerals and antioxidants it comes with, your skin would look like it's glowing from the inside out. Exotic ingredients such as pomegranate extract and pine bark extract, along with earthy minerals like mica and boron nitride ("Rolls Royce" of minerals), soothe and nourish your skin. The blush also gets a fine texture because of them. This formula glides in one sweep, adheres to your skin, and diffuses light beautifully on your cheekbones. What's more — this product can also double up as an eye shadow and a lip color!
Pros
Non-comedogenic
Contains natural antioxidants
Weightless
Cruelty-free
Synthetic fragrance-free
Preservative-free
Vegan
Cons
This Liquid Blush from SHANY in Epic Final shade sculpts the apple of your cheeks with true-to-tone pigments. It naturally hydrates your skin for a healthy and radiant glow. This cream-to-powder blush comes in an efficient airless pump bottle that is spill-proof and hygienic — the best bet for a travel-friendly blush. Its formula comes with a soft, satiny texture that glides onto your skin and gives beautiful sheer coverage.
Pros
Lightweight formula
Paraben-free
Cruelty-free
Suits all skin types
No flaking
Cons
AMBIENT™ Lighting Blush by Hourglass is a hybrid blush that imparts seamless, soft-focus, multi-dimensional peachy warmth to your cheekbones. Unlike traditional blushes, which could be flat, this blush uses Photo luminescent Technology to introduce depth and dimension. It is handmade using an advanced miscelare (mixing) technique. This gives you the perfect balance of pigment and powder, which, together, deliver a radiant finish with buildable color.
Pros
Lightweight
Paraben-free
Fragrance-free
Talc-free
Nanoparticles-free
Gluten-free
Cruelty-free
Ideal for all skin types
Cons
The Benefit GALifornia Powder Blush is the goddess blush for olive-toned skin. It has the right tones of pink and warm California sunshine. The shade blends bright pink with shimmering gold and features the signature GALifornia Dreamin' scent that has notes of pink grapefruit and vanilla. Just as delicious as it smells and feels, this blush comes in an exotic package. The box includes a custom rounded blush brush for soft, diffused application and a tiny mirror. It carries artwork inspired by vintage California surfer girls. The pressed product is customized with an embossed sun motif.
Pros
All-day wear
Adds subtle radiance
Pleasant fragrance
Available in travel size
Intense pigments
Buildable
Cons
The Sheertone Powder Blush in Peaches shade is the best MAC blush for olive skin. It is designed by professionals and adds true and natural-looking color to your cheeks. It applies evenly with ease and consistency and adheres lightly to all skin types. Enriched with vitamin E, this MAC blush nourishes your skin as you wear it and leaves it feeling supple and soft.
Pros
Non-comedogenic
Long-staying pigments
Buildable
High color payoff
Consistent undertones
Dermatologically-tested
Suitable for acne-prone skin
Cons
None
The EX1 Cosmetics Blusher is adored by users with olive skin tone and/or warm undertones. This smooth and light formula glides onto your skin to deliver a perfectly even application. It is composed of carefully-selected, rich pigments that give a high-color payoff. This blusher comes in four pink hues that are designed to complement olive skin complexion with radiant and sheer cheek definition.
Pros
Lasts all day
Breathable
Non-comedogenic
Oil-free formula
Fragrance-free
Dermatologically tested
Paraben-free
Cruelty-free
Cons
None
BECCA mineral blush in Tigerlily shade is a peachy nude blush for olive-toned cheeks. It builds and blends effortlessly to give the apple of your cheeks a healthy, natural flush. This finely-milled blush wears evenly with a single sweep and gives you full control of the application. You can, therefore, achieve a customized color and intensity to define the cheekbones. This blush can be worn alone for a subtle shimmery layer of color and also over carefully selected matte shade for that added pop. Its light coral-orange and pink tint adds just the right warmth and balances the yellow undertone in olive skin.
Pros
Buildable
Easy to apply
High color payoff
Adds subtle shimmer
Cruelty-free
Cons
None
Why Trust StyleCraze?
Baishali Bhattacharya is a professional image consultant and qualified makeup artist with experience in writing and analyzing cosmetics, beauty, and skincare products. She's compiled a list of the top blushes for women with olive skin tones based on her expertise. She did extensive research and analyzed user evaluations of each suggested product to compile this list. Each product is described in detail to assist you in selecting the best blush for your skin tone.
Frequently Asked Questions
Is peach blush good for olive skin?
Yes. Medium peach tones are perfect for the olive skin spectrum. Try the A.C Sheertone Powder Blush Peaches that are soft and blendable and can be applied on the cheeks and eyes for a natural-looking blush.
Is olive skin warm or cool-toned?
Olive skin has a mix of both warm and cool.
How can I tell if I have olive skin?
Here are a few ways to tell if you have olive skin tone:
•  Your veins might have a slight tinge of green or blue.
•  Foundations on your skin might look too yellow, or orange on your skin, even if it's the correct shade.
•  You look good in peach and pink tones but not pastel shades.
Is liquid blush better than powder?
Liquid and powder blushes have their own distinct qualities and are equally good for styling. A powder blush is ideal for a more precise look. For a daytime summer look, cream blushes are ideal.
Do people with olive skin use blush?
Yes. People with olive skin also use blush, but finding a blush for olive skin tone can be tricky because of its green undertones. Try warmer shades of blushes to get a glowing look.
What color blush should olive skin avoid?
Olive skin tones should avoid cool shades or blushes. Try using warmer colors like peach, yellow, and golden.

Recommended Articles:
Best Blushes for Fair Skin – Summer
Best Blushes For Sensitive Skin
Best Blushes To Buy Online
Best Cream Blushes