20 Best Boar Bristle Brushes To Smoothen All Hair Textures – 2023
Fix your tresses and add smoothness to them without hurting your scalp's delicate skin.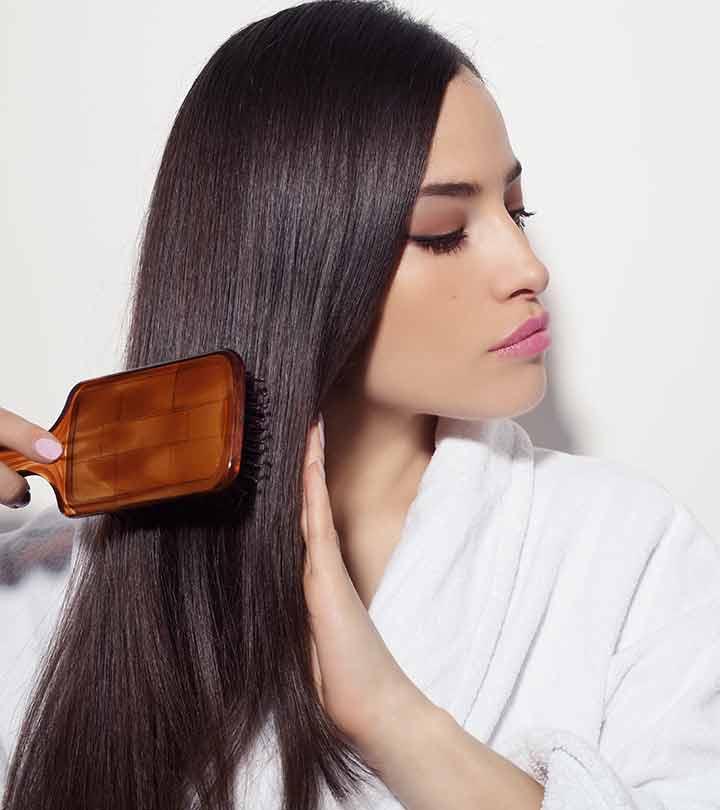 For those who don't know the benefits of using the best boar bristle brush, it works like magic in smoothening, detangling, and de-frizzing hair instantly. What more could be needed from a hairbrush! While we don't give much weightage to a hairbrush when it comes to hair care, it is something that comes in direct contact with our scalp, and using just any brush can lead to scratches on your scalp. If you have been concentrating on other products and not on investing in a good brush, here is why you need to fix that right away. While boar brush has been used since ancient times, it has many hidden benefits that make it stand out. Here is a list of 20 highly rated brushes for you to choose from for giving your hair the treatment it deserves.
Benefits Of Using A Boar Bristle Brush
Considering how it has survived all beauty revolutions and made it safely to our handbags, speaks volume about its benefits. Some of them are as follows:
These brushes defrizz, detangle, and smoothen hair.
The bristles help spread the sebum (natural oils) on the scalp without causing any abrasion.
They bring out the natural sheen and suppleness, whether used on curly, straight, or wavy hair.
They reduce static, calm the flyaway strands, and boost volume.
With less to no hair breakage, they eliminate greasiness and limpness too.
They are travel-friendly, long-lasting, and handcrafted
Free from chemicals, they are 100% natural and hair-friendly as well.
How To Use A Boar Bristle Brush Correctly
Every product is designed to be used in a certain way, even brushes. To use them correctly, follow the steps:
Collect all your hair in the front.
Hold the brush firmly and gently stroke starting from the neck to the crown, and lastly, to the front hair for 2-3 minutes. This will help the bristles collect all the extra sebum on the scalp.
Straighten up slowly, let your hair fall back, and continue the same process for 2-3 minutes. Doing so will help the natural oils collected on the bristles be redistributed evenly to the other parts of the scalp. That's how a boar bristle brush works!
Now that we've explored the benefits and uses let's move on to the list of 20 best boar bristle brushes that'll add shine to your hair. Read on to know more!
20 Best Boar Bristle Brushes That Will Add Shine To Your Hair
This boar bristle brush by Bsisme is anything but banal. It has got the look, an ergonomic design, and efficiency that will exceed all your expectations! This hairbrush eliminates grease, improves hair texture, redistributes the natural oils, and detangles knots effortlessly in a few strokes. The nylon bristles massage the scalp, stimulate blood circulation, and improve hair growth. Are you feeling spoilt for choices? There's more. This set of 3 also has a detangling pin to make cleaning the bristles easier for you. Here is an informative video that tells you more about the product.
Pros
Suitable for all types of hair
Adds shine and detangles hair
Reduces frizz, breakage, and hair loss
Eliminates dandruff and excess oils
Ergonomic design
Cons
The bristles may not last long
Price at the time of publication: $12.99
What if we tell you that this boar bristle hair brush will replace your leave-in conditioners in just 7 days? Take the challenge, and if not satisfied, the brand offers a full refund with no questions asked. Eco-friendly and providing 100% natural conditioning treatment, Beauty By Earth's boar bristle brush feels no less than a pamper stick. Improving the overall health of the hair, making it more manageable and easier to style, this brush, by all means, deserves to find its place in every handbag! For more information about the product, click this video.
Pros
Improves hair texture and manageability
Offers 100% natural conditioning treatment
Detangles and de-frizzes hair
Adds natural sheen
100% natural and made of bamboo
Cons
The bristles are not durable
Price at the time of publication: $30.99
When it comes to premium quality, Dovahlia's Boar Bristle Brush Set stands ahead of the pack. Unlike other brushes, the 100% pure boar bristles on the natural bamboo stick is designed to reach even the most unreachable spots on the scalp. This means all the natural oils are effectively spread out, and the roots are conditioned in a few easy-glides. Thin hair? No problem, it caters to all types of hair! Detangle your tresses or brush to refresh, this super combo set along with a wooden comb and a travel bag will not disappoint you. Check this video to learn more about the product.
Pros
100% pure boar hair and natural bamboo
Detangles and de-frizzes hair
Soft yet super-effective bristles
Conditions the roots and scalp
Cons
Too soft for coarse and stubborn hair
Price at the time of publication: $23.99
The Belula Hair Brush Set comes with a wooden comb that helps to detangle your strands before styling them with the brush. It also has a spa headband of high-quality cotton that keeps your hair out of the face when in need. The styling package comes with a bonus travel bag to carry it and style your hair anytime and anywhere. The brush and comb set stimulates your scalp to increase hair growth.
The brush has soft, 100% boar bristles and gives your hair a smooth texture. It helps you to create multiple styling patterns and get rid of frizz. The brush is voluminous and has squashy bristles, which are good for all hair types i.e. coarse, curly, fine, or straight. The handle is ergonomically designed and made from premium quality bamboo to ensure smooth styling that makes your hair shine.
Pros
Soft boar bristles
Bamboo material
Ergonomic design
Suits all hair types
Makes hair smooth
Cruelty-free
Travel-friendly
Cons
None
[multi_buy_now_btnasin="B07F9QG9XZ"amz_affilate="tsr-haircarepro-20″walmart_affilate=""]
Do you like styling your hair? Then look no further because this hairbrush offers a combo of conditioning the strands with natural oils as well as their rounded design help in creating beautiful waves and curls. This 4-in-1 boar bristle brush set is what you, your family, and your hair will adore. It is easy-to-use, suitable for thick hair, and features an ergonomic handle too.
Pros
Suitable for color-treated and thick hair
Ergonomic design
Lightweight and long-lasting
Conditions hair and improves manageability
Helps in styling
Cons
Bristles are soft for thick hair
Increases static
Expensive
Price at the time of publication: $19.95
The secret is out. With Suprent Round Brush, anyone can get flawless curls, waves, or blow-dries at home! Infused with nano ionic technology, this bronze beauty with a honeycomb design and 100% pure boar bristles improves hair texture by pulling down the sebum to the ends. The rounded structure of the hairbrush boosts volumes and creates curls. The vents, on the other hand, allow free flow of air and reduce drying time as well. All this plus it is anti-static and heat-resistant. With this hairbrush, you can say goodbye to bad hair days forever.
Pros
Salon-like curls, waves, and blow-dry at home
Improves hair conditioning
Tackles frizz and dryness
Anti-static and heat-resistant
Reduces drying time
Boosts volume and natural sheen
Suitable for thick, coarse, and textured hair
Cons
Bristles are hard for sensitive scalp
Price at the time of publication: $14.99
Here's a hairbrush that will instantly uplift your hair from greasy to gorgeous in 2-3 minutes! Bestool boar bristle brushes have dual-bristles (that is boar hair + nylon tips) sprouting from a cushioned base, and we can't stress enough how comforting they are for your hair. While taming frizz and redistributing the natural oils, they also massage and stimulate the scalp. Giving a complete therapeutic experience, it is a must-have if you want to turn your daily grooming into a spa session.
Pros
Dual bristles with boar bristles and nylon tips
Massages and stimulates the scalp
Removes knots and tames frizz
Therapeutic and accelerates hair growth
Cons
The nylon bristles may be sharp for sensitive scalp
Price at the time of publication: $8.49
Daily grooming is of utmost importance for men too. Why settle for hair-damaging combs, when you can improve your hair and beard texture with Kent's Large Boar Bristle Cushion Brush. Designed to spread out the natural oils that your scalp produces, it makes hair and beard easy to style and manage. Use it on-the-go, in the morning, or whenever you want to, the nylon bristles work beautifully on long, thick, and coarse hair. Durable, long-lasting, and travel-friendly, if you're still unsure, the brand offers a full refund on return.
Pros
Improves hair and beard texture
Conditions and improves manageability
Accelerates hair growth
Travel-friendly and long-lasting
Cons
Price at the time of publication: $9.95
Fancied by customers across the globe, Denman's Large Hair Brush With Soft Nylon Quill Boar Bristles is designed to be gentle on your scalp and hair. Irrespective of how hastily you brush your tresses, the soft bristles detangle, groom, and add shine to your hair without causing any breakage. Besides this, the hairbrush nourishes the cuticle with natural oils, while the air-cushioned pad massages the scalp. A must for busy-bees who are always on the run, you can trust this eco-friendly hairbrush for optimum comfort and care.
Pros
Detangles knots and tames frizz
Enhances natural shine and texture
Ideal for grooming all types of hair
The air-cushioned pad offers a spa-like experience
Lightweight, eco-friendly, and travel-friendly
Cons
Too soft for coarse hair
The nylon tips may be sharp for sensitive scalp
Price at the time of publication: $39.95
This is no regular hairbrush; it is a multi-purpose wild boar bristle brush that will save you all the money you might spend on salon trips. Fulfilling all your hair care and styling needs, the ceramic cylinder reduces drying time, and wild boar bristles help you explore many hairstyles in the comforts of your home! The ionic technology seals the cuticle and protects your hair too. A multi-purpose marvel offering total comfort and styling, this brush also has a splitting needle for hair parting, an ergonomic rubber handle, and 4 hair clips to make every hair styling session an indulgence!
Pros
Enhances hair shine
Negative ions seal cuticles and protect hair
Salon-styled and spa-treated hair within minutes
Reduces drying time
It has an ergonomic handle and hair-splitting needle
Cons
The bristles may tug on your hair
Price at the time of publication: $22.0
This brush will reduce your blow-drying time by half, no kidding! Considering its vented ceramic barrel dries the hair evenly, it's safe to say that it is ideal for all those rushing to get to work every morning. Also, you need not worry about the volume and shine of your hair as the natural boar bristles enhance the strands, redistribute sebum, and add an enviable glow to the hair. And if you have time on hand, you can use the hairbrush for styling too! But what makes this hairbrush different is, it does not tug on your hair.
Pros
Reduces drying time
Adds volume and shine
Enhances roots and strands
Does not pull your hair
Tames frizz and brittleness
Cons
Not suitable for thick and coarse hair
The bristles are hard
Price at the time of publication: $13.99
Sometimes, classic is the way to go. The best example is this 100% pure boar bristle brush on an all-natural bamboo base, which is supremely efficient and delivers what it promises. It polishes and conditions hair. Recommended by stylists and happy customers, it improves the health of your hair and leaves it looking healthier naturally. So, if you are looking to upgrade from your old hairbrush, Bass Brushes is our pick for you!
Pros
Shines, polishes, and conditions hair
All-natural bamboo handle
100% boar bristles
Improves texture and adds shine
Hair looks healthier
Cons
The bristles are too stiff for fine or thin hair
Price at the time of publication: $16.99
When it comes to traveling, oversized brushes are a no-no. You need something handy and travel-friendly, something like the Kent Rectangular Beachwood Gentlemen's Hair and Facial Brush. Grooming hair and facial hair like a pro, you'll never miss your oversized brushes again. Made to fit the size of your palm, this brush removes grease, spreads the excess sebum, and prevents hair ingrowth. It may be small, but this cute little brush is exceptional when it comes to grooming facial hair too. No wonder customers prefer it as an option for gifting as well!
Pros
Small and travel-friendly
Grooms, conditions, and prevents hair ingrowth
Suitable for use in all temperatures
Cons
Price at the time of publication: $68.0
Promote healthy scalp with the Desert Breeze Distributing Boar Bristle Hairbrush. This brush is ideal for fine to medium hair. The brush is made with first cut Calcutta boar bristles and crafted in Germany. It helps to improve your hair texture and condition it. In addition, the brush effectively  transfers the hair's natural oils down the shaft, stimulating the hair scalp, adding natural shine, and promoting hair growth.
Pros
Gentle on hair
Reduce breakage
Lightweight pear wood handle
High-quality bristles
Sturdy
Cons
None
Price at the time of publication: $34.49
Whether your date shows up or you have a last-minute meeting to attend, you can always count on this Dovahlia boar bristle hair brush to be #onfleek. Run it through your hair, and you will notice the knots disappear, making your tresses look healthier and shinier than before. Also, this hair brush eliminates grease and conditions naturally, thus reducing the need for frequent hair washes!
Pros
Detangles knots
Massages and stimulates hair growth
Revives the natural shine and texture
Gentle with no pulling
The set also includes a wooden comb and a travel bag
Cons
The nylon bristles wear off quickly
Price at the time of publication: $22.99
The high-quality URTHEONE Boar Bristle Hair Brush And Comb Set suits all hair types and lengths. The bristles are made from boar and nylon to penetrate through the follicles and get rid of frizz and promote blood circulation. The brush also helps to redistribute natural oil from the scalp to all follicles. This helps to make your hair smooth, shiny, and gets rid of scalp dryness, itching, etc.
The wooden paddle handle has a sleek design and offers a good grip, making the brush easy to use. The set also has a mini travel bag, a mini brush. and pointed tail comb which helps to style your wet hair. A set of nylon pins is provided to massage and stimulate your hair and get rid of frizz, tangling, split ends.
Pros
Ends frizz, split ends
Detangles hair
Reduces hair breakage
Stimulates hair growth
Suits all hair types
Ergonomic design
Soft smooth bristles
Gets rid of dandruff
Cons
None
[multi_buy_now_btnasin="B085KZWDFW"amz_affilate="tsr-makeuppro-20″walmart_affilate=""]
Is hair brushing more a rough glide than a smooth one for you? Then you need a new brush. Fuller Brush Natural Walnut Wood Club Hairbrush is so gentle that it offers an experience so invigorating that it shows when your hair shines and looks healthier after a few run-throughs. No more splitting or breakage, the bristles remove knots and distribute sebum evenly. Also, the bristle tufts have a no-rust staple, which translates to long-lasting durability. Designed by a brand with over 100 years of excellence, there's no reason to doubt this hairbrush's dexterity. Bag it today!
Pros
No pulling and snagging experience
Gently massages and stimulate blood circulation
Detangles and de-frizzes
High-quality bristles are long-lasting and durable
Cons
Price at the time of publication: $79.99
Make your hair, frizz-free, detangled, and beautifully styled with the Ineffable Boar Bristle Hair Brush Set. Its natural boar bristles are soft on the skin and stimulate natural oils from the scalp to promote healthy hair growth. The brush set also has nylon bristles that help to improve the hair texture by detangling it from root to tip. The bursh heads are large in size and curved to smoothen the hair by allowing maximum contact points and creating varied angles. The big size of the brush makes it suitable for all hair types.
The handle is made from good-quality flexible plastic material that gives you a better grip. Its vent allows you to create any styling pattern while simultaneously drying the hair with a blow dryer. A set of nylon pins is also provided to hold your hair for a long-lasting style. It is a perfect gift for your loved!
Pros
Ergonomic design
Suits all hair types
Flexible head
Reduces frizz
Curved oversized head
For wet and dry hair
Multiple color options
Cons
None
[multi_buy_now_btnasin="B01D3Y6WFG"amz_affilate="tsr-haircarepro-20″walmart_affilate=""]
BESTOOL Round Brush is specially designed with dual-bristles that help in curling and straightening your hair. It offers a salon-level hairstyle. The Flexible nylon pins pass smoothly through the long thick hair removing the knots, while boar bristles smoothen your hair. This round brush works effectively with the blow dryer, heating the wooden barrel but not overheating the brush. In addition, the brush comes with a storage bag and a cleaner for easy cleaning.
Pros
Easy to use
Anti-slip rubber handle
Cruelty-free
Sturdy
Rounded tips
Cons
None
Price at the time of publication: $16.97
Last but not least, a brush that will keep your hair selfie-ready anywhere, anytime. Sleek and slim, it is designed to be travel-friendly in all possible ways! This boar bristle brush will not eat up space in your bag and instantly livens up your hair before you say cheese! Making it a perfect gifting option for men, it can easily double up as a grooming tool for facial hair too.
Pros
Smoothens and conditions hair
Sleek and slim design
Travel-friendly
Ideal for facial hair grooming
Prevents thinning and ingrowth
Cons
Bristle density is low
Not ideal for thick hair
Price at the time of publication: $28.0
Why Trust StyleCraze?
The author, Vaishnavi Kothuri, is a hair care enthusiast. She loves recommending the best products to users based on facts and genuine feedback. Here, she has come up with a list of the best boar bristle brushes after carrying out hours of research and a thorough analysis of online reviews. These products have been handpicked for their ability to reduce frizz and prevent scalp damage and hair breakage.
Frequently Asked Questions
Does a boar bristle brush stimulate hair growth?
Yes. Boar bristle brushes increase blood flow in the hair follicles and stimulate hair growth.
Can boar bristle brushes damage the hair?
No. Boar bristle brushes gently glide through your hair, causing less hair breakage. Also, they distribute oils evenly on your scalp and promote healthy hair growth.
Are boar bristle brushes good for oily hair?
Yes. Boar bristle brushes distribute sebum throughout your scalp and seal moisture in your follicles, making the hair shine. However, these combs can also cause frizz to excessively oily hair.
How often do you brush your hair with a boar bristle brush?
Comb your hair with a boar bristle brush twice daily.
How long do boar bristle brushes last?
A good-quality boar bristle brush lasts for six months.
How do I clean a boar bristle hair brush?
• Remove the gunk and hair from the bristles.
• Mix a few drops of shampoo to warm water.
• Soak the brush in warm soapy water.
• Rinse the brush under cold running water.
• Let the brush air dry.
Recommended Articles