25 Exquisite Bob Braids You Need To Try Out
Moesha Mitchell is known for two things: being the Fresh Princess Of L.A. and her bob braids.
In Western African communities, braids were used to show marital status, wealth, religion, age and rank. The ever-trendy braids have since been blended with a lot of hairstyles. This means the 90s super cool braided bob is back! While the bob is super edgy and modern, braids have transcended time and remained flawless. Therefore, this hairstyle is the perfect mix of vintage and modern.
Excited to know more about this trend that has taken the world by storm? Read on to find the top 25 bob braids of all time.
But before that, here are a few pointers on how you can pick a bob braided style that will look fabulous on you.
How to Style Bob Braids
Decide Which Bob You Want
The bob is one of the trendiest hairstyles, so it's no surprise that we've created multiple variations of it. The bob has been ruling the short hair world since 1920. Ranging from the classic bob all the way to the A-line and asymmetrical bobs, there is a wide variety to choose from. You need to keep your face shape in mind as bobs help in framing your face. If you don't know your face shape, check out this article to figure it out.
Decide What Kind Of Braids You Want
Dutch braids, Ghana Braids, feed-in braids, regular braids, Khaleesi braids…the list goes on and on. You need to decide whether you want protective braids or regular braids.
Almost all protective styles use hair extensions. So if you're opting for styles, you need to consider what kind of hair extensions you want to use. Do you want virgin hair or synthetic hair? Synthetic hair is made from fine plastic fibers while virgin hair is natural human hair. Both work great, but natural hair will look and feel more mature and flow more freely.
Using hair extensions not only adds volume but also prevents damage. Instead of coloring your natural hair, you can pick colored extensions. You can also buy extensions and then dye them the color you want.
Can the bob and braids you want be cut and styled at home or will they be done better at a salon? In my experience, it's always better to get your hair done professionally.
Accessories can really amp up your hairdo. You need to decide whether you want to go big or stay minimalistic. You can choose from hair rings to clips to beads to flowers to…you get the drift.
Now that you know the things to consider when picking a bob braids style, it's time for the fun part! Here's a list of the 25 bob braids that are trending all over the world.
25 Exquisite Bob Braids You Need To Know
1. Pink Curved Braids
Pink reminds me of all the good things from my childhood – unicorns, cotton candy, Barbie dolls, teddy bears, and bubblegum. Braid that glee into your hair with this awesome side curved bob braids style. You are now ready to look GLAMOROUS!
2. Asymmetrical Braided Bob
Asymmetrical bobs look badass. I thought there was no possible way to top them until I saw this asymmetrical braided bob. It has such a strong personality. It is stunning! The blonde extensions look incredible in these box braids.
3. Thick Bob Braids
Hair extensions are generally used to make hair look thicker. That is exactly what this braided bob does. The burgundy accents are subtle yet boisterous at the same time. Love this crochet braid look.
4. Long Braided Bob
Don't let the braided bob fool you. While it is inherently badass, it is versatile enough to be styled in a girly manner.
5. Shaved On The Side Braided Bob
#Thuglife! Some hairstyles ooze personality, and this is one of them. The shaved pattern on the side can be a simple or an intricate design, depending on your preference. With the pattern, this hairdo looks totally edgy.
6. Braided Bob With Hair Rings
This braided bob looks tribal and wild. You can almost hear the opening theme for The Lion King in the background. Come to think of it, if The Lion King was remade with humans, I think this is how Nala would look. Pretty wild, eh?!
7. Wavy Braided Bob
When you tightly weave a braid, your hair tends to get squiggly – which makes for a crazy hairdo. These wavy braids are perfect for sporting on a beach holiday.
8. Ombre Braided Bob
Ombre will never go out of style. The key is to pick colors that go well with your skin tone. Your skin has surface tones and undertones. Dark, olive, medium, and fair are surface tones while warm, cool, and neutral are undertones. It's the undertones that really matter when picking a hair color.
9. Pop Of Color Braided Bob
Sometimes all you need in life is a pop of color. This braided bob would look like any other if it weren't for that splash of caramel brown. Add some vibrance to your locks to set it apart.
10. Tight Twists Braided Bob
Storm is known for being a fierce mutant who controls the weather, and for her iconic silver grey hair. It's no wonder that every woman at some point in her life wanted this hair color. I still do.
11. Shell Braided Bob
Who needs flowers and headbands when you have shells? Shells carry the sound of the ocean and make you feel like you're on holiday 24/7. Sounds pretty awesome, right? So, accessorize your bob braids with some shells to create a summer-perfect look.
12. Electric Blue Bob Braids
Blue is a futuristic color. It's no wonder it's the color of a famous time-traveling spaceship. (If you get that reference, you have a special place in my heart). These bob braids look uber cool with electric blue highlights.
13. Volumizing Bob Braids
This girl has flawless features, and the bob braids only accentuate them. Bob braids can help accentuate your features, especially if you have a diamond- or oval-shaped face.
14. Thick Threaded Braided Bob
Why settle for thin braids when thick locks give you more volume? And those colorful threads add vibrance to the hairdo. The slight pop of color here and there is a nice touch that adds some dimension to the braided bob.
15. Gold Beaded And Threaded Bob Braids
To look a class apart, all you need are accessories like these gold beads and threads. They transform this braided bob into a masterpiece.
16. Dual Colored Box Braid Bob
Simple, yet very stylish. If you like subtle hair colors, this is the braided bob for you. The best part is that you don't even need to color your hair. You can achieve this look by using some colored extensions.
17. Undercut Braided Bob
You don't have to braid your whole bob to look glamorous. If you have a pixie bob, weave your hair on one side into a thin braid. You'll have to use the French braiding method where you keep adding hair to the side sections of the braid. This hairstyle looks especially great with big earrings!
18. Side Braided Bob
This one is pretty easy to try. Using a straightener, style some waves at the ends of your hair. Part your hair on one side. Take some hair from the front of the side with lesser hair and weave it into a braid. Pin it up underneath some loose hair at the back of your head. This hairstyle looks especially great with coffee brown highlights done on black hair as it adds texture and dimension to the look.
19. Simple Thin Braided Bob
Thin braids can also look very voluminous. The key is to use hair extensions that make your hair look fuller than it is. Simple accessories like classy clip-on beads can add oomph to this hairdo.
20. Free Ended Braided Bob
I love this hairdo. The deep wine extensions look brilliant and go well with her skin tone and lip color. I like how the beads are placed at the ends and also randomly throughout her hair. It looks traditional, yet has a modern feel to it.
21. Long Braided Bob
Growing out your bob is never wrong, especially if it's a slanted bob with the back shorter than the front. Weaving the entire bob into thin black braids adds a lot of edge to the look. Throw in some colored threads, and you can wear this hair look just about anywhere.
22. Over-Side Braided Bob
This dark-light mix of colors adds texture and dimension to the hair. Part your hair on one side. Weave a braid on one side, flip it over to the other side, and pin it underneath loose hair. Pancake the braid to make it look voluminous.
23. Patterned Braided Bob
Black women take a lot of pride in their braids, which is why they spend a lot of time perfecting them. Intricately patterned braids like these look breathtaking, to say the least.
24. Tightly Twisted Braided Bob
These tight twists look like the polished version of dreadlocks. It's important to remember not to twist or braid your hair too tight, especially near the scalp. This can lead to Traction Alopecia. Apply some gel or mousse near the roots so you get a better grip when braiding or twisting your hair instead of pulling it tightly.
25. Scarfed Braided Bob
Scarves have been around for ages. They can amp up any hairdo and add vibrance to an ensemble. While there are many ways to tie a scarf around your hair, this almost-turban look is a hot favorite.
Now that you know which bob braids are trending right now, here are some maintenance tips to make those braids last longer.
How to Maintain Bob Braids
Get your braids re-weaved every three months. This way you won't have to start from scratch, but simply secure the loose ends.
Wash your hair only once a week. Washing your hair too often can loosen the braids. Concentrate on washing off the buildup on your scalp.
Kinky hair dries out faster than all other hair types. To remedy this, apply oil to your roots regularly. Use your fingertips to massage hot oil on your scalp.
Deep condition your hair at least once a week; use a natural leave-in conditioner. This will moisturize your hair follicles.
Wrap your hair in a silk scarf before you go to sleep. This will prevent your braids from getting frizzy.
Using a blowdryer can dry out and damage your hair. Instead, allow your hair to air dry.
That was my round-up of the 25 best bob braids for you ladies to try out. They are guaranteed to make heads turn your way, and make you feel and look gorgeous. Let me know which was your favorite style in the comments section below!

The following two tabs change content below.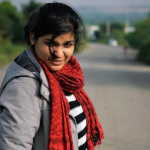 Latest posts by Anjali Sayee (see all)