13 Best Bobby Pins For Thick Hair In 2023
Flaunt your favorite hairstyle and fancy accessories with these handy little clip-ons.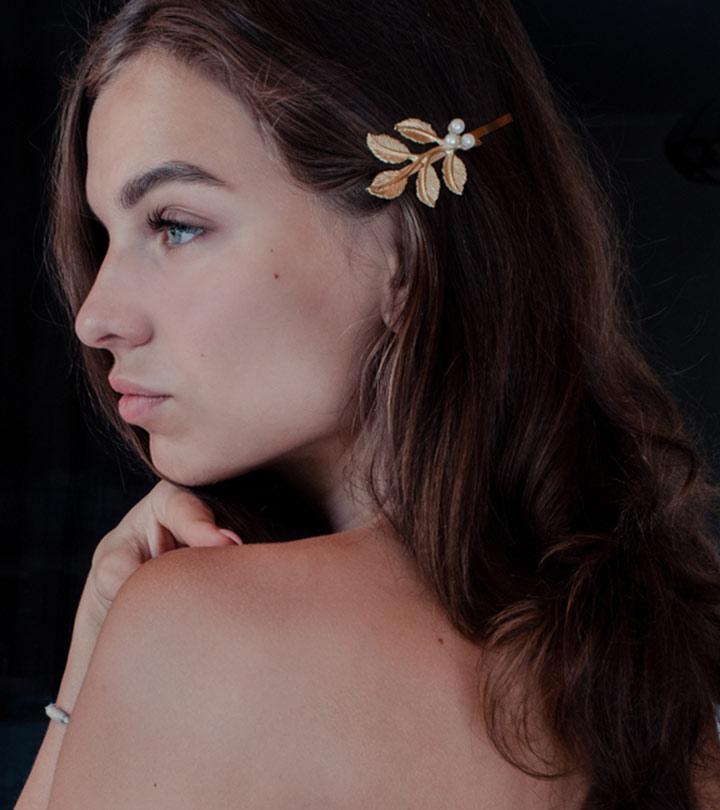 Lush, beautiful thick flowing hair looks absolutely gorgeous and is sure to break a few hearts! But styling it requires a bit of skill and a whole lot of product! This is where bobby pins for thick hair come into use. These nifty, unassuming little pins can be an absolute life-saver in a fashion emergency and are a must-have in your purse if you have thick hair. Heavy-duty bobby pins are strong and versatile and can take your 9 to 5 look and extend it for a solid 12 hours. Apart from being functional, they also need to look fashionable and make you look chic. In this article, we've listed some of the best bobby pins for thick hair that are fashionable and functional at the same time. Go check them out now!
Top 13 Best Reviewed Bobby Pins Of 2023 For Thick Hair
This tub of 500 bobby pins is the best investment you can make towards controlling your thick mane. With 500 bobby pins, you won't have to hunt for extra pins in the middle of a hair styling session; we all know how annoying that is! The plastic-coated tips allow you to smoothly insert and remove the pins without any hair breakage. The coated tips also help secure the hair in place for extended periods by providing extra grip and support.
Pros
Secure hold
Travel-friendly
Value for money
Ideal for all hair textures
Reusable container
Cons
Price at the time of publication: $8.99
These 3-inch bobby pins are the stuff of your dreams. They are sturdy, strong, and sleek, all at the same time. A few of them are more than enough to rock any hairdo of your liking for hours on end. They maintain their shape despite excessive use. Available in a variety of packs and 2 different colors to choose from, this 18-piece set will help you create memorable hairstyles.
Pros
Long
High-strength
Maintains shape
Available in 2 colors
18 pieces
Cons
Price at the time of publication: $5.03
Here's, literally, a jar full of bobby pins for all our readers who somehow manage to lose every bobby pin they have ever used. These bobby pins for thick, curly hair are the solution to your vanishing and thick-hair-getting-out-of-control problem. They don't poke you or rip your hair out. Ideal for all hair types, including frizzy and curly hair, these extra long bobby pins are the real lifesavers!
Pros
Rubberized tips
Value for money
Reusable container
Rust-resistant
Long-lasting spring
Cons
Price at the time of publication: $13.99
If you don't end up buying these pins for just how great they are, you will definitely buy them for the packaging they come in. 200 of these bobby pins are packed in a sleek tin container that is an absolute delight to look at! These pins do not hurt your scalp or your hair, provide a firm grip, and are lead-free. They are also double-coated for smoothness and rust-resistant.
Pros
Ball tips
Smooth coating
Rust-resistant
Enhanced long-lasting spring
Cons
Available in only one color and packaging
Price at the time of publication: $7.99
If you are looking for quality not quantity, these bobby pins for thick hair are your best bet. These non-plastic 3.4-inch bobby pins are made from metal with a baked finish that will last you a series of haircuts without complaining. The electroplated alloys ensure that the pins don't fade and maintain their color. These jumbo bobby pins for thick hair are also slightly curved to contour the curve of your scalp.
Pros
Long
Durable
High-quality
Ideal for thick hair
Available in multiple colors
Cons
Some users may find them slightly rigid.
Price at the time of publication: $11.99
Available in silver, gold, and rose gold, these strong bobby pins for thick hair can be your go-to hair styling tool or accessory! With the 90s coming back, they give you the perfect opportunity to experiment with your look. The premium metal offers a sturdy grip and a long-lasting hold. With 72 pieces in total, you can choose to go all out or use it as a minimal accessory.
Pros
72 pieces
Jagged-body
Transparent holding tips
Electroplated color
Cons
The color may fade after extended periods of use.
Price at the time of publication: $6.99
Thick or thin, once you bind your hair using these pins, there is no way it will move an inch. Ideal for a sleek hairstyle or a messy bun, these spiral pins disappear into your hair, giving you an anti-gravity look that is to die for. They are easy and good bobby pins to use, and all you have to do is rotate them clockwise to lock your hair and anti-clockwise to let your mane free at the end of the day.
Pros
16 pins
Non-scratching round tips
Does not show through the hair
Made from durable alloy metals
Cons
May not be ideal for extremely short hair
Price at the time of publication: $6.29
These high-quality bobby pins go beyond their original utility purpose and ascend into the realm of glamour. With the perfect amount of bling, these rhinestone-encrusted bobby pins take your hairdo from one level to another in a matter of seconds. Made from high-quality materials, you don't have to worry about the metal or rhinestones fading.
Pros
Long
Durable
Polished tips
Electroplated process
Cons
The rhinestone may snag fine hair.
Price at the time of publication: $8.49
With a subtle twist at one end, these bobby pins for thick hair act as an elegant accessory for your hair. You can wear it to the office, school, and even a night out with the girls. Equipped with a smooth surface and rubberized balls at each end, these twisty bobby pins are gentle on your hair and scalp. One pack of these bobby pins comes with 60 pins in 3 different colors.
Pros
High-quality electroplated material
Pack of 3 colors
60 pieces
20 bobby pins in each color
Cons
Some may find it too short.
Price at the time of publication: $3.99
These long and thick, professionally designed pins are specially made to bend in a manner that exaggerates their power to hold your hair together. It holds your hair bun in place without showing a glimpse of themselves. A few of these large bobby pins for thick hair can last your look for a day, if not days. They come in a sturdy container to keep all your pins in one place after use.
Pros
Available in 2 colors
Comes with a container
Available in 2 long sizes
Maintains shape due to elasticity
Cons
No protective coating at the tips
Price at the time of publication: $9.99
These extra-long bobby pins for thick hair come in 3 eye-catching colors that are extremely hard to dislike. With a warm metallic finish that comes close to a matte finish, these pins subtly complement your overall outfit without adding an overbearing look. They are easy to open compared to other standard-sized bobby pins.
Pros
24 pieces
Extra-long
Rounded tips
Available in 3 unique colors
Cons
The color may fade over time.
Price at the time of publication: $6.55
These oversized 'U' shaped hairpins are made from carbon steel to hold onto the thickest of hair without a hint of worry. Available in multiple colors, you can find one that matches your hair tone the most. It meets all your hair bun and chignon needs and the round tip ends to ensure that they hold on tight without causing any traction.
Pros
Rounded tips
Strong carbon steel
Available in 10 colors
Enamel-coated colors
Cons
Not ideal for very short hair.
Price at the time of publication: $8.95
These super long, square-shaped bobby pins for thick hair are the ideal accessory to help you pull-off elaborate updos. They hold your hair together, no matter how wild you get at a party. They are reliable and durable, making them the best investment for your hair. The good quality bobby pins meet all styling needs for all our long, thick hair readers.
Pros
Long
Heavy-duty bobby pins
12 pieces
Rounded tips
Cons
Some users found that it tends to get loose over time.
Price at the time of publication: $8.99
Now that you have seen our list of the best bobby pins for thick hair, here are some points to keep in mind while buying one.
How To Choose Bobby Pins For Thick Hair?
Thick hair has more density and therefore needs extra grip, strength, and length. Keep the following things in mind when you shop for bobby pins for thick hair:
The longer the pin, the more hair it can hold. This is a key point to remember when it comes to thick hair because each strand of thick hair is denser than normal hair types. A small 2-inch bobby pin may not provide adequate hold to keep the look together. This is why it is best to invest in long pins that can lift the weight of thick hair.
Since thick hair has more volume and is denser, it needs more weight control. Using many pins help distribute weight and therefore maintain the hairdo for a longer time.
Traditional bobby pins usually come in 2 patterns. One with plain slides and the other with jagged sides. If you are looking for added grip, jagged grips are best suited. However, if you are looking for a sleek, minimal look, plain pins are likely to give you the best outcome.
Apart from the traditional bobby pins, you can opt for spiral pins, ballerina pins, or square pins. If you are looking for something that supports versatile updos such as messy buns, twist buns, or space buns, we recommend spiral pins. If you are looking for a sleek ballerina-like bun with no ends showing, opt for square-shaped pins.
Bobby pins can be used as hair tools that hide your stray baby hair or as an accessory. If you want unnoticeable bobby pins that keep your look together without showing, match the color of your hair with the pin you buy. If you want to accessorize, look for a contrasting color or a rhinestone-studded hairpin.
How Do You Use Bobby Pins With Thick Hair?
The most common way of using bobby pins is to criss-cross them in an "X" pattern to hold your loose hair strands together. After securing them, ensure that they aren't pulling your hair too hard before you proceed to style your hair. With non-traditional bobby pins such as screw pins, all you have to do is twist them clockwise into your hair bun to secure your bun and twist them anti-clockwise to remove them.
Why Trust StyleCraze?
The author, Vaishnavi Kothuri, is a hair care enthusiast with a driving passion for reviewing haircare products worth noting. After going through several products and user ratings and reviews, she has carefully selected the best bobby pins for thick hair. The shortlisted products reviewed in this article are designed to be heavy-duty so that hairstyles can be held in place for extended periods, and at the same time, also be fashionable.
Frequently Asked Questions
Are bobby pins safe for hair?
Bobby pins are rumored to be bad for hair if used incorrectly. They may also cause traction and lead to hair breakage. The correct way to use bobby pins is to always open them wide before and after putting them on.
Can bobby pins hurt your scalp?
If used without rubberized or round tips, bobby pins can hurt the scalp. To ensure that this does not happen, ensure that the tips are not touching your scalp when you put them on.
What is the difference between bobby pins and hairpins?
The difference between bobby pins and hairpins is their shape and usage. Bobby pins are double-pronged pins, which are ridged on one side and flat on the other. These pins provide better hold for different hairstyles. Hairpins have open prongs in a "U" shape. They are light and can secure buns and other delicate styles. Unlike bobby pins, hairpins are used inside hair buns and disappear altogether.
Why do bobby pins give me headaches?
It is a misconception that bobby pins cause headaches. It is a combination of things that pull the nerves in your scalp, causing a headache. If you are wearing a long ponytail with multiple bobby pins incorrectly, it is likely to cause a headache due to all the stress on your scalp. The best way to avoid a headache is to wear a comfortable hairstyle with multiple bobby pins that run parallel to each other and ensure that they don't pull or snag your hair.
Recommended Articles