26 Best Body Butters For Smooth And Hydrated Skin – 2022
Rejuvenate rough skin and feel it become as smooth as silk with the right skincare products.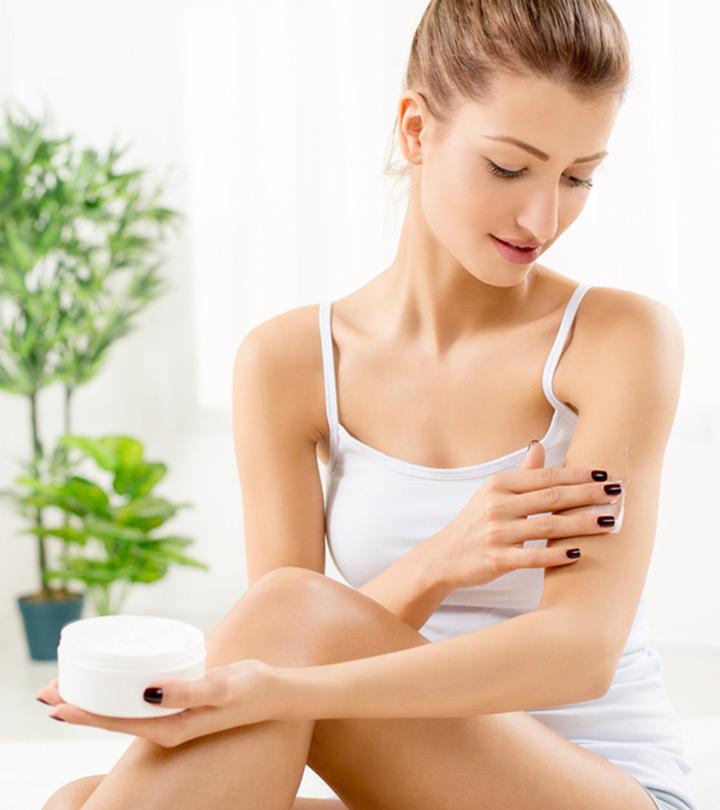 We all yearn for velvety-smooth skin that has zero troubles. But due to several factors like stress, lack of time, and ignorance about different products, we often end up not taking care of them properly. So, we did some digging and reviewing to compile a list of the best body butter for smoother skin. Are body butters good for your skin? How do they help your skin?
Do not worry. Body butters do not harm your skin and help you get rid of dull, rough, and streaky skin. It provides you with the smooth skin you always dreamed of. They are easy to apply and offer instant freshness to your skin. So, whichever the season be, it is always a good time to use body butter. If you wish to try using one but do not know which product to choose, we can help you. Scroll down to check out our list of top body butters you can buy online.
Let's jump right into this list of the 26 best body butters for smoother skin. 
The Top 26 Body Butters Of 2022
The Body Shop products need no introduction. Millions from all across the globe love their products, and the coconut body butter is one of the best body butters available in the market. It's super-hydrating and provides ultra-rich moisture for upto 48 hours. Impressive, isn't it? But wait, there's more! It helps in conditioning, softening, and smoothening the skin as well. Made from community-trade virgin coconut oil, it keeps the skin soft and hydrated all day long.
Pros
Suitable for normal to very dry skin
Tropical coconut scent
Enriched with cocoa butter and shea butter
Paraben-free
Gluten-free
Cons
Some may find the scent of coconut a bit strong
Crafted in the USA by a world-class professional cosmetics team, this product gets to action immediately. The 100% pure natural shea butter in the cream works as a deep moisturizer and smooths out dry and cracked skin. This rewarding body butter is enriched with safflower seed oil, which is an all-natural skin conditioner found in safflower seeds and helps in preventing dryness. It also contains mango puree, which acts as an intensely moisturizing agent. The avocado, macadamia seed, sweet almond oil, and orange oil keep the skin soft, smooth, and hydrated.
Pros
Affordable
Paraben-free
No harmful chemicals
Lends a healthy glow to the skin
24-hour hydration
Cons
Strong fragrance of sweet almond oil
Another fantastic product from Tea Tree, this shea body butter with almond extract and honey, is a one-stop solution to all your dry skin problems. Made with certified organic shea butter, it keeps your skin soft as butter by repairing dry skin and moisturizing it. It also has anti-aging properties and promotes elasticity. Enriched with sweet almond oil, it brightens skin tone, reduces the appearance of dark spots, and real honey used in this body butter helps in locking moisture in the skin. Along with this, the cocoa butter in it cures dry, flaky skin and protects the skin from irritants.
Pros
Affordable
Safflower oil seed deeply moisturizes the skin
Extra thick body butter
Pleasant fragrance
Cons
Some may find it a little too thick
If a brand promises to return your money in case you aren't 100% satisfied, it means that you can trust their products with your eyes closed. This body butter comes whipped and will keep your skin moisturized, smooth and hydrated all day. This product is full of shea butter and will protect your skin from harsh rays of the sun, and heal burns. It contains a healthy dose of vitamins A, E and F that reduces the appearance of dark spots, and restores skin elasticity among other wonderful benefits. The pure peppermint and vanilla essential oils will make your skin smell like summertime.
Pros
Suitable for all skin types
Produced in small batches to ensure freshness
Contains aloe vera
Contains sunflower, palm, and jojoba oil
Paraben-free
Cons
The scent of peppermint tends to overpower the scent of vanilla
Plum Wild Cherries & Kiwi Body Butter is a deeply moisturizing body butter for all skin types. Its blend of shea and kokum butters makes your skin supple, soft, and intensely hydrated. This creamy and quick-absorbing body butter glides easily on the skin and provides ample nourishment. The antioxidant-rich wild cherries, kiwi seed oil, and licorice help your skin fight against free radical damage, pigmentation, and uneven skin tone.
Pros
Long-lasting hydration
Gets absorbed quickly
Non-greasy
Fights free radical damage
Vegan
Cruelty-free
Paraben-free
Phthalate-free
Suitable for all skin types
Cons
None
Let's imagine a day wherein we decide to do a DIY project at home for skincare with things we readily have in our kitchens. What are the first two items you select? Milk and honey, isn't it? Yes, with a plethora of benefits, these two ingredients can amp up your skincare regime by a mile. Cuccio Naturale Butter With Milk And Honey is your DIY project, delivered in a jar (only, it's a million times better). It provides intense hydration for silky smooth skin. The honey in the body butter soothes, moisturizes, and adds vital nutrients to the skin, while the lactic acid from the milk stimulates the skin.
Pros
Available in different scents
Available in different sizes
Affordable
Luxury treatment
Non-oily
Cons
Takes some time to absorb
This product holds to its name. It is "bliss" in a tube. An excellent body butter to get your hands on, it will make your skin softer than cotton and keep it supple, all day long. Its rich and hydrating formula consists of shea butter, coconut oil, and algae extracts for gentle skin that you've always desired. This iconic body butter is a nutrient-rich formula that combines plant-based humectants, emollients, and extracts to ensure long-lasting moisturization. For best results, apply a generous amount all over your body, right after stepping out of the shower.
Pros
Works best on dry skin
Non-greasy
Pleasant lemon-citrus fragrance
Paraben and phthalates -free
Cruelty-free
Cons
Not a very thick body butter
If you don't know the benefits of argan oil, we are more than happy to tell you. Cosmetic grade argan oil nourishes dry skin, reduces oily skin problems, lightens dark spots, and fights acne among a host of other things. Made with 100% pure argan oil, Josie Maran's body butter is whipped to perfection and revitalizes the skin and improves skin texture. It also contains shea butter, avocado oil, white tea extract, and other essential nutrients to give your skin a luxurious treatment at home. Use this body butter generously all over your body after bathing. Check this video to learn more about the product.
Pros
Lightweight
Long-lasting nourishment
Paraben, sulfate, and phthalate-free
Cruelty-free
Mineral oil-free
Cons
Did you know that vitamin E helps in rejuvenating dull skin and lightens bright spots? It also keeps skin soft and reverses the signs of premature aging. Palmer's Cocoa Butter is enriched with vitamin E and provides 24-hour moisturization. It has been proven to heal sunburned skin, and add a healthy sheen to otherwise dry skin. It is also quite useful for brightening scars and evens out your skin tone. So, if you are looking for some intense daily therapy for your dry skin, pick Palmer's Cocoa Butter. Take a look at this video to get more information on the product.
Pros
24-Hour moisturization
Works on eczema-prone skin
Smoothes out marks
Paraben & phthalate-free
Cons
One of the most luxurious body butters available in the market, this L'Occitane body butter with pure shea butter, melts into your skin like real butter. This ultra-nourishing beauty balm works on both normal and sensitive skin to soften it and keep it hydrated at all times. Rich in antioxidants and vitamin E, this product moisturizes extremely dry skin as well. The organic shea butter in is extracted from the nuts of the shea tree and is sourced from a fair-trade agreement with cooperatives of women in Burkina Faso. For best results, rub the body butter in your palms before applying it on your body.
Pros
Suitable for all skin types
Can also be used on elbows, lips, cuticles, and hair
Spot treatment
Helps prevent dryness
Cons
Now here's something we don't see every day, the use of carrots for soft and smooth skin. We bet you didn't know that carrots contain vitamin A, which helps in repairing skin tissues and protect the skin from harmful UV rays. They also help in making your complexion look healthier by adding a natural glow to it. Here's another thing we don't often hear – sweet potatoes for healthy skin. Yes, this product also contains sweet potatoes, which are full of vitamin C and E and keep your skin glowing and supple. Along with this, the shea butter in this rich body butter softens the skin.
Pros
Long-lasting moisture treatment
Nourishes and revitalizes skin
Extremely creamy texture
95% natural product
Paraben-free
Cons
At Kai, they believe that "beauty lies in the simplest and purest of things." This is why they try to emulate their motto in all of their products. Kai's body butter is a gentle and silky souffle with shea butter that acts as the primary moisturizing agent. It also contains safflower oil, apricot oil, vitamins A, C, and E along with aloe vera. This soothing body butter works like a charm and has an equally pleasant fragrance. Hints of chamomile extracts, lavender, and cucumber add a summertime-like scent to it.
Pros
Fragranced with the original Kai perfume
Recyclable packaging
Both moisturization and fragrance lasts a long time
Contains vitamins A, C, and E
Cons
Expensive
Some might find the scent a little overpowering
With a name as funky as this one and packaging that's too cute to ignore, The Righteous Butter by Soap & Glory might be your next favorite product. It claims to be a "body moisturizing formula so virtuous; you might swear you're wearing velvet". Well, one can't argue with such tall claims without trying it out first, right? This ultra-moisturizing body butter contains softening shea butter and aloe vera, and its dynamic moisture trap matrix helps hold the hydration in longer. For more information about the product, click this video.
Pros
Recommended for all skin types
Works especially well on very dry skin
Pleasant scent
Extremely thick and creamy
Long-lasting moisturization and hydration
Cons
If you have ever used Moroccan or argan oil for hair, you already know what a fantastic oil it is. Cosmetic grade argan oil is excellent for skin as it keeps the skin moisturized, protects the skin from sun damage, and treats acne, among other skin issues. This hydrating product is infused with argan oil, olive oil, and avocado oil along with shea butter. If you want quick results, massage this body butter into damp skin to lock-in moisture for long periods. Apply extra butter on dry and rough areas.
Pros
Rich in antioxidants
Absorbs fast
Signature MoroccanOil scent
Great for very dry skin
Non-greasy
Cons
This creamy product is genuinely like a gentle and loving kiss for your skin. Lalicious likes to keep their products as natural as possible as they believe that natural ingredients can be "nourishing and powerful when formulated correctly". The emollient ingredients in this body butter soothe dry skin (even extremely dry skin) and keep it moisturized throughout the day. It contains shea butter, safflower oil, aloe vera, fruit extracts, and essential oils to give your skin all the love and care it deserves.
Pros
Contains vitamin E that protects your natural glow
Paraben, phthalate, and SLS-free
Gluten-free
No mineral oils
No synthetic colors
Cruelty-free
Cons
Some may find the texture too thick
Loyal fans of Clinique swear by this product, and they have all the reason to do so. This luxurious body butter from Clinique softens dry skin and makes it buttery soft. It is formulated to be as silky as possible, so much so that it absorbs into your skin instantly. This insanely moisturizing body butter also pays special attention to forgotten body parts like elbows, knees, and heels. With this product, one can expect long-lasting hydration and smoothness.
Pros
Works best on dryness-prone skin
Intensely replenishing
Butter-rich
Quick-absorbing
Cons
Let's first list some benefits of this amazing body butter, shall we? It provides immediate relief to dry skin, repairs dry, cracked, and flaky skin, and it softens your skin to match that of a baby's. Enriched with cocoa butter, this body butter locks hydration and essential nutrients into your skin. At the same time, vitamin E and argan oil help in repairing your skin's protective barrier and provide moisturization, respectively. If its anti-aging properties you're looking for, rest assured that this product also contains acai and goji berry, which will keep your skin looking youthful.
Pros
Natural
Vegan
Cruelty-free
Non-toxic
Gluten-free
Sweet scent of honey-glazed almonds
Cons
As the name suggests, this body butter gives more power to you – the power of soft, smooth, and healthy skin. A body butter that is infused with superfoods, this cream hydrates your skin thoroughly while also helping your skin with the antioxidants present in it. Infused with Amazonian acai oil, this body butter fights free radicals and leaves your skin supple and revitalized. Cupuaçu butter acts as a deep-conditioning agent, and coconut oil keeps the skin moisturized for long periods. If you're someone who likes all things shimmery, the extra-fine mica particles give your skin an alluring sun-kissed afterglow.
Pros
Subtle shimmery effect
Lightweight
Non-greasy
Acai fragrance
Thick texture that glides effortlessly on the skin
Cons
Another fantastic body butter from The Body Shop, this one brings the goodness of Hawaii to you. Have you ever wondered how Hawaiians have such beautiful skin and enviable tans? It's because they use kukui oil to take care of their skin. Kukui oil is rich in essential fatty acids and vitamins and moisturizes skin from deep within, leaving it naturally supple and nourished. It also adds a radiant glow to the skin. This rich, nurturing body cream works best on extremely dry skin.
Pros
Suitable for all skin types
Formulated especially for very dry skin
Creamy consistency
Paraben-free
Cons
With over 250 years of legacy of producing luxury soaps and fine fragrances, Caswell-Massey remains a favorite among many. This luxurious body butter with lavender and botanical extracts is ultra-hydrating. If you are looking to pamper your skin every day, this is the product to go to. The power extracts and oils effectively treat dry and flaky skin and add a warm glow to your skin. It can also quickly treat rough edges around the elbows and knees.
Pros
Non-oily
Absorbs quickly
Lavender scent
Long-lasting hydration
Paraben & sulfate-free
Cruelty-free
Cons
The scent might not suit everyone's palette
Ready to give your dull skin all the nourishing it needs? Try Caudalie's Vine Body Butter and watch your skin transform from Day 1. Enriched with grapeseed oil , it revitalizes the skin and restores the natural moisture as well. It also soothes the skin, leaving it soft and supple. This body butter is specially formulated for very dry skin, and its subtle citrus scent adds an extra allure to the cream. For best results, apply early in the morning and also before bedtime.
Pros
Delicate fragrance
Designed for dry skin
Contains shea butter, grapeseed & other natural oils
Intense hydration
Cons
It takes some time to absorb into the skin
We're not joking when we say this, but this body butter by Kiehl's looks like actual butter. It is whipped to perfection and provides long-lasting hydration for your skin. It instantly penetrates the skin to restore, protect, and soften your skin. It glides on smoothly on any part of the body and is lightweight as well. This body butter contains soy milk (that is high in vitamin E), which helps renew dead skin cells while honey reduces the signs of aging, is antibacterial, and boosts your complexion.
Pros
No parabens
No glycols
No silicones
Lightly scented
Cons
May not work well on extremely dry skin
The first thing that caught our eye about this product is its innovative packaging. It's hip, trendy, and is what the brand claims to be "too cool for school". The best part is, the body butter is just as amazing on the inside, as it is on the outside. It's a perfect blend of eggs, butter, and oil. The egg yolk extract, egg white extract, and shea butter nourish and hydrate the skin. It is also enriched with oils like argan tree kernel oil, sweet almond oil, and jojoba oil, among others, which form a protective barrier on your skin for moisture retention.
Pros
Contains seven natural oils
Suitable for all skin types
Paraben & sulfate-free
No mineral oils
Cons
If you are looking for high-end, luxurious body butter, this one is as luxurious as it gets. This soothing body butter contains colloidal oatmeal, which provides long-lasting hydration. The glycerin and indigo extracts are the other two key ingredients in this miracle product. The glycerin helps in moisturization while the indigo extract fights irritation. It also absorbs quickly and has a pleasant floral scent.
Pros
Doesn't leave a greasy residue
Absorbs quickly
Intense hydration for upto 24 hours
Suitable for all skin types
Cons
The fragrance lingers only for about an hour
Extremely expensive
If a 'melts-like-butter' body butter is what you're looking for, we've got the perfect one for you. This non-sticky, whipped body butter absorbs quickly into the skin and provides 24-hour hydration while leaving the skin feeling nourished, revitalized, and soft. Its Oleo-Soothing Complex combines Avene thermal spring water with three plant-based oils to protect your skin's natural barrier against free radicals. The shea oil in this body butter helps nourish the skin while camelina oil helps in restoring the skin barrier.
Pros
Whipped texture
Non-greasy
Fragrances of rose, jasmine, and bergamot
Contains shea, camelina, and safflower oils
Cons
26. Earth Tu Face Virgin Coconut + Cardamom Body Butter
Here's an interesting fact about Earth Tu Face – every ingredient that is used in any of their products has a specific therapeutic function. Hence, every ingredient is essentially an "active" ingredient. Along with this, all their formulas are original and tested on real people. Hooked yet? If yes, get your hands on their virgin coconut and cardamom body butter right now. This body butter is a rich blend of organic virgin coconut oil, unrefined cocoa butter, cinnamon, and cardamom, which work together to give you hydrated and nourished skin.
Pros
Cruelty-free
Created by herbalists in California
Free of toxins
All-natural
Cons
It takes some time to absorb on the skin
Now that we've looked at some of the best body butters for soft and supple skin, let's talk about what body butters are and how they are helpful for you.
What Are Body Butters
If you think a body butter is just a body lotion, you might not be too wrong. However, if you are under the impression that a body butter is exactly like body lotion, you're wrong. A body butter is a type of moisturizer that is thick in texture and generally contains a vegetable-based oil like shea butter, coconut oil, or butter itself. Another important thing to consider when comparing a body lotion to a body butter is the effectiveness and results of both. A body butter is long-lasting, penetrates deep within, and the results are always better than that of a body lotion.
What Are The Benefits Of Body Butter
Here are a few benefits of body butter:
Hydrates and moisturizes skin
Protects the skin's natural barrier
Fights the process of anti-aging
Reduces the appearance of dark spots and wrinkles
Heals dry and chapped skin, leaving it soft and supple
Soothes skin and protects it from sunburn and harsh UV rays
Mostly contains vitamin A, C, & E 
How To Use Body Butter
For best results, apply body butter on your skin right after you step out of the shower. Apply a generous dollop of body butter all over your body, but make sure you don't apply too much, as it may get greasy. Rub it gently till the body is fully absorbed. Don't forget to use it on areas like your feet, elbows, cuticles, knees, and feet. Apply an extra helping on extra-dry patches of your skin. 
What Are The Different Types Of Body Butter
Although there are many types of body butters, we are listing down the most commonly used ones:
Shea butter
Coconut oil body butter
Lavender oil body butter
Cocoa butter
Almond oil body butter
Aloe vera body butter
Argan oil body butter 
Why Trust StyleCraze?
The author, Vaishnavi Kothuri, is a skin care enthusiast and loves finding skin care products that deliver the best results. She carefully weighed the pros and cons of the most popular options and analyzed user feedback to create this list of the best body butters. The shortlisted products soothe, nourish, and protect the skin while fighting early signs of aging to keep it healthy.
Frequently Asked Questions
What are the best butters for skin?
The Body Shop's Coconut Body Butter, Tree Hut's Shea Body Butter With Mango Puree, and Tea Tree Shea Body Butter With Almond Extract And Honey are some of the best reviewed body butters on Amazon.
How often should I use body butter?
Most body butters provide 24-hour hydration, so, once in the morning should be sufficient. However, if you feel like your skin is getting dry, you can apply it twice a day.
Are body butters better than lotions?
It largely depends on the type of skin you have. If you have extremely dry skin, yes, body butters are definitely a better choice. As body butters provide long-lasting hydration, most choose them over body lotions.
Can you use body butter every day?
Yes, if you have dry skin, you can use body butter every day. However, those with normal skin can apply it 2-3 times per week.
Can body butter help stretch marks?
Yes, shea butter present in most body butter hydrates and softens the skin, reduces redness, and helps to reduce stretch marks.
Why is body butter so greasy?
Most body butters are made of shea butter and loads of other natural oils which your skin absorbs slowly. Hence, they look heavy and greasy when you first apply them.
How long does body butter last?
Body buttes usually have a shelf life of 2-3 years.
Recommended Articles