5 Best Body Lotion Bars For Moisturizing Your Skin – 2023
Say bye-bye to all your skin concerns with these nourishing and effective formulations.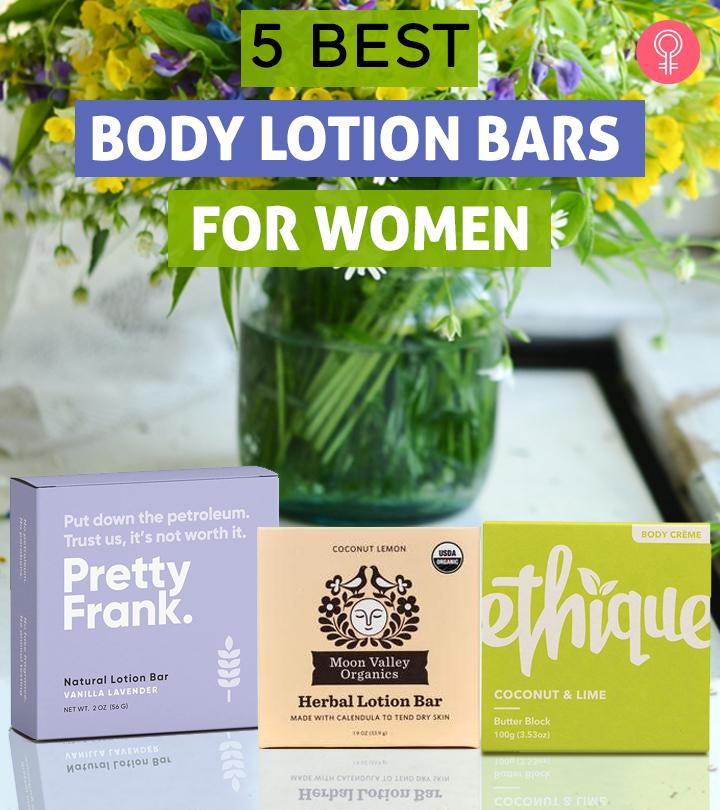 There is no better remedy than body lotions to moisturize your dry and flaky skin. However, using a liquid or a creamy body lotion after a bath is a level extra. That's why we are here to introduce you to the best body lotion bars that intensely moisturize your skin.
Body lotion bars look just like your regular soap bars but are additionally enriched with natural moisturizing ingredients such as shea butter, cocoa butter, coconut oil, almond oil, and other essential oils to keep your skin nourished and hydrated as a normal body lotion does. These skin-friendly ingredients penetrate into the skin deeply as you use the bar during the shower. If you are already tempted, we have got the 5 best body lotion bars for you. Have a look!
5 Best Body Lotion Bars For Moisturizing Your Skin
The Climbon All-Purpose Lotion Bar was formulated in 1996 with only plants and beeswax, and although the formula has been upgraded, it is still completely natural with zero added chemicals. It provides intense moisture and nutrition for dry, sensitive skin. It is enriched with beeswax, plant butter, essential and cold-pressed oils, which softens and smooths the skin. It can be applied all over your body and is especially useful if you are an adventure seeker going climbing or trekking and need that perfect lotion to keep you moisturised on the dry slopes.
Pros
Easy to use
Natural ingredients
Pleasant fragrance
Reusable packaging
Cons
None.


Did You Know?
Lotion bars are eco-friendly as you don't need to store them in plastic bottles and are free of potentially hazardous chemicals.
[multi_buy_now_btnasin="B0017TK2TC"amz_affilate="tsr-skincarepro-20″walmart_affilate=""]
The Bee Bar from Honey House Naturals has a moisture-intense formula to provide relief from dryness. It is made of natural and pure beeswax and essential blends of skin-friendly butter and oils. The formula offers lasting moisturization and a pleasant scent. This body lotion bar is available in different fragrances, and it smoothens and refreshes the skin. The waterless base of the soap ensures all-day moisturization. This soap lotion bar is best suitable for dry and cracked skin.
Key Ingredients: Beeswax, Natural oils, and Butters
Pros
Amazing scent
For daily use
Petroleum-free
No animal testing
Cons

Pro Tip
Moisturize your skin with a lotion bar by rubbing it onto damp or dry skin after warming it between your hands. Focus on rough, dry, cracked areas like arms, legs, knees, elbows, and feet.
Price at the time of publication: $37.95
The Moon Valley Organics Herbal Lotion Bar is the perfect formula for dry and cracked skin. It soothes dry skin by supplying a boost of deep moisturization. The lotion bar contains comfrey, calendula, and beeswax with natural healing and anti-inflammatory properties. It locks in twice the amount of moisturization compared to water-based moisturizers. It also deeply penetrates the skin as it melts with your body heat to repair dry skin.
Key Ingredients: Calendula, Beeswax, Comfrey, and Coconut oil
Pros
Pleasant scent
Easy to use
Does not feel sticky
Cons
Takes time to melt into the skin.
Price at the time of publication: $16.99
The Cosmetology BotanicalBliss Lotion Bar is made with all-natural and organic ingredients to soothe and moisturize your skin. Its nourishing formula is enriched with olive oil and shea butter that heal dry and rough skin. This lotion bar is formulated without water, harsh chemicals, and preservatives.
Key Ingredients: Olive oil and Shea butter
Pros
No water formula
Organic ingredients
PABA-free
Formaldehyde-free
Paraben-free
Phthalate-free
Petroleum-free
Ethanolamine-free
Vegan
Cruelty-free
Cons

Remember
Store lotion bars in a cool, dry place. To soften them, run them under warm water. Avoid direct heat or steam to prevent them from melting.
Price at the time of publication: $14
The Natural Lotion Bar from Pretty Frank is a perfect choice for the entire family. It is suitable for all age groups and helps in repairing dry and sensitive skin. The soothing formula is packed with shea butter that nourishes the skin and locks in moisture. It also contains beeswax and cocoa butter for effective and lasting moisturization, while its invigorating vanilla and lavender scent uplift the senses.
Key Ingredients: Shea butter, Cocoa butter, and Beeswax
Pros
For all age groups
Preservative-free
Emulsifier-free
Sulfate-free
Paraben-free
Petroleum-free
GMO-free
Gluten-free
Cons
Price at the time of publication: $14.99
Body lotion bars have many moisturizing ingredients, including shea butter, cocoa butter, coconut oil, almond oil, and essential oils. They tend to keep your skin soft and add to your glow. The best body lotion bars are made with natural ingredients and nourish your skin after every use. However, you should avoid using greasy products that come with an unpleasant odor. The shortlisted bars do not contain petroleum, blend well into the skin, and are gluten and paraben-free.
Why Trust StyleCraze?
The author, Shiboli Chakraborti, is a certified skincare coach who is passionate about all things beauty. She has compiled this list of the best body lotion bars after conduting thorough research, and checking user reviews and product feedback on different trusted online platforms. These top favorites are enriched with nourishing ingredients and keep your skin smooth, hydrated, and healthy.
Frequently Asked Questions
How long are lotion bars good for?
Lotion bars have a shelf life of more than 12 months.
Can you use a lotion bar on your face?
Yes. Lather the lotion bars on your hands and gently rub them on your face.
How do you keep lotion bars from melting?
Store lotion bars in dry and cool places to prevent it from melting.
How should lotion bars feel?
Lotion bars leave a soothing and rejuvenated feel on your skin and help keep it clean and smooth.
How long do lotion bars take to set?
Lotion bars take around 15-20 minutes to set in completely.
Recommended Articles
The following two tabs change content below.