5 Best Body Lotion Bars For Women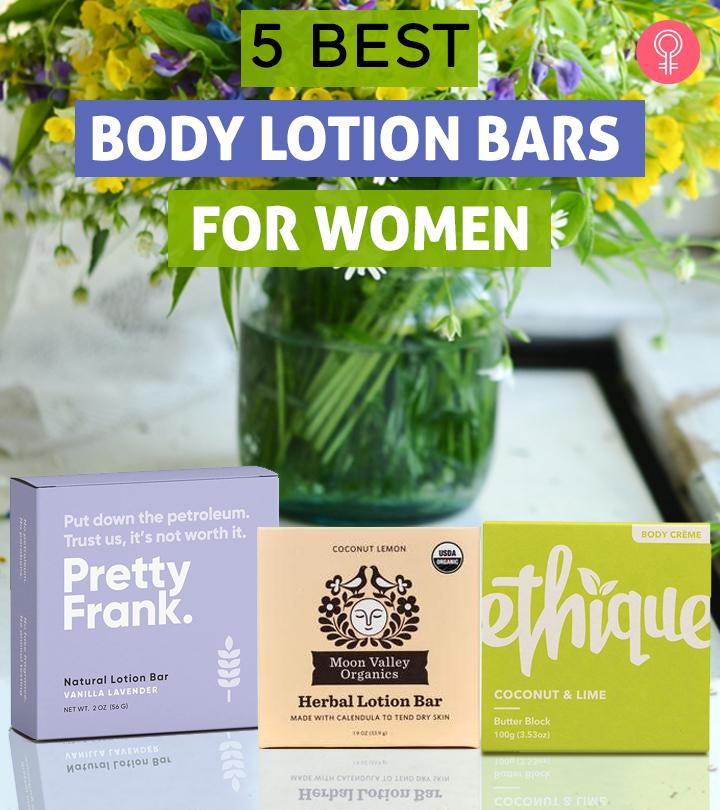 Body lotions are essential for fighting dryness and moisturizing your skin. We all invest in good moisturizers to pamper our dry skin, but what if we told you that soap bars can also provide intense moisturizing benefits to your skin? Well, it's true!
Body lotion bars are like your regular soap bars but enriched with moisturizing properties. They are packed with the benefits of natural skin moisturizers like shea butter, coconut oil, cocoa butter, almond oil, and essential oils that moisturize and hydrate your skin exactly the way your body lotion does. The ingredients also deeply penetrate the skin while you shower. If you are looking for options, check out the5 best body lotion bars to intensely nourish your skin. Scroll down!
5 Best Body Lotion Bars For Moisturizing Your Skin
The Ethique Body Butter Block has a creamy formula is infused with the moisturizing properties of cocoa butter and coconut, olive, and macadamia oils. It deeply hydrates the skin and leaves you feeling fresh with its tropical scent of coconut and lime. This body lotion bar cleanses the entire body and contains an equivalent amount of moisturizer as in a single bottle of moisturizing lotion. The formula is suitable for dry skin and is made without any harsh additives that can damage the skin.
Key Ingredients: Coconut, Lime, Olive oil, Cocoa butter, and Macadamia oil
Pros
Plant-based ingredients
Eco-friendly
Palm oil-free
Plastic-free
Vegan
Cons
Too greasy
Not easy to apply.
The Bee Bar from Honey House Naturals has a moisture-intense formula to provide relief from dryness. It is made of natural and pure beeswax and essential blends of skin-friendly butter and oils. The formula offers lasting moisturization and a pleasant scent. This body lotion bar is available in different fragrances, and it smoothens and refreshes the skin. The waterless base of the soap ensures all-day moisturization. This soap lotion bar is best suitable for dry and cracked skin.
Key Ingredients: Beeswax, Natural oils, and Butters
Pros
Amazing scent
For daily use
Petroleum-free
No animal testing
Cons
The Moon Valley Organics Herbal Lotion Bar is the perfect formula for dry and cracked skin. It soothes dry skin by supplying a boost of deep moisturization. The lotion bar contains comfrey, calendula, and beeswax with natural healing and anti-inflammatory properties. It locks in twice the amount of moisturization compared to water-based moisturizers. It also deeply penetrates the skin as it melts with your body heat to repair dry skin.
Key Ingredients: Calendula, Beeswax, Comfrey, and Coconut oil
Pros
Pleasant scent
Easy to use
Does not feel sticky
Cons
Takes time to melt into the skin.
The Cosmetology BotanicalBliss Lotion Bar is made with all-natural and organic ingredients to soothe and moisturize your skin. Its nourishing formula is enriched with olive oil and shea butter that heal dry and rough skin. This lotion bar is formulated without water, harsh chemicals, and preservatives.
Key Ingredients: Olive oil and Shea butter
Pros
No water formula
Organic ingredients
PABA-free
Formaldehyde-free
Paraben-free
Phthalate-free
Petroleum-free
Ethanolamine-free
Vegan
Cruelty-free
Cons
The Natural Lotion Bar from Pretty Frank is a perfect choice for the entire family. It is suitable for all age groups and helps in repairing dry and sensitive skin. The soothing formula is packed with shea butter that nourishes the skin and locks in moisture. It also contains beeswax and cocoa butter for effective and lasting moisturization, while its invigorating vanilla and lavender scent uplift the senses.
Key Ingredients: Shea butter, Cocoa butter, and Beeswax
Pros
For all age groups
Preservative-free
Emulsifier-free
Sulfate-free
Paraben-free
Petroleum-free
GMO-free
Gluten-free
Cons
Body lotion bars work best for dry and rough skin. They boost moisturization and protect and nourish the skin. Take your pick from the best body lotion bar options listed above and say goodbye to dry and flaky skin.
Recommended Articles