The 15 Best Body Lotions For Aging Skin – Our Top Picks Of 2022
Bask in the goodness of anti-aging ingredients and lift your skin with these body lotions.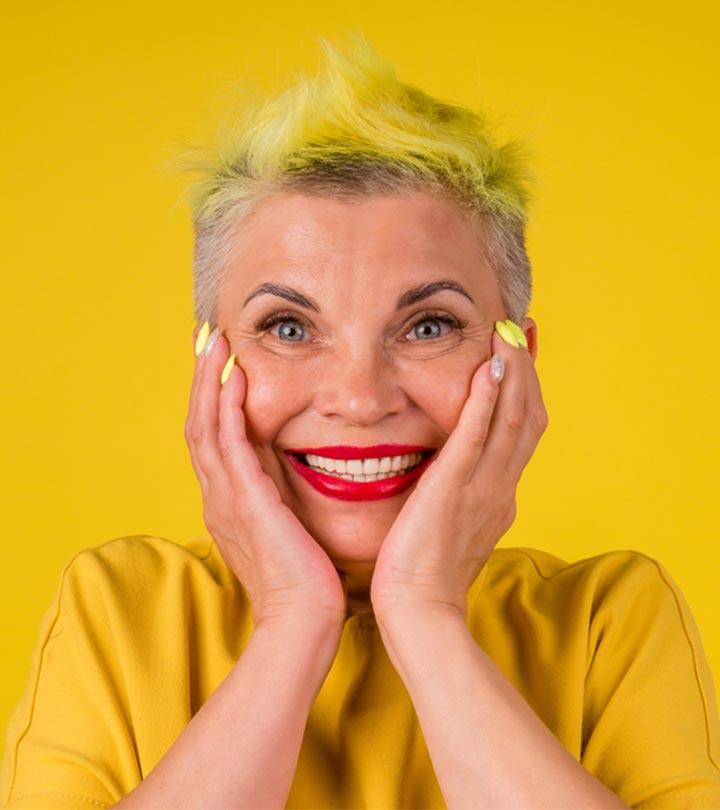 Our skin becomes dry, wrinkly, and sensitive as we age. There is no way to reverse aging, but you can repair and rehydrate the skin by using proper skin care products like body lotions. Some of the best body lotions for aging skin help maintain your skin's youthful glow and radiance.
But how do body lotions help maintain your skin's glow? As you age, the sebaceous glands that produce sebum become underactive. Lack of natural oils and sebum can dry the skin and diminish its radiance. So, moisturizers containing ingredients like ceramide, hyaluronic acid, and retinol help repair the skin and restore its natural glow. Also, to achieve good results, you should apply a body lotion or moisturizer as soon as you come out of the shower. You may apply it twice daily. If you are confused about which moisturizers are best for mature and dry skin, we can help you choose the best. We have curated a list of the top 15 body lotions that may reduce the signs of aging. Scroll down to check them out.
15 Best Body Lotions For Mature Skin
Reduce the appearance of fine lines and wrinkles with the Alpha Skin Care Renewal Body Lotion. This anti-aging lotion is formulated with an ideal balance of 12% glycolic alpha hydroxy acid (AHA) and a pH level of 4.0. This gentle formulation boosts the collagen production, helps in exfoliation of dead cells, and helps in renewal of cells. Ergo, the skin looks younger and radiant. Along with anti-aging ingredients, the addition of vitamins and plant nutrients ensures that the skin feels softer the wrinkles diminish over time.
Pros
Natural ingredients
Paraben-free
Fragrance-free
Cruelty-free
Cons
AHA might make skin sensitive to sun and potentially cause sunburn specially in people with fair skin.
Visibly reduce the appearance of wrinkles and dryness and show off healthy, hydrated skin by using the Hempz Age Defying Daily Herbal Moisturizer. The herbal ingredients used in this natural body lotion for aging skin help in restoring and maintaining the natural shine of mature skin. This age-defying body lotion contains natural extracts like shea butter, caffeine, ginseng, essential fatty acids, key amino acids, algae extracts, polypeptides, natural minerals and vitamins and 100% pure organic hemp seed oil. This formulation helps in preventive care from skin damage and also aids in the restoration of already-flawed skin.
Pros
Gluten-free
Vegan
Paraben-free
THC-free
Organic ingredients
Cons
Some users might find its scent unpleasant
Heal dry, aging skin with the Gold Bond Ultimate Skin Therapy Lotion. This healing cream penetrates deep into the skin to repair damages and hydrates from deep within and leaves you with smooth skin. This gold bond anti-aging lotion is formulated with jojoba, aloe vera extracts, matricaria flower extracts, and other anti-aging ingredients. A protective layer of moisture is added on the skin upon application of this cream. Positive ions, along with a unique blend of emollients and humectants in this body lotion for dry aging skin help in retaining the moisturization throughout the day. To know more about the nuances of the Gold Bond Ultimate Skin Therapy Lotion, click on this video.
Pros
Hypoallergenic
Non-greasy formulation
Dermatologically-tested
Non-comedogenic
Upto 24 hours moisturization
Cons
Bid farewell to dry skin problems with the butter cream from Ancient Greek Remedy Butter Cream. This hydrating anti-aging body lotion is made with natural raw ingredients like organic cold pressed extra virgin olive oil, sweet almond oil, castor oil, jojoba seed oil, sunflower seed oil, grapeseed oil, lavender essential oil and vitamin E. Lock in moisture and visibly reduce the signs of aging from your skin with a regular usage of this body lotion for mature skin. For best results, it is advisable to use this body cream twice a day on a daily basis. For further detaila of the Ancient Greek Remedy Butter Cream, check out this YouTube video.
Pros
Vegan
Cruelty-free
Paraben-free
Gluten-free
GMO-free
Pesticide-free
Cons
Some users might find the product too greasy
Take yourself back in time to youthful and healthy-looking skin with the Cetaphil restoring lotion that has antioxidants to repair aging skin. This body lotion for aging, crepey skin has a host of potent ingredients like meadowfoam seed oil, mineral oil glycerin, niacinamide (vitamin B3), panthenol (vitamin B5), tocopherol (vitamin E), dimethicone, etc. The non-irritating property of this anti-aging skin lotion makes it suitable to use on sensitive skin. Use it at night time to wake up to perfectly hydrated skin in the morning.
Pros
Paraben-free
Fragrance-free
Non-irritating
Non-greasy
Non-comedogenic
Clinically-tested
Cons
Some users might find the product too thick and pasty
Aveeno's Positively Ageless lotion is a body lotion that helps in retaining the moisture of the skin all day long. This firming body lotion for aging skin is enriched with the extracts of wheat proteins and shiitake mushroom complex. The unique formulation of this anti-aging body lotion for sensitive skin helps in firming the skin and makes it look more resilient in just 2 weeks. Achieve softer and smoother hydrated skin that is visibly healthier and positively ageless.
Pros
Dermatologically-tested
Lightly fragranced
Non-greasy
Lightweight
All day moisturization
Natural ingredients
Cons
This product contains mushroom extracts that may not suit some users
Reap maximum skin benefits from the use of Makari Naturalle Carotonic Extreme Body Lotion. This age defying body lotion heals acne, unclogs pores, tones uneven skin, reduces wrinkles and fine lines, reverses signs of aging and provides SPF protection. Its mineral enriched formulation also includes extracts of licorice, carrot oil, argan, mulberry root, vegeclairine and SPF 15. It is suitable to be used on all skin types and for maturing skin. Rejuvenate your skin and bring its former glow back with the regular use of this natural anti-aging body lotion.
Pros
Cruelty-free
Hydroquinone-free
Natural Ingredients
Contains SPF15
Tones and lightens skin
Cons
Some might find the application of the lotion not very smooth
Restore your youthful glow with the anti-aging body lotion from Rosen Apothecary. It is formulated with retinol, argan oil, caffeine, coconut oil, shea butter, goji berry, acai, noni, pomegranate, green tea, mangosteen and other powerful ingredients that help in body treatment. The formulation of this retinol anti aging body lotion helps in boosting collagen production. This in turn leads to tightening and firming of mature skin dramatically while rejuvenating and moisturizing the skin. Get a smoother, brighter skin and fight signs of aging with this anti-aging body lotion.
Pros
Cruelty-free
Vegan
Paraben-free
Silicone-free
GMO-free
Nature-friendly ingredients
Cons
Might not suit people with sensitive skin
The Natural Escapes Hand And Body Lotion is an organic product that provides intense moisture to the skin at the cellular level. It packs the goodness of natural ingredients like lavender, ylang ylang, aloe vera, olive oil, coconut oil, avocado oil, glycerin, oat protein, citric acid and vitamins and minerals among others. It helps boost the skin with antioxidants and helps in reducing the signs of aging while providing deep nourishment. Say bye to dry skin problems and maturing skin with this organic anti-aging body lotion.
Pros
Vegan
Cruelty-free
Organic ingredients
Paraben-free
Gluten-free
Cons
Some users might not find the product moisturizing enough
This intense body lotion from Illiyoon provides deep nourishment and hydration to maturing skin. This herbal anti-aging body lotion contains camellia, green tea, ginseng, shea butter, natto bark, magnolia bark, cocoa and other natural ingredients. The gentle formulation of this lotion is best suited for aging skin that is dry. Keep your skin moisturized and supple with the regular use of this anti-aging body lotion from Illiyoon.
Pros
Herbal ingredients
Total moisturization
Lightly scented
Non-greasy
Cons
Some users might have a lingering sticky feel on the skin
Adore Cosmetics brings a nourishing hand and body lotion that helps in aiding body treatment and revitalizes wrinkly maturing skin. This natural body lotion for aging skin is made with a blend of shea butter, beeswax, matricaria flower extract, chamomile linden blossom flower extract, lemon balm, rooibos extract, organic plant stem cells, apple fruit cells among other ingredients. It helps retain the skin's moisture and shields it against the harsh environmental changes.
Pros
Natural ingredients
Suitable for most skin types
Retains moisture
Quick absorption into skin
Cons
Some users might find the fragrance unpleasant
If you have dry and flaky aging skin, then this retinol anti-aging body lotion from Skincare Cosmetics will come in very handy. Retinol is proven to yield good results in reducing signs of aging. Apart from retinol, this good anti-aging body lotion is enriched with ingredients like kale, rosemary, sunflower seeds, mango butter among others. For best results, apply this age-defying body lotion on your damp skin after a lukewarm shower.
Pros
Visibly reduces signs of aging
Natural ingredients
Smooths and evens skin tone
Absorbs well into skin
Cons
Some users might find the scent too strong
Get back to your youthful days with skin that is firm and bright with this age defense body lotion from Sebamed. This firming anti-aging body lotion has a host of potent ingredients like Co-enzyme Q10, argan oil, shea butter, barley grain wax and citric acid among others. Maintain an optimum pH balance of 5.5 and boost the renewal of the cells of maturing skin. Say hello to radiant skin that has improved elasticity and is visibly firmer.
Pros
Dermatologically tested
Natural ingredients
Non-greasy formula
Quick absorbing
Lightweight
Cons
Might not be suitable for sensitive skin
The Vivo Per Lei Moisturizing Rose Body Lotion works wonders on dry skin. If you're someone who is willing to get rid of aging signs, this body lotion might be the right pick for you. Not only does it moisturize your skin to the fullest, but it also refreshes dull skin, making it softer, smoother, and plumper. A great addition to your daily skincare routine, the lotion repairs rough skin and leads to tightening and firming of aging skin for you to appear as charming and youthful as ever.
Pros
Non-greasy formulation
Pleasant fragrance
24-hour moisturization
Cons
Might be unsuitable for sensitive skin
Accelerate the process of skin renewal and boost the hydration of maturing skin with the use of Ongaro Beauty anti-aging body lotion. This probiotic body lotion for aging skin helps to reduce the visible signs of ageing as it incorporates ingredients like aloe vera, sunflower oil, apple fruit cell, green tea, chamomile, marigold, rosemary, shea butter, coconut oil, orange peel oil, xanthan gum, lactic acid etc. Bask in the glory of skin that has been revitalized with collagen which helps in achieving a supple and softer appearance.
Pros
Non-greasy
Cruelty-free
Sulfate-free
Paraben-free
Gluten-free
Cons
Some users may find the lotion heavily fragranced
Dr. M. Khawar Nazir, Dermatologist, says, "As we age, our skin needs more moisture & use of body lotions not only hydrates our skin but also prevents many skin disorders/ rashes. Body lotions play important roles in anti-aging as well. A body lotion comes in very handy when you need to restore the moisture of aging skin, but choosing one can be a challenge. These are the points to be taken into consideration before buying a body lotion for yourself:
How To Choose The Best Body Lotion For Aging Skin
Skin type- Each person has a different skin type. Below described is the type of body lotion that is best suited for each skin type:
Oily Skin- If one has oily skin that is prone to acne, it is best to avoid heavy moisturizers. Go for lightweight, oil free lotions that are labelled "non-comedogenic", which means that the product won't clog pores.
Dry Skin- The best lotion to apply for dry skin would be one that is thick, creamy and oil-based so that the moisture can be locked in. For cracked and chapped skin, products with paraffin or petroleum jelly yield good results.
Sensitive Skin-  It is very important to pick a product carefully if you have sensitive skin. Go for a body lotion with least or no irritants like perfume, dyes and acids. Lotions with soothing ingredients like aloe or chamomile can be used.
Normal/Combination Skin- A person with normal or combination skin type should look for a body lotion that is lightweight and aqua or water based and has ingredients like jojoba, aloe and chamomile.
Ingredients- Some ingredients work well and yield great results on mature and aging skin. It is recommended to choose a body lotion that contains the following ingredients:
Retinoids- These are derived from vitamin A. Retinoids stimulate the production of collagen, increase the cell turnover and help to even out skin tone.
Peptides- Peptides are also known for their anti-aging properties. It helps in repairing the skin and restoring the natural glow.
Antioxidants- Vitamin C and E are storehouses of antioxidants and they help to keep free radicals at bay to avoid any major damage to the skin.
Ceramides- Ceramides protect the skin from pollutants and harmful bacteria by creating a barrier on the skin. It helps in moisture retention and leaves you with supple skin.
Humectants- Ingredients like hyaluronic acid and glycerin attract moisture and help lock in the hydration of the skin.
Occlusives- Occlusives like beeswax, cocoa and shea butter provide an outer oily or waxy layer on the skin that helps in preventing the loss of moisture.
Why Trust StyleCraze?
The author of this article, Vaishnavi Kothuri, is a skin care enthusiast who advocates the importance of using the best anti-aging lotions for aging skin. She believes that using an anti-aging lotion can help maintain a youthful glow and radiance. She has conducted in-depth research and recommended the best products to help her readers make the right choices.
Frequently Asked Questions
Do lotions help with aging?
Yes. Applying body lotion helps to hydrate and nourish the skin. Aging skin is more prone to dryness and wrinkles that is visibly reduced by the regular use of lotions.
How do you rehydrate aging skin?
Applying a hydrating body lotion right after a lukewarm shower helps in restoring and maintaining the moisture of mature skin.
How many times a day should you moisturize?
Ideally it is advisable to moisturize your skin twice a day. But if one has dry skin, then the frequency of application of the lotion can be increased.
Does body lotion help crepey skin?
Yes, body lotions are effective for improving mildly crepey skin. They add a jolt of hydration to the skin and increase its elasticity. However, consult your dermatologists about treatments or medications if you have severe crepey skin.
What's the difference between body cream and body lotion?
Body lotions are lightweight formulas with higher water content. They get easily absorbed in the skin without leaving residues. On the other hand, body creams have a thicker consistency with high oil content. Also, they might leave a residue on your skin. Therefore, opt for a body cream during the winters to deeply nourish your flaky skin, and use a lotion in the hot months to remain hydrated yet sweat-proof.
Does body lotion make you look younger?
Yes. Moisturizing the skin daily with a body lotion traps the healthy moisture in the skin and reduces the appearance of wrinkles and fine lines. Thus, lotions improve skin texture, plump the skin, and make you look younger.