The 17 Best Body Lotions That Are Worth Trying In 2023
Get buttery smooth skin and feel refreshed using a body lotion that suits your skin type.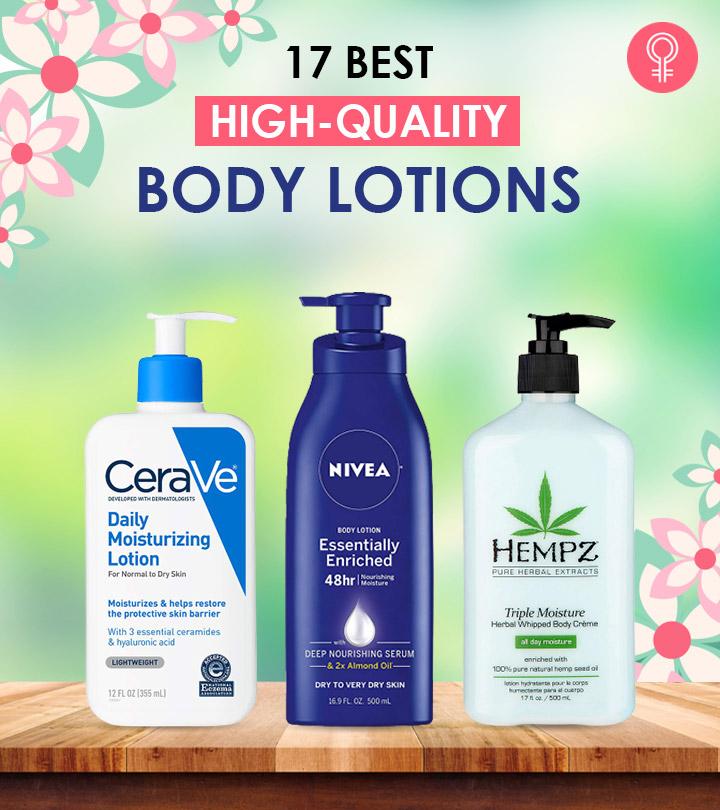 Just like your face, the rest of your body requires attention too. Give it the best body lotion available in the market and fulfill its moisturizing needs. A lotion is, undoubtedly, one of the most essential products of every person's skincare regime. It locks up the water in the dermis to keep your skin hydrated. What is more, it enhances elasticity, reduces UV damage, and fights free radicals. Therefore, understanding the immense value of a body lotion, in this article, we have come up with a list of the 17 most effective lotions that are worth trying. What are you waiting for then? Go ahead and check it out.
17 Best High-Quality Body Lotions Of 2023
The CeraVe Daily Moisturizing Lotion is enriched with a unique blend of three ceramides and hyaluronic acid, which has intense hydrating properties. The ceramides prevent dryness and irritation by locking in the skin's natural moisture. They restore the skin's moisture barrier to protect it against environmental damage.
The hyaluronic acid in the lotion improves skin texture and the plumpness of the skin by acting like a sponge to retain hydration. This fragrance-free, lightweight formula uses the MVE technology by releasing moisturizing ingredients continuously to nourish the driest areas of the skin all day. This multipurpose lotion can be used on the face, body, and hands as it gives visible results for up to 24 hours.
Key Ingredients: Ceramides 1, 3, and 6-II and Hyaluronic acid
Pros
Fragrance-free
Paraben-free
Sulfate-free
Dermatologist recommended
Allergy-tested
Non-comedogenic
Oil-free
Absorbs quickly
Non-irritating
Accepted by the National Eczema Association
Cons
Not suitable for sensitive skin.
The OGX Extra Creamy+Coconut Miracle Oil Lotion's tropical ingredients invigorate the senses while the rich formula provides the skin with all the moisture it requires. It is enriched with coconut oil that adds softness and luster to the skin.
The body lotion's fast-absorbing action hydrates the driest parts of the body from the hands down to the feet. The fatty acids in coconut oil provide good barrier control and help the skin retain natural moisture to prevent dryness. This luxurious body lotion is infused with vanilla and the essence of tiare to ensure an exotic spa-like experience.
Key Ingredients: Coconut oil, VanillaBean extract, and Essence of Tiare
Pros
Paraben-free
Sulfate-free
Cruelty-free
Quick-absorbing
Cons
Unpleasant smell
Thickens over time.
The Nivea Essentially Enriched Body Lotion is formulated with deep moisture serum to deliver intense moisturization that lasts for up to 48 hours. This dermatologically-approved lotion is infused with almond oil that helps balance moisture levels and softens the skin. It also has a soothing effect on dry and irritated skin. The rich, creamy formula deeply hydrates the skin to eliminate rough patches from the first application. It is ideal for dry hands that are frequently washed and cracked heels as it gives a nourishing feel to them. Watch this video for more information about the product and the reviewer's experience of using it.
Key Ingredients: Almond oil and Moisture serum
Pros
Long-lasting
Easy to spread
Dermatologically tested
Cons
Palmer's body lotion creates a barrier on your skin to lock in moisture for 24 hours. This quick-absorbing body lotion is enriched with cocoa butter, which melts on contact with the skin to penetrate it deeply. It acts as an emollient to soften dry and flaky skin.
The vitamin E to this formula gives it antioxidant properties to protect the skin from environmental pollution. It also reduces stretch marks, scars, and skin imperfections. This lotion leaves the skin soft, supple, and even-toned.
Key Ingredients: Pure cocoa butter, Cocoa extract, and Vitamin E
Pros
Paraben-free
Phthalate-free
Hypoallergenic
Dermatologist approved
Suitable for eczema-prone skin
Fast-absorbing
Dermatologist-recommended
Cons
This vegan body lotion from Hempz is formulated with 100% natural hemp seed oil, high in vitamin E, amino acids, and omega fatty acids, to hydrate the skin. It is fortified with the triple moisture formula of yangu oil, apple fruit extract, and cogon grass extract to fight inflammation and soften dehydrated skin. The shea butter prevents damage from free radicals, while the cucumber and aloe keep the skin hydrated and refreshed. This non-greasy lotion is scented with peach and grapefruit. Further, the product has not been tested on animals.
Key Ingredients: Hemp seed oil, Yangu oil, Apple extract, Shea butter, Cucumber, Aloe, Cogon grass extract, Peach, and Grapefruit
Pros
Non-greasy
Non-sticky texture
Vegan
Cruelty-free
Paraben-free
Gluten-free
Toxin-free
THC-free
Dermatologist-tested
Cons
The Very Emollient Body Lotion from Alba Botanica is packed with pure coconut oil and coconut milk with nourishing properties to provide the skin with intense hydration. It is enriched with botanicals like shea butter and sunflower seed oil, rich in nutrients and antioxidants, which soothe and condition the skin. This lotion is also infused with aloe vera to neutralize UV ray damage and protect the skin from premature aging. It not only rejuvenates the skin but also provides instant relief from dry and flaky skin, leaving it soft, supple, and beautifully refreshed.
Key Ingredients: Unrefined coconut oil, Coconut milk, Sunflower seed oil, Shea butter, and Aloe vera
Pros
Hypoallergenic
Paraben-free
Phthalate-free
Sulfate-free
Synthetic fragrance-free
Leaping bunny certified
Vegan
Not tested on animals
No artificial colors
Clinically-tested
Cons
The Eucerin Intensive Repair Lotion is enriched with lactic acid and natural moisturizing factors to provide three-dimensional benefits to the skin. The lactic acid gently exfoliates dead skin cells, while the NMFs moisturize and condition the skin to restore its natural radiance. The lightweight texture makes it suitable for use in warm weather as well. This rich lotion has skin-softening abilities and is ideal for preventing dry and chapped skin. You can use it on your hands to protect your skin from the drying effects of soaps and hand washes.
Key Ingredients: Lactic acid, Castor oil, and Natural Moisturizing Factors (NMFs)
Pros
Easy to spread
Fragrance-free
Dye-free
Paraben-free
Dermatologist recommended
Cons
The Adamia Therapeutic Repair Lotion is formulated with a unique combination of macadamia oil and soothing moisturizers. Macadamia oil is rich in omega-7, and it mirrors the skin's natural oils, so it is absorbed faster. The lotion spreads easily to heal irritated skin. It is blended with scientifically proven moisturizers like aloe and allantoin to smooth and hydrate your skin. This gentle clinically-proven lotion restores, repairs, and strengthens the skin to mend tears and cracks.
Key Ingredients: Pure macadamia oil, Aloe leaf juice, and Allantoin
Pros
Fragrance-free
Paraben-free
Non-GMO
Dermatologist-tested
Hypoallergenic
Gluten-free
Vegan
Petroleum-free
Cruelty-free
Soy-free
Cons
The Lubriderm Daily Moisture Lotion is enriched with vitamin B5, which keeps the skin smooth and healthy with intense hydration. It has anti-inflammatory properties and stimulates the healing process to repair dry and chapped skin. This quick-absorbing clinically-proven lotion is enriched with natural moisturizers to improve the skin's natural moisture barrier. It is especially useful in tattoo aftercare and for enhancing skin radiance.
Key Ingredients: Vitamin B5 and Glycerin
Pros
Fragrance-free
Dermatologist developed
Non-greasy
Quick-absorbing
Cons
Not suitable for sensitive skin.
This body lotion is enriched with Amazonian murumuru butter and Bulgarian rose petals to lock in all the moisture your skin needs. It deeply nourishes and conditions the skin to provide 24 hours of moisturization and smooth out uneven skin texture. The murumuru butter softens and prevents the skin from getting dehydrated and protects from harsh climates. The rose petals add a heady aroma to the lotion, making the skin smell wonderful as well.
Key Ingredients: Natural murumuru butter and Rose oil
Pros
Lightweight
Cruelty-free
Paraben-free
Silicone-free
Dye-free
Vegan
Free from animal testing
Cons
This ultra healing lotion from Curél Skincare is formulated with an advanced ceramide complex to help repair the skin's natural barrier and lock in moisture. This intensive moisturizer has a breathable formula that penetrates deeply into the skin's layers to make it healthy and soft. Shea butter and oatmeal extract protect skin from environmental stressors while keeping it even-toned and conditioned. For instant relief from dry skin and all-day hydration, use this lotion daily after a shower.
Key Ingredients: Advanced Ceramide complex, Shea butter, and Oatmeal extract
Pros
Fast-absorbing
Non-comedogenic
Fragrance-free
Dermatologist recommended
Cons
Not suitable for sensitive skin.
The AmLactin Daily Moisturizing Body Lotion contains 12% lactic acid that gently exfoliates the skin and boosts new cell regeneration. It is mild enough to be used on irritated and rosacea-prone skin. This dermatologist-recommended lotion deeply moisturizes dry skin to leave it younger-looking, nourished, and rejuvenated. It provides instant relief from rough and dry skin as it increases the skin's water absorption capacity while encouraging moisture retention. If you have very sensitive skin, a patch test is recommended before use.
Key Ingredients: Lactic acid
Pros
Paraben-free
Dermatologist recommended
Fragrance-free
Dye-free
Cons
The Aveeno Stress Relief Moisturizing Lotion is infused with lavender, chamomile, and ylang-ylang essential oils to soothe and relax your senses. The formula is enriched with natural oatmeal that locks in moisture to leave your skin soft all day long and increase its suppleness. It also soothes dry and irritated skin. This non-greasy lotion hydrates even the driest parts of the body, giving it a healthy and balanced tone. Massage this lotion before bedtime to help relieve stress after a long day.
Key Ingredients: Lavender, Natural oatmeal, and Chamomile and Ylang-Ylang essential oils
Pros
Non-greasy
Dermatologist-recommended
Cruelty-free
Cons
The Cetaphil Moisturizing Lotion is formulated with vitamins B and E and a blend of six moisturizers that provide instant and long-lasting hydration to the skin. It prevents moisture loss by improving the skin's ability to retain water and restores its natural barrier. This clinically-tested, non-greasy lotion is gentle enough to be used on the face and nourishes the skin in all weather conditions. It is ideal for rough patches of skin on the elbows, knees, and feet and provides targeted moisturizing to leave the skin smooth and soft.
Key Ingredients: Vitamins B and E
Pros
Dermatologist-recommended
Non-comedogenic
Fragrance-free
Paraben-free
Lanolin-free
Hypoallergenic
Dermatologist-tested
Cons
Not suitable for sensitive skin.
This body lotion from LA ROCHE-POSAY is formulated with shea butter, niacinamide, and glycerin to hydrate dry, chapped skin and calm irritated skin. It is fortified with a high concentration of their signature prebiotic thermal water to balance the skin's microbiome. This ingredient also restores the skin's natural moisture balance and reduces roughness. The nourishing body lotion replenishes essential skin lipids and provides long-lasting 48-hour hydration. Clinically proven results show that the non-comedogenic lotion is suitable for eczema-prone skin, does not clog pores, and can also be used on the face.
Key Ingredients: Prebiotic Thermal Water, Shea butter, Niacinamide, and Glycerin
Pros
Non-comedogenic
Dermatologist-tested
Pediatrician-tested
Fragrance-free
Paraben-free
Allergy-tested
Accepted by the National Eczema Association
Cons
The ALPHA Skin Care Renewal Body Lotion goes beyond moisturizing to prevent premature aging of the skin.  It has a clinically-verified formula with an ideal balance of 12% glycolic acid and a pH level of 4.0. This formula boosts collagen production to minimize the appearance of fine lines and improve the elasticity of the skin. It is fortified with a blend of skin-strengthening vitamins and nutrients that soothes and moisturizes the skin. This body lotion also has a gentle exfoliating action that reveals healthy and youthful skin by removing dead skin cells.
Key Ingredients: Glycolic acid
Pros
Smells good
Paraben-free
Gluten-free
Soy-free
Dye-free
Fragrance-free
Allergen-free
Cons
O'KEEFFE'S Skin Repair lotion forms a protective layer to lock in moisture and repair the natural barrier of the skin. The concentrated formula soothes and relieves dry skin, itchiness, and is enriched with shea butter and glycerin that heal rough, cracked patches on the elbows and knees and leaves the skin smooth and soft. This lotion provides long-lasting relief to skin affected by dermatitis and helps reduce eczema flare-ups as well.
Key Ingredients: Shea butter and Glycerin
Pros
Fragrance-free
Lanolin-free
Paraben-free
Dye-free
Soy-free
Cons
Why Trust Stylecraze?
Shiboli Chakraborti is a certified skin care coach who enjoys curating lists of the best beauty products in the market after considering her readers' requirements and skin type. Here, she lists the best body lotion that hydrates and moisturizes the skin. Besides detailed descriptions of each product, the pros and cons and the key ingredients will help you pick the best-suited lotion for your skin.
Frequently Asked Questions
Should I use body lotion every day?
Yes, it is best to use a moisturizer once a day, immediately after a shower, to keep the skin nourished and hydrated.
Does body lotion whiten skin?
There are whitening lotions available that restore the dermis and rehydrate the upper layers of your skin. When used regularly, they even out the skin tone and reduce the appearance of spots.
How many times should I put lotion on my body?
Every time you are using soap or water, reapply the moisturizer to hydrate the skin.
Should you wear lotion to bed?
Yes, adding a lotion to your bedtime routine leaves your skin softer, more hydrated, and better-looking for the next day.
Can you use body lotion on your face?
No, using a body lotion on your face can cause roughness, discoloration, and irritation. Body lotions are only formulated for thick skin and are not suitable for delicate facial skin.
Does body lotion expire?
Yes. Sealed and unopened bottles of body lotions last three years. However, dispose of your lotion if you notice changes in your product's smell or texture before its expiry date.
Does body lotion help sunburn?
Yes, body lotions moisturize and soothe the skin and reduce discoloration caused by sunburn.
How often should you use body lotion?
You can apply body lotion daily before going to bed or stepping outside.
How long does body lotion last?
Body lotion lasts for about 3-4 hours on the skin.
Should body lotion be washed off?
No, there is no need to wash off body lotion. Instead, let it seep into your skin for better results.
Recommended Articles