12 Best Body Makeup Products That You Need To Try In 2023
Conceal stubborn spots and marks on your body without burning a hole in your pocket.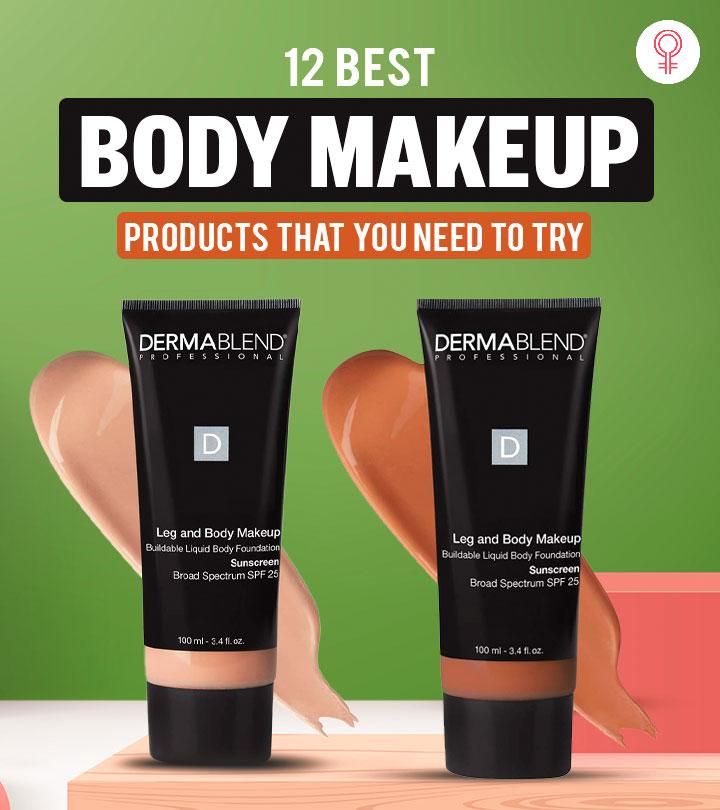 Body makeup is your ultimate answer to next-level beauty. Using the best body makeup products to add beauty to your body has many advantages. It can conceal any scars, marks, or other imperfections of your skin that you are insecure about. These products are manufactured for individuals with all ranges of skin tones.
Well, next time, if you are worried about getting judged at a fam function or a formal event, due to a body mark or a scar or a tattoo, try body makeup. These products can hide even the darkest of your tattoos. So here are the 12 best ones that you need to try and get as soon as possible!
Best Body Makeup Products That You Need To Try
The build able formula of the DermablendLeg and Body Makeup provides medium to full coverage of scars, stretch marks, age spots, varicose veins, skin imperfections and blemishes. This blendable body foundation has a SPF 25 to protect the skin from harmful sun rays while it provides all-day hydration. This transfer-resistant body makeup offers a natural smooth finish to the skin which does not crease or cake. It has a lightweight texture and is suitable for all skin types. This multipurpose makeup product works as a tanner, BB cream, bronzer and concealer for the whole body. It is available in 12 shades that are fade proof.
How to use
Apply a thin layer on clean, dry skin and blend. Use long strokes to apply over large areas.
Set by applying loose setting powder.
Wait for five to ten minutes and buff off excess.
Build coverage with thin layers, let each layer dry.
Re-set by applying a final layer of loose setting powder.
Pros
Lightweight
UV protectant
Transfer-resistant
Dermatologist tested
Cruelty-free
Fragrance-free
SLS-free
Triclosan-free
Phthalates-free
Non-comedogenic
Allergy-tested
Cons
Does not cover dark tattoos
Price at the time of publication: $37
The spray-on tanner from Sally Hansen covers veins, discolorations, imperfections and freckles, it also stimulates micro circulation to give the legs a firmer and healthier look. This lightweight leg makeup is infused with pal maria extract to promote a brighter skin tone. The formula is water-resistant and gives a long-lasting natural glow and flawless finish to the legs. It has a fast-drying formula that gives a subtle hint of color when sprayed on once and full-coverage with more layers. It is suitable for skin types and can also be used as a bronzer. Check out the review of this product for more information.
How to use
Shake the can well before application.
Spray directly into the hand and apply evenly all over the legs and feet.
Blend evenly and completely.
Allow to set and dry for 60-seconds before dressing.
Remove with soap and water after use.
Pros
Water-resistant
Transfer-resistant
Long lasting
Enhances micro circulation
Cons
Price at the time of publication: $9.92
The body foundation stick from Dermablend is a long-wearing concealer that offers a natural finish while providing flawless coverage for birthmarks, dark spots, blemishes and acne scars. This full-coverage makeup stick has a creamy texture that glides on smoothly and blends evenly to give a flawless finish. It has a highly-pigmented, non-drying formula to ensure complete coverage of tattoos as well. Application of a setting powder on top of the foundation layer makes it waterproof and transfer-resistant for up to 16 hours. The foundation is suitable for all skin types. If you want to know more about the benefits of this product, check out this quick review on YouTube.
How to use
Use short strokes to apply over the desired area.
Tap gently to build coverage and then blend into skin.
For long-lasting wear, apply setting powder, leave for two to five minutes and then buff off.
Use darker shades for body contouring.
Pros
Water-resistant
Transfer resistant
Dermatologist-tested
Cruelty-free
Fragrance-free
SLS-free
Triclosan-free
Phthalate-free
Non-comedogenic
Allergy-tested
Cons
None
Price at the time of publication: $30
The nourishing formula of the Vita Liberata body blur is packed with shea butter, glycerin and aloe vera to keep the skin moisturized and soothed while vitamin E protects from free radicals. It is enriched with hyaluronic acid to provide long-lasting hydration and combat signs of premature aging and to keep the skin looking naturally plump and bright. It gives a natural tint to the skin and minimizes imperfections and blemishes along with reflecting light to give a natural glow. This versatile beauty product can be used alone, as a primer or even mixed with foundation. It is suitable for the face or body and can be used on all skin types to achieve a smooth look. Here's an honest review of the product.
How to use
Apply a pea-sized amount onto a luxury tanning mitt.
Blend onto the limbs in long circular movements.
When applying on the face, hands or feet blend with a kabuki brush.
Pros
Hydrating-formula
Anti-aging properties
Easy to remove
Allergen-free
Sulfate-free
Alcohol-free
Paraben-free
Cruelty-free
Cons
Price at the time of publication: $45.0
The Jergens BB Body Perfecting Cream offers five benefits to the skin. It hydrates the skin to give a bright and illuminated look while correcting imperfections, redness and discolorations. This moisturizing lotion has a firming effect on cellulite and smoothens uneven skin tones to give a radiant glow. This quick-drying emollient has self-adjusting properties to deliver a customized solution and can be used on fair to light and medium to dark skin tones with equal success. It is suitable for dry skin and can be used daily as a body lotion.
How to use
Massage the cream all over the body.
Allow to dry completely before getting dressed.
For best results use daily as a body lotion.
Pros
Smoothens uneven skin tone
Firms the skin
Minimizes imperfections
Brightens complexion
Cons
Price at the time of publication: $49.98
Just a few drops of the IsdinIsdinceutics Skin Drops conceal skin imperfections, scars, tattoos, burns, bruises, and it is a highly-pigmented formula. This maximum coverage foundation has a build able formula that provides a matte finish for up to 12 hours. It is fortified with jojoba, mimosa natural wax, and sunflower to moisturize the skin and keep it soft and supple. The adjustable formula adapts to individual skin requirements to give just the right pigment. This non-comedogenic preparation does not clog pores and it is suitable for all skin types.
How to use
Shake well before using.
Put one or more drops on the palm of the hand.
One drop for a smoothing base and three drops to cover imperfections.
Apply uniformly with the fingertips or a brush.
Skin Drops can be added to a moisturizer to make a BB cream.
Pros
Long-lasting coverage
Moisturizing
Non-comedogenic
Oil-free
Suitable for all skin types
Cons
Price at the time of publication: $57
 The Make Up For Ever Cover Concealer offers full-coverage and a matte finish. It covers various skin imperfections like dark spots, acne scars, birthmarks, burns and bruises. The formula is long-wearing and waterproof and is enriched with allantoin to give it healing properties that promote the regeneration of healthy skin cells. It offers uniform application to cover tattoos and delivers a smooth looking even skin tone. The presence of oil-controlling powders makes it ideal for hot and humid weather. The cream tends to darken as it dries, so choose a shade two tones lighter than the natural skin color.
How to use
Apply a non-greasy moisturizer.
Dab a small amount with the fingertip or brush.
Blend the edges evenly to avoid demarcation lines.
Set the cream by applying loose powder with a puff.
Wait a couple of minutes before dusting off the excess with a brush.
Pros
Waterproof
Transfer-proof
Long-lasting
High coverage
Oil-free
Cons
None
Price at the time of publication: $33.98
The two-in-one formula of this Body Coverage Perfect or from West more Beauty works to cover skin imperfections while giving a natural glow to the skin instantly. This transfer-resistant concealer is formulated with the innovative tri-effects technology to provide long-lasting build able coverage. It helps to cover surgical scars, sun spots, veins and blemishes while improving overall skin tone. This body camouflage leaves the skin with a gentle sheen instantly.
How to use
Massage liberally onto clean, dry skin in an upward and outward motion.
Gently pat over with a tissue or makeup sponge to remove excess and blend evenly.
Apply additional coats for more coverage after letting each coat dry.
Allow the product to dry for five to ten minutes before dressing.
Pros
Waterproof
Transfer-resistant
Long-lasting
Build able coverage
Cons
Price at the time of publication: $39
The natural DHA formula of the Josie Maran Argan Liquid Gold Self-Tanning Oil features pure argan oil for deep nourishment and pure argan oil light to deliver a semi-matte finish to the skin. It is enriched with coconut water and aloe juice to moisturize and soothe the skin while giving it a natural looking tan. It comes with a luxurious mitt to ensure streak-free easy application. This quick absorbing formula has an aroma of natural vanilla and apricot to refresh the senses. It hides noticeable imperfections while delivering a bronzed glow to the skin.
How to use
Shake the bottle to activate the argan oil and DHA blend.
Pour a small amount into the mitt and apply all over the body in circular motions.
Ensure all areas are well covered and evenly blended.
Allow the skin to air dry completely before dressing.
For full color development wait for at least four hours before bathing. 
Pros
Quick-absorbing
Non-greasy
Moisturizing formula
Hydrating formula
Cruelty-free
Vegan
Paraben-free
Sulfate-free
Gluten-free
Phthalates-free
Synthetic fragrance-free
Mineral oils-free
Formaldehyde-free
PEG-free.
Cons
Watery consistency
No sunburn protection
Price at the time of publication: $39
This UV protectant formula from Estee Lauder provides the skin with an effective barrier against pollutants and sun damage. It is highly-pigmented to offer maximum coverage of all skin flaws like scars, veins, sun spots and hyper pigmentation. This long-wearing formula gives a matte finish to the skin and evens out skin tone. It has a liquid creamy texture which soothes the skin and has a 24 hour staying power.
How to use
Apply sparingly with fingertips.
Blend evenly to ensure full coverage.
Remove with makeup remover.
Pros
Waterproof
Long-lasting
Non-comedogenic
Non-acnegenic
UV protectant
Cons
Price at the time of publication: $45.87
The highly pigmented face and body concealer from Black Opal is formulated to offer maximum coverage. It instantly camouflages scars, tattoos, blemishes and imperfections to create a naturally smooth look. The formula is enriched with skin-protecting minerals that nourish the skin and improve skin health. This smudge-resistant foundation is lightweight and easy to apply. It offers a matte finish that is long lasting and easy to blend.
How to use
Using an applicator sponge apply directly to the area to cover imperfections.
For best results set with loose setting powder.
Pros
Smudge-resistant
Long-lasting formula
Dermatologist-developed
Paraben-free
Talc-free
Cons
Not suitable for sensitive skin
Price at the time of publication: $10.25
The tinted multi-vitamin serum from this works is a non-greasy blend of vitamin C and E to nourish and repair the skin while it covers skin imperfections. The addition of arnica to this powerful formula helps to fade bruising and smoothen skin tone while natural caramel adds warmth and tint to the skin. This quick absorbing serum is infused with macadamia seed oil to combat signs of aging and boost collagen production.   This serum can be used for a full body glow by treating dry, unhydrated skin.
How to use
Massage into dry skin with fingertips anytime in the day.
It can be used after applying This Works Deep Dry Leg Oil to obtain an extra sheen.
Pros
Non-greasy
Quick-absorbing
Phthalates-free
Sulfate-free
Parabens-free
Mineral oils-free
Non-GMO
Synthetic color-free
Cons
Price at the time of publication: $48
Still unsure what to look for in a body makeup product? Read on to find out.
What To Look For In Body Makeup?
Before you go ahead and choose your body makeup there are some important factors you need to keep in mind.
Shades: Choose a shade that matches your skin tone. To get a subtle and natural effect make sure it blends well and in case it is a bit too dark use a body moisturizer to lighten it.
Waterproof: Look for body makeup products which are waterproof and sweat-resistant, to ensure it is long-wearing and will keep you comfortable through the day.
Sheen/Shimmer: Most body makeup have some amount of sheen and shimmer in them, choose one according to the time of day you will be wearing them and also the look you want to achieve.
Why Trust StyleCraze?
We have compiled this list of the best body makeup products after conducting extensive research and reviewing the products available on the market. We have thoroughly checked user reviews and feedback to pick only the best product for you. We shortlisted the products considering their formula, coverage, consistency, and shades. The products are suitable for all skin types.
Frequently Asked Questions
How is body makeup different from face makeup?
The main difference between body makeup and face makeup lies in consistency. Since the skin on the body is generally not as delicate as facial skin and less sensitive, body makeup is thicker and has a higher pigment. Face makeup is usually sheerer and has build able properties.
How do I get my makeup to stay on my body?
Ideally, body makeup will not transfer onto clothes as it is made to wear under clothes, but adding a dab of loose powder, like a setting powder or any other powder, will ensure it does not transfer and will make it long-wearing. Try to choose a cream to powder formula and once you have applied it wait a few minutes to let it dry.
Do celebrities wear body makeup?
Body makeup is a secret that models and celebrities have been using for decades, to get that flawless look as they pose on the runway and red carpet. Stars like Kim Kardashian and Rihanna have launched their own body makeup lines for famous beauty product brands.
Can you hide cellulite with body makeup products?
Yes, use shades darker than your body to cover cellulite with body makeup products. You may try contouring and highlighting certain parts of your body while covering the not-so-flattering areas.
Can I use face makeup on my legs?
Yes, you may apply face makeup to your entire body, including your legs. Use your face makeup to cover blemishes, spots, and allergies.
How long does body makeup last?
Body makeup lasts up to 12 to 16 hours. It can last longer if the makeup is set well.
Recommended Articles: